The Cartels At Orange House Putting Raila Odinga's Presidency At Risk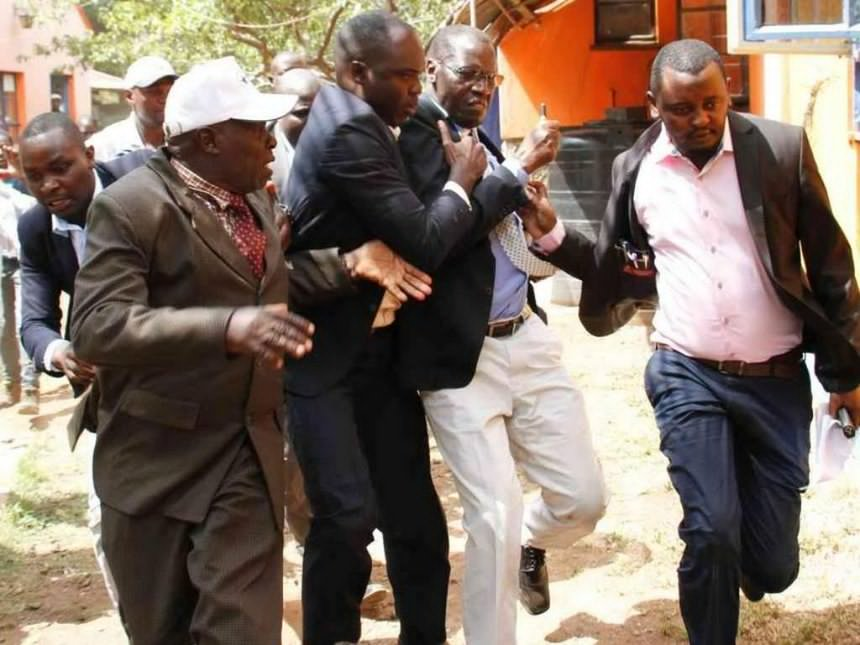 Over the past few weeks, the supporters of NASA have been on a full attack mode particularly online poking holes in the communication network of the coalition. Supporters have been expressing frustrations over the lack of a coordinated communication structures that they say has given jubilee an upper hand in winning the propaganda while getting away with lies. In most of the posts, The top party organs have come under attack over the lack of zealous campaign strategies while taking their support for granted.
Kenya Insights embarked on a fact-finding mission to unearth the biggest obstacles at the ODM's Orange House which are practically NASA headquarters given the parties stakes. We've established that the building is occupied by some shady characters who's the best interest is not the success of the party nor victory for Raila but rather their greed and selfish interests.
Some of the problems that have come out clear in our investigations point out that there is no synergy between ODM and other parties in NASA. The other parties have refused to be part of a common command center. Even though talks are in crucial stages to have a central center for NASA coordination, original parties still operate from their establishments.
2. ODUOR ONGWEN, this is the biggest impediment to an efficient system to make RAO the president. Ong'wen is a long-time friend to Raila, a statistician, and economist by profession, he's an avid writer having penned for ODM in his columns. Previously, Ong'wen worked as the Director of Strategy, Policy, and Research in Raila's presidential campaign team. At Orange House, we established that the ODM's executive director is the total man and he runs the show. He pays people from his pocket. He has never called a single meeting to plan on anything. The ODM primaries were shambolic because of him. He embezzled all the money received from nomination fees. He received bribes to push candidates.
The ED has amongst key accusations of Blocking establishment of an efficient communication team, Establishment of an independent presidential campaign structure and Shambolic party nominations. When pushed by party supporters to the wall, Philip Etale, The ODM's Communication Director in low tones revealed that he is incapacitated and as frustrated. Etale's office has no or minimal allocations to facilitate media operations. In the time of social media euphoria, it is shocking that ODM doesn't have a single unit of bloggers to push their agenda with most who does doing it from their organizations. Money is always released or so is the word but never gets to the bloggers disappearing into thin air. Communication has no budgetary allocations yet have ideas to change the game.
The system is so archaic; it is run by old strategists like Martin Oloo, Orengo and Nyong'o. They pull strings. While their experience in politics is diamond, the probabilities of being permeable to new ideas from the young and innovative are very high. Over time, it has been made clear that most of those who closely surround Raila don't have his best interest at heart but okay as long as he remains beneficial to them.
Presidential Center
This is the center supposed to push for the presidential campaigns. This is where all the rot meet. Here, the office is a business center for cartels. They have the money but steal. For example the NDC, cartels refused to pay the PR company because it was brought by someone who is not part of them. Ong'wen is at the center of party failures, and he was recently rescued from an angry mob at Orange House who was baying for his blood following shambolic nominations.
Section of ODM supporters whom we interviewed expressed their disappointment and concern with how ODM party officials are running the party. The lack of leadership, communication, and coordination has spurred anger amongst Kenyans. "We choose to speak up of the rot in Orange House Cartels that is resulting in a loss of supporter base and poor presidential campaign." Said one of the defenders.
Key Issues:
•Weak controls at ODM elections board are resulting in chaotic primaries.
•Growing Cartels, running the party for selfish & business interests e.g. sourcing for tenders
•Passive, reactive and ineffective communications at ODM resulting in loss of grassroots support Cartels
•Poor leadership by Exec Director – flawed on campaign management, budgetary allocation, comms & political strategy Cartels
•Lack of an independent presidential campaign structure to position coalition candidate Cartels
Unanimously, the aggrieved supporters made suggestions that:
•A change in ODM party leadership to that which is transparent, accountable and efficient.
•Shift in political strategy, to establish proper campaign framework that links to grassroots to improve voter contact
•Reprioritization of resources to ensure proper communication, branding and messaging.
•Expansion of party base and think-tanks to include volunteers willing to support the party
"ODM is a key NASA member & the stability of the coalition rests on democratic and stable parties. Party unity is key, & a healing process for winners & losers of the ODM primaries is needed to guard against fractions and disharmony. ODM should handle the campaign with the seriousness that it deserves & knowing that hopes and aspirations to kick out JAP in 08/08 rest on Raila. Through Raila, many see the revival of a stable democracy and economy in Kenya. These can only happen if ODM gets its house in order."
Structural mistakes is what in the past has minimized Raila's chances of winning election and this given to be his last shot, he can't afford a single blunder, a well established strategic communication system must be in running knowing they're not dealing with saints. Jubilee has invested heavily in communication because they know the secret in persuasion is in changing perceptions. Time is running out and NASA has little time to put the house in order. A presidential election is not a bedroom affair but needs a serious structural layout to achieve stainless results. Jubilee has this election to lose but blunders made by NASA would easily cost them their guaranteed victory. Kenyans are devastated with high cost of living that has shot up under jubilee, this is the issues we want to see being addressed and the new campaigns agenda.
---
Kenya Insights allows guest blogging, if you want to be published on Kenya's most authoritative and accurate blog, have an expose, news TIPS, story angles, human interest stories, drop us an email on

[email protected]

or via Telegram
---