Safaricom CEO Wars: Letter To Sylvia Mulinge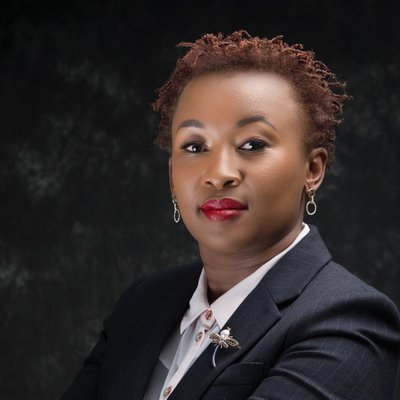 Somebody lied to you and fattened you for slaughter. In the past hours, you've been the topic of discussion in social media streets, you've attracted both lovers and haters which is how it works. Moments after Safaricom Board announced the former CEO Michael Joseph as the interim CEO, your name popped on our timelines and I know it wasn't a coincidence.
While this remains unsubstantiated, word is a campaign was sponsored to gunner support for you which I don't oppose. However, if indeed you were aware of such a campaign being kicked off and gave your blessings, you might have just made the greatest mistake of your life.
Trending on social media comes with its own shortcomings, everyone has a skeleton, it comes to surface at one point. For years, popular blogger Nyakundi has been highlighting a case that you've been fighting hard to clear your name, the case of an 8-year old baby girl that you were accused of killing from drunk driving.
There's a wise saying in these streets that reputation is everything and this particular case has and will continue to deal great blows to you. Majority of Kenyans since you started trending are talking about the murder case than your credentials. In fact many don't even know that since 2018, you've been the Director of the Consumer Business Unit at Safaricom and that daily you reported directly to the  CEO.
Your case has come with serious integrity accusations, it has been alleged that you tried to compromise agencies in the case to your favor in delaying the case, that you allegedly tried to pay the family of the kid you were accused of killing Sh950,000 as an out of court settlement.
With a revenue of about Sh233B, Safaricom remains if not the biggest profit making company in the region. This comes with heavy responsibilities one of them is maintaining a brand's reputation.
I don't doubt your credentials but I feel putting yourself out there in the media and more so making your legal issues centre of focus not only makes the company cringe to the fact of making you the face of the company as the CEO it also exposes you to continuous hammering.
Safaricom, which is 35 percent owned by South Africa's Vodacom, controls about 62 percent of Kenya's mobile market, with 30 million subscribers.
Unsaid truth is in Kenya apart from the presidency, there are positions that people dread, being the chairman of IEBC and lately Safaricom which in spirit is a political post. You only need to see how fiercely Kenyans have criticized with the harshest words the past two CEOs.
During the last elections, Safaricom was accused of conspiring with the government to rig elections but that's not the story today. The position of Safaricom CEO need a crocodile skin and giant balls. It comes with serious mental weight. Unlike other corporates, this position puts you in public eye and scrutiny.
Same Kenyans supporting you today for the post will also turn against you tomorrow, while considering you must factor those realities.
On to something that you already know, the board interviewed candidates, including a senior Kenyan banking executive, before settling on an unidentified foreign national from within the Vodafone group to succeed Collymore.
But the government objected, citing an agreement supporting the appointment of a Kenyan as CEO, adopted at a shareholder meeting in 2017. It doesn't come as a surprise that in this whole discussion the past few hours, we've seen government operatives rooting for you making it a bit obvious that perhaps you're the government's choice which again puts you in a compromising situation.
Ive read through many comments and many are saying the government is insisting on a Kenyan, Someone they can easily manipulate, I've not worked with you so I can't tell you're easily manipulated but perceptions are being drawn as the debate goes.
Safaricom's Chief Financial Officer Sateesh Kamath was appointed acting CEO for the better part of last year when Collymore was on leave for cancer treatment in London. He silently held the position without much public interest and that's the advantage of not courting controversy.
In a recent interview, the interim CEO said, "Safaricom is a very special company, you just don't put anybody a CEO because they are there. It has to be somebody special who could continue the role. At this point we (the board) thought that none of the ex-com (Executive Committee) were ready for this role today." This speaks a lot about what the board thinks about you.
Its not shocking news that the board had already settled on a foreigner to pick it up and that all is going is a tag of war between Vodacom and Government on candidates choice.
Whatever the outcome, consequences are going to be there, for you, your family and future, your name being in many people's mouth now, a reputation has been drawn. Will affect you negatively and positively.
Positively that you could become the next and first female Safaricom CEO or remain a woman with integrity questions in the public eye whether courts exonerates you or not. It's a gamble, but what shall remain permanent and possibly haunt you in your future endeavors is the skeletons now on the public eye.
For me, starting the lobbying on social media was the worst step, would've silently been done. Now the board and public can draw and join so many dots. On the positive side, Kenyans don't really care much about integrity I mean Waiguru is now the Governor Of Kirinyaga.
---
Kenya Insights allows guest blogging, if you want to be published on Kenya's most authoritative and accurate blog, have an expose, news TIPS, story angles, human interest stories, drop us an email on

[email protected]

or via Telegram
---