Reasons Laid Bare: How ICC Cost Foreign Affairs CS Amina Mohamed The AU Seat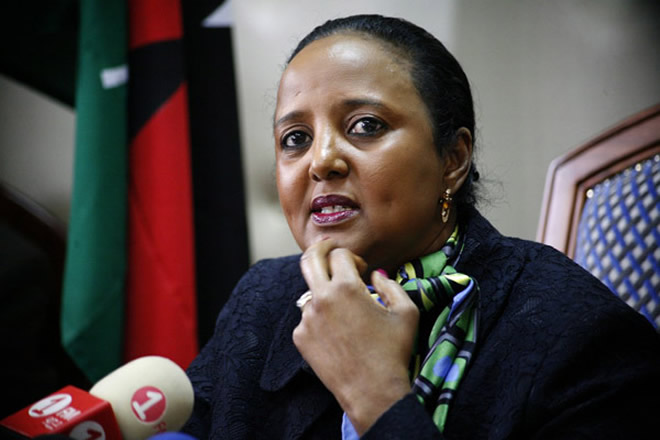 Amina was mostly fronted and seen as the next in line to take over the African Union Commission Chair from South Africa's Dr. Dlamini-Zuma given charm offensive lobbying that the Kenyan government embarked on across the continent. Led by the deputy president Ruto, who secured a private jet for this purpose traversing the continent, diplomats and ministers lobbied for the election of Amina.
The results of the elections held in Addis Ababa, Ethiopia during the AU summit caught many with surprises. First, Amina and Senegalese Mr. Abdoulaye Bathily, a Former UN special envoy to Central African Republic and Senegalese environment minister were fronted as biggest contenders only for Chad's Mahamat to pull a surprise by winning with 38 votes in the 8th round to make him the new chair in a surprise win that greatly disappointed the Kenya's delegation that fronted for Amina. Kenya through Manoah Esipisu ceded defeat.
Back to the drawing board as to the loopholes that might have cost Amina the seat. It's important to say this course came with substantial cash spending with different sources floating various figures. It's rumored the shuttle diplomacy and lobbying would've cost between Sh1B-45B. It's, therefore, an expensive loss to the people of Kenya who naturally foots the bills.
Several reasons could be attributed to the loss including new awakening and strengthening of ECOWAS that ensured power transition of power in Zambia by tactfully dislodging Jammeh from power and reinstating Barrow as the president. This stamped the organization's authority in the region and restoring democracy. They deflated EAC who have been doing nothing or less to stop the massacres in Burundi to Sudan and taking fence position while tyrants as Museveni clamps on the opposition and minimizing democratic space. Amina was coming from the EAC, widely seen as impunity tolerant. EAC is viewed by the West and Central as a visionary leadership deficient.
The defeat would also serve as a sobering dose of regional politics at the AUC polls. Traditionally, the AUC chair post has always rotated between Anglophone and Francophone countries. It is noteworthy that the outgoing head Dr. Dlamini-Zuma is an Anglophone from South Africa, and her predecessor was a Francophone Mr. Jean Ping from Gabon. So it is widely expected that within the AU circles that the French speaking candidates have a head-start on this factor. The other significant factor against Ms. Amina is the fact that French-speaking nations are very many compared to English speaking countries and this factor is further complicated by a well-known fact that they always vote uniformly and in solidarity. Rarely do the francophone fragment in their voting.
The defeat can also be seen as an indictment of top Kenyan political leadership. Uhuru took the face of the campaign, Amina was considered to be his project given charm offensive approach. It's reported that neighbors as Uganda And Tanzania kept off the ballot despite giving support assurance to Amina's candidacy. According to diplomacy gossips, Kenya has been a notorious bully since 2013 in the foreign affairs space, and the abandonment of Amina would've been a diplomatic protest and a humbling message to Kenya.
Sex and religion also played a part in her impediments. The seat was previously held by a woman, Dr.Dlamini, being a lucrative administrative lost, men would lobby for a balance to have a male contender take over. Amina coming from a Muslim community became an instant victim of chauvinism even if it wasn't amplified. That majority of delegation come from French-speaking and dominant Islamic states where most men are derisive to ambitious women seeking power and influence. The egocentric spirit probably played a role.
The communication strategists for Amina ignored the most significant voting bloc, and that is Kenya. While they focused on selling her outside, back home, anti-Amina campaigns were running all over the social media spaces in a sustained pattern but the issues raised were dismissed by the strategists as harmless. Social media has reduced the world into a small village that words travel faster than light. While Ruto and team flew around, Africa was following keenly on the issues raised on Amina. The campaign told the stories that diplomats didn't say, and this played the significant role in influencing decisions by delegates, a source confides to Kenya Insights.
The Kenyan audience was so ignored with zero civic education a factor that became eminent during the election day. Many confused and couldn't tell the difference between AU and AUC. It's not on a typical day that a country would 'betray and disown' their own. The world had curiosity and listened to the unusual dissenting voices in Amina's candidacy. Communication team is to blame for ignoring this important audience that at the end influenced the outcome.
Most importantly, Amina was seen not as a career diplomat and herself as an individual but as a decoy and project of President Uhuru. Sources intimated to Kenya Insights that the general feel was Uhuru wanted to use Amina in pushing for his agendas mainly mass ICC walk out and the establishment of African courts. They voted against her with the mind of blocking Uhuru's takeover of the AU.
Diplomats talking to Al Jazeera raised concerns over Amina's independence and doubted if she could stand up to her frontier Uhuru should need be. The general view in this aspect was that she is a flower girl and a puppet of Uhuru Kenyatta and that he'd take advantage of her office to advance his own personal agendas a worry that denied her votes.
Last year, Amina Mohammed signed the Malabo Protocol, which grants criminal jurisdiction to the African Court of Justice and Human Rights. The intent to leave ICC and create an African version of the International Criminal Court an idea fronted by Amina seemingly proved costly eventually. Amina is believed to have brokered the dismissal of ICC cases against the Jubilee principals. Local politics also had its ways into the Addis Ababa secret ballots. That Amina's position as CS was to be used in attracting new entrant from opposition to the government and possibly voted against to spoil the party. While Amina was against the ICC and called for made walkout, a good number of nation are against her stand and have maintained to remain within the Rome statute.
All is not lost as this gives her a second chance to continue her services as Kenya's foreign affairs minister. Being a valued diplomat its an opportunity to learn from human and diplomatic  mistakes she has made in her tenure and use lessons in redeeming herself for a lengthy legacy. And you never know with her expertise and experience she might as well go for bigger positions as WTO and U.N. all doors aren't shut.
---
Kenya Insights allows guest blogging, if you want to be published on Kenya's most authoritative and accurate blog, have an expose, news TIPS, story angles, human interest stories, drop us an email on

[email protected]

or via Telegram
---