Kenya It Is Time To Run Away From First Lady's Beyond Zero Campaign And To Never Look Back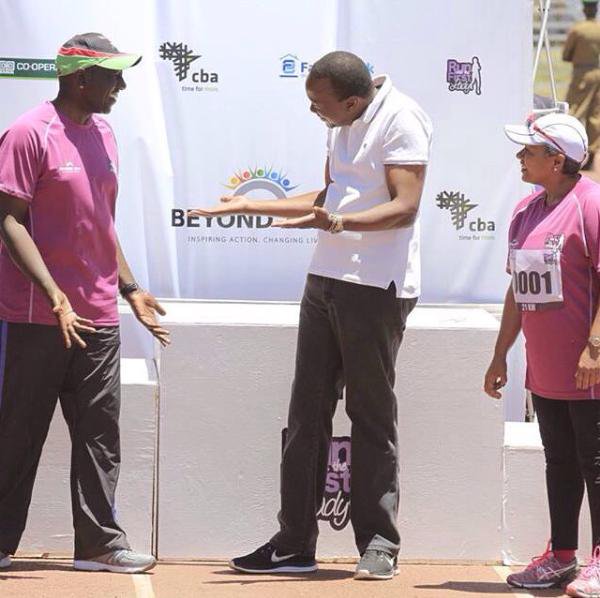 Before things get nasty here in microseconds, lemme say Beyond Zero was a well-thought initiative with good public face intentions but dark intent by pioneers. The movement worked in the favor that its a constant reminder to Margaret's husband of the poor public health-care system and how her father-in-law failed to secure better health system.
Beyond Zero was started by the First Lady to supplement services that the husband was elected to do. Ladies and gentlemen, It's every government's duty to ensure a secure, healthy environment for its citizens but here was the First Lady supplementing the work at the same time exposing the failures in hubby's government. If resources were to be well-utilized meaning zero tolerance to corruption, You can bet all the marathon energy would be directed elsewhere since hospitals would be well equipped and sufficient doctors distributed.
It would be selfish not to mention positive impacts that the campaign has made. These clinics have made it possible to take maternal healthcare closer to the people as they can go to the most remote parts to offer services to women and children to tackle the mother and infant mortality rates. Indiscriminate distribution of the clinics throughout the Counties in a country evident with favouritism, I must recommend her for the kind gesture.
The primary focus of the Beyond Zero Campaign is to reduce to zero preventable maternal and child mortality in Kenya. This is achieved by the campaign's role to raise awareness and galvanize support toward combating maternal and infant mortality.
While it has served its purpose, It has again opened a Pandora box, understaffed hospitals. A good number of the distributed clinics have been reported having stalled as soon as they were delivered. Common problems being the lack of staff and equipment. It's the same public hospital practitioners charged with the duty of running the mobile clinics which then brings me to the next point. The initiative wasn't well conceptualized on the long-term and sustainability concept rather majored in the face value for the cameras and hype and for winning Awards.
It's not unusual to be labeled enemy of progress whenever you question projects like Beyond Zero since people are blinded to chew on anything without looking a second time. Sustainable solutions never miss achieving significantly, showbiz solutions last as long as the camera's batteries have power. Earlier last year, Statehouse with little details revealed that the First Lady was initiating construction of a Beyond Zero state of the art referral hospital to concentrate on mothers and children healthcare at the cost of 2 2B the project is yet to start.
While this sounds orgasmic to systems supporters and blind followers, It adds to the heap of miscalculations, with a face value that would snatch a Noble Price from Obama, this project is a catastrophe if we're to pick lessons from the past. First of all its purely self-seeking project, for the simple reason that it will add to the tally of other failed referral hospitals. Why would Kenya again spend 2.2B constructing a referral hospital yet that money can be used to upgraded the deplorable KNH? Look at Pumwani, Mbagathi, Mama Lucy both conceptualized with Beyond Zero state of mind. Years later they're stuck and in horrible conditions.Why pump billions in a project destined to squat while you can use the amount to improve existing hospitals across the country. That's how you get to everyone not just a cut class.
The country is currently in a healthcare tie down with a total freeze in public hospitals the solution cannot be another marathon run. It's high time we start thinking long-term and sustainability solutions and move away from selfie campaigns that fade away with filters. We need sufficient; motivated and well paid doctors in our hospitals which should stay fully equipped.
It came as an insult that same day Doctors were facing jail time pushing for refined healthcare, first lady and her events PR turn IMG made professional sacrilege launching the marathon. Now to quick schooling, CBA that the doctors are pushing for adoption has everything that beyond zero is running for covered, and that's a well funded and equipped health-care.
In fact, It would have been pointing scoring since that's the whole motive to have Beyond Zero throw support behind doctors to have CBA implemented. But you know why they won't? Beyond Zero will ONLY remain relevant as long as the state of public healthcare stays in the current despair. Which again goes to question the credibility and honesty in the beyond zero movements, is it genuinely committed in securing healthy state for all mothers and children? Where was first lady's voice when hundreds of millions allocated to free maternity and children was stolen in the Afya House 5B scandal? Her silence was enough to answer to all doubts.
Kenya Insights has learned that Nyokabi Muthama, President's sister who recently made headlines over her involvement in the 5B Afya House scandal, through Sundales Int Ltd received 270M from Ministry of Health in incredible deals, happens to be the Director Beyond Zero Trust.
Little is known of financial records and no financial reports issued to the public despite its magnitude. This has raised eyebrows and many questioned accountability. Beyond Zero remains one if the heavily corporate funded events in Kenya with thousands of donors. You can estimate the campaign rakes in hundreds of millions. You'll be lucky to escape red protruding eyes coming your way if you go deeper in questioning the financial surrounding of this project.
If Margaret Kenyatta and Beyond Zero is genuinely committed to bringing to an end mortality rates, then they should join CBA campaign as this is the ONLY and most efficient, sustainable way to achieve zero deaths the rest is futile. She can organize a marathon advocating for full implementation of CBA and I bet she'll get beyond infinity (if such exists) people running behind her. Simple message, let's run away from face value and short time solutions as Beyond Zero and opt for long-time as CBA to solidify a better healthcare system for beyond zero deaths on preventable situations
---
Kenya Insights allows guest blogging, if you want to be published on Kenya's most authoritative and accurate blog, have an expose, news TIPS, story angles, human interest stories, drop us an email on

[email protected]

or via Telegram
---