Madaraka Day Celebration In Nyeri A National Shame Crafted By Dimwits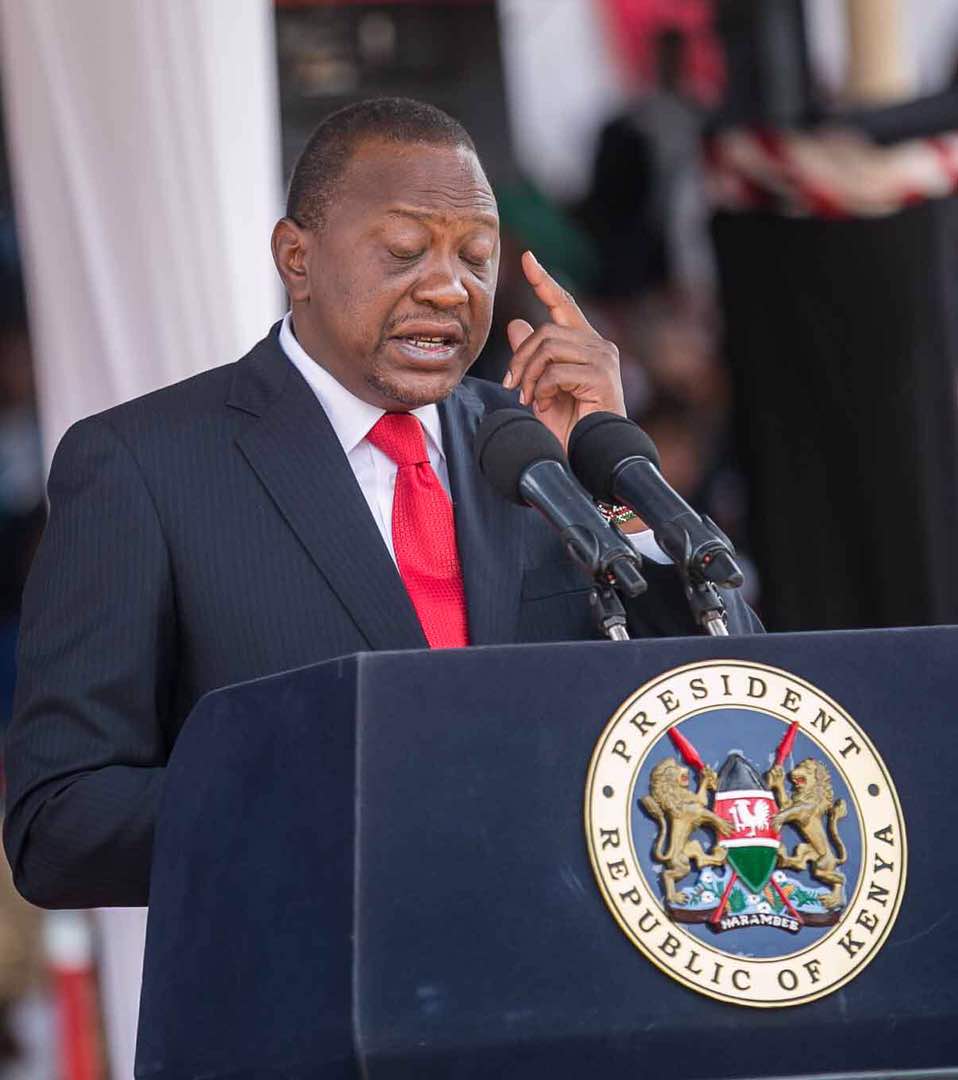 Hours back, Jubilee was walking shoulders high after launching the biggest infrastructural development since independence, despite integrity questions, SGR is, without a doubt, a major step forward. The launch that dominated the media headlines from Mombasa to Shanghai gave Jubilee a sense of legitimacy with high political scoring it came with.
As Kenya marked its 54th year since attaining full independence, the government through its policy of holding national holidays across the country as opposed to traditional Nairobi, took it's way to Nyeri. Lately, national events as Madaraka have been turned into political campaign platforms and I expected nothing different, the same speeches of outlining accomplishments of the government the only difference is the template. For that reason, I didn't see anything worthy watching the event on TV until online outburst that prompted me to watch it online. Unexpectedly yet unsurprising, opposition leader and NASA Presidential candidate Raila was invited to the function. This here was set to be an interesting day.
The event started off with a clearly biased and sycophantic prayer from a Catholic bishop who went out of line praising jubilee achievements while at the same time delivering accusatory venom on the opposition. Instead of preaching love and peace he chose to serve his own interest.
Moments later as the event was building up, the set up was slowly melting from a national event into the local community's event. From the choice of masters of ceremony to other speakers opting to publicly address in Kikuyu language turned the whole thing ugly. While it is understandable for using local dialect to be in sync with the locals, it was ours out of order. This wasn't any other event but a national event held in Kikuyu land. It had to happen under elements of national unity and that included usage of Kiswahili and English only. But the organizers had their own interests to serve. Many Kenyans following the event across the country were left out as the event was reduced to a community ritual passage.
That wasn't the end of blunders, the organizers had more botch job to perform. Speakers after the other, deliberately or rather uniformly failed to recognize the presence of Raila Odinga who by stature is a national leader with a tremendous influence. Odinga was denied a chance to address the nation which was in all senses done in bad taste. It doesn't add up that presidential protocol saw it important inviting Raila to the faction but denying him a chance to speak. This is easily read as a political calculation that was aimed at humiliating Raila and undermining his strength. It is a political season and there's nothing wrong playing it, however, this was not any other event but a national holiday. The same way people look at Uhuru as their leader is the same as Raila with his massive following. Sidelining of Raila has perfectly boomeranged on the organizers. The event has been left with a hate and tribalistic tag.
Both the President and his Deputy followed the suit of rest when they took to the podium, completely ignoring to recognize the presence of Raila in the event and even after the end of the function, didn't bother to shake hands as it has been ritual on such occasions. It was hard listening to the President's speech emphasizing on peace, love, and unity the greatest pillars of our existence yet in action they were publicly displaying, hatred, discrimination and turned a national event into a community event.
If the two took the water they were preaching instead of wine, it would have been such a beautiful show of unity in a highly polarized country especially with the elections, to see both the three have cordial engagements even for the camera. The event has done more damage to cohesion than good. It wouldn't have cost a muscle if Raila was given a second to even cough, it wouldn't have dethroned the duo of the simply recognized the presence of Raila who represents interests of many Kenyans. But again here we have a government that has perfected the art of ignoring things from corruption to now ignoring people at events. We wouldn't have a debate of they didn't invite him. The struggles of freedom fighters to have a united country without hatred and discrimination amongst ourselves has been shitted on by the covfefe boys. While in ordinary cases we would've seen a walk out, it is admirable how Raila calmly handled the situation without a drop of drama and allowed the humiliation script to run smoothly. But there's someone we call karma, she barely forgets.
Happy Madaraka Day ladies and gentlemen. Let's hope to have a better one next year because of this, was a hot mess. Too many childish behaviours can somebody grow up please.
---
Kenya Insights allows guest blogging, if you want to be published on Kenya's most authoritative and accurate blog, have an expose, news TIPS, story angles, human interest stories, drop us an email on

[email protected]

or via Telegram
---