LSK Wants Nationalization Of KQ Stopped Faulting It As A Scheme By Cartels To Siphon Public Funds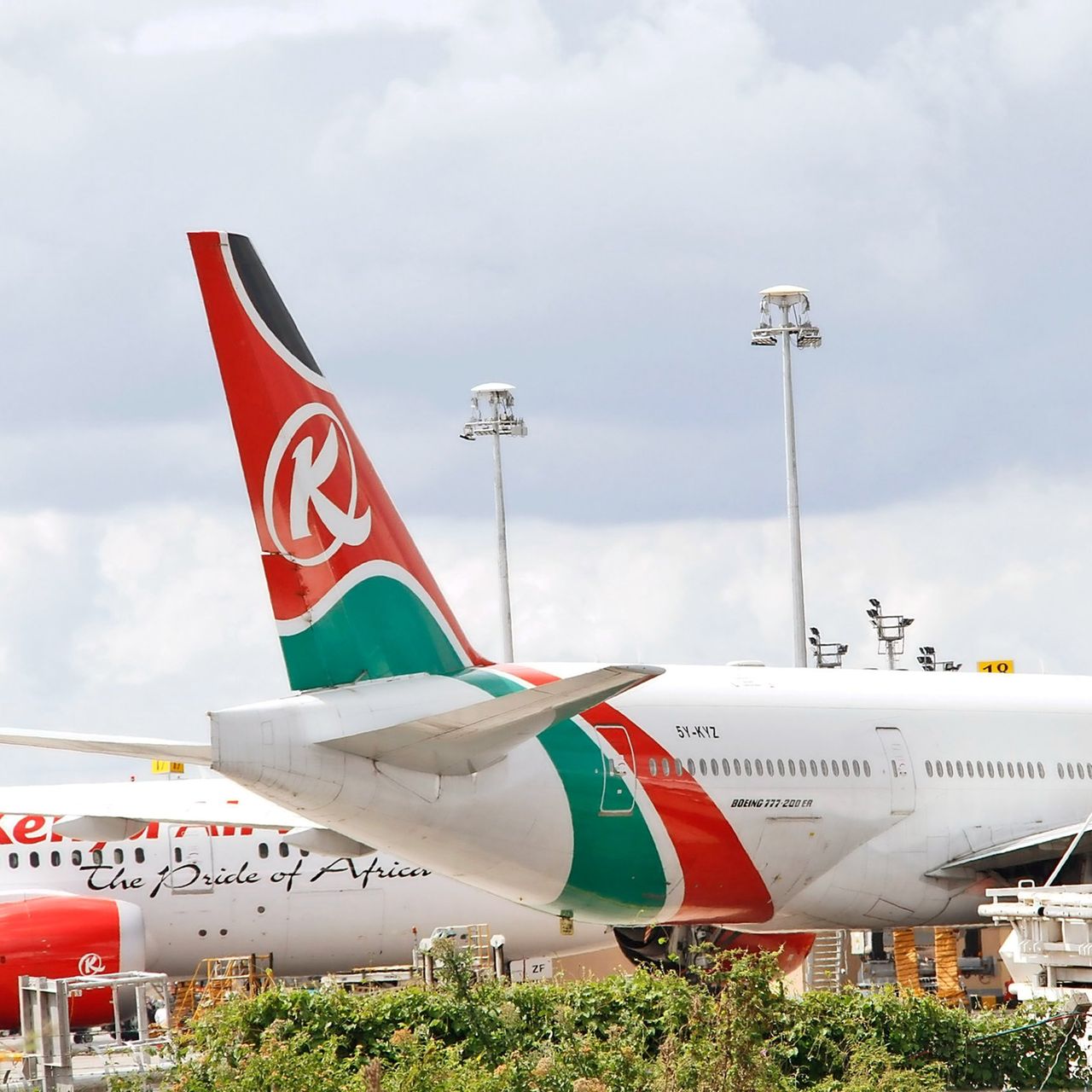 Lawyers have protested a Bill proposing to transform Kenya Airways into a public entity and merge it with the Kenya Airports Authority, alleging a scheme to make huge payouts from public funds.
The Law Society of Kenya (LSK) has demanded the immediate withdrawal of the National Aviation Management Bill (2020), which seeks to nationalise KQ, and rallied members of the National Assembly to reject it if it is not shelved.
Lawyers allege a sinister motive in the manner in which the proposed law is being rushed, citing a shorter five-day notice for the public to present submissions to the National Assembly and a less than 12-hour notice to LSK through an email delivered to a "personal account late in the evening".
LSK has accused the National Assembly's Transport committee, which is scrutinising the Bill, of denying it and other stakeholders with concerns reasonable opportunity to appear before it and present a memorandum.
It warns the Bill has offensive provisions, including empowering a Cabinet secretary to exempt a state organ or public entity from three laws intended to enforce governance, which lawyers claim is to lay ground for "corrupt practices".
"It is notable that in the late 1990s, the country witnessed massive plunder of public assets vested in corporate bodies in which the state had and exercised controlling interest whose management enjoyed discretion to do as they willed without adherence to the laws compelling sound corporate governance and public procurement legal practices," reads the statement in part.
Besides concerns the Bill has significant legal issues "detrimental to the aviation industry", LSK cites failure to value assets given the proposed holding company would need to acquire the equity and the debts of Kenya Airways and KAA.
"The proposed nationalisation and merger and the consequential change of ownership will, in effect, obligate the immediate settlement of all existing debts and liabilities of KQ and KAA, leading to huge payouts from public funds," LSK said yesterday through a public notice by its president, Nelson Havi.
Before the law is enacted, LSK wants a valuation of the assets and review of the liabilities of KQ and KAA before they are transferred to the new operating entities.
Lawyers protest the proposed law was introduced in Parliament before a feasibility study to examine the viability of the nationalisation of KQ and merger with KAA based on financial implications, existing contracts for employees and existing business contracts.
"The proposed merger is not only against best management practices based on global trends, but also denies KAA a chance to enter into similar concession agreements with better placed independent international companies, which would inject much needed capital to the authority without recourse to public funds," reads the statement.
A 'scheme'
The recent developments, LSK reckoned, are a continuation of a scheme for KQ's takeover of Jomo Kenyatta International Airport, which was scuttled last year following public uproar.
At the time, questions were raised as to the motive of handing the management of a loss-making airline steeped in debt, the mandate to manage KAA, a profitable entity.
Yesterday, LSK recalled KQ, with the support of the government had initiated a public private partnership process of privately initiated proposal, which changed course to the current path of nationalisation "upon meeting headwinds during a parliamentary inquiry".
It was reference to the Transport committee inquiry into the proposed Kenya Airways privately initiated investment proposal (PIIP) to KAA.
In its report tabled in the House in June 2019, the committee chaired by David Pkosing concluded PIIP "does not present a viable option for restoring Nairobi as the civil aviation hub of choice in Africa and treating KQ and JKIA as strategic national assets."
Majority of those who made presentations before the committee opposed the takeover of JKIA by KQ arguing it was not motivated by public interest.
The PIIP had proposed the concession of JKIA to Kenya Airways for 30 years, with the airline, according to the report, stating "it has the potential to increase the efficiency of JKIA operations through introduction of world-class standards".
One of those who appeared before the committee, JK Waweru, questioned whether it wasn't a case of conflict of interest for KAA chairperson Isaac Awuonda to continue serving as group chief executive officer of Commercial Bank of Africa (CBA), one of the banks that had converted its loans to KQ into equity.
Mr Awuonda acknowledged that his dual roles of KAA chairperson and group general manager of CBA, one of the banks whose debt was converted into equity held by KQ lenders in 2017, could be perceived as a conflict of interest with regard to the consideration of the PIIP.
Mr Awuonda, however, explained that he was not engaged in the day-to-day operation of CBA and that he had at a very early stage declared the matter to the KAA board and received no objection to his presence during deliberations over the PIIP.
Not persuaded
The committee, however, was not persuaded by his explanation.
"There is a conflict of interest with regard to the consideration of the PIIP, since the chairperson of KAA is also the group CEO of CBA, one of the banks whose debts was converted into equity held by KQ lenders in the 2017 restructuring of KQ," the committee stated in its report.
Mr Awuonda had accompanied KAA chief executive Jonny Andersen to the committee hearings.
The management of KAA, Kenya Airways and the Transport CS supported the PIIP, arguing it was in the interest of protecting JKIA as the region's aviation hub in the face of growing competition, especially from Addis Ababa.
But the Kenya Civil Aviation Authority (KCAA) and the Kenya Aviation Workers Union (Kawu) opposed the plan.
Mr Andersen explained the rationale for the PIIP was to consolidate key aviation assets to restore the sector's regional and international competitiveness and protect JKIA's regional hub status.
He further noted that as a key partner for JKIA, Kenya Airways' success was aligned to the success of KAA. The CEO said KQ accounts for more than 40 per cent of KAA's business and revenues.
To demonstrate the symbiotic relationship, he said as at March 31, 2019, KQ owed KAA more than Sh5.5 billion in relation to unpaid air passenger service charge, landing fees, rent and other charges.
KAA proposed a holding company structure under which the country's main aviation assets will be brought under one roof with separate entities operating as subsidiaries to leverage on the balance sheet value of assets.
They proposed Kenya Aviation Holding Company Ltd would be fully owned by the government and initially have four separate subsidiaries, KQ, JKIA Company, KAA and Kenya Aviation Academy Ltd.
However, Alloys Siaya, ICT manager of KAA, contradicted his bosses and opposed the PIIP.
Mr Siaya, in a separate submission, noted that the KQ management had failed in terms of business strategy and innovation to turn around KQ's fortunes and could not be entrusted with managing JKIA, a totally different kind of business.
He said management of KQ had not been held to account for its huge losses and should not be allowed to oversee JKIA operations.
Transport CS James Macharia said the Cabinet, on May 29, 2018, had resolved to grant policy approval for KQ and KAA to negotiate and agree on a framework to restore Nairobi as the civil aviation hub of choice in Africa.
The CS noted over time KQ had been pushed out of the market by competitive airlines that are very strongly protected by their own governments.
"Within nine years, Ethiopia Airlines has grown from half the size of KQ to three times the size of KQ," said the CS.
"It was his view that KQ and JKIA should be treated as national assets and the proposed restructuring be viewed in geopolitical rather than financial terms," read the report.
Kenya Airways in making a case for the plan said JKIA was losing its status to competition and it would soon become a hub for East Africa only.
And if no significant changes are made, KQ warned, JKIA's role might be taken over by Addis Ababa, given the new airport to be constructed in Ethiopia, which will mainly serve its national carrier, Ethiopian Airlines.
Then KQ chief executive Sebastian Mikosz, accompanied by chairman Michael Joseph, informed the committee the next few years will determine which airlines dominate the African skies and which ones will be regional carriers feeding passengers to the main hubs.
'Alarming' conditions
Mr Mikosz noted conditions surrounding KQ and JKIA were "alarming" and that Kenyan aviation had lost its market share over the last couple of years to its competitors, especially ET.
ET has gradually grown to 153 destinations and a fleet of 100 aircrafts and 59 on order compared to KQ which has 53 routes and a fleet of 40 aircraft with none on order.
As an alternative, KQ proposed the creation of an aviation holding company wholly owned by the government with KQ and an airport Special Purpose Vehicle (SPV) as its fully-owned subsidiaries.
But KCAA Director General Gilbert Kibe submitted that the concession of JKIA to KQ would result in re-allocation of resources to strengthen airline business operations but compromise safety and security of the operations of the SPV with less resources allocated to the air navigation service provider and aerodrome operations.
"The loss of revenue by KAA would negatively impact the development of the other airports in Kenya and the slow growth of domestic aviation," Mr Kibe cautioned.
He submitted that the PIIP is not clear with regard to the KCAA functions the SPV is to take over at JKIA. He noted other services are also offered at JKIA such as area control centre services, meteorological services and search and rescue, which all serve the entire airspace and not just JKIA.
Creating an autonomous body reporting to CS Immigration in charge of security and border control would result in a conflict of interest, thus compromising security at JKIA.
KCAA recommended establishment of a government holding company to own several agencies including a national airline such as KQ, KAA, ground handling service providers and catering as is the case in Ethiopia, UAE and Qatar. Each agency under the holding company would operate independently.
Kawu secretary-general Moss Ndiema said the union was opposed to the PIIP because KQ is a private company operating as the nation's flag carrier while KAA is wholly owned by the government.
Mr Ndiema submitted that JKIA generates over 90 per cent of KAA's revenue and that by ceding the business unit that generates the largest share of their revenue to KQ, KAA would remain a shell.
KAA would be unable to expand and grow more aerodromes and airports in the country due to insufficient funding.
"Kawu noted that KPMG, an audit and consulting firm contracted by KAA as its transaction adviser on the PIIP, had observed that it had not received detailed financial information from KQ to ascertain whether it would be able to fund the PIIP.
Kawu told the committee that KPMG noted that despite KQ having restructured their debt in 2017, it had continued to experience difficulties in restructuring its debts and that its non-equity participating lenders had not been informed about the PIIP, which would adversely affect KQ's existing loan arrangements.
"Kawu further submitted that KPMG had concluded that KQ lacks the credentials and the competence to run an airport like JKIA and that without JKIA revenues, KAA would require funding for the other aerodromes and its liabilities such as environmental remediation and pension deficit funding," the committee report stated.
Kawu argued the JKIA take-over was not the only option available to turn around KQ.
The union noted that in February 2017, KQ had contracted Seabury Group that recommended the conversion of debts owed to local banks and the government to equity, the negotiation of productivity based collective bargaining agreements, engaging the government to waive taxes on imported aircraft material for maintenance and jet fuel to save Sh7 billion annually. It also recommended the enactment of a law to ensure all government employees and contractors use KQ for their travel.
KQ only implemented the recommendation to convert debt to equity.
Sh50 billion
Kawu suggested that the sale-lease-back of the aircraft owned by KQ would allow it to raise Sh50 billion to Sh70 billion.
Kenya Association of Air Operators CEO Eutychus Karumba told the MPs they were yet to see the PIIP and that despite having been called for a public consultative forum over the document, the forum was indefinitely postponed.
The committee listed exorbitant aircraft leasing costs, a fuel hedging model that abets financial leaks, huge wage bill and expensive KQ ticket prices that force passengers to go to cheaper airlines such as Emirates and ET among the reasons the airline was going through financial turbulence.
Indeed, Mr Mikosz said salaries of the around 3,700 employees constituted 19 per cent of the airline's total costs. He submitted that on average, airline captains and first officers earn Sh1.6 million and Sh900, 000 per month, respectively.
Flight hours
Mr Mikosz told the committee a KQ pilot's pay was not commensurate with their productivity. He said KQ pilots flew an average of 533 hours per year, much lower than the 859 hours flown by ET pilots, who get half the pay.
The CEO himself said he earned Sh4 million in salary, allowances and benefits before tax.
"Kenya Airways and KAA neither informed nor engaged their employees on the PIIP, which is a sensitive issue with a great potential to affect their jobs," the committee observed.
The committee recommended that Kenya Airways be nationalised. Upon nationalisation, the MPs directed the government undertakes a staff rationalisation programme with a view of retaining existing staff and harmonising the terms of service and remuneration.
They also asked the government to review aircraft leasing agreements to renegotiate better terms.
The committee also recommended that the government establishes an aviation holding company with four wholly-owned subsidiaries: JKIA Company incorporated to manage JKIA as an international hub, ground handling and catering services; KAA with revised mandate, KQ as the national carrier and a centralised aviation services college.
---
Kenya Insights allows guest blogging, if you want to be published on Kenya's most authoritative and accurate blog, have an expose, news TIPS, story angles, human interest stories, drop us an email on

[email protected]

or via Telegram
---