Lawyer Ahmednasir Trade Jabs With Uhuru's Former Hotel Manager Mohammed Hersi Over CJ Maraga's Reshuffling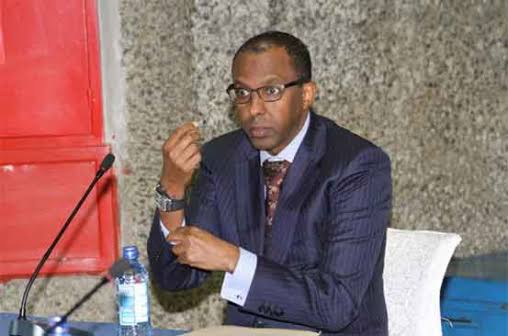 Grandmula as he's popularly known, has made a name outside the courts over his outspoken nature. The Senior Counsel who has made a name for himself as the go to lawyer in town, doesn't shy away to speak his mind on matters politics and judiciary.
One of the lawyers who represented Jubilee during the presidential petition by ODM that saw elections overturned by the Supreme Court, Ahmednasir has also been a jelly critic to the government lately. He was recently quoted on government's reversal of the car-free day suggestion, "A classic jubilee government policy capitulation…little thinking, little planning, no public participation, knee-jerk reaction to a problem…then quick withdrawal after criticism." He said.
Chief Justice David Maraga on Monday announced the transfer of five judges including Chacha Mwita, who has left the Constitutional and Human Rights Division for the Kajiado High Court, where he will be Presiding Judge.
The others who have been moved, effective March 1, are as follows:
Wilfrida Okwany – from Constitutional and Human Rights Division to Commercial and Tax Division
James Aaron Makau – from Commercial and Tax Division to the Constitutional and Human Rights Division
Weldon Kori – from Malindi High Court to the Constitutional and Human Rights Division.
Reuben Nyakundi – from the Kajiado High Court where he was the Presiding Judge to the Malindi High Court where he will hold the same position.
Both Justice Mwita and Justice Okwanya had both participated in suspending Government's controversial Cyber Crime Act, which provided for criminal punishment to anyone who posted any information thought to be a slur on social media and the main stream media.
Justice Mwita suspended implementation of 22 sections of the cybercrime law last year and when the Government moved to Justice Okwany seeking to lift the temporally orders she declined.
President Uhuru Kenyatta taunted Justice Maraga last month after he raised his irritation about bloggers who were tainting the image of the Judiciary and himself on social media.
The President told him to get used to the annoying comments as it was the judiciary which frustrated efforts to tame bloggers.
Justice Mwita also stopped Director of Public Prosecution (DPP) Noordin Haji from prosecuting Deputy Chief Justice Philomena Mwilu until her case is heard and determined.
Reacting to these changes, Ahmednasir called out the CJ for succumbing to the executive's pressure. "CJ Maraga in move seen by observers to appease the Executive dismantles the Constitutional & Human Rights Division and other divisions of the High Court and appoints judges acceptable to the Executive." Says Ahmednasir.
He continues, "CJ has an ABSOLUTE prerogative when it comes to transfer of judges but when he fiddles with the Constitutional & Human Rights division of the High Court every 2 years, we smell a rat…and RIGHTLY suspect the CJ is giving in to pressure from the state to scuttle this COURT."
Mohammed Hersi, a veteran hotelier and former head to the Kenyatta family-owned Heritage Hotels East Africa Group, the hotels group owns the Voyager Resort in Mombasa and Tsavo, Interpids camps in Samburu and Maasai Mara as well as the Great Rift Valley Lodge in Naivasha, responded.
While replying to Ahmednasir, Hersi was in support of the CJ's decision, "Good move by @dkmaraga  who is independent minded. Please let him do his work. If anything we want the whole swamp drained ." He said to which the rattled lawyer responded immediately, "Jack of all trades…concentrate on good housekeeping…and clean beaches…" in a bid to silence his opinion given then he doesn't have a legal background.
Hersi wasn't going down without a fight and responded, "Oh yes CJ is indeed doing very good HOUSEKEEPING . I haven't heard him ask you for help while you are record bashing him day in day out.  On the other hand good clean  beach is key to a thriving tourism destination. We bring the Forex to help you pay for your Brioni." He fired at Ahmednasir.
With no signs of ceasefire, the lawyer brought out his arsenal, "Told you1000 times…concentrate on what you know best..housekeeping, clean rooms,nice food,friendly front office, clean swimming pool, etc. Mambo ya judiciary leave it to the experts…imagine how ridiculous I sound if I engage you on how to make a nice clean bed for your guests." He shot!
Hersi then landed another jab, "No worries I am very happy as a hotelier.  Many Kenyans are supporting The CJ in the changes he is making and everyone is free to comment.  When CJ does not make a  change you complain , when he makes a move you are again the first to complain. Let CJ be he is serving Kenyans ."
Who in your opinion carried the day in this 'war?'
---
Kenya Insights allows guest blogging, if you want to be published on Kenya's most authoritative and accurate blog, have an expose, news, story angles, human interest stories, drop us an email on

[email protected]

or via Telegram
---
Joash Ombati The Brave Police Officer Who Took On Two Thugs And Recovered Sh400,000 Feted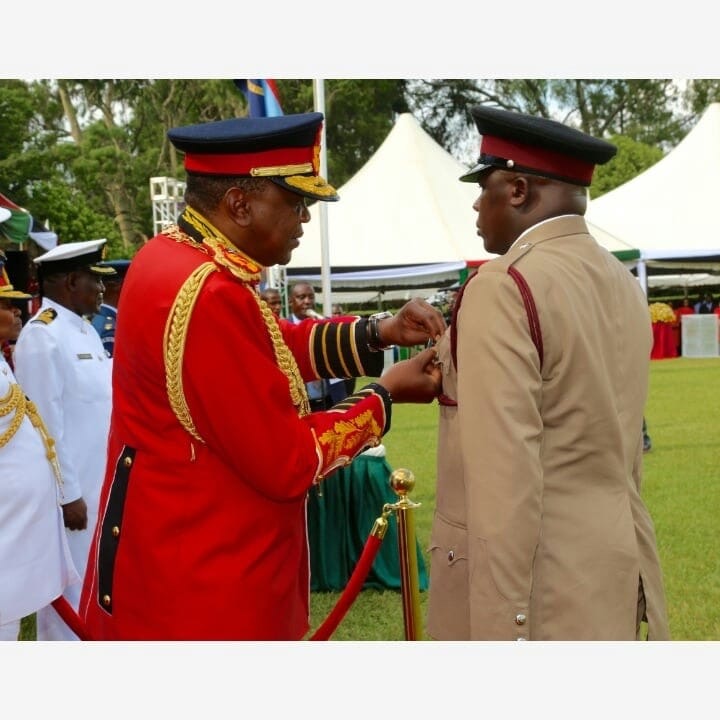 Two suspects, Sameer Abdulaziz Kassim and Peter Kavoli Musili had posed as traders of construction materials on OLX.
They reportedly duped Amos Charo Saroan, an unsuspecting customer from Voi then robbed him.
Amos Charo traveled from Voi and met the duo in Nairobi CBD, then drove towards Westlands but he was pushed out of the speeding car after giving them KSh 732,000, an incident witnessed by Ombati.
Administration Police Constable Joash Ombati who was guarding a bank nearby, boarded a taxi to chase after the suspects.
The Police officer shot in the air forcing the thieves to surrender before he handcuffed them as members of the public watched with many urging him to shoot dead the suspects.
Mr. Ombati remained calm even as a furious mob urged him to shoot and kill.
He managed to recover Sh400,000 which was part of the Sh732,000 that the suspects had stolen from the complainant Mr Amos Charo.
Ombati would then be awarded by Interior CS Matiang'i for his bravery the government was given the heroic AP a Distinguished Service Award in November 2018 barely a month after his commendable work.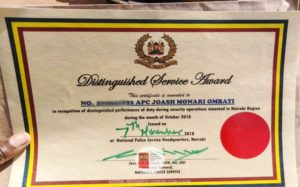 That wasn't the end, Joash Ombati who single-handedly pursued two thugs in Nairobi and recovered KSh 400,000 has just been promoted to the rank of Corporal from being a AP Constable.
Friends help me Congratulate my brother.
---
Kenya Insights allows guest blogging, if you want to be published on Kenya's most authoritative and accurate blog, have an expose, news, story angles, human interest stories, drop us an email on

[email protected]

or via Telegram
---
Grace Msalame Sues Uganda's Tourism Board For Illegaly Using Her Curvy Photos To Promote Sex Tourism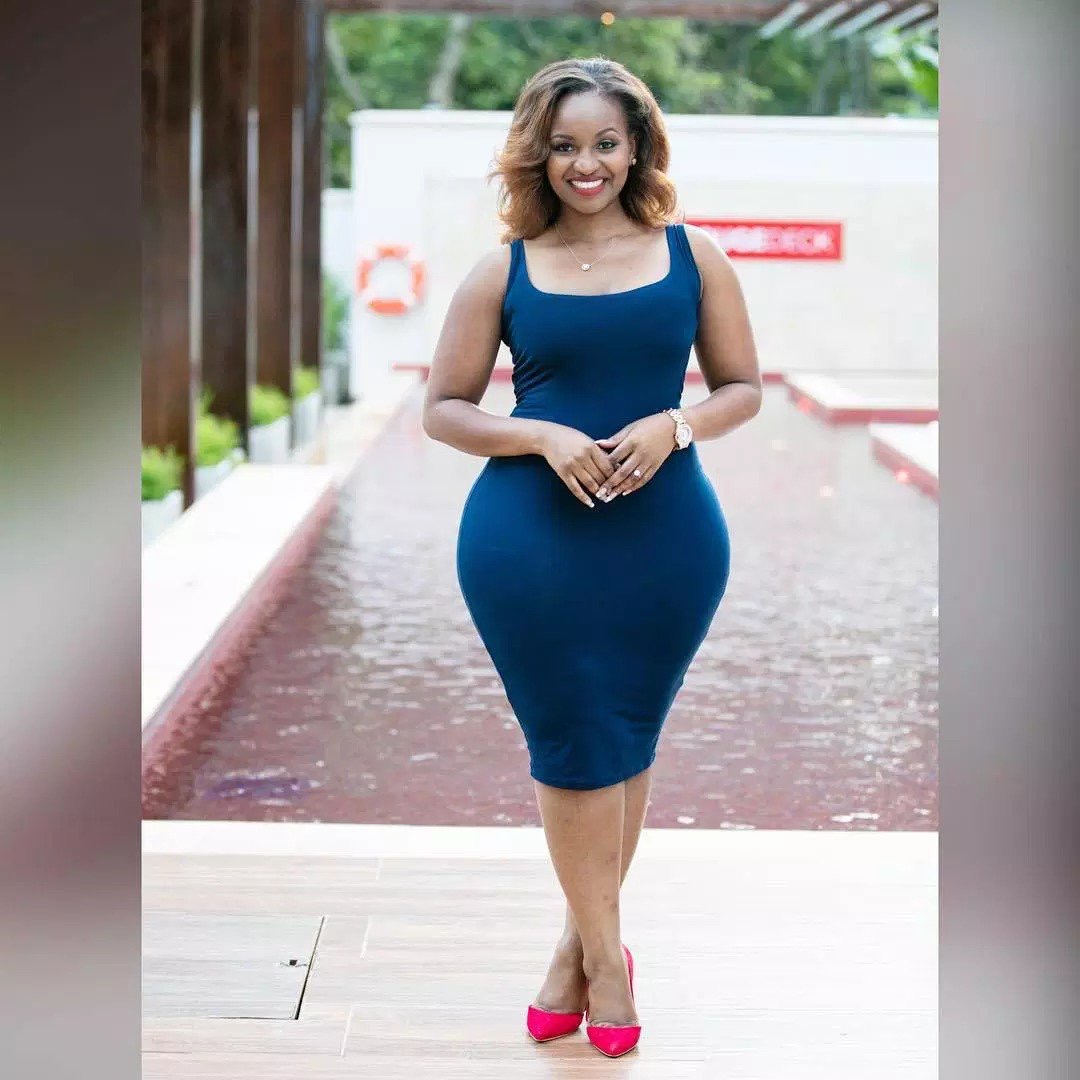 Uganda's Ministry of Tourism unveiled a beauty pageant dubbed 'Miss Curvy Uganda' in a bid to promote tourism in the country, the ministry decided to use Kenya's media personality Grace Msalame as the official face of their Miss Curvy Uganda contest without her knowledge. Whether it was a mistake or deliberate is unknown but now they'll have to prove it in court.
Grace a media personality in Kenya has distanced herself from the beauty pageant saying she was never part of the program neither did she give consent for her photo to be used in the promotion.
In a statement, Msalame says, "I take great exception for the fact that my image and likeliness are being used to propagate, disseminate and encourage objectification of women. I don't agree nor endorse such a message or anyone who's a creator of the idea that women's body are tourist attraction sites."
While announcing that her lawyers are already on legal course for redress, Msalame says, "I reject any association to me that has been unlawfully created by Miss Curvy Uganda 2019 and its agents."
The media personality claims that her brand has been immensely hit following the publications of her images. "Miss Curvy Uganda's deliberate and calculated use of my image and likeliness to promote violation of women's bodies had defamed my character and reputation damaged a brand that I've worked for so many years to establish, and subjected me to unwarranted and undeserved cyber bullying." She says in her statement.
---
Kenya Insights allows guest blogging, if you want to be published on Kenya's most authoritative and accurate blog, have an expose, news, story angles, human interest stories, drop us an email on

[email protected]

or via Telegram
---
Club Associated With CS Echesa's Deported Exotic Dancers Now Wants State To Pay Them Sh48M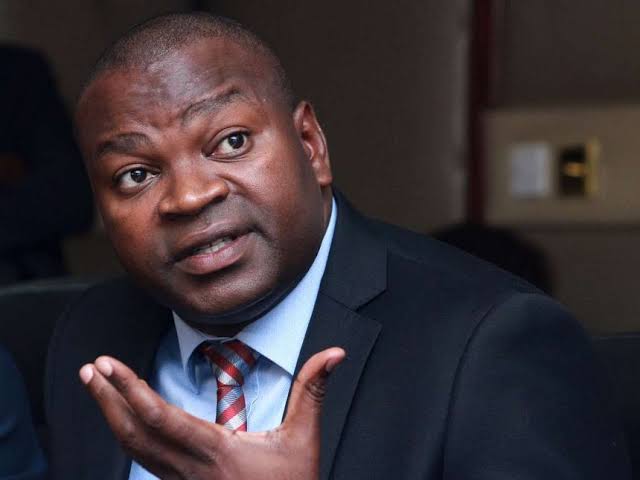 Balle Balle Club In Parklands that flew in the eight deported Pakistani women is now suing the state over the deportation of the dancers by police infringed on its rights and business. The club is seeking to be compensated with Sh48M which they claim was lost as a result of the deportation.
Arguing their case before Justice Luka Kimaru, the club represented by lawyer Evans Ondieki told the court that the dancers had been issued with special permits by the Sports CS Rashid Echesa to perform at the Balle Balle Club during the festive season but were arrested and detained illegally by police.
The court also heard, the girls were bundled out of the club and detained for 36 hours without bathing, which was a violation of their basic rights. They were held as investigations looked into the circumstances and validity of the permits issued by the CS who was alleged to have been involved in the human trafficking racket.
Earlier, the lawyers had sought for the court to compel CS Echesa and Matiang'i to personally compensate the deported girls despite having a standing order to produce them in court. The courts excused the CSs from the Sh9.1M fine and instead summoned detectives who gave out the girls to different state despite the case having been lodged in.
The club is now seeking orders restraining the DCI, DPP and Transnational Organised Crime Unit from entering, harassing, intimidating, arresting or doing anything prejudicial to its directors.
---
Kenya Insights allows guest blogging, if you want to be published on Kenya's most authoritative and accurate blog, have an expose, news, story angles, human interest stories, drop us an email on

[email protected]

or via Telegram
---