Jetlak Foods Ltd Manufacturer Of Banned Nuteez Peanut Butter Has An History Of Toxicity With Their Water Product Waba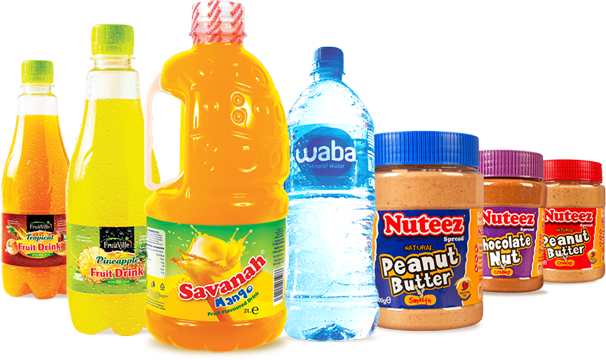 Jetlak Foods which is a manufacturing company that specializes in bottled water, fruit juices, fruit flavoured drinks and peanut butter. Their key brands include Waba Mineral Water, FruitVille Fruit Drink, Savanah Fruit Flavoured Drink, Marche Lime Cordial and Nuteez Peanut Butter,bid in trouble.
The Ministry of Health has recalled peanut butter brand 'Nuteez' countrywide after tests confirmed a contaminated batch in Nandi County.
The government has confirmed the presence of aflatoxin, a poisonous substance, in peanut butter brand Nuteez, making it unfit for human consumption.
Government Chemist Francis Maina said that the peanut butter was found to be containing 24.08ppb aflatoxin, 14.08ppb more than the required limit.
"The peanut butter exceeds the maximum required limit for total aflatoxins (10ppb) hence not fit for human consumption," reads the letter.
Subsequently, the Director of Public Health Kepha M. Ombacho on Thursday asked all County Public Health Officers to ensure the 'Nuteez' peanut butter is removed from the market and submitted to the government laboratory for analysis.
Jetlak Foods, who produce Nuteez, however issued a statement saying that they had not received any letter or correspondence from the Interior Ministry, who raised the flag over the toxic levels. In a letter to the public, the company insists their products are of high standards.
Ingestion of contaminated food is the main source of exposure to aflatoxins, which adversely affect the health of both humans and animals. Exposure to aflatoxins is associated with an increased risk of liver cancer.
Several studies have shocking  levels of aflatoxin in milk. EU/FAO/WHO limits is 50ng/Kg, the KEBS is 10,000ng/kg (10ppb). Kenyans consume 200 times more Afflatoxin than EU counterparts.
"So, Nuteez whose results were released today contained 24,000ng/kg of Afflatoxin 480 times more than that allowed in Europe. Don't ask me why we have so many cancer cases in Kenya or why our farmers can't access the lucrative European market for their Livestock products eg milk." Says Benson Kibore the chairman Of veterinary practitioners in Kenya.
Jetlak Food LTD also owns WABA Mineral water which had been blacklisted on 12th May 2016 by KEBS due to poor quality. Despite the suspension, the mineral water brand (Waba) were not withdrawn from the outlets. 
Miraculously, the company was given a go ahead to continue Production and distribution of mineral water by KEBS. They were subsequently removed from the list of shame. 
It remains who at KEBS re authorized the company to continue production and on what conditions. With two products now found to be of substandard in the company's history, the question that would linger in any alert consumer is just how safe is other products made by Jetlak.
---
Kenya Insights allows guest blogging, if you want to be published on Kenya's most authoritative and accurate blog, have an expose, news, story angles, human interest stories, drop us an email on

[email protected]

or via Telegram
---
Joash Ombati The Brave Police Officer Who Took On Two Thugs And Recovered Sh400,000 Feted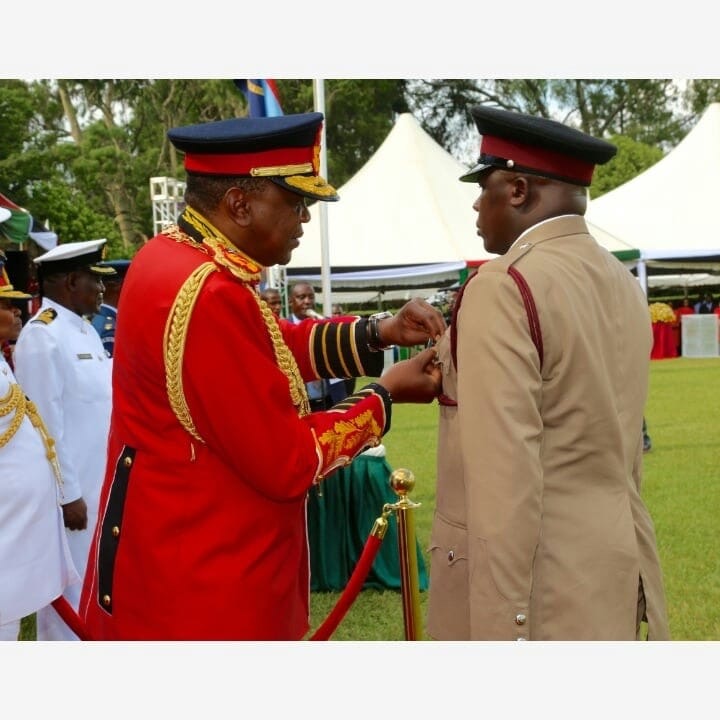 Two suspects, Sameer Abdulaziz Kassim and Peter Kavoli Musili had posed as traders of construction materials on OLX.
They reportedly duped Amos Charo Saroan, an unsuspecting customer from Voi then robbed him.
Amos Charo traveled from Voi and met the duo in Nairobi CBD, then drove towards Westlands but he was pushed out of the speeding car after giving them KSh 732,000, an incident witnessed by Ombati.
Administration Police Constable Joash Ombati who was guarding a bank nearby, boarded a taxi to chase after the suspects.
The Police officer shot in the air forcing the thieves to surrender before he handcuffed them as members of the public watched with many urging him to shoot dead the suspects.
Mr. Ombati remained calm even as a furious mob urged him to shoot and kill.
He managed to recover Sh400,000 which was part of the Sh732,000 that the suspects had stolen from the complainant Mr Amos Charo.
Ombati would then be awarded by Interior CS Matiang'i for his bravery the government was given the heroic AP a Distinguished Service Award in November 2018 barely a month after his commendable work.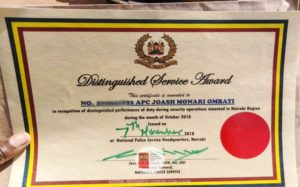 That wasn't the end, Joash Ombati who single-handedly pursued two thugs in Nairobi and recovered KSh 400,000 has just been promoted to the rank of Corporal from being a AP Constable.
Friends help me Congratulate my brother.
---
Kenya Insights allows guest blogging, if you want to be published on Kenya's most authoritative and accurate blog, have an expose, news, story angles, human interest stories, drop us an email on

[email protected]

or via Telegram
---
Grace Msalame Sues Uganda's Tourism Board For Illegaly Using Her Curvy Photos To Promote Sex Tourism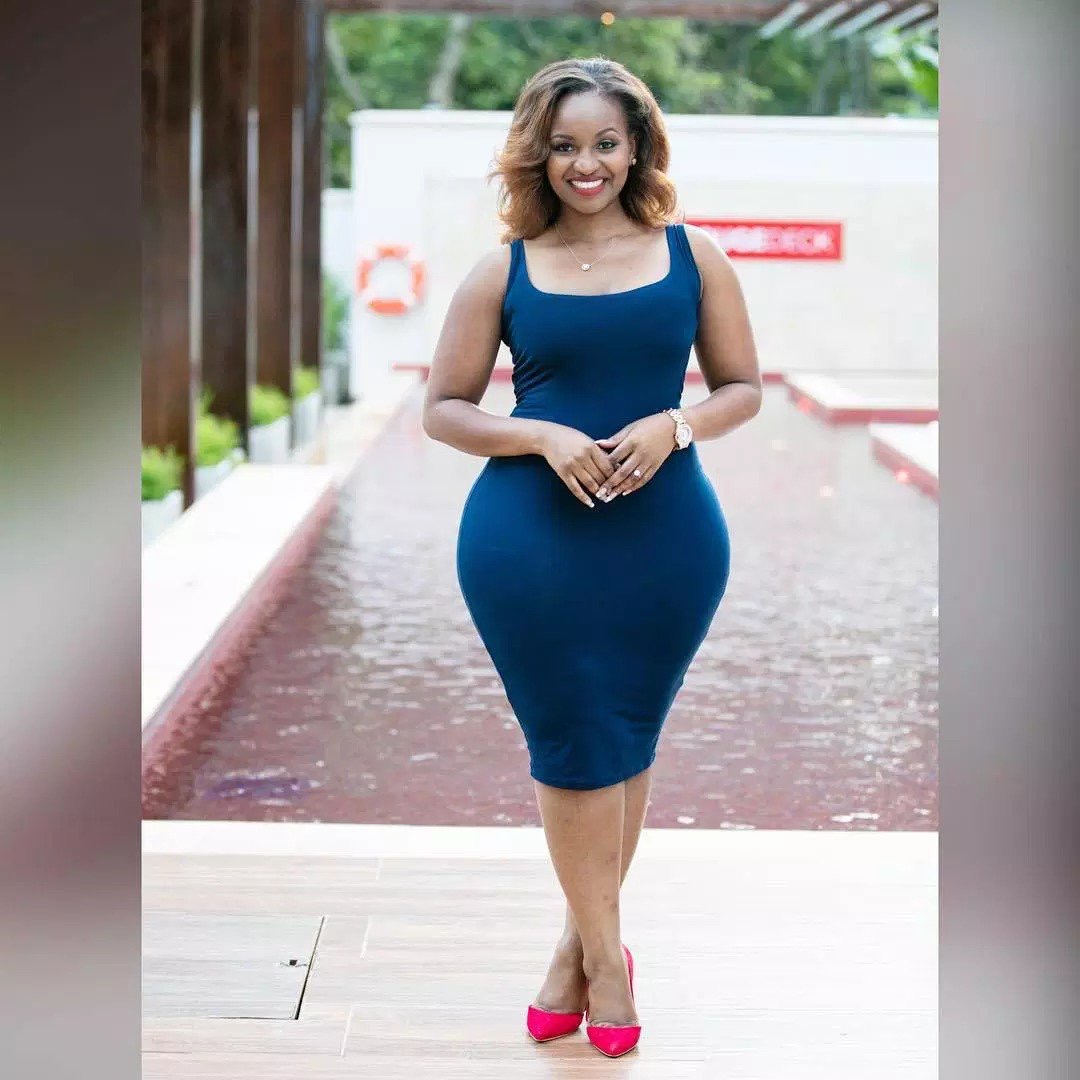 Uganda's Ministry of Tourism unveiled a beauty pageant dubbed 'Miss Curvy Uganda' in a bid to promote tourism in the country, the ministry decided to use Kenya's media personality Grace Msalame as the official face of their Miss Curvy Uganda contest without her knowledge. Whether it was a mistake or deliberate is unknown but now they'll have to prove it in court.
Grace a media personality in Kenya has distanced herself from the beauty pageant saying she was never part of the program neither did she give consent for her photo to be used in the promotion.
In a statement, Msalame says, "I take great exception for the fact that my image and likeliness are being used to propagate, disseminate and encourage objectification of women. I don't agree nor endorse such a message or anyone who's a creator of the idea that women's body are tourist attraction sites."
While announcing that her lawyers are already on legal course for redress, Msalame says, "I reject any association to me that has been unlawfully created by Miss Curvy Uganda 2019 and its agents."
The media personality claims that her brand has been immensely hit following the publications of her images. "Miss Curvy Uganda's deliberate and calculated use of my image and likeliness to promote violation of women's bodies had defamed my character and reputation damaged a brand that I've worked for so many years to establish, and subjected me to unwarranted and undeserved cyber bullying." She says in her statement.
---
Kenya Insights allows guest blogging, if you want to be published on Kenya's most authoritative and accurate blog, have an expose, news, story angles, human interest stories, drop us an email on

[email protected]

or via Telegram
---
Club Associated With CS Echesa's Deported Exotic Dancers Now Wants State To Pay Them Sh48M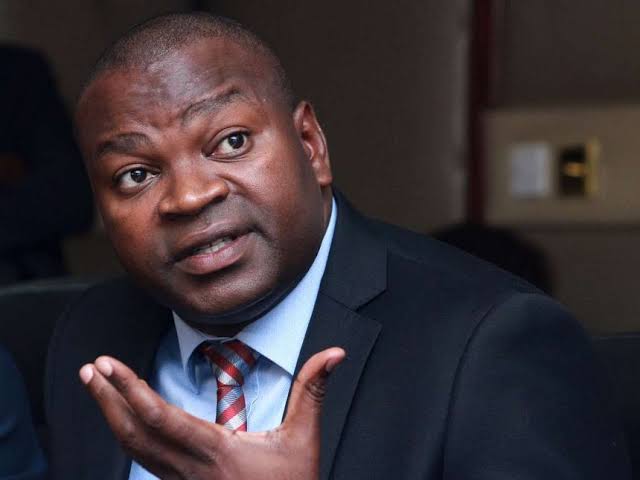 Balle Balle Club In Parklands that flew in the eight deported Pakistani women is now suing the state over the deportation of the dancers by police infringed on its rights and business. The club is seeking to be compensated with Sh48M which they claim was lost as a result of the deportation.
Arguing their case before Justice Luka Kimaru, the club represented by lawyer Evans Ondieki told the court that the dancers had been issued with special permits by the Sports CS Rashid Echesa to perform at the Balle Balle Club during the festive season but were arrested and detained illegally by police.
The court also heard, the girls were bundled out of the club and detained for 36 hours without bathing, which was a violation of their basic rights. They were held as investigations looked into the circumstances and validity of the permits issued by the CS who was alleged to have been involved in the human trafficking racket.
Earlier, the lawyers had sought for the court to compel CS Echesa and Matiang'i to personally compensate the deported girls despite having a standing order to produce them in court. The courts excused the CSs from the Sh9.1M fine and instead summoned detectives who gave out the girls to different state despite the case having been lodged in.
The club is now seeking orders restraining the DCI, DPP and Transnational Organised Crime Unit from entering, harassing, intimidating, arresting or doing anything prejudicial to its directors.
---
Kenya Insights allows guest blogging, if you want to be published on Kenya's most authoritative and accurate blog, have an expose, news, story angles, human interest stories, drop us an email on

[email protected]

or via Telegram
---