Exclusive: Four Kenyans Jailed In South Sudan Set For Early Release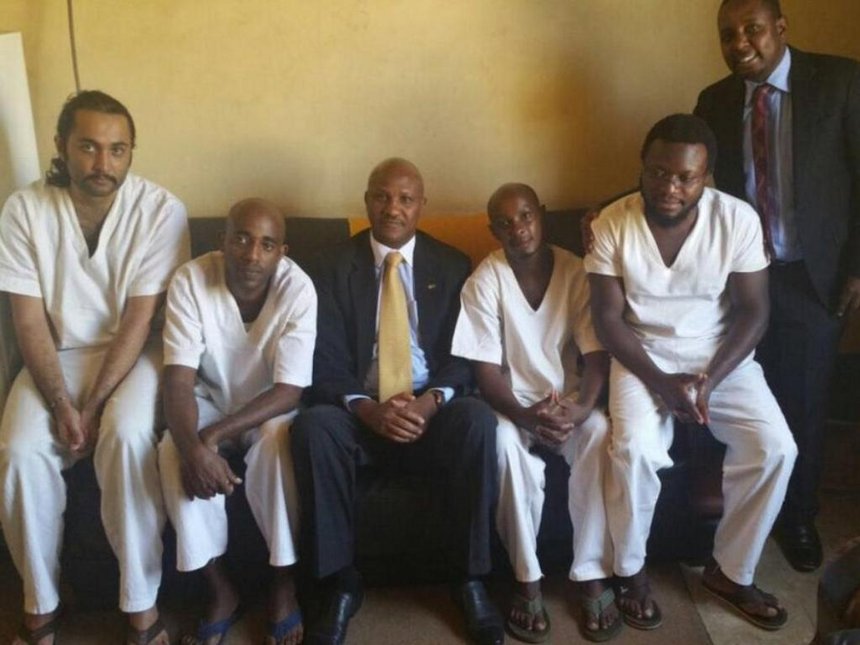 A diplomatic impasse that has seen four Kenyans Jailed In South Sudan unjustly since 2016 seems to be edging closer to the breakthrough and consequently the release of the four. This follows a series of talks between the two governments.
Kenya Insights has learned of a secret meeting between the governments of Kenya and South Sudan and the families of the jailed. A senior officer privy to the finer details of the recent developments intimates to Kenya Insights that the President is determined to put the matter into rest and had personally assigned the Foreign Affairs PS Monica Juma to secure the release of the held Kenyans. This comes out as a step in the president's ploy to lay down his legacy.
The PS took up the matter and visited the four. According to our sources, the freedom could become sooner than later with greatest indications being as early as this first week of December. However, there are genuine reasons not to celebrate too soon as this isn't the first kind of such talks. The CS, PS have both been in similar talks that died sooner without success. The latest talks, however, looks more promising than ever boosting the hopes of their release given the advanced levels of negotiations.
President Uhuru dissolved the cabinet and is expected to name a new team in coming days. Many are expected to face the boot over performance quotient. Monica could as well use this opportunity to lobby for a reappointment as the PS even though close sources worry about their harsh, unhealthy rivalry and working conditions with her CS Ambassador Amina. Should Monica be reappointed, the release of these Kenyans need to be ensured and that it doesn't remain one of the lobbying tales. Families of the jailed have been in agony and mental torture, they need their sons back home. They deserve happiness and freedom. There has been reluctance from the Foreign Affairs office to breakthrough hopefully the circle doesn't continue.
On the 13th day of June 2016, life took a shocking, unexpected turn when four Kenyans who were working for South Sudanese government officials were sentenced to life imprisonment of 72 years in a puzzling legal process. Clueless of what was going on, the four Kenyans were victims of a great war within the office of the president in what has turned out to be a fabricated corruption case within the agencies but a power measuring and neutralizing war amongst the officials including President Salva Kiir.
The genesis of this whole case is all Concoctions and trumped-up charges in the form of "Intelligence Report," and more of Conspiracy acts by a group of Powerful individuals in the Office of the President. Their goal was to scratch off Former Chief Administrator Mayen Wol Jong and Executive Director in the Office of the President, Yel Luol Koor from their positions. The Former Chief Administrator and Former Executive Director were barriers to these Powerful government officials and allies crooked multi-million business tenders with government through Office of the President.
The report was accusing the two senior individuals of squandering $500million from the office of the President by forging the signature and seal of the president to withdraw these sum from Ministry of Finance and Central bank of South Sudan.The $500million was alleged to have been deposited in John Agou's bank account in Nairobi.In reaction this, On 29th May 2015 President Salva Kiir ordered the arrest of three above mentioned.John Agou and his employees who among them included 4 Kenyan Citizens were arrested while at the shop, Click Technologies limited owned by Agou.
These four Kenyans had no idea of what was going on.They were detained at the headquarters of the General Intelligence Bureau (GIB) as just 'State Witnesses.'On 25th June 2015, President Salva Kiir suspended his two senior aides Chief Administrator Mayen Wol Jong and Executive Director Yel Luol Koor handing them over to GIB for investigations. On 2nd October 2015 in Nairobi -Kenya, where John Agou's wife and his 2-year old son were residing, became a crime scene as his wife Susan Anyieth Chaat was kidnapped on her way to the prominent wedding of television personalities Betty Kyallo and Denis Okari were holding their event at Marula Manor in Karen.She was abducted by Officers from South Sudan National Security Service with the help of plan less Kenya Anti-Terrorism Police Unit(ATPU), and National Intelligence Service then handed over to South Sudan National Security Service officers in Nimule, a town at Uganda-S.Sudan border.
On Friday 29th of May 2015, four young Kenyan men are living and working in South Sudan namely; Boniface Chuma, Ravi Ghaghda, Antony Keya and Antony Mwadime were arbitrarily arrested by National Security in South Sudan from a company called Click Technologies. They were arbitrarily detained for nine months on one meal a day with no access to family or lawyers.
They were finally presented to Court on the 20th of February 2016 along with 12 south Sudanese for various charges which they did not commit; such as forgery, insult to the person of the president and misappropriation of funds among others.
The unfairness in court started from the very beginning when the judge set bail per person at $14 million USD. Their lawyer was forbidden to meet with his clients unless during the trial. Continuous intimidation to witnesses by National Security and exactly a month into the trial the lawyer, Kiir Chol was threatened at Gunpoint by National Security, whose written communication was snatched away from him and his clients' and forced to drop the case.
Five months of Trial and the Kenyans had NO MENTION in court; this was acknowledged by the Ministry of Foreign Affairs. The court proceedings were conducted in Arabic which the Kenyans could not understand.
With the to and fro from government officials that bore no fruits, unfortunately, the 4 Kenyans along with 12 South Sudanese were sentenced to life imprisonment of 72 years on 13th June 2016.
---
Kenya Insights allows guest blogging, if you want to be published on Kenya's most authoritative and accurate blog, have an expose, news TIPS, story angles, human interest stories, drop us an email on

[email protected]

or via Telegram
---