Ethic Group Famed For Lamba Lolo Dumps Manager Who Brought Them Up And Rapper Juliani Has An Advice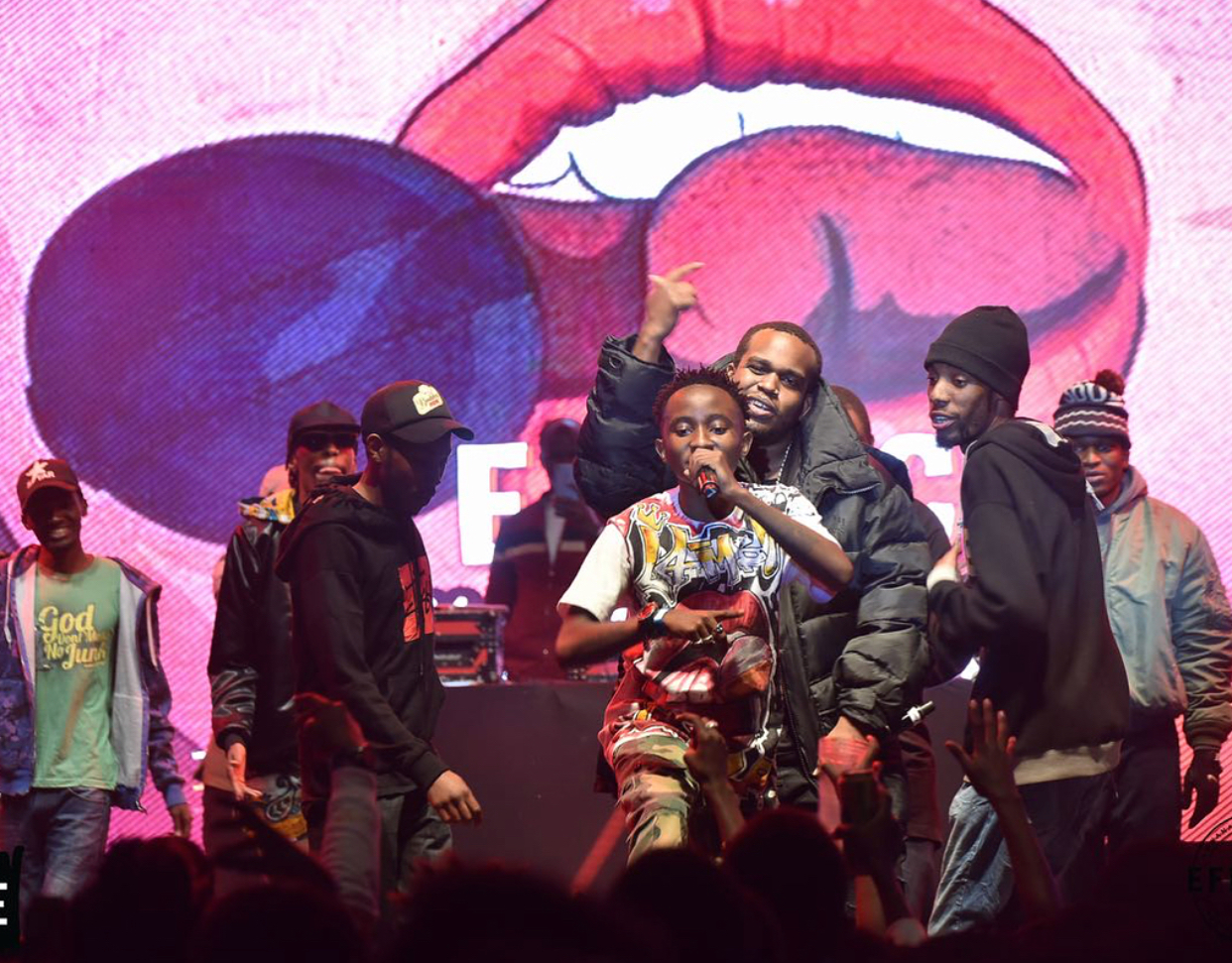 I'm not such a big fan of local music save for a few conscious artists like Juliani whom I listen to their art but nothing in the music industry will pass without my knowledge. So in the past few months, a group made of few kids from Kayole have been running the airwaves.
Known and Ethic Group, the five boys are behind what's arguably the biggest song in the country this year 'lamba lolo' which loosely translates to go to hell. The explicit song that started off a joke on YouTube has gained big traction and probably the most watched clip on Kenya's YouTube community. The song made the group popular and elevated the crew to stardom.
And ever since their star started shining, it has never gone off. From radio to tv interviews, shows to beaches, this had been the go to group and most sort after. Position is their latest hot song that they did with Kansoul and currently doing great in the charts.
With all these successes, the acts behind are never mentioned. Nothing happens by chance but design. There's no successful artist who ever made it without a manager. Talent management is a core part of the growth. Teleh Mani of Hype Group Limited took up the group when their first song was gaining momentum on YouTube and became their manager until recently.
He opens up,"lot of industry guys told me to stay away from Ethic and it was gonna be rough. Nothing repaired me for the fuckery today. I was wrong and I shoulda listened."
Narrating his ordeal, the manager explains what really happened leading to the break out, "Ethic are extremely talented. They can make hits. They have another 2-4 hits in them. However greed will be their ultimate downfall. Mark my words. That 'ghetto' mentality is toxic."
"So basically, I hit these guys up when 'Lamba Lolo' had a ka small buzz. Before 100k views around June. At the time all I wanted was to pay for a new 'polished' video. However, I realized that one of the reasons the video even trended was because of how raw and real it was. So I get back to Nairobi and me and the boys meet. I specifically ask how they feel I can help them because Artist management is something I really hate but I wanna help them build their brand. They say help us record, shoot videos and get shows."
He continues, "First of all, these guys weren't a group. They just got together for that one song. So I suggested they try out the group thing for a year and if it doesn't work, they can figure their shit out. They said cool. So after the dynamics of our work relationship were agreed upon ON PAPER we hit the ground running. Sent them to record 'Saba' at Pacho and to Madtraxx for 'New Position' Paid for everything from cab money for interviews that I put together to credit for these guys to keep their socials active."
He then goes to where the cracks started forming, "Anyway, cracks start forming and one of the members says that he doesn't like the idea of being under a label because he doesn't understand why we have to take a percentage(in their favor) of all revenue. I explain that that's the only way we can get our investment back. We hustle and get these guys gigs including my own Ofcourse while still trying to figure out the brand. We realize one of the boys has been booking his own shows where he goes solo with his close pals for 2k-4K Ma bucla. The group is unhappy esp since he's the popular one(this one must be Mtoto wa Eunice)."
Problem comes up after the group dropped their new song Position with Kansoul and the manager left the country leaving his colleagues behind to manage them. They started listening to outsiders as the manager notes, "That's when everybody gets into somebody's ear about 'achana na hawa wasee wanawatumia' 'ata bookings zetu wamekataa' 'hawa wasee wana wawaste'. Now for context, if you're 5 guys in a group (The 5th is their 'road manager' Imma) and have arguably two of the hottest songs out why would you want me to consider taking a booking of 20k? …like….seriously?"
It continues, "Either way, they had already set their rate which we all agreed on so you'd think that telling somebody with a smaller offer 'afike bei' would be understood. So that becomes a basis for their arguments as a collective. Like I said, I hate artist management and these guys I felt were diamonds in the rough which I still truly believe however I decided to part ways with them at that point. Almost 2 weeks ago. It was agreed that they'd pay me back my investments to that point and the bail money for getting reckless out of jail after beating up someone at 1824 through gigs that they do and other sources."
On signing off, he puts it, "That said, these kids are talented, that I know. Their next video for Saba coming soon. However, if you're of the industry, I wouldn't touch those boys with a 10 foot pole."
Many people are arguing that game got into the heads of these young artists, however, seasoned rapper and music mentor Juliani thinks deeper on the matter. In his view, they need deeper mentorship to build them up as artists given the fact that their fame came too fast and they're too young. He preferred patience.
I feel @telehmani pain, however…I said this before in one of my Threads on Ethic or any young talent.

They need certain level of development before becoming "big" that's what we do at @DandoraHHC . It takes time but worthy investment later.

Don't give up on them yet. https://t.co/C7pEBo6yDG

— Juliani.co.ke (@JulianiKenya) August 28, 2018
---
Kenya Insights allows guest blogging, if you want to be published on Kenya's most authoritative and accurate blog, have an expose, news, story angles, human interest stories, drop us an email on tips.kenyainsights@gmail.com or via Telegram
---
King Kaka Is The First Kenyan Musician To Grace The Red Carpet At Cannes Film Festival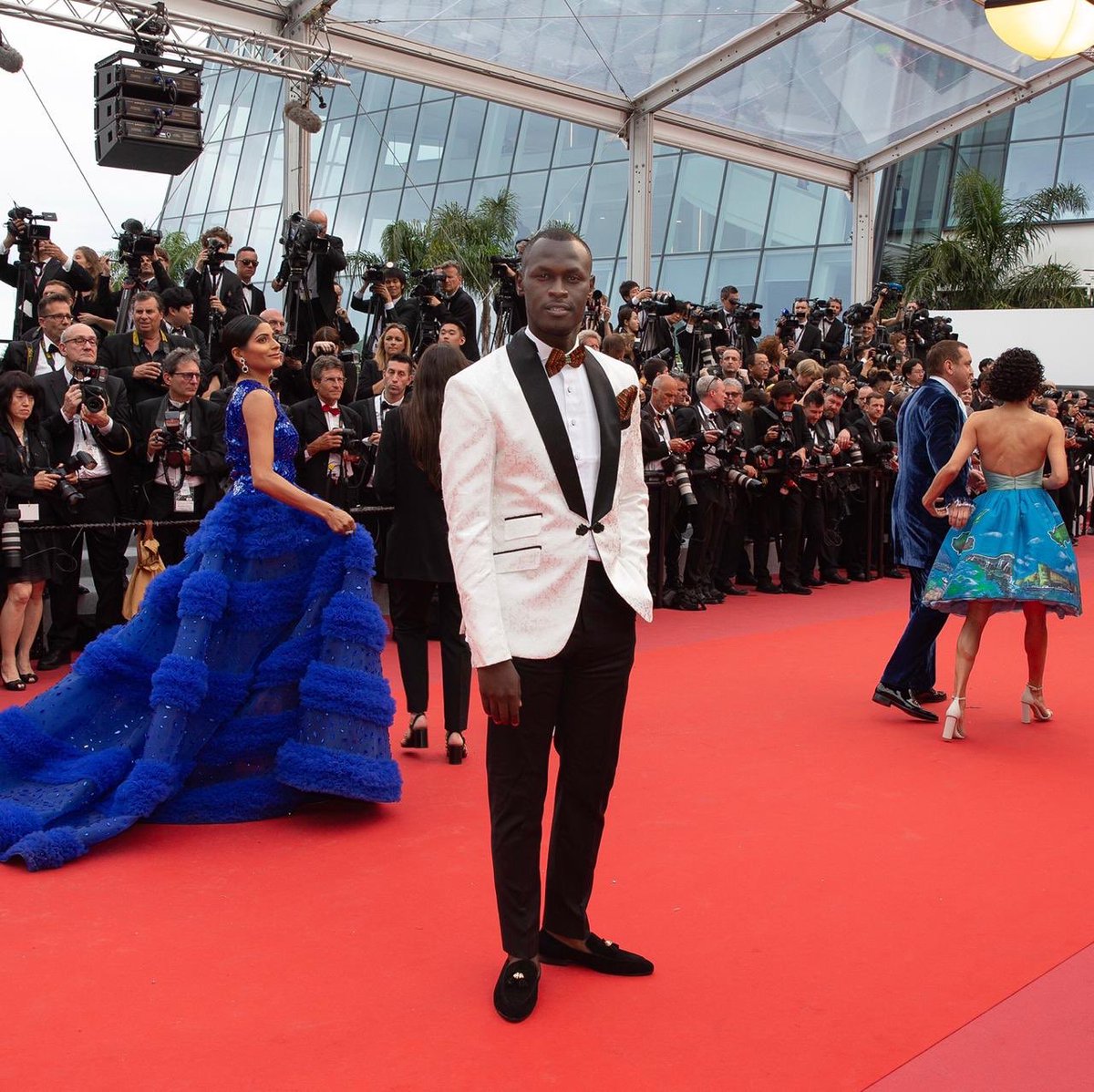 King Kaka of the famous Kaka Empire has hit the international stages again and this time around carrying the flag of our country to greater heights.
King Kaka was featured in these year's Cannes Film Festivals in France.
French Riviera is where some of the world's most prominent executive Directors premiere their films and any other productions.
Cannes film festivals also give a platform for critics of a film to express their disgrace at the same time rewarding the best film production and the executives behind it.
The Cannes also has Red Carpet sessions. This is where celebrities' flaunt their luxurious dresses and expensive jewelries.
Kenya's King Kaka was the first ever Kenyan to premier on the 72nd annual Cannes Film Festivals.
King Kaka shared the joyous moment of him on red carpet in France via this tweet
A Kenyan in Cannes.
History is made. First Kenyan musician to grace the red carpet in 72years.#CannesFilmFestival#RemyMartin #RemyMartinXO #Cannes2019 #RemyMartinKe #Cognac#kakaempireisthelifestyle #eastlandoroyalty @remymartin pic.twitter.com/jPbLO4HvtG

— KING KAKA (@RabbitTheKing) May 15, 2019
---
Kenya Insights allows guest blogging, if you want to be published on Kenya's most authoritative and accurate blog, have an expose, news, story angles, human interest stories, drop us an email on tips.kenyainsights@gmail.com or via Telegram
---
Origin Of The Phrase Wamlambez Wamnyonyez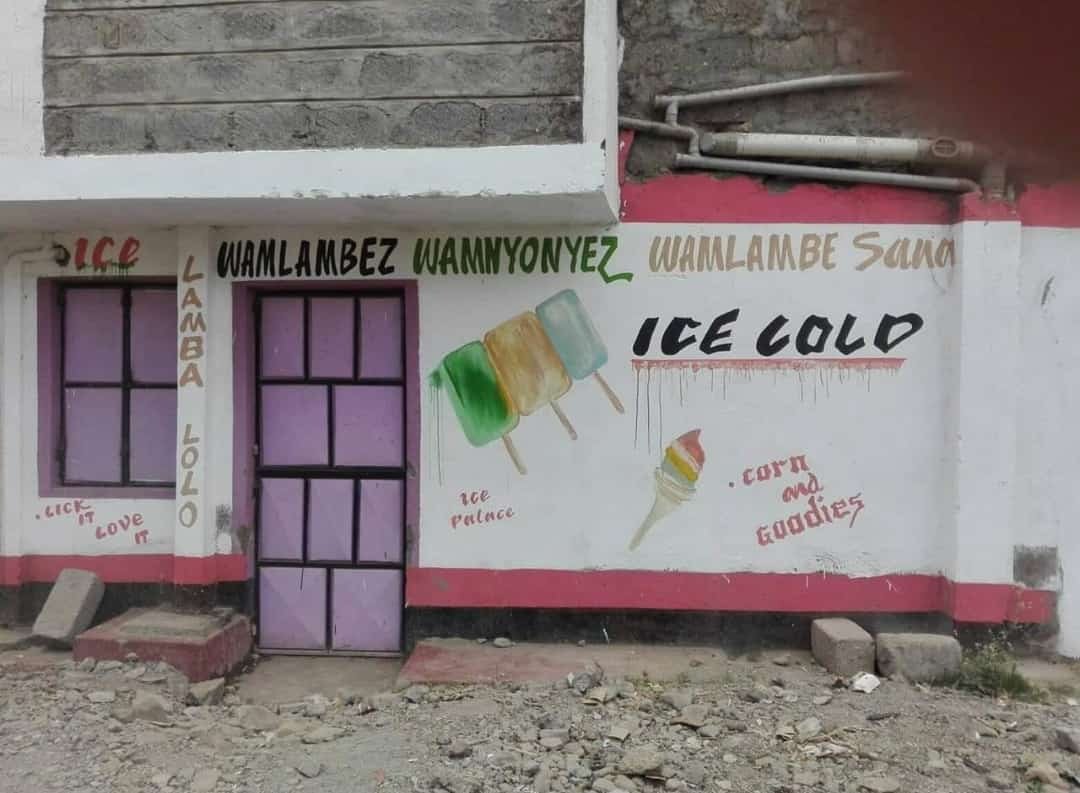 Majority, if not all of you have already heard of the Phrase 'wamlambez wamnyonyez'.
Some of you have used the phrase  to mean something totally different from what it originally meant.
Wamlambez wamnyonyez' has been used on the lips of every Nairobian youths.
The biggest sheng speakers community is located in Kenya's capital- Nairobi.
The biggest sheng speakers know 'wamlambez wamnyonyez' in a sexual meaning portrayed in this sheng rap song…
WAMLAMBEZ- Miracle Boy,Shalkido,Masilver,Lexxy Yung, Qoqosjuma.
The youths in the City under the sun have produced the 'wamlambez wmnyonyez' songs- which loosely means 'licking and sucking.'
But the real origin of 'Wamlambez Wamnyonyez' is an old ice cream shop in Eastlands, Nairobi.
The ice cream shop started operating in 1990 under the name- Ice-cream CONEnection.
(Tweet pic courtesy  @Kianangih)
The ice vendor store changed its name in 2018 to the now popular phrase WAMLAMBEZ WAMNYONYEZ.
They were operating under a business tag, Lamba lolo. Another Nairobi's popular phrase.
Sheng speakers, now you know the original meaning of wamlambez wamnyonyez. And for those who had no idea of the phrase~ Now you have the insights
---
Kenya Insights allows guest blogging, if you want to be published on Kenya's most authoritative and accurate blog, have an expose, news, story angles, human interest stories, drop us an email on tips.kenyainsights@gmail.com or via Telegram
---
Wanuri: Rafiki Was Successful Because Of Kenyans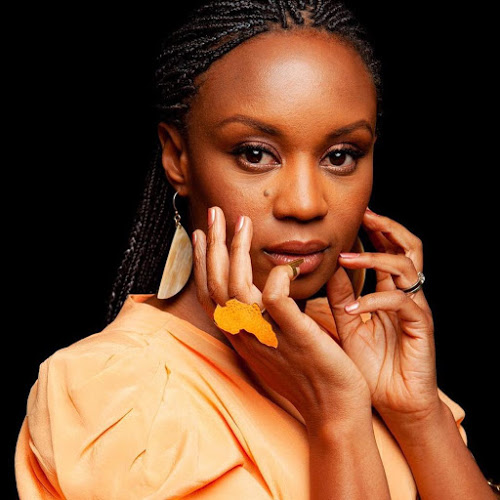 Kenyan Filmmaker Wanuri Kahiu  blasts the Start news paper over a fake article against her film 'Rafiki'.
Rafiki is a love story of two teenage girls who develop a romance that's opposed by their families and community.
Wanuri, has expressed her disgrace through her twitter account calling out the Star Newspaper site.
Rafiki, was banned in Kenya by government watchdog KFCB. The film classification board had alleged that the movie's depiction of homosexuality runs contrary to the laws and the culture of Kenya.
Wanuri has said that Kenyans showed her love and watched her movie despite the ban.
Wanuri says during the seven days the film was screened in Kenya, some people opened up to her.
"Many people came to me and told me they saw themselves in the movie because they had lived in denial for so long," she said while on a TV interview.
Wanuri has thanked Kenyan viewers and subscribers who believe in her fights to express what affects the audience without following regulations from the authorities.
Also read:Chinese Wild Foods Take-over
The director and Rafiki film creator also called off the Star for creating fake quotes of her from unknown interviews. She said she won't accept any interviews with the Star newspaper after faking her up and tagging her on unverified quotes.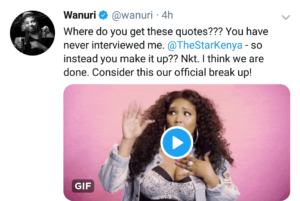 While Rafiki remains banned,  Wanuri Kahiu says the movie is still getting abundant views and love from the local audience.
---
Kenya Insights allows guest blogging, if you want to be published on Kenya's most authoritative and accurate blog, have an expose, news, story angles, human interest stories, drop us an email on tips.kenyainsights@gmail.com or via Telegram
---