Kamene Goro From A TV Darling To A Ratchet Slay Queen At NRG Radio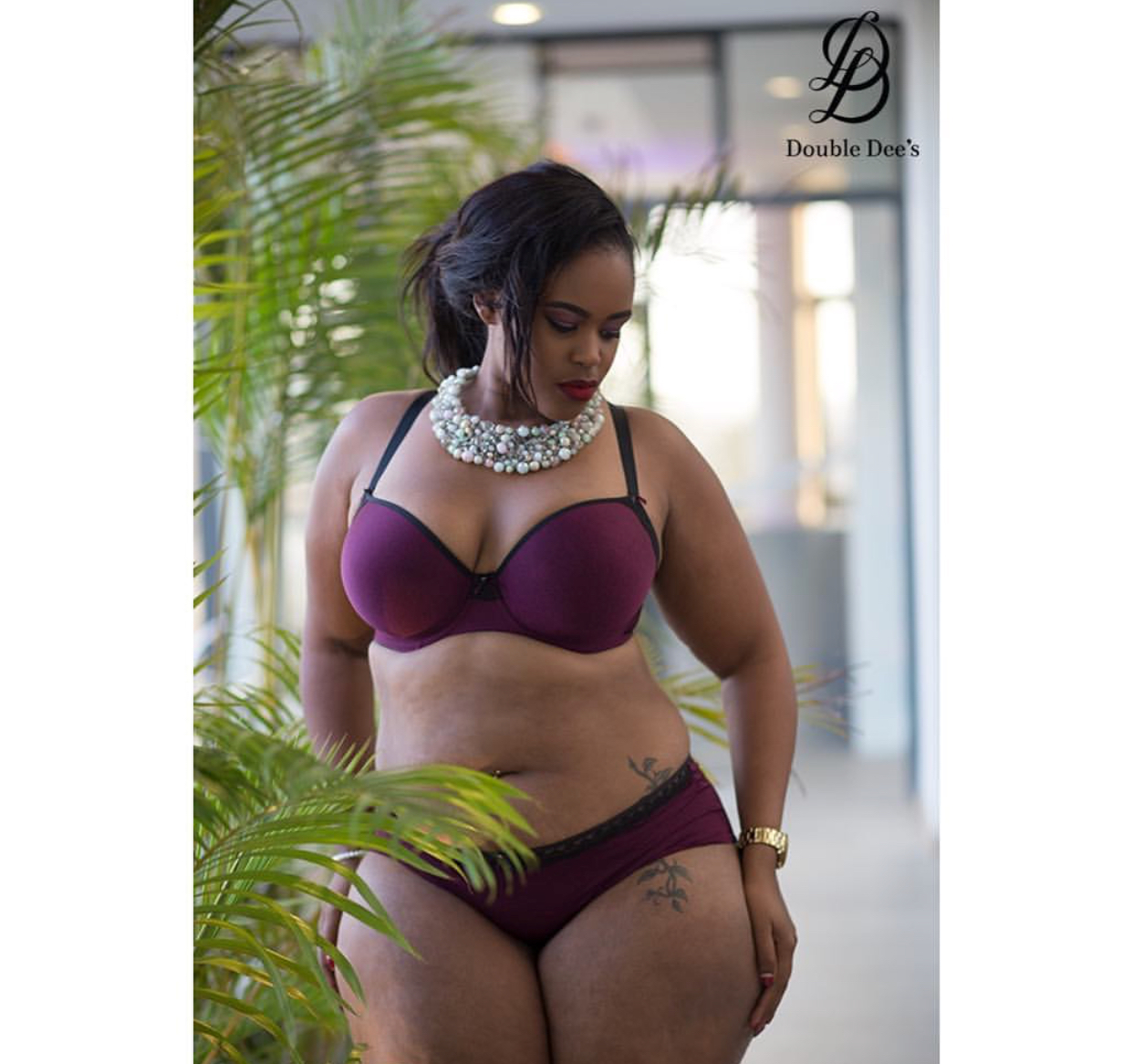 Kamene Goro is all the way on a downspiral, one a darling of the TV when she debuted on Ebru as an anchor, the cool, sassy Kamene is gone, like Sean Carter said, good girl gone bad the city is filled with them, that line fits like nonsense on this case.
Now a radio presenter on NRG Radio which is curving out a niche as one of the biggest urban radio stations, Kamene has come out of her shell and gone plainly ratchet.
She has a breakfast show that goes along with our boy Kibe(Big up Kibe by the way, only real nigga in these streets). If you've listened to the show then you should spare a minute for it, like the rest of many, highly sexual but it's a relief from the same old Maina stale show with his shambas in ukambani.
Anyway, back to the story at hand, the voluptuous presenter is not who you used to, for those only knowing her on radio. She's as ratchet as a [email protected]$*(saying it like Kibe would). Have you seen her Instagram page? She makes your favorite socialites look like amateurs.
Talking Of ratchetness, in a recent show with Kibe and rapper Prezzo involving a drinking the game, the 26-year-old Kamene, after several shots, was asked by the two men to reveal how many guys she has been with under the sheets.
"And please, don't judge me," said the curvy presenter in the video before answering.
"My body count…Body count is the number of people I have slept with my whole life. My body count currently stands as we speak at 27. Twenty seven d****," she said.
You don't go on radio saying such kind of shit, your head gotta be out of normalcy. She's now a hardened street chic. But I have a feeling much of it has to do with the stations policies. You know sex sells, coz most of you after reading this article will head to her IG page and probably listen to the station so I suppose they have to keep it dirty to get all you perverts on board.
But how sustainable is this strategy? We've had more controversial shows come and die just like the sexual act itself. But you know what whey say, whatever works for you, NRG keep at it and by the way I'm waiting for my cheque over this free publicity. I wonder how longer we'll have to wait to get celebrities with more than big booty to sell to the youths.
---
Kenya Insights allows guest blogging, if you want to be published on Kenya's most authoritative and accurate blog, have an expose, news, story angles, human interest stories, drop us an email on

[email protected]

or via Telegram
---
Why Lupita Nyongo's Brother Junior Is In A Dress And Wearing A Thong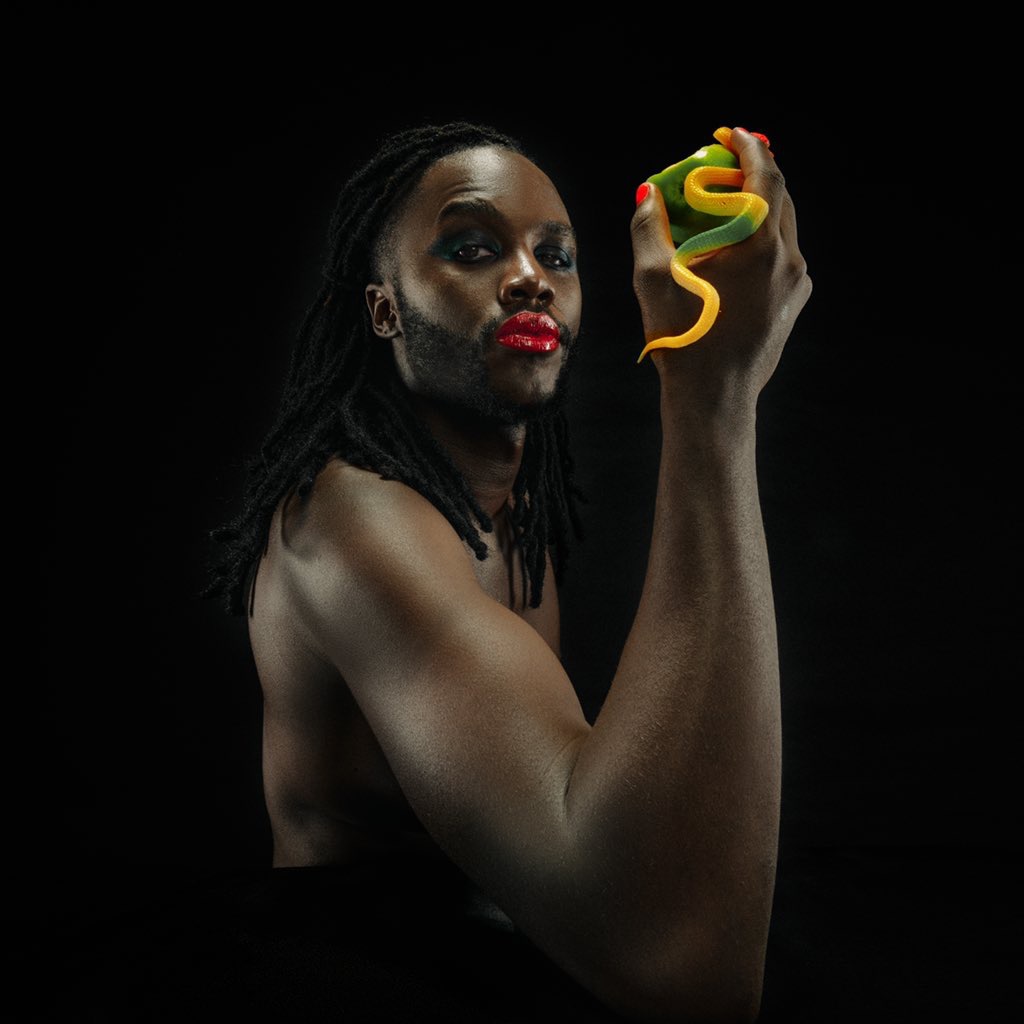 Creativity is the beauty of art, for the past week nude photos of Kisumu Governor' Son Junior in a red dress posing in a thong has been doing rounds on Kenyan media pages creating much controversies and rumors with some saying he's gay, some alluded he was getting initiated into the Illuminati world to join Hollywood, there have been even more ridiculous ones.
However, turns out Junior who's also a model was working with one of Kenya's most talented photographers  Lyra Aoko on a project 'what if Adam was Eve' with a theme of femininity is not weakness.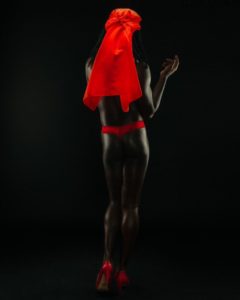 She simply reversed the traditional story of the Bible that God made men first and created woman out of his rib while the man was in deep sleep. In her concept, Lyra visualizes a scenario where the woman is created first, the man who eats the forbidden fruit.
Explaining her objective of the project, Lyra say it was aimed at creating visuals challenging the
stereotypes related to gendered clothing. "This is the most powerful force perpetuating the fashion divide; the fact that we have all been trained from anearly age to regard some clothes asstrictly for men, and other clothes asstrictly for women. And anyone who refuses to follow this code is seen as
making a huge statement."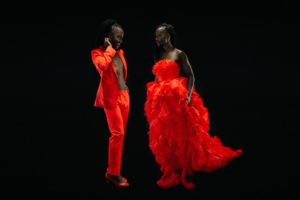 Not only in Africa, worldwide, femininity has been seen as weakness so by visualizing a man in the exact shoes, she says, "The most telling part about all this is what it says about the value we attach to
masculinity and femininity. When a man wears pants and trousers most people will think little of it. The rules arehowever very different for men wearing clothes that are deemed to be for women."
"Underlying these reactions is a profound disrespect for women and all that we associate with femininity. In the end, the "rules" around gendered clothes aren't about fashion, or taste. They're about how we mark difference, enforcing and reiterating restrictive ideas about what it is to be a girl or a boy,
a man or a woman. Perhaps this is the real issue; that to challenge the rules of fashion is to challenge our settled ideas about gender roles." She summarizes.
---
Kenya Insights allows guest blogging, if you want to be published on Kenya's most authoritative and accurate blog, have an expose, news, story angles, human interest stories, drop us an email on

[email protected]

or via Telegram
---
Dennis Itumbi Writes Jacque Maribe's Son A Touching Letter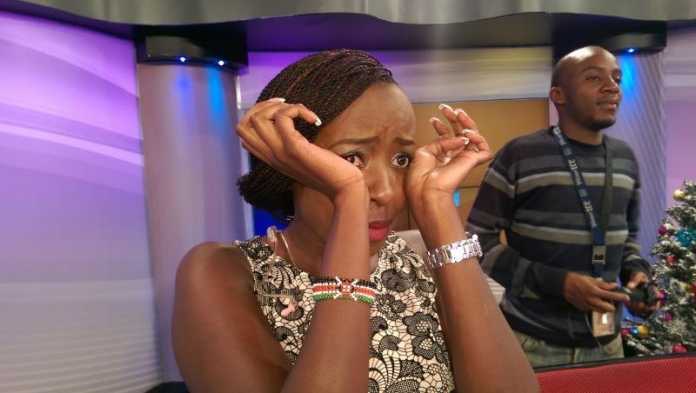 To Zahari,
This is a letter addressed to you in future,
I know one day the Internet will show you what has been said and written about Mum, Jacque Maribe.
As the search returns the results, may you also find this message.
Mum has friends, who stood by her because they know, she is the true definition of Love.
When she loved she gave her soul and heart as it should be. She loves with all she got. Pure and true.
As a friend, she was always available, even for smaller functions where friends do not have to turn up, she always showed up. Friendship is not an after-thought for her, it is a lifestyle.
That is why despite all the defence she has, she choose to say the only reason she wants Bail was because she wanted to be with you – Her love. – that is Mum for you.
To her friends Loyalty, to those she loves, wholesome sacrifice and endless affection.
Importantly, despite all that is written, we believe she is innocent.
By the time you read this in the future, she will be free, will have written a great book and all that negativity about her will have been replaced by the reality that Mum is a lovely human being.
We pray for Justice for all involved. It has been established by final verdicts in courts that Prosecutors and investigators are not always right.
We stretch a hand of friendship and sincere prayers to and for Mum.
She was not alone, through what Google may return as results, she lived well with people, in turn, her frirnds stood with her
I am not a perfect friend, but like all her friends, we all aim for perfection, just like her.
God strengthen Mum.
via Itumbi
---
Kenya Insights allows guest blogging, if you want to be published on Kenya's most authoritative and accurate blog, have an expose, news, story angles, human interest stories, drop us an email on

[email protected]

or via Telegram
---
NSFW: Kenya's New Age Culture Of Transactional Sex Revealed On A BBC Documentary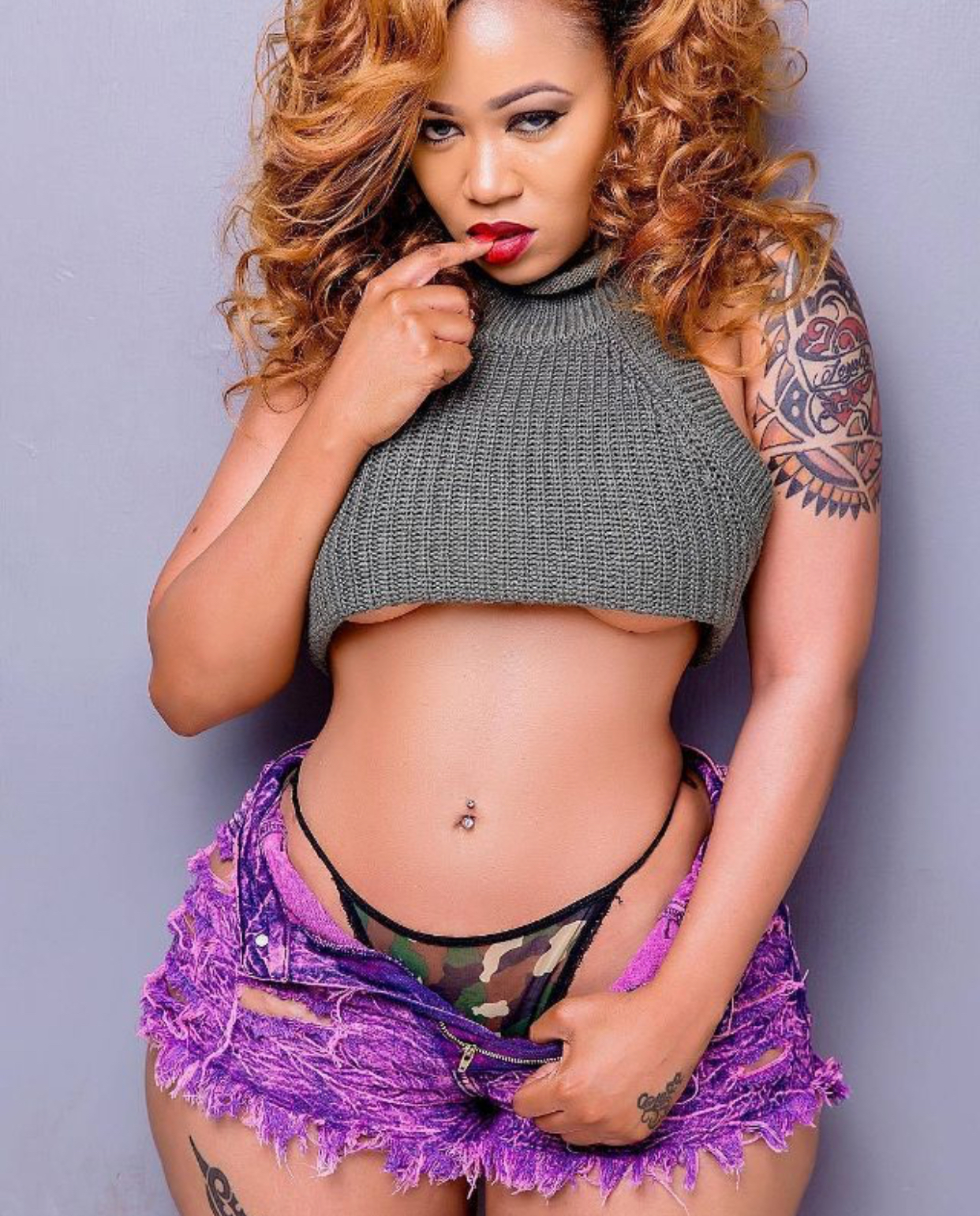 BBC have just released a digital series called'Sugar' which looks at the rise of sugar daddy relationships in Kenya.
In Kenya and beyond, 'sugar' relationships have become mainstream. Transactional sex was once driven by poverty, but now, increasingly, it's driven by vanity. More and more young women are using sugar daddies to fund a lifestyle worth posting on social media.
Older men have always used gifts, status, and influence to buy access to young women. The sugar daddy has probably been around, in every society, for as long as the prostitute. So you might ask: "Why even have a conversation about transactional sex in Africa?"
The answer is that in Kenya, and in some other African countries, "sugar" relationships seem to have become both more common and more visible: what once was hidden is now out in the open – on campuses, in bars, and all over Instagram.
Exactly when this happened is hard to say. It could've been in 2007 when Kim Kardashian's infamous sex tape was leaked, or a little later when Facebook and Instagram took over the world, or perhaps when 3G internet hit Africa's mobile phones.
But somehow, we have arrived at a point where having a "sponsor" or a "blesser" – the terms that millennials usually apply to their benefactors – has for many young people become an accepted, and even a glamorous lifestyle choice.
Until recently there was no data to indicate how many young Kenyan women are involved in sugar relationships. But this year the Busara Centre for Behavioural Economics conducted a study for BBC Africa in which they questioned 252 female university students between the ages of 18 and 24. They found that approximately 20% of the young women who participated in the research has or has had a "sponsor."
The sample size was small and the study was not fully randomised, so the results only give an indication of the possible numbers, they cannot be taken as definitive. Also, only a small percentage openly admitted to having a sugar daddy; the researchers were able to infer that a number were hiding the truth from answers they gave to other questions, using a technique called list randomisation.
But interestingly, when talking about others, not about themselves, the young women estimated on average that 24% of their peers had engaged in a transactional sexual relationship with an older man – a figure very close to that reached by the researchers.
Jane, a 20-year-old Kenyan undergraduate who readily admits to having two sponsors, sees nothing shameful in such relationships – they are just part of the everyday hustle that it takes to survive in Nairobi, she says.
She also insists that her relationships with Tom and Jeff, both married, involve friendship and intimacy as well as financial exchange.
"They help you sometimes, but it's not always about sex. It's like they just want company, they want someone to talk to," she says.
She says that her religious parents brought her up with traditional values, but she has made her own choices. One of her motives, she says, is to be able to support her younger sisters, so they won't need to rely on men for money. But she has also been inspired by Kenya's celebrity "socialites" – women who have transformed sex appeal into wealth, becoming stars of social media.
In the past, some of Kenya's socialites have styled themselves as #SlayQueens, and have been quite upfront about the financial benefits that have come from dating tycoons. Having made it to the top, though, they often begin to cultivate a different image – presenting themselves as independent, self-made businesswomen and encouraging Kenyan girls to work hard and stay in school.
The millions of fans scrolling through their Instagram posts, though, are not blind. The sudden emphasis on entrepreneurship does not hide the fact that these women used their sex appeal to create opportunities in the first place. And many – quite understandably – are attempting to apply this methodology to their own lives.
http://www.youtube.com/watch?v=TNIbiprddHI&list=PLajyiGz4JeyOC8OldsVzqcYh45C9tQ3FK
These young women  have come of age in the last decade, bombarded since childhood with images of female status built on sex appeal. But according to Crystal Simeoni, an expert on gender and economic policy, Kenyan society encourages sugar relationships in other ways too.
If women have become more willing to profit financially from their youth and beauty, she says, it's partly because of Kenya's gross economic inequalities, lack of social mobility, and widespread corruption.
"The way things are constructed in this country makes it so much harder for a smaller person to make ends meet," she argues. Hard work won't get them anywhere. "They have to get a sponsor, rob a bank, or win a tender."
Michael Soi, a well-known artist whose paintings satirise Kenya's culture of transactional sex, takes a similar but more cynical view, attributing the phenomenon more to laziness and a get-rich-quick mentality than to structural injustice.
The days of waking up early and working from morning to night are behind us, he says: "Right now the ass is the new brain, and this is what you use to get what you want."
Dr Joyce Wamoyi from the National Institute for Medical Research in Tanzania says girls and young women between the ages of 15 and 24 have consistently been at higher risk of HIV infection than any other section of the population in sub-Saharan Africa.
Sugar relationships, she says, are contributing to these risks because the women who engage in them do not have the power to insist on the use of condoms. "With sex work, men are more likely to use condoms because it's more explicit that this is selling and buying."
For many young Kenyans, the values espoused in families, schools, and churches simply do not align with the economic realities of the country, or cannot compete with the material temptations that, in the age of reality TV and social media, are everywhere visible.
Even within the family, most Kenyan girls have it drummed into them from an early age that they must marry a rich man, not a poor one. It's taken for granted in these conversations that men will provide the money on which women will survive. So for some it's only a small step to visualising the same transaction outside marriage.
"What is wrong about sex anyway?" asks Jane. "People just make it sound wrong. But sometimes, it ain't wrong at all."
Adopted from BBC
---
Kenya Insights allows guest blogging, if you want to be published on Kenya's most authoritative and accurate blog, have an expose, news, story angles, human interest stories, drop us an email on

[email protected]

or via Telegram
---