Donald Trump Borrows A Leaf From Kenya's Counterpart Uhuru Kenyatta On Screwing Free Press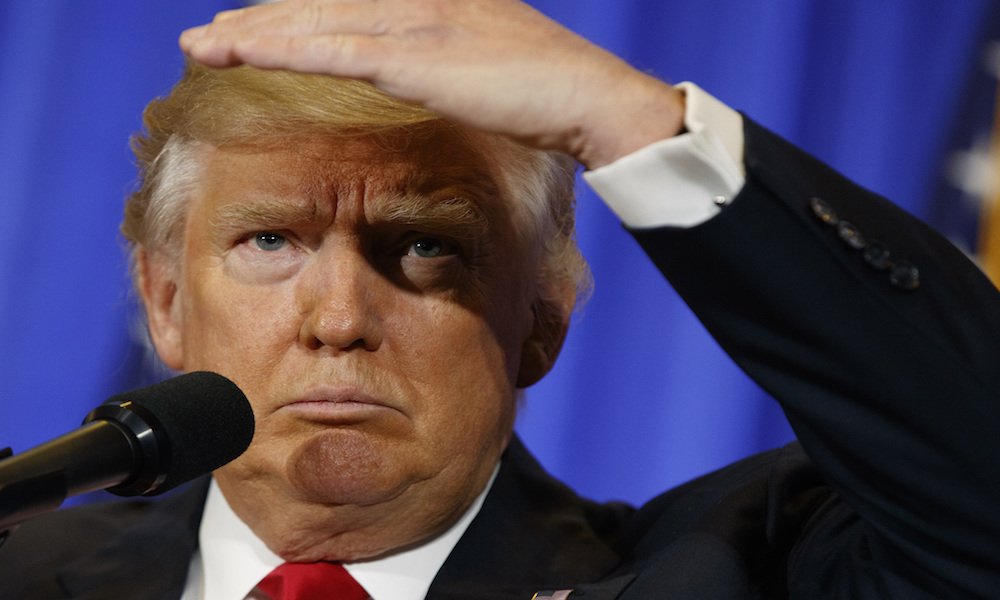 U.S. President-elect Donald Trump held his first ever press conference in six months and oh boy he didn't disappoint with a straight dosage of bigotry, ego to space and back and fury burning out of his body. Trump couldn't hide anger following the leaking of an intelligence report to the public that portrayed his dark, twisted sexual fetish and his Russian links.
On Wednesday morning, when the president-elect once again faced hundreds of reporters from around the globe gathered in his lobby — this time for his first press conference in seven months — Trump filled the room with paid staffers who clapped and cheered as he blasted members of the media as purveyors of "fake news."
It was Trump's method of battling back an extraordinary report that U.S. intelligence officials have presented both Trump and President Barack Obama with unsubstantiated allegations that Russia has compromising information about the incoming 45th president, including about a reported salacious encounter in a Moscow hotel room.
Trump has been on a roll attacking the land's intelligence agencies and free press steadily. As it manifests, anything and anyone that doesn't sing to his chorus automatically become fake and unworthy, untrustworthy. Trump has coined the perfect ways to avoid accountability questions that will most probably headline his tenure in Whitehouse. Knowing this, he's busy destroying the bits of reasonable voices that would challenge his conduct in office.
Any hope that Mr. Trump would temper his attacks on the news media after the campaign seemed to dissipate in the marble atrium of Trump Tower on Wednesday, as the president-elect, holding his first news conference since July, turned a controversy over his ties to Russia into a deft and unrelenting attack on the journalists who reported it.
By branding media outlets that criticize him as Fake News, Trump is tactfully killing the free press. Normally, It's the press that watches the administration, but Trump is flipping the script altogether, watching the media.
Trump is the judge, jury, and prosecutor of the truth; he's committed to destroying and discredit the institutions that have for the time been the eyes of the society. An authoritarian is turned on by blinded society who will listen to nothing but his words. Trump is the President and The truth meter, to him he's ever right on everything and any news contrary to him is rubbished off as Fake. So much of narcissism under one body. Trump has bigger and taller ego than his skyscrapers. If that press conference is anything to go by then Hollywood can close business since the world is about to be treated to a whole new level of drama with chauvinist Trump in Whitehouse.
For Trump to put BuzzFeed on blast for propagating "fake news" is ironic at best, given what he's reaped from the viral spread of legitimate misinformation. And it's troubling for another reason: It gives people license to cry "fake news" when the media reports something they simply don't like.
The term has arguably outlived its usefulness at this point, distorted as its definition has become. But "fake news" was originally intended as a label for online articles that deliberately misled for some secondary purpose—to profit or electioneer.
Trump seem to have borrowed from his Kenya's Counterpart Uhuru Kenyatta when he first got into office just like Trump; the first focus was on Press and how to weaken the organs. The media was treated to breakfast at Statehouse in what was clothed as a familiarizing convention but a well-thought plot to have a friendly media to the regime. What followed was the public perception that media has been compromised and in their writing, they lived to the word.
Jubilee has been enemies and friends with the media, just like Trump calling critiquing news fake, Uhuru also termed and rubbished publications criticizing his administration as useless, and that newspapers have no meaning but for wrapping meat. The attack on media publications is direct war in the free press. When the press is compromised and gagged them in that case administration can wedge atrocities with absolute peace knowing they won't be held accountable. This is why any dictatorial regime will explore all means to muzzle the media.
We've had draconian rules passed against free press something that has undermined investigative journalism in Kenya. It now takes titanium balls to investigate and expose the rot in the government without facing shoulder rubs. Trump is already threatening lawsuits against Buzzfeed and it won't be the first media house he has threatened with lawsuits. The consistent message being sent when negative stories are told followed with lawsuits and brand demonizing is simple; the press will be free if and only when the tune soothes the king. Now right there is the making of a tyrant.
Trump's attacks on journalists have a hidden subtext that hasn't been sufficiently discussed: He'd rather not be accountable to the citizenry, and that's a replicated formula back home in Kenya. Irony of this era: millions of Americans don't trust anything anymore – except a man with a long association with dishonesty
---
Kenya Insights allows guest blogging, if you want to be published on Kenya's most authoritative and accurate blog, have an expose, news TIPS, story angles, human interest stories, drop us an email on

[email protected]

or via Telegram
---