Doctors Water Down Government's Blackmailing By Telling Personal Cringing Stories Exposing Deplorable State In Public Hospitals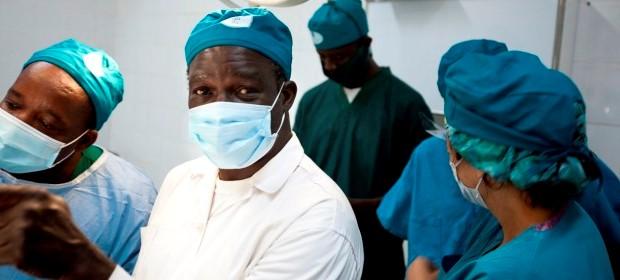 The government has been on a stretch devising all witchhunt and blackmailing tactics as their negotiation language to arm-twist the striking doctors back to work. The malignant psychological campaign has been consistent with a script of portraying them as selfish for demanding implementation of CBA. It's unsurprising that the government has deliberately ignored other components of the 2013 agreement and chose to major in on salary increment which is a fraction of the document that was drafted to solve the deplorable state of the public healthcare.
The Government has baited the KMPDU officials with jail threats hanging over their head, leverage that was planted in their heads through executive court orders. But the house seems to be crumbling on the government which has least prioritized healthcare with the strike stretching to 45 days and going, the latest project by the state through their 36 online mercenaries was met with blacking out punches from Kenyans and doctors.
#MyBadDoctorsExperiences was crafted by the government with the aim of showing how selfish doctors are in public perceptions setting agenda. What they didn't know they served a blessing in disguise to the defiant and tired doctors a blessing in disguise. They raided and ran down the hashtag by highlighting their experiences giving the public a rare view of the horrible and deplorable conditions the doctors are forced to go through in the public hospital. What was meant to shame doctors turned out to shame the government for not prioritizing better public healthcare. While CS Mailu is issuing wet dream directives as importing foreign doctors and using missionary hospitals to square health standoff, The stories shared by doctors will leave your jaws on the floor. The Nairobi Hospital former CEO was a BAD mistake being elevated to MoH CS, and combination with PS Muraguri is a lethal concoction to public health.
The doctor's experiences. If the government can't see the need to improve healthcare with all these them, the public can help them by relieving them of duty.
#MyBadDoctorExperience watching a child turn blue and slowly and painfully die due to lack of a nebulizer in a level 4 hospital.

— Moki Mwendwa (@MokiMwendwa) January 16, 2017
I had to use my bare hands to stop bleeding in a HIV positive mama due to lack of gloves instead I had to take ARV's #MyBadDoctorExperience

— Health Transformer (@bin_abeid) January 16, 2017
#MyBadDoctorExperience watching patient die bcz the ambulance had been given to the MCA to pick his tomatoes from market

— jeff kims (@jffkims89) January 16, 2017
#MyBadDoctorExperience Having 10 babies die on you in one night.
WHY?-No oxygen available, no antibiotics, no antimalarials. #ImplementCBA

— Ali El-helal (@aliroz_89) January 16, 2017
Seeing 5-6 patients share one bed in the labor ward is too much pain to see daily#MyBadDoctorExperience

— Joacquem Ogindo (@Joacquem) January 16, 2017
#MyBadDoctorExperience Mothers throw their dying babies in our arms expecting us to perform miracles which we often do in failed systems.

— Ondeng Ajuoga (@AwuorOndeng) January 16, 2017
#MyBadDoctorExperience referring patients from western to knh for chemo and radiotherapy but deep down you know they'll never afford it.

— Tim Kanyeki (@tkanyeki) January 16, 2017
Got pricked in casualty,patient hiv+, no PEP in the hospital, had to travel to nairobi at 1am to get it #MyBadDoctorExperience

— Nasirumbi Magero (@nena00200) January 16, 2017
#MyBadDoctorExperience Donors channel billions to fight malaria yet for a whole week we had no antimalarial drugs in a level 5 hospital!!

— Nic mos mog (@Mosmog) January 16, 2017
https://twitter.com/PundaIlichoka/status/820963471764361216
#MyBadDoctorExperience sending pregnant mothers to a private facility for ultrasound. The printing paper had run out. https://t.co/9bDUF0PSEJ

— Robert Tabu (@huyunitabu) January 16, 2017
Every time i lose a patient,a part of me dies.sometimes i feel like a ghost already,i must have died long ago #mybaddoctorexperience

— daktari ya wamama (@femaledokta) January 16, 2017
I once literaly slept on a patient I was operating on coz twas my 11th CS that day & I was awake for the last 38hrs#mybaddoctorexperience

— Yunis Hussein (@YunisHusseinMD) January 16, 2017
Hearing the Dep. President saying we have 94 Referral Hospitals when 91 of them are just Referring Hospitals #MyBadDoctorExperience

— Davis Mang'oli (@MangoliMD) January 16, 2017
#MyBadDoctorExperience That Doctor u waited for 30 min to come attend you was in theatre carrying out a 2 hours surgery employ doctors shame

— Dr Nzomo (@EddyNzomo) January 16, 2017
Govt offering docs MONEY to send them back to poorly staffed & equipped hospitals is contempt for Wanjiku #MyBadDoctorExperience #presspass

— For the many, not the few (@wmnjoya) January 16, 2017
#MyBadDoctorExperience 1yr old baby critically ill. Meningitis. Mother couldn't afford a CT scan. All doctors in the ward contributed for it

— FrankGitonga (@fkgitonga) January 16, 2017
#MyBadDoctorExperience Donating blood at midnight during my call so that my patient could live

— Hilda Nabiswa (@HNabiswa) January 16, 2017
#MybadDoctorExperience having to send the driver to a stream to fetch water because the hospital has no water.

— Wangari® (@kareihro) January 16, 2017
#MyBadDoctorExperience Having an MRI machine gather dust at the hospital while a simple full haemogram machine is non functional.Priorities.

— Clarita (@Emm_cita) January 16, 2017
https://twitter.com/PundaIlichoka/status/820963471764361216
I had to use my bare hands to stop bleeding in a HIV positive mama due to lack of gloves instead I had to take ARV's #MyBadDoctorExperience

— Health Transformer (@bin_abeid) January 16, 2017
Having HIV + blood splash in your eye but you choose to stop the mothers bleeding before you run water in your eyes #MybadDoctorExperience

— #Tribeless doctor (@nimo_ngugi) January 16, 2017
#MyBadDoctorExperience.. She had to sacrifice all to save life of a mother and unborn child#CBAforKenyans pic.twitter.com/4E3TQU8EPM

— ELLY EKKY OBONYO (@ELLYEKKYOBONYO) January 16, 2017
https://twitter.com/AJ_MDr/status/820959072174428160
Improvising lighting to see my patients in a public hospital #MyBadDoctorExperience #lipakamatender pic.twitter.com/lSnEcLPXUI

— Dr Duncan Matheka (@duncoh1) January 16, 2017
#MyBadDoctorExperience I weep for my patients pic.twitter.com/jy8Y2ZU7fT

— Jennifer (@jennifermuthon1) January 16, 2017
---
Kenya Insights allows guest blogging, if you want to be published on Kenya's most authoritative and accurate blog, have an expose, news TIPS, story angles, human interest stories, drop us an email on

[email protected]

or via Telegram
---