David Mwai Was Paid Sh2.4M To Murder Idriss Mukhtar With Garissa Governor Ali Korani As Mastermind Until The Gun Failed To Fire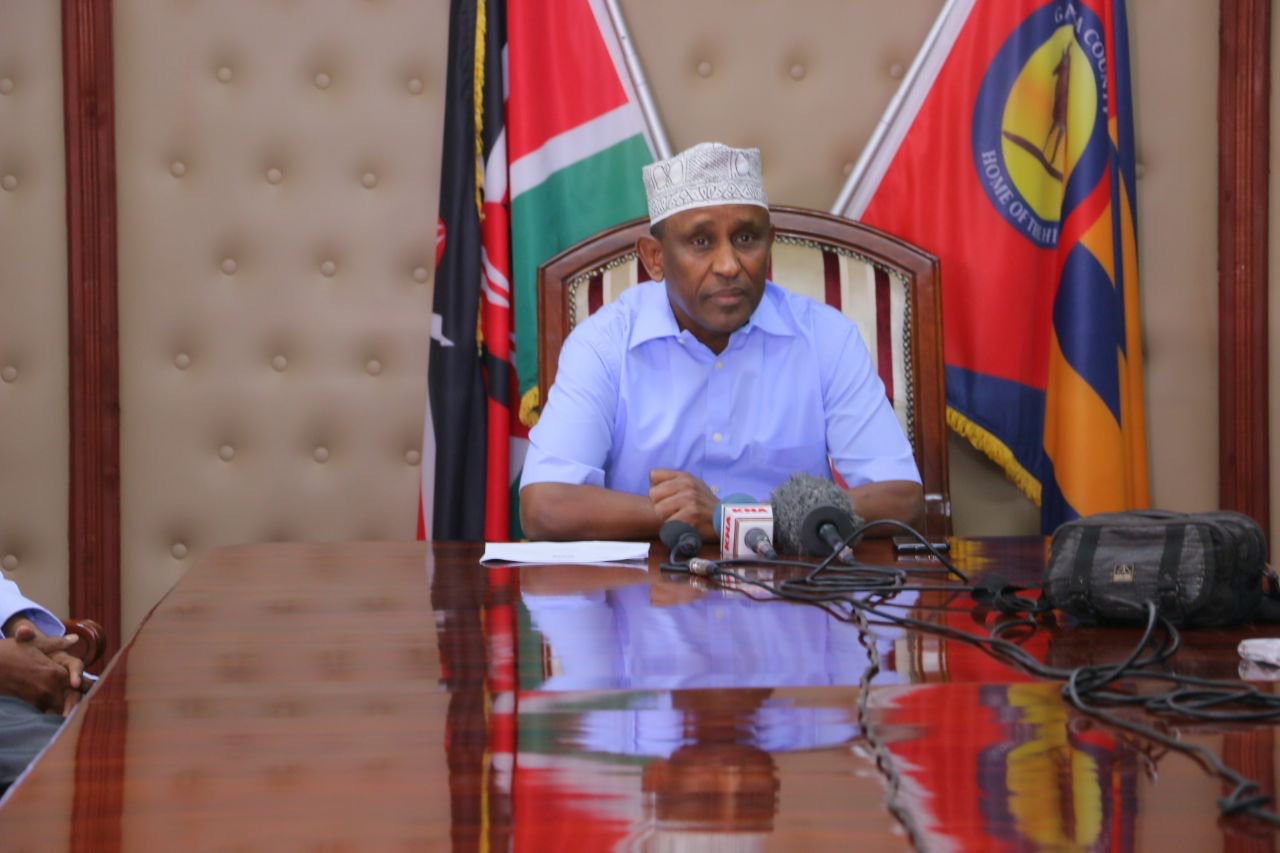 David Mwai used to operate a play station shop and a number of boda boda's. He was approached one day with a job offer to kill someone. In Kenya, human life has no value. It's cheaper to get someone killed than it is to bribe them. Lawyers and witnesses against powerful politicians have been killed in the past. It's become the norm. The offer on the table for carrying out the job was Sh2.4 million. Mwai couldn't resist.
The target for this kill was Idriss Mukhtar and his lawyer Charles Kanjama. The client, according to Mwai's family, was Ali Korane. Ali is the current Governor of Garissa. He was working in the airforce in 1982, during the attempted coup. During the purge that followed the failed coup, he was saved by his wife, as she happened to be General Mahmoud Mohamed's daughter, the man who quashed the coup. His father-in-law went even further to cushion Ali, by ensuring that he was absorbed into the provincial administration. He rose from the position of District Officer to Provincial Commissioner, before becoming a Permanent Secretary in retired President Moi's regime. After the NARC government came to power, Ali started a security company. He had links in the military, the police and the National Intelligence Service and his businesses thrived.
Last year, Ali ran for public office and Idriss Muktar joined his campaign team. Idriss later fell out with Ali Korane and decided to expose the Governor's fake academic credentials. Korane had claimed he had a masters from Nairobi University and Idriss had evidence that Korane's academic credentials were fake. It's alleged that Governor Korane then engaged Mohamed Hussein Aden to deal with Idriss. It is Mohammed who is alleged to have recruited David Mwai for the job and offered to pay him Sh2.4 million. The assignment was to kill Idriss and his lawyer, Charles Kanjama, who was preparing a court case to challenge Ali Korane's academic qualifications.
On 19th August 2018, David Mwai shot Idriss in the head outside a mosque in Kileleshwa. He was supposed to shoot Idriss seven times. He tried, but the gun failed after firing three rounds. Idriss was hit in the head once and is currently admitted at Nairobi Hospital with the bullet lodged in his head. David Mwai escaped on a motorbike after the shooting.
Before Idriss was shot, he had filed a report at Kilimani Police Station claiming that he was receiving death threats from the Governor and his security people. Police tracked Mwai to Dandora Estate and on 27th August, the 28-year-old was arrested, together with his wife, Rebecca Hajila. With the mother of his two babies in custody, Mwai was shown CCTV footage of him shooting Idriss Mukhtar. Police persuaded him to confess and turn state witness. This he did, with the hope of buying his wife's freedom, since she wasn't part of the crime.
In his confession, Mwai said he was hired by Mohammed Hussein Aden, who worked for the Governor, through a lady known as Njoki. On Tuesday, 28th August, Mwai called his elder sister, Esther Wanjiru, and asked her to find his wife. He had been told she would be taken to Milimani Law Courts, but family members had already gone there and failed to find her. On Thursday, 30th August, Mwai called Esther and told her that he had confessed to the shooting and was ready to face the judge. He added that he'd been approached by some people, inside his cell, who said they could help him escape. Esther urged him not to do it, suggesting that they were tricking him, so they could kill him. Mwai had been given some documents to sign, but since he didn't understand them, he had refused. That evening, during the 7pm news, Esther learned that her brother had allegedly killed himself. David Mwai's evidence allegedly implicates Governor Korane as the mastermind and the person who would have benefited from Idriss' murder.
The police, using telephone records, tracked down the people involved in the case. All of them have a connection with the Governor. The people in custody are the Governor's bodyguard, his security advisor, and the lady who connected David Mwai with the Governor's people.
The police arrested Governor Ali Korane, but following numerous phone calls, he was eventually released. Korane had threatened the investigating officers and pushed for the case file to be moved from Kilimani Police Station to CID Headquarters. The officers who had cracked the case were removed and new officers introduced to help cover up Korane's involvement. Whereas, it is human nature to hate David Mwai for agreeing to be used as a killer, there is no excuse for the police to have murdered him inside a police cell. Mwai's murder is to help a bigger murderer get away. I am not defending a cold-blooded killer, but it is wrong for one to be murdered inside a police cell. We live in a country with laws.
I have slept in almost every police station in Nairobi. Most police stations were built during the colonial era and the cells are horrible. The "windows" are just a small strip of an opening near the roof, barricaded with iron bars. As someone who has been arrested enough times, I can tell you for certain that you're never alone inside a cell. Belts and shoe straps are confiscated and if someone brings you food, they must taste it first.
A country must be governed by the rule of law. David Mwai deserved his day in court, as do his masters, who hired him to kill, and his murderers too. If the killers of Mwai get away with murder, what will stop any other accused person from killing a whistleblower, a witness? David Mwai's murderers were paid by the same person who paid David to kill Iddriss Mukhtar.
Six people are in police custody in connection with Idriss Mukhtar's shooting, but the main culprit may not be among them. The police have denied David Mwai's family access to view his body and his wife is still missing. Betrayed by law enforcement, now there is pressure on Iddris' family to settle this issue out of court, using camels. Tradition, like political privilege, seems only to be invoked to defend the rich, never the poor. Iddris' family wants justice. We want the laws of the land to be upheld.
By Bonface Mwangi
---
Kenya Insights allows guest blogging, if you want to be published on Kenya's most authoritative and accurate blog, have an expose, news, story angles, human interest stories, drop us an email on

[email protected]

or via Telegram
---
Lobby Group Wants Co-Operative Bank And Nairobi County Assembly's Salary Deal Investigated With Corruption Red Flags Raised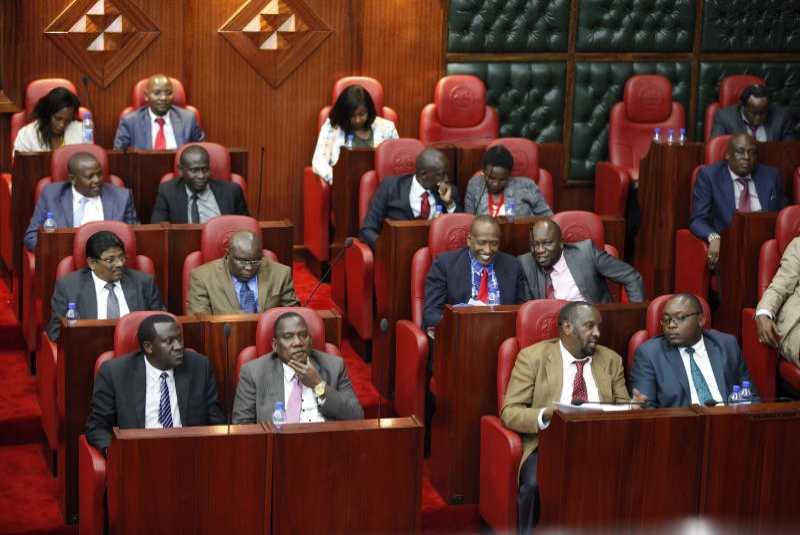 A concerned city resident, Kelvin Njihia has written to the anti corruption body EACC and DCI to launch investigations into widespread corruption and impunity cases at the capital's county assembly.
In a letter addressed to the two bodies, Njihia claims  there are serious integrity and public trust issues within City Hall. He alleges that the County assembly has gone against the set threshold by Salaries and remuneration commission restricting members not be in more than four committees.
According to his findings, most senior members in the board and their allies, have occupied more than four committees thereby contravening the law. The petitioner want members of the assembly occupying the extra committees to be investigated and prosecuted over corruption and the impunity displayed. He lists top officials flagged in his findings including;
Elias Otieno Okumu- 7 committees.
Esther Waithera Chege- 6 committees
Abdi Ibrahim Hassan- 6 committees
Peter Wahinya Njau- 5 committees
Peter Anyule Mwatok- 5 committees
Juliet June Ndegwa- 5 committees
Rest of the list
Besides, the concerned citizen coalition want the assembly to be probed as to how salaries of the members is channeled through cooperative bank contrary to the SRC's directive and s contravention of county and national laws.
The petition also noted that the suspended County's assembly clerk Jacob Ngwele who's out of office over miss appropriation of funds still executes official duties despite the court's directive. Ngwele in what the petition claims to be a contempt of court, recently invited public's participation in approval of Halkano Dida Waqo as County's Chief Executive Officer for ICT in what is flagged as one of many suspicious appointments.
Ngwele himself was illegally appointed into office and being investigated for the same. Petition also want the commission to speed investigations and findings following the impeachment of County's Speaker Beatrice Elachi.
They want the Ethics and Anti-Corruption Commission to give updates on the Majority leader of the Nairobi County Assembly Mr Ibrahim Abdi Hassan who had been summoned by the commission over the City Hall clash pitting members against Speaker Beatrice Elachi.
EACC ordered Hassan to appear at the Integrity Centre on September 12, 2018 to record a statement that will aid in the investigation of members' conducts. He's alleged to have conspired with members in wider plot to oust the speaker. According to the petition, Elachi was kicked out due to her lack of corporation in fraud schemes hatched by the board members.
Petitioner wants the DCI to dive in and investigate why the county's salaries are being channeled through co-operative bank and not directly from central bank to individual's accounts in what is read with suspicions.
---
Kenya Insights allows guest blogging, if you want to be published on Kenya's most authoritative and accurate blog, have an expose, news, story angles, human interest stories, drop us an email on

[email protected]

or via Telegram
---
FRAUD: Bungoma County's Nzoia Water Services Board Sneakily Attempts To Impose Kennedy Wekesa Kilali As The MD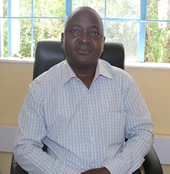 Nzoia Water made an advertisement for open positions of Managing Director and Head of Internal Audit and Risk Management in daily nation dated October 23,2018 page 18 under anonymous company in western Kenya.
The following non conformities were noted which do not either conform with industry practices and approved operational HR Manual of the company as per the attached Advertisement:
1.
The advertisement was only mentioning a leading water company in Western Ke
nya,excluding Kitale which fall
s in Rift Valley. Does it mean Kitale has separated from Bungoma and they have formed their own company? If not what is the effect of these on long term relationship with Trans-nzoia County?
2.
The advertisement of MD's position failed to meet the minimum threshold as per legal notice no.137 o
f 2012 which requires inviting
the prospective candidates to have Masters Degree and registered members of respective bodies e.g  for Engineers should be registered with Engineers Registration Board(ERB) OR Institute of Engineers of Kenya ( IEK) and not
Institute of Engineering Technicians (IET)  meant for Technicians who are lower cadre staff of the company.
3.
T
he requirements of chapter six was not
observed in the advertisement which requires the prospective applicants to submit their chapter six compliance during the application as it forms part of shortlisting process and not to produce them during the interview.
4.
The last advertisement through daily Nation were received without matc
hing list from them,
which resulted in most candidates who had applied not being shortlisted as their applications never reached the company's offices. There's no surety that the process will not be compromised in favour of specific candidates?
5.
The Ag. Managing Director has failed to implement the inspection report by WASREB.(According to workers petition)
6.
The advertisement should have been made either through the consultant or in the company's name for it to attract competitive qualified candidates and not the way it is hidden as it is aimed to prevent competition and thus attract less applicants.
7.
Therefore ,the recruitment process be stopped and
the position be
re-advertised in line with the above requirements.
---
Kenya Insights allows guest blogging, if you want to be published on Kenya's most authoritative and accurate blog, have an expose, news, story angles, human interest stories, drop us an email on

[email protected]

or via Telegram
---
Ruto And Duale Buys Off Biwott's Air Kenya Limited As Attempts To Exempt The Duale's From KPC Prosecutions Revealed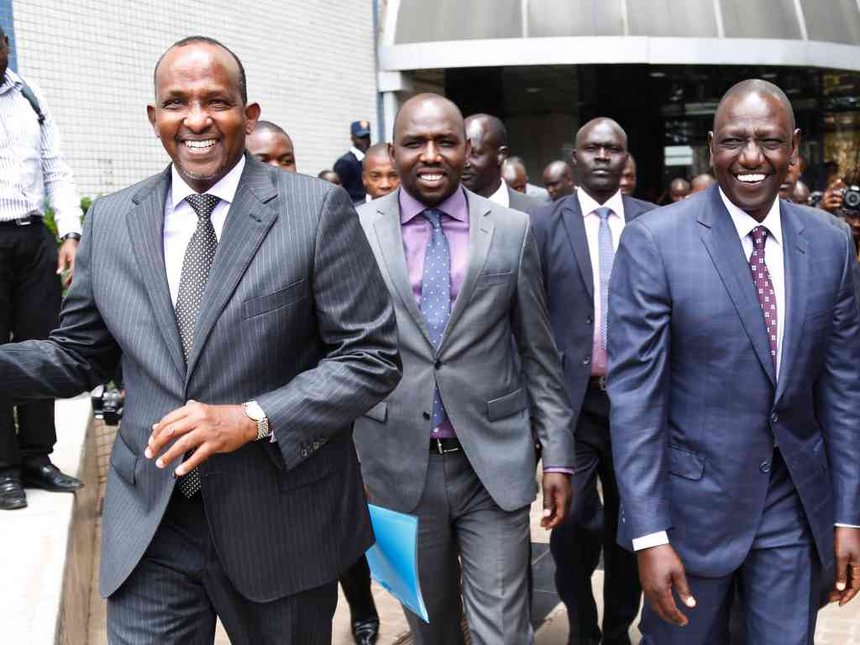 In Kenya, the more things change, the more they remain the same. Since the President intensified the fight and crackdown on corruption, we've witnessed arrests and ongoing prosecutions but at the same time, new scandals continue to crop up.
President announced a lifestyle audit on public officers and we're yet to see the full implementation, however, we're aware of ongoing money laundering schemes where 'smart' public officials including those in executive, are desperately laundering their ill acquired wealth before the lifestyle audit bell is hit.
Talking Of wealth, reports reaching Kenya Insights allege that DP and Duale jointly bought off Air Kenya Ltd previously owned by the late Biwott in what we're told was a cool Sh1.8B deal sealed about two months ago. According to a source, the ownership is based on a 50/50 agreement between the two.
Air Kenyan is  now registered under Focus Aviation Mauritius and the Directors are Abdulaziz Aden (Duale's son) and Adil Khawaja ( representing William).
Away from that, Kenya Pipeline is proving to be a hard not to crack for the DPP, for a parastatal with endless scandals, many have been wondering what's taking Noordin too long to press play on his reggae playlist. But you'll have to wait a bit longer, KPC comes with heavy political baggage.
Duale and Abdul Duale are heavily implicated in the KPC mess a detective source intimated to Kenya Insights. Joe Sang, the company's MD who's whole body deep in the murky scandal world will not go down without the Duale's we're told to show the levels of complexity in the case. Sources at DCI say that there have been open threats by the Duales and told that they had seriously invested in the government and that they are untouchable.
There's a developing narrative that the DPP is delaying prosecutions yet the DCI have concluded their investigations on the KPC corruption. This one case that comes with political ramifications and questions are arising whether the DPP who happens to come from the same region with the Duale's is hesitant on the consequences.
"Touching Duale Family is a direct attack on WsR. That is a live wire.  Infact Dualle son Abdul is so close to Joe sang and Keter. DPP Knows touching that file is war." Says a source privy to the investigations.
DCI uncovered transactions amounting to hundreds of Millions between Abdul Duale and Joe Sang's cousin Hillary. When both parties we queried what the transactions were for they both claimed that it was not a crime to give money to friends.
"Chief architects of tender fixing at KPC are the Duale boys, they are so entrenched at KPC that even removing Joe Sang wont affect their activities." Said another source speaking to KI. He continues, "KPC is a chess board for WSR and the Duale's. At times they are united in Looting however sometimes they clash and fight bitterly when things don't go their way. Duale's are cunningly smart and share what they steal with management but for WSR its me, Myself and I. Thats what is going to finish WSR. His selfishness Unmatched."
Abdul Duale is said to be the father's right hand man. His finger prints all over state parastatals. At KPC they are involved in
1. Fibre- total was 1.8B
2. Devolution of KPC – 200M given to them. There was a big war between them and WSR over this.
3. Industrial area land was bought by a Company called Focus Logistics( Director is Abdulaziz Aden) at 150m and later sold to KPC at 600m 3 months later
4. Security consultancy. Awarded to Optilan UK and Black hawks eye (Aden duale and Abdul are Directors) value was 800m.
Mid November 2015 a meeting was called by One Abdul Duale ( Son of Aden Duale) at boma hotel. In attendance was Faith( Director KPC), Felicity Biriri( Director KPC), Joe sang (AG GM Finance then). The agenda was lack of control in KPC. The cartels had lost control as Previous MD Charles Tanui was sacked after Corruption allegations and his replacement was Mrs Florence.
At this meeting of this 4 individuals a plan to oust was mooted. They had 2 Directors on their side already. Joe sang said he would convince Jerry and Neepee ( also Directors). The Kalenjins tasked Abdul Duale to Onboard John ngumi (Chair KPC) with whom they enjoyed a Cordial relationship.
A board meeting was subsequently scheduled 1 day before the Christmas holidays so that no eyebrows would be raised. In a Span of less than 1 hour Florence (Ag MD KPC) was ousted and replaced with Joe sang in Acting capacity. Mr Director kindly check the visitors book and Examine CCTV footage on 23Rd December 2015 at exactly 2:31 till 4:00pmYou will notice that Abdul Duale personally supervised the removal of Florence (Ag MD). Cctv footage from security will help you.
Abdul Duale was a close ally of Charles Tanui and often sat at the negotiating table for kickbacks on behalf of Tanui. When tanui left he became an orphan. Ag MD Florence had blocked all his contracts. Works were stopped and payments stopped also. He would visit Charles Tanui every other day probably to brief him on matters kickback.
After their successful mission to replace Florence the Cartel rejoiced and celebrated for days. Fast forward January 2016 Joe Sang os in office and alll cancelled contracts were reinstated. To begin with their was a Tender for Rehabilitation of the Nairobi – mombasa Pipeline that was awarded to The Duale family via Proxy during the Tanui Reign. It was Awarded to Center star Ltd. Amount was 490M. Florence (Ag MD) cancelled it after several issues were raised on the shell company.
The company had no experience for the sophisticated job that was to be undertaken. Mid January 2016 Abdul duale pushes for the reinstatement of the contract. Joe sang instructed the Mechanical team to reinstate it and he signed it off. A Kickback of 20M was delivered at Intercontinental Basement.
Distribution
joe Sang -6m
Faith and Felicity 6m
Legal – 2M
The Cartel at KPC needed political protection and someone who also allowed them to eat unlike the DP who offered them protection but never allowed them to eat. DP would eat alone forgetting the team always. Political protection came via the Duale Family. Aden Duale and His son Abdul would protect Joe Sang from EACC, DCI and parliamentary Committees. In Return Joe Sang would be paying to the Duale family via Kickbacks.
The duales also provided the KPC cartel with money laundering options often charging them upto to 20% of the looted proceeds
1.Fibre Optic Cable
The Budget for this project was 300M. Joe sang gave instructions 6 months before the tender was advertised that this One belongs to Aden Duale. Duale and Son setup a Shell company and partnered it with JV of Express Automation.
All bidders quoted less than 300M including ZTE. Express Automation/white space quoted 880M. 500m Above the budgeted amount. The tender was marred by threats of deportation to ZTE from abdul duale if they ever appealed.
Beneficiary of the Kickbacks
Keter and PS – 100m
Joe Sang -20M
Lamek Rotich and Evaluation team -10m
Vincent Cheriyout – 1M
It will be a Futility if the political engines are not touched in cleaning up the KPC mess. As it stands, the political weight on KPC corruption continues to take toll as reports point at s conflict in the sense that both Ruto and Uhuru's allies are swallowed into the multi billion theft at the oil courier. Kenyans are keen to see how the DPP will handle this case.
---
Kenya Insights allows guest blogging, if you want to be published on Kenya's most authoritative and accurate blog, have an expose, news, story angles, human interest stories, drop us an email on

[email protected]

or via Telegram
---