Babu Owino Outs Nairobi Governor Sakaja As Gay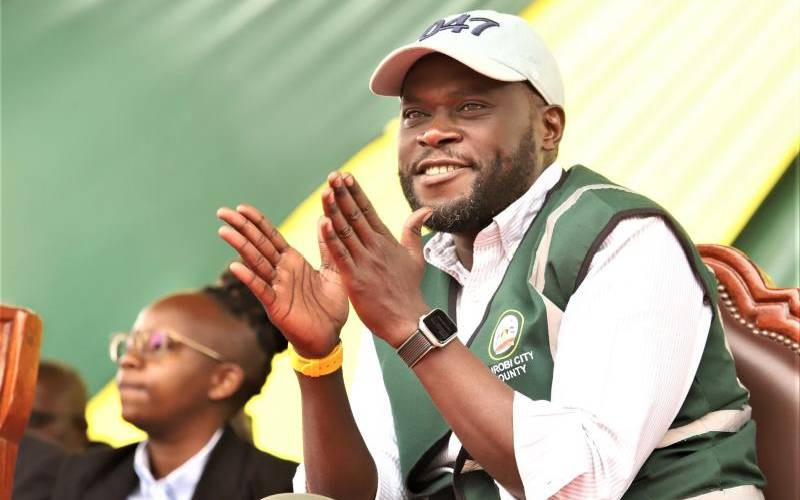 Call it dirty linen washing Friday, Embakasi East Member of Parliament Babu Owino and Nairobi Governor Johnson Sakaja declared violence on X (formerly Twitter) over the weekends going for each other's neck by engaging in a war of words that saw the two politicians holding nothing back as they accused each other of drug addiction.
At one point Babu appeared to out the governor as being an LGBTQ member when he referred to him as 'Team Rainbow 🌈' 'anakulwa matako (he's getting banged)' in the heat of the moment. "You have stolen a lot from Nairobi county and addicted to alcohol and Bhang. You are advised to stop being a girlfriend we have more than enough ladies in Kenya." Babu said. Sakaja swung back claiming to have slept with the MP's wife in a subtle comeback, "I think someone in your house will vehemently refute the rainbow claims you're making."
All these came after the Nairobi governor was ranked bottom ten in the latest report on the governor's scorecard angering Owino who took issue with the Governor's performance
"Sakaja is an embarrassment to the People of Nairobi. How can you be ranked last out of 47 Counties? Kazi ni Kuiba pesa Za Nairobi County and buying Houses in America, London, and Dubai," Stated Babu.
The report however was dismissed by Sakaja who claimed to have achieved more than he had been credited for. Sakaja went on to list some of the transformations the city under the sun had undergone under his leadership.
Corruption
He said that he has increased ward-based projects to Ksh.23 million per ward from Ksh.17 million, built markets, and restarted projects stalled for the last 6 years among other projects.
Owino took a swipe at Sakaja dismissing his sentiments as pure lies saying that the figures had been cooked.
"Stop lying you gave MCAs 1200 bursary forms at 5k each which amounts to 6 million shillings, not Ksh.23M which you are claiming. Every ward is supposed to get 23m shillings per year for bursaries, where's the Ksh.17M shillings per ward for 85 wards= Ksh.1.4B shillings?" Stated Owino.
The accusation however did not settle well with Nairobi Governor Sakaja who came out to defend himself while accusing Owino of being high on drugs.
"If you removed the white stuff you are stuffing up your nose, you'd realize there's a difference between bursaries and Ward-based Development Funds (WDF), Bursaries are Ksh.7M per ward (85 wards). (Ksh.2.5M term 1, Ksh.2.5M term 2, and Ksh.2M term 3). Up from Ksh.4.5M. Every ward is getting WDF of Ksh.23 million for Development not bursaries. Up from Ksh.17M." stated Sakaja.
Babu, was ready to go lower with Sakaja coming directly for him
"You said in your previous post that you gave bursaries worth Ksh.23M shillings in every ward. You are nothing in the intellectual parlance hence should stop misusing numbers, we are not in TEAM-building activities. You have stolen a lot from Nairobi County and addicted to alcohol and Bhang," fired Owino.
"For the white stuff, I stopped its consumption but you are advised to stop being a girlfriend we have more than enough ladies in Kenya. Catfish. The day you went for liposuction you also melted your brain cells."
Sakaja dismissed Owino's claims that he had stopped using cocaine accusing him of embezzling funds. " I used to drink alcohol, smoke bhang and did cocaine. I stopped all these on the 18th January 2020. Now let's talk about your addiction to alcohol, tobacco and Bhang. You drink till you urinate in your pants. You need to be in rehab not in Nairobi county." Stated Babu.
"You're clearly still high. You stopped when? A few minutes ago? Stop completely bro, cocaine will ruin you. Which post did I mention Ksh.23M per ward for bursaries? Show us,"
"Again, visit any of our facilities including Tassia Kwa Ndege, where I've reclaimed land stolen under your watch as MP. Visit them and you'll get support against cocaine addiction. We've also built the first rehab at Sinai, VIWANDANI. ''he said.
Sh50M bribe to Ruto
Babu had a lot to say on the Tassia land saga, "The land in TASSIA belongs to Mr. Abdullahi, he bought it from NSSF and has a Title for it. You have an interest in the land which you want to grab from him for refusing to bribe you. You came to Parklands police station to gain political mileage coz either way I was taken to court and acquitted. As for THEFT of Public resources,why were you raided by the DCI, you went to meet Ruto in Kwale county with 50m which he refused to take,still raided the day after. You flew to London to avoid being arrested and to beg Baba to rescue you. Your CECs and Chief Officers have recorded statements at the Dci headquarters. The file is already with the EACC awaiting your Prosecution. You have eaten more than the owner can notice. You paid 2B to companies for jobs not done. You collect 5/- from parents in Nairobi in the name of school feeding program yet the program is budgeted for by the national government. You demand bribes from developers daily."
School Feeding Program 'Dishi'
The Twitter war between the two leaders stretched to Monday when Sakaja's feeding program for school kids in Nairobi failed to take off forcing kids to go hungry in different schools. Babu took the opportunity to further hammer his opponent whom he now sarcastically refers to as 'her excellency'.
https://x.com/hebabuowino/status/1703742979838513434?s=46&t=KazQmrLjpJYvkoNP81WxiA
The governor however refuted the claims saying the program was on course.
https://x.com/sakajajohnson/status/1703782660089290854?s=46&t=KazQmrLjpJYvkoNP81WxiA
It was after the reply that many including Babu challenged the governor to post a video showing the kids eating from their schools but he didn't post instead, he fired a salvo by replying to Babu with a video of the shooting incident involving DJ Evolve which many read as escapism. Numerous reports indicated that the feeding program failed to take off on Monday making the governor to resort to sideshows and propaganda to mask his failure.
https://x.com/sakajajohnson/status/1703822328063291594?s=46&t=KazQmrLjpJYvkoNP81WxiA
The war between the two Nairobi leaders comes as the two of them eye to contest for the Nairobi Gubernatorial seat in 2027, with Owino eyeing to replace Sakaja and Sakaja looking forward to defending his seat.
---
Kenya Insights allows guest blogging, if you want to be published on Kenya's most authoritative and accurate blog, have an expose, news TIPS, story angles, human interest stories, drop us an email on

[email protected]

or via Telegram
---