Abandoned In South Sudan, Kenyans Rotting In Prison, The Price Of Uhuru's Silence And Injustice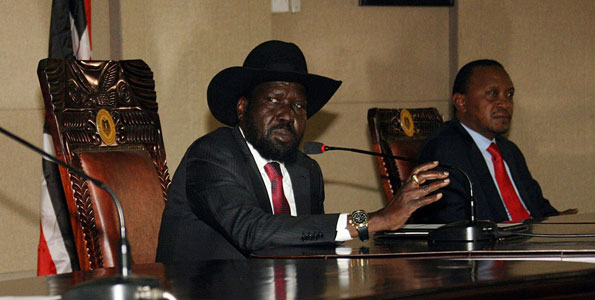 On the 13th day of June 2016, life took a shocking, unexpected turn when four Kenyans who were working for South Sudanese government officials were sentenced to life imprisonment of 72 years in a puzzling legal process. Clueless of what was going on, the four Kenyans were victims of a great war within the office of the president in what has turned out to be a fabricated corruption case within the agencies but a power measuring and neutralizing war amongst the officials including President Salva Kiir.
The genesis of this whole case is all Concoctions and trumped-up charges in the form of "Intelligence Report," and more of Conspiracy acts by a group of Powerful individuals in the Office of the President. Their goal was to scratch off Former Chief Administrator Mayen Wol Jong and Executive Director in the Office of the President, Yel Luol Koor from their positions. The Former Chief Administrator and Former Executive Director were barriers to these Powerful government officials and allies crooked multi-million business tenders with government through Office of the President.
The report was accusing the two senior individuals of squandering $500million from the office of the President by forging the signature and seal of the president to withdraw these sum from Ministry of Finance and Central bank of South Sudan.The $500million was alleged to have been deposited in John Agou's bank account in Nairobi.In reaction this, On 29th May 2015 President Salva Kiir ordered the arrest of three above mentioned.John Agou and his employees who among them included 4 Kenyan Citizens were arrested while at the shop, Click Technologies limited owned by Agou.
These four Kenyans had no idea of what was going on.They were detained at the headquarters of the General Intelligence Bureau (GIB) as just 'State Witnesses.'On 25th June 2015, President Salva Kiir suspended his two senior aides Chief Administrator Mayen Wol Jong and Executive Director Yel Luol Koor handing them over to GIB for investigations. On 2nd October 2015 in Nairobi -Kenya, where John Agou's wife and his 2-year old son were residing, became a crime scene as his wife Susan Anyieth Chaat was kidnapped on her way to the prominent wedding of television personalities Betty Kyallo and Denis Okari were holding their event at Marula Manor in Karen.She was abducted by Officers from South Sudan National Security Service with the help of plan less Kenya Anti-Terrorism Police Unit(ATPU), and National Intelligence Service then handed over to South Sudan National Security Service officers in Nimule, a town at Uganda-S.Sudan border.
The abduction/kidnapping of Susan Anyieth from Nairobi, Kenya on 1st October 2015 by rogue elements from the South Sudan National Security Service with the help of the Kenyan Anti-Terrorism Police Unit (ATPU) and the National Intelligence Service (NIS) without due process of the law. This was done with total disregard to the international laws of extradition treaties. She was just a house wife, and she was forced to leave behind her 2-year-old son without anyone to take care of her. Just like her husband and the rest, she would be sentenced to life imprisonment with the fabricated charges and without legal presentation. In the next sequel, we will break down the high table politics and the intrigues of this international law contravention.
On Friday 29th of May 2015, four young Kenyan men are living and working in South Sudan namely; Boniface Chuma, Ravi Ghaghda, Antony Keya and Antony Mwadime were arbitrarily arrested by National Security in South Sudan from a company called Click Technologies. They were arbitrarily detained for nine months on one meal a day with no access to family or lawyers.
They were finally presented to Court on the 20th of February 2016 along with 12 south Sudanese for various charges which they did not commit; such as forgery, insult to the person of the president and misappropriation of funds among others.
The unfairness in court started from the very beginning when the judge set bail per person at $14 million USD. Their lawyer was forbidden to meet with his clients unless during the trial. Continuous intimidation to witnesses by National Security and exactly a month into the trial the lawyer, Kiir Chol was threatened at Gun point by National Security, whose written communication was snatched away from him and his clients' and forced to drop the case.
Five months of Trial and the Kenyans had NO MENTION in court; this was acknowledged by the Ministry of Foreign Affairs. The court proceedings were conducted in Arabic which the Kenyans could not understand.
With the to and fro from government officials that bore no fruits, unfortunately, the 4 Kenyans along with 12 South Sudanese were sentenced to life imprisonment of 72 years on 13th June 2016.
Families then approached Majority Leader, Hon Aden Duale who questioned the ministry on the penalty and received a response from Hon. Amina Mohamed as below:
"The Government strongly condemns this unjustified sentence imposed on the four Kenyans, and consequently the Ministry has protested through a Note Verbale to the Government of South Sudan through their Mission here in Nairobi. In this regard, I have summoned the South Sudanese Ambassador in Nairobi to convey to his Government our strong condemnation of this questionable and ridiculous judgment. These Kenyans have been condemned, yet there was no evidence at all adduced in Court linking them to the alleged crime."
This response is dated 4th July 2016
To mention briefly;
The families have been to every relevant office in the Republic of Kenya to try and get assistance to bring these Kenyan Sons home.
11th of April 2017, The Court of Appeal in South Sudan quashed the case and sentence for these Kenyans and ordered a Retrial. However since the verdict was announced, the lawyer for the Kenyans got barred from practicing law in South Sudan. Judiciary there after also went on strike and their demand is a dismissal of the current Chief Justice which stands to date.
Families have written several times to the President;
H.E Uhuru Muigai Kenyatta and also published full page adverts on Nation and Standard to get his intervention. Following the paid page plea to the president, the office of foreign ministry moved quickly to save face. Typical of PR scoring system, Kenyan ambassador to South Sudan Cleland Leshore visited the four Kenyans jailed in South Sudan
over fraud claims for selfies to water down the public heat.
Via Twitter during those heated moments, the ministry said: "It is not true that the [South Sudan four] have been ignored."
It added that it has been following the proceedings keenly but "cannot prosecute the case in public at the risk of jeopardizing negotiations and an appeal pending at the Juba High Court."
The families were promised a full briefing, but it was noted that the case is "extremely sensitive" due to the "colossal amounts involved" and aspects touching on the office of the South Sudan president. Little or no follow up has been done. To date, families have never received a response from the government. Naturally, the government has the obligation of ensuring none of its citizens are jailed abroad and must employ diplomacy talks for release and repatriation. Somalia recently secured the release of 114 prisoners from Ethiopia after diplomatic deal cuttings.
While Uhuru and Foreign ministry officials led by Amina continue to buy time for unspecified reasons wrapped under diplomatic jargon, the four Kenyans continue to face harsh life in the South Sudan Prison and their families in Kenya spending sleepless nights and days filled with agony. It is 11 days to the election and if Uhuru losses the election, abandoning of these Kenyans will pile to his list of failures. If he retains power, the case will be a reminder of failed diplomacy. Kenya and South Sudan enjoy a cordial relationship, it is puzzling Kenyans are rotting abroad in a case that pure diplomatic air down would square instead, the government of Kenya has resorted to cat and rat games with families while allowing these Kenyans to suffer at the expense of power plays in South Sudan government.
---
Kenya Insights allows guest blogging, if you want to be published on Kenya's most authoritative and accurate blog, have an expose, news, story angles, human interest stories, drop us an email on tips.kenyainsights@gmail.com or via Telegram
---