Why I Want To Be The Next Starehe MP, Activist Boniface Mwangi Explains Motivation Behind Him Joining Politics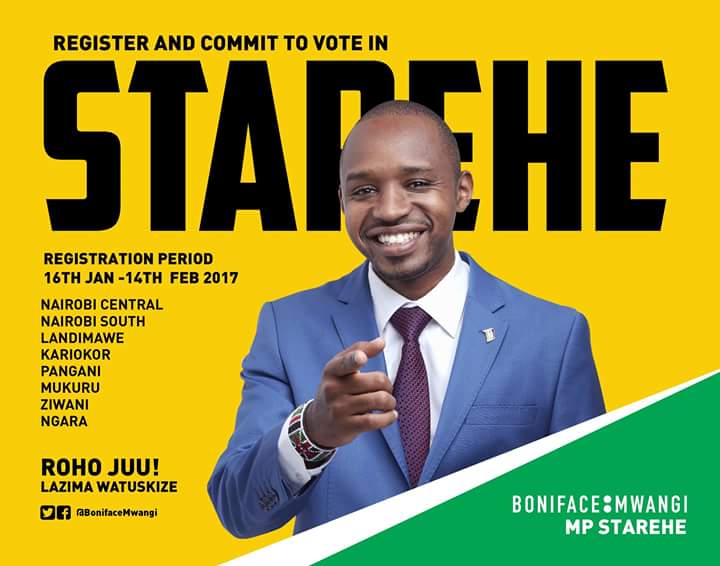 After lengthened fight on the system, activist Mwangi is taking the armoury to the parliament's door by contesting to overthrow Maina Kamanda as the MP for Starehe. Since he made the announcement, many people have questioned his decision to join the murky world of politics and he's not short of answers, here's his statement on what guided the decision to vie for the post.
"Today is exactly two years after we reclaimed a public playground from a known land thief. Two years later the children of Lang'ata Primary School continue to use their playground as a result of #OccupyPlayGround. A clear example that a people United can never be defeated. Those in power, both past and present, continue to ignore what citizens go through everyday. I want to take the people's voice to parliament where they have been ignored for far too long. I have always challenged our leaders for their bad decisions and failed governance. I have done this as an active citizen and a patriot. It is time to take the fight to parliament, where we, the people, need our voices heard.
I am vying for the parliamentary seat of STAREHE constituency. I am contesting for this seat because I want to take the fight from the streets into parliament, where decisions are made. I grew up in Starehe and lived there for almost half of my adulthood. All my life I have worked in the Nairobi's Central Business District, both formally and informally. While my work has given me both a national and global outlook into issues, my 'roots' have remained in Starehe.
The people of Starehe need jobs, water, sanitation, security, food, good education and health care, as do all Kenyans. The majority of Kenyans are not rich people, and we can no longer afford to give outrageous salaries and benefits to public officials. It does not make sense for 45 million Kenyans to spend more than ONE HUNDRED AND EIGHT BILLION SHILLINGS (108,000,000,000) per year on salaries and allowances for 2222 MCAs, 349 MPs and 67 Senators. Kenyans are "overrepresented" and there is almost nothing to show for all the "representation".
We need to cut down on the so-called 'privileges' of parliamentarians. We need to ensure the delivery of basic constitutional rights to the people of Starehe and the people of Kenya. A reduction of these privileges can be actualized if we all demand that those vying in 2017 be willing to take a 50% pay-cut, have no bodyguards and receive no free car grant. Scrap the private medical cover all politicians get. How else would they improve the health sector if they never interact with it? They should be registered for NHIF and should receive medical care in the country at public facilities.
All Kenyans lives matter. The people of Starehe deserve better. Public servants should not be an exemption but an example. A pay cut is an example of how public servants who earn more than they should can ensure that more money is available for education and our teachers, for health and our doctors and for the police who ensure our security. The media should push to make the MPs', MCAs', and Senators' 50% pay-cut part of the agenda during this campaign period. H.E Uhuru Kenyatta and Hon. Raila Odinga should also make the pay-cut agenda part of their manifestos.
We need to tackle wastage and theft in both the county of Nairobi and National governments. Our government is bloated and l shall push and support the reduction of the number of MPs and MCAs. Theft, through corruption has to be fought. I will fight against corruption. I will fight land grabbers and reclaim stolen public land. We need to ensure that resources go towards uplifting the lives of all the people of Kenya.
Starting in February I will be doing a meet-the-people tour to talk and listen to the people of Starehe. It is their thoughts and hopes that will inform my agenda and give direction to how I will work with MCAs' and the Governor of Nairobi in their county agenda.
Only after I have completed this listening tour will I officially launch my campaign.
I urge all Kenyans to register to vote in large numbers. "BAD LEADERS ARE ELECTED BY GOOD CITIZENS WHO DO NOT VOTE". Refusing to vote is NOT COOL. Mass voter registration started on 16th January and continues till 15th February 2017. Go and register OR change to the constituency you want to vote in. To transfer a polling station, go the registration point of the constituency office you are transferring to.
You are a Starehe voter if you live in the following wards: Nairobi Central, Ngara, Pangani, Ziwani/Kariokor, Landimawe, Nairobi South (South B-Mukuru slums). You are a Starehe voter if you hadn't planned to vote but this post gave you hope that things can change. Register to vote in Starehe and elect me as MP.
I pledge to remain: A Fighter. Courageous. Consistent. Patriotic.
Tumechoka! LazimaTusikizwe! RohoJuu!
Volunteer and Donate:
You can volunteer to knock on doors or share my message on social media and with your neighbours, family and friends."
The writer is a human rights defender
www.bonifacemwangi.com
---
Kenya Insights allows guest blogging, if you want to be published on Kenya's most authoritative and accurate blog, have an expose, news TIPS, story angles, human interest stories, drop us an email on

[email protected]

or via Telegram
---