Why Citizen TV's Jacque Maribe Could Be In Trouble As Details Emerge On The Arrested Fiancé Joe Irungu Over Cold Murder Of Monica Kimani In Kilimani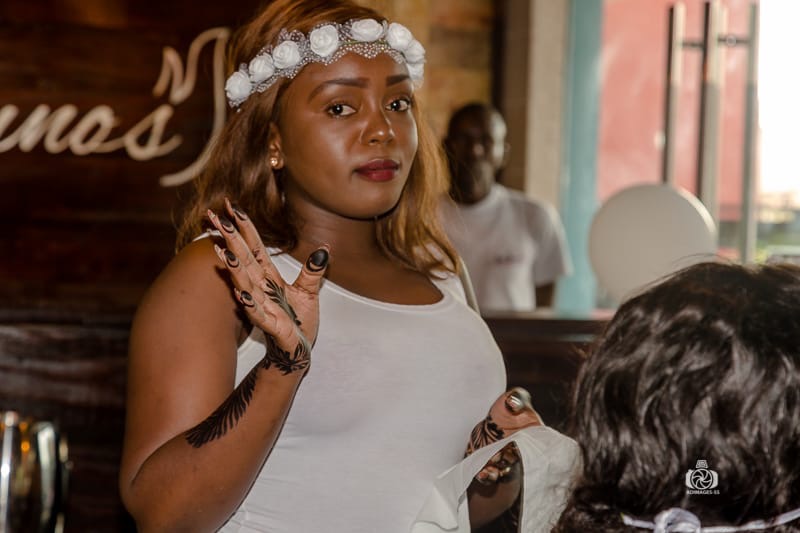 It reads like a scene of a horrific crime movie, Monica Kimani, a 29 year old businesswoman had just returned from South Sudan and was planning on flying out to Dubai for a vacation.
Monica's lifeless body would letterbbe discovered by her brother after breaking into the house following several unanswered phone calls. The killers had slit her throat open after tying her hands and left the tap running after dumping her body on the bathtub.
Two men well known to her. According to the family of the late Monicah Nyawira Kimani, the men were not strangers to their daughter as she introduced them by name to a neighbour before she ushered them into the apartment.
Inside the house, George Thiru, Monicah's bother who was among the first people to reach her apartment in Lamuria Gardens, were two glass wines while a yellow bag with a piece of bread, ajera an Ethiopian delicacy, was hanging at the main door.
According to Thiru, the chapatti-like bread had not been broken; it was apparent the killers had walked through the front door, locked their victim inside and carried her house and car keys.
The family, which is still trying to come to terms with the gruesome murder said there was no business rivalry, and neither did Monica owe any debt as all the Milly Paul General Trading Family business financial aspects were handled by Thiru, the brother.
Only identified as Joe and Owen, the two walked in as Monica was sitting with a white neighbor whom out of courtesy, walked out to give them privacy. An unidentified man in a white kanzu and only identifying himself as a pastor, walked in moments later.
The man in the white gown is said to have committed the actual act where Monica hands were tied to her back before being slaughtered on her bathtub. It was done so quick that according to CCTV footages that can't clearly reveal faces, were done under ten minutes and they walked out without being noticed.
We've established that an analysis of phone records between the accused and the deceased show that the two were in constant communication the night of the incident. His phone trails that night also places him at the crime scene. He skipped getting away with murder classes that a smartphone will have all traces of your movements stored.
On the very night that Monica was slaughtered, Joseph Irungu, a prime suspect now in custody, reported a shooting incident at Lang'ata Police and this when he raised curiosity and police followed leads.
Police could not verify the shooting incident as no catridges were found at the scene. The neighbours also did not hear any gunshots on the said date. Something was amiss.
He told police he had arrived at the Royal Park Estate last week on Friday morning to drop off his girlfriend, Maribe when he noticed three men standing at the entrance.
He had earlier on picked her from a club in Kilimani and drove her to her residence(He picked her up on Kilimani which is also the same place the killing occurred). After arriving at the house, he drove back to the gate to check what was happening with the strangers hanging around. This is the only man to drop a lady and then drive back to a hostile ground like a Rambo.
Irungu told police when he tried to establish what their mission was there, one of them shot him on the left side of his chest. The bullet exited to the back as the attackers allegedly escaped on a motorbike. They did not steal anything.
On September 21, Monica Kimani was found in the bathroom with her throat slit at the Luciane Apartments on Kitale Lane off Denis Pritt Road. The same day Irungu claimed to have picked up his girlfriend from a club in Kilimani.
Police can easily establish if indeed he picked up the girlfriend and if the timelines correspond with CCTV footages from the club and on the road. They don't. The TV siren reportedly took Irungu to Nairobi West Hospital for the gunshot wound treatment.
This is why I'm concerned and a reason for real caution for Maribe. The police will rely on her testimony in collecting evidence against her boyfriend who puts her in a fire we can only believe she walked into not deliberately.
She has to convince the police that she didn't have any knowledge of his criminal record and killing instincts so as not to be considered an accomplice. She need to be extra careful in giving the details as she recounts the incident and not bite her tongue.
If there were suspicious elements at the gate as alleged then did she also notice them as he drove him to the house? Did she witness or hear of gunshots at her gate as claimed by the boyfriend? It's susiegted Irungu shot himself to create an alibi.
He knowingly put her in trouble as she's a key person to either confirm the incident or disapprove it to affirm his presence at the crime scene in Kilimani. Irungu took photos of her shot at self posing like a model licking his lips, the ease in his face showing he's not only acting but not disturbed at all with the gruesome murder of Monica perhaps a sign he's used to such.
Love matters are complex and Maribe is at a place where she can exonerate a suspected killer or nail a criminal, she has to choose between freedom and peace, love and truth. Word is she had expressed her fears and suspicions on Irungu to close friends but she held on for whatever reason. However, she now has an issue to deal with and being a celebrity, the focus on her other than the real accused Cold murderer will haunt her.
Given that Irungu and the deceased were in constant contact that night and before and how he gained entry into the premise where the body was discovered, goes to show a relationship existed. We don't know whether this was business or whatever it was, however, the nature and what the two were communicating would help in determining the motive of a murder so foul. Motive of murder would also open a box of pandora by dragging in other suspects in the picture if any.
---
Kenya Insights allows guest blogging, if you want to be published on Kenya's most authoritative and accurate blog, have an expose, news TIPS, story angles, human interest stories, drop us an email on

[email protected]

or via Telegram
---