We Know Your Salary Campaign Gains Momentum As NIS Pulls Chairs Sending The Corrupt Into Panic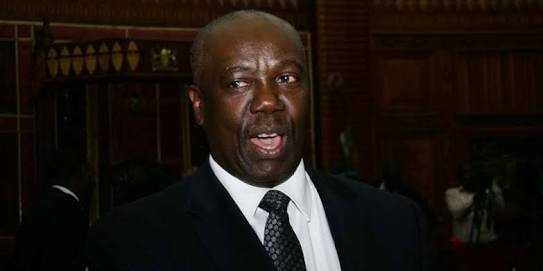 Kenyans on social media are perhaps the most active citizens in the country if not continent who take matters accountability and governance a notch higher. Corruption has been a trending topic for time now and with the recent declaration by the president to conduct lifestyle audit on all public officers, KOT(Kenyans on Twitter) agressive team are not taking things for granted and are going to unimaginable heights to turn the entire table.
Senior blogger Cyprian Nyakundi known for his corruption blasting campaigns had once again taken the lead with a chills sending exposing campaign dubbed #WeKnowYourSalary. With this, Kenyans  launch online campaign to expose assets and wealth of state/public officials not commensurate with genuine income. The blogger says the campaign will kick off from Monday 18 June 2018 campaign with start naming names and wealth of these officials.
https://twitter.com/c_nyakundih/status/1007474557266092033?s=21
Talking to Kenya Insights, Nyakundi believes this campaign will change the dynamics of investigations and will make the auditing process more open. "We've had several lifestyle audits and this isn't the first time, the officers given the secrecy of the process have managed to hide their illicit wealth that's why we're launching this campaign to change the dynamics. I'm calling upon all Kenyans to expose all their names and properties illegally acquired. If they try to hide in papers, social media will be here to give the proof and reminder."
As President @UKenyatta once said @dkmaraga should begin de-congesting prisons. #WeKnowYourSalary. I met a low ranking public officer who lives and owns a 200M home in Karen.

— Ken Mijungu (@KenMijungu) June 16, 2018
So serious is the campaign that has been trending on Twitter the last four days with Kenyans already pouring in information. Sources close to graft purge in the the state intimates to us that the spymaster is taking this as an opportunity to pick information as this forms basis of human intelligence collection. EACC and DCI will as well be following on the information that will be streaming and a follow on extracted information implemented promptly.
#KOT investigative bureau conducting a comprehensive public official lifestyle audit via #WeKnowYourSalary. ✔️✔️✔️ #IfikieUhuru

— Ory Okolloh Mwangi (@kenyanpundit) June 15, 2018
Social Media in Kenya is proving to be an important tool in not only shaping the conversations and setting the agenda both online and mainstream but a vital component in governance. Being one of the most vocal voices on ethics and governance, I foresee greater things happening and it's a good time for anti graft agencies to incorporate citizen participation in their campaigns. We want to see the Nyakundis and Kinyanboys of this inter webs working with EACC in the crackdown and flung beyond the keyboards.
#WeKnowYourSalary the lifestyle audit needs proper planning. 5 teams should be created. One audits the executive arms/ministries. Second one audits parliament/ Senate. Third goes after the judges/judiciary. Fourth, governors/47 devolved units and last constitutional commissions.

— Ahmednasir Abdullahi SC (@ahmednasirlaw) June 15, 2018
It will be a waste of time and  resources if the intelligence from this campaign will be ignored. We will pool the information and continue to update you on what Kenyans are saying and who is being exposed. Public officers must account for every single property they own and those illegally acquired be repossessed and can we for once see people going to jail for looting public coffers?
Below are the teasers
https://twitter.com/robertsyundu/status/1007598526078087168?s=21
#KOT out here saying #WeKnowYourSalary so don't fuckin mess wid us talkin bout lifestyle audit when y'alls been stealing right infront of our eyes. Yo ass needs to be in jail not audited.

— Scheaffer Okore (@scheafferoo) June 16, 2018
Police spokesman Charles Owino earns less than 275,000 shillings a month but dude is a multimillionaire with Matatus, real estates, few wholesales, restaurants, "fish farming" import and export businesses.. hii pesa inatoka wapi? Explain yourself Mr Owino! #WeKnowYourSalary

— Chilal (@cwyyell) June 15, 2018
In 2016, EACC raided the home of Kidero's Chief of Staff George Wainaina. They recovered Ksh 110m but only reported Ksh 11m after sharing the major part of the recovered amount. #WeKnowYourSalary

— Robert ALAI, HSC (@RobertAlai) June 17, 2018
#WeKnowYourSalary is the kind of snitching that Kenya needs and I hope @EACCKenya is taking note and do a follow up. This is free human intelligence that shouldn't go into waste. We can only win if we work collectively. Overnight millionaires from the top owes us explanations.

— Kenya West© (@KinyanBoy) June 15, 2018
---
Kenya Insights allows guest blogging, if you want to be published on Kenya's most authoritative and accurate blog, have an expose, news, story angles, human interest stories, drop us an email on

[email protected]

or via Telegram
---
Joash Ombati The Brave Police Officer Who Took On Two Thugs And Recovered Sh400,000 Feted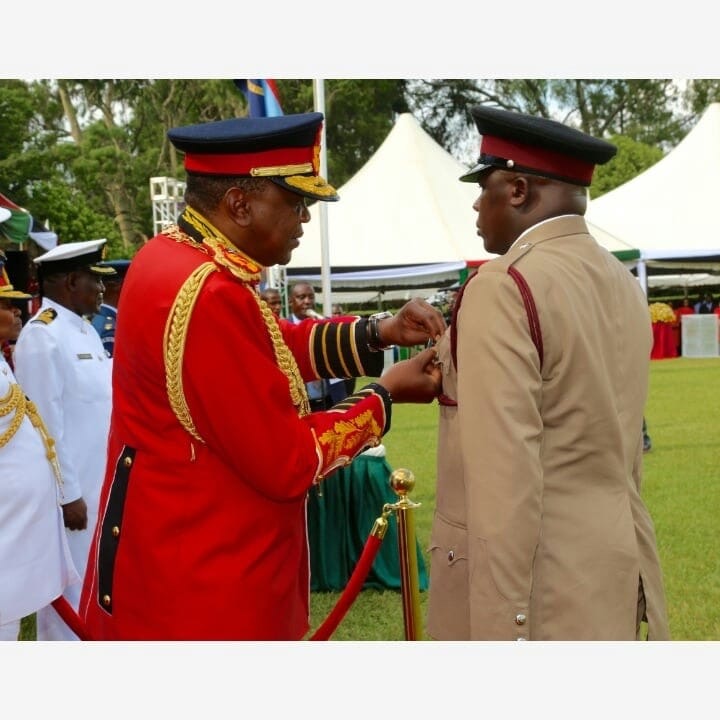 Two suspects, Sameer Abdulaziz Kassim and Peter Kavoli Musili had posed as traders of construction materials on OLX.
They reportedly duped Amos Charo Saroan, an unsuspecting customer from Voi then robbed him.
Amos Charo traveled from Voi and met the duo in Nairobi CBD, then drove towards Westlands but he was pushed out of the speeding car after giving them KSh 732,000, an incident witnessed by Ombati.
Administration Police Constable Joash Ombati who was guarding a bank nearby, boarded a taxi to chase after the suspects.
The Police officer shot in the air forcing the thieves to surrender before he handcuffed them as members of the public watched with many urging him to shoot dead the suspects.
Mr. Ombati remained calm even as a furious mob urged him to shoot and kill.
He managed to recover Sh400,000 which was part of the Sh732,000 that the suspects had stolen from the complainant Mr Amos Charo.
Ombati would then be awarded by Interior CS Matiang'i for his bravery the government was given the heroic AP a Distinguished Service Award in November 2018 barely a month after his commendable work.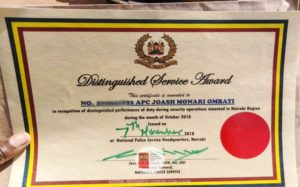 That wasn't the end, Joash Ombati who single-handedly pursued two thugs in Nairobi and recovered KSh 400,000 has just been promoted to the rank of Corporal from being a AP Constable.
Friends help me Congratulate my brother.
---
Kenya Insights allows guest blogging, if you want to be published on Kenya's most authoritative and accurate blog, have an expose, news, story angles, human interest stories, drop us an email on

[email protected]

or via Telegram
---
Grace Msalame Sues Uganda's Tourism Board For Illegaly Using Her Curvy Photos To Promote Sex Tourism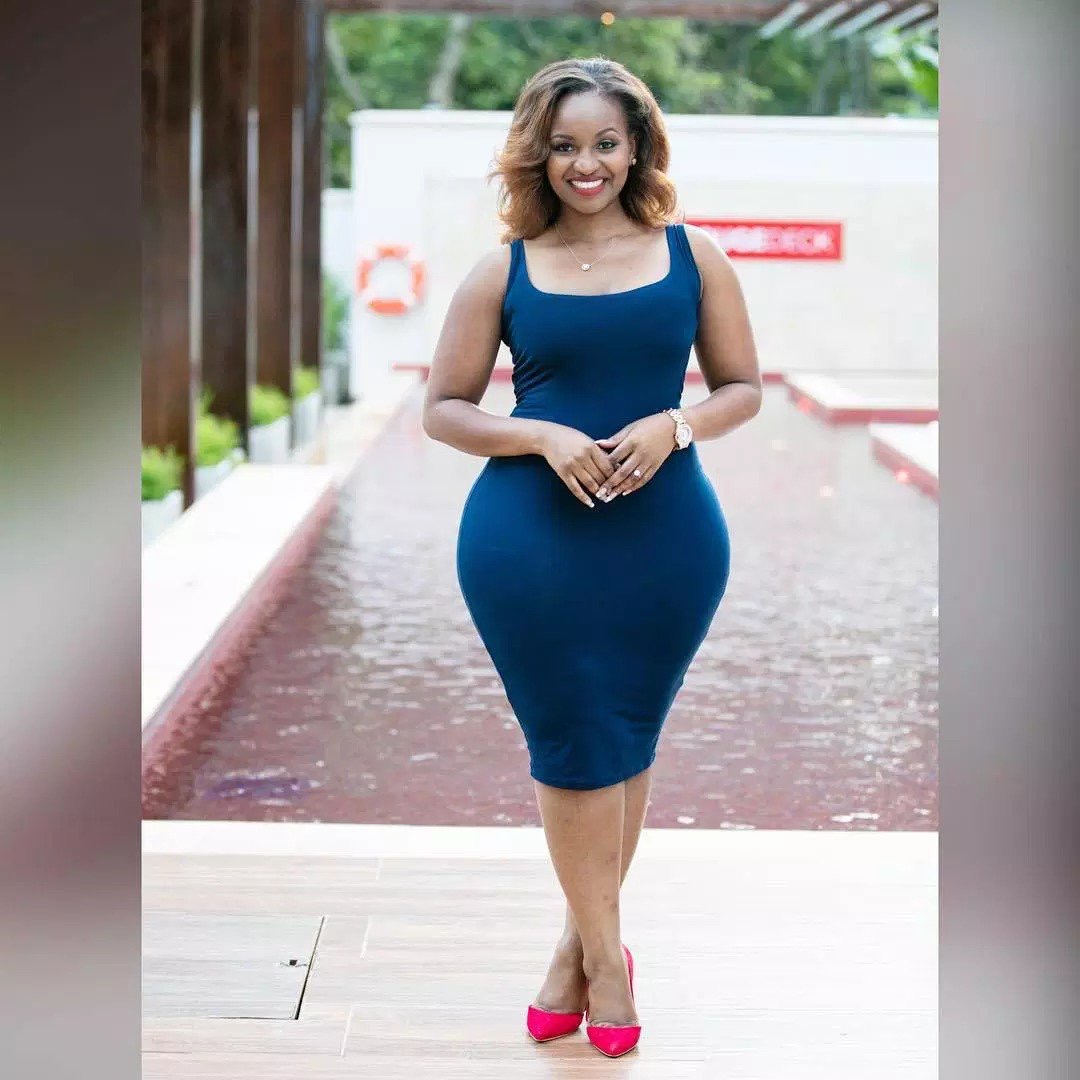 Uganda's Ministry of Tourism unveiled a beauty pageant dubbed 'Miss Curvy Uganda' in a bid to promote tourism in the country, the ministry decided to use Kenya's media personality Grace Msalame as the official face of their Miss Curvy Uganda contest without her knowledge. Whether it was a mistake or deliberate is unknown but now they'll have to prove it in court.
Grace a media personality in Kenya has distanced herself from the beauty pageant saying she was never part of the program neither did she give consent for her photo to be used in the promotion.
In a statement, Msalame says, "I take great exception for the fact that my image and likeliness are being used to propagate, disseminate and encourage objectification of women. I don't agree nor endorse such a message or anyone who's a creator of the idea that women's body are tourist attraction sites."
While announcing that her lawyers are already on legal course for redress, Msalame says, "I reject any association to me that has been unlawfully created by Miss Curvy Uganda 2019 and its agents."
The media personality claims that her brand has been immensely hit following the publications of her images. "Miss Curvy Uganda's deliberate and calculated use of my image and likeliness to promote violation of women's bodies had defamed my character and reputation damaged a brand that I've worked for so many years to establish, and subjected me to unwarranted and undeserved cyber bullying." She says in her statement.
---
Kenya Insights allows guest blogging, if you want to be published on Kenya's most authoritative and accurate blog, have an expose, news, story angles, human interest stories, drop us an email on

[email protected]

or via Telegram
---
Club Associated With CS Echesa's Deported Exotic Dancers Now Wants State To Pay Them Sh48M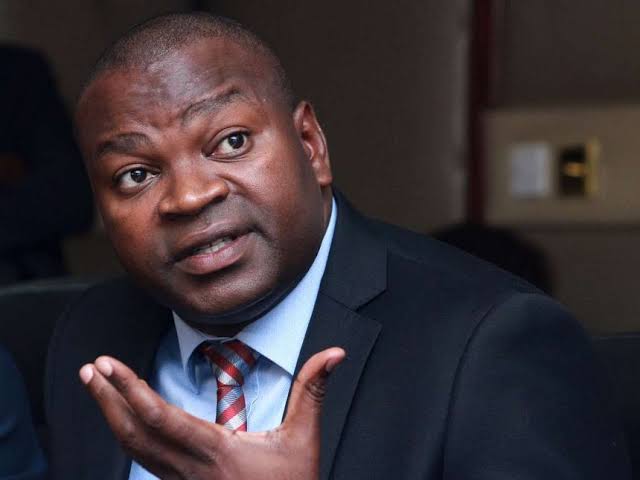 Balle Balle Club In Parklands that flew in the eight deported Pakistani women is now suing the state over the deportation of the dancers by police infringed on its rights and business. The club is seeking to be compensated with Sh48M which they claim was lost as a result of the deportation.
Arguing their case before Justice Luka Kimaru, the club represented by lawyer Evans Ondieki told the court that the dancers had been issued with special permits by the Sports CS Rashid Echesa to perform at the Balle Balle Club during the festive season but were arrested and detained illegally by police.
The court also heard, the girls were bundled out of the club and detained for 36 hours without bathing, which was a violation of their basic rights. They were held as investigations looked into the circumstances and validity of the permits issued by the CS who was alleged to have been involved in the human trafficking racket.
Earlier, the lawyers had sought for the court to compel CS Echesa and Matiang'i to personally compensate the deported girls despite having a standing order to produce them in court. The courts excused the CSs from the Sh9.1M fine and instead summoned detectives who gave out the girls to different state despite the case having been lodged in.
The club is now seeking orders restraining the DCI, DPP and Transnational Organised Crime Unit from entering, harassing, intimidating, arresting or doing anything prejudicial to its directors.
---
Kenya Insights allows guest blogging, if you want to be published on Kenya's most authoritative and accurate blog, have an expose, news, story angles, human interest stories, drop us an email on

[email protected]

or via Telegram
---