Wajir Governor Abdi Mohamud Plagued With Scandals As He Seeks Another Term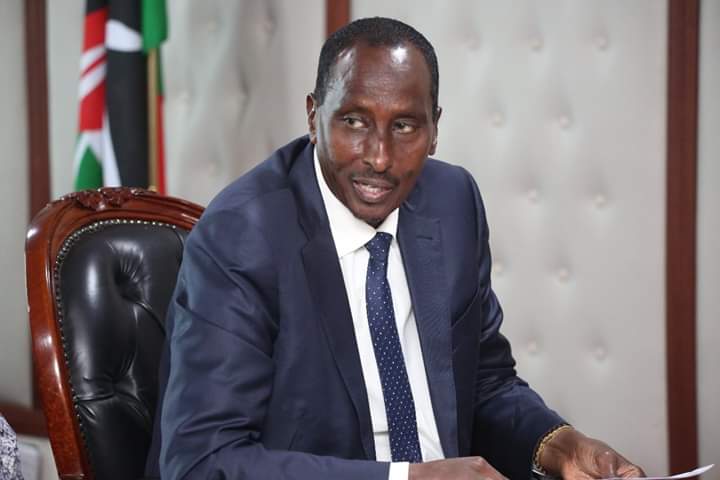 Wajir Governor Mohamed Abdi Mohamud's term in office has seen him face one crisis after another. He struggles to recall any particular moment of his tenure when he wasn't trying to save himself from drowning in the choppy waters of the county's murky politics.
Mr Mohamud has spent most of his time in office trying to prove he was validly elected. First, it was to prove he had the qualifications to be in office, then he had to defend himself against an impeachment.
In 2018, his election was nullified. Two years later, he was ousted from office. In the county assembly, 37 MCAs voted to pass a motion to impeach him accusing him of gross misconduct, abuse of office, and financial impropriety. Ten others voted against.
The governor maintains the motion was politically-instigated.
His claim gets credence from the night gazette notice on his removal from office and the consequent swearing-in of his deputy almost immediately. And just when he was finally granted a reprieve by a court ruling that overturned his impeachment, Mr Mohamud is in another bind. He has lost the chance to defend his seat on the Jubilee Party ticket.
The High Court in February quashed the May 17, 2021 impeachment of the Wajir Governor, allowing him to return to take back his seat after nine months out of office.
The ruling from the Meru High Court in February came at the peak of party nominations for the August 2022 election. While he wanted an opportunity to defend his seat, Jubilee thought otherwise.
After a lengthy process, the party finally announced that it would issue the certificate to Mr Mohamud's rival, former National Hospital Insurance Fund (NHIF) boss Hassan Adam. The incumbent governor is now fuming.
He claims the method used by the party to pick candidates for the August 9 General Election was flawed. The party relied on consensus and direct tickets to pick candidates after abandoning earlier plans for universal suffrage.
But the process has come under criticism, especially from incumbent governors, some of whom expected to get the party ticket to defend their seats but are instead waiting for Jubilee honchos to decide their fate.
"It is not a party that elects a leader, it is the people. And the people of Wajir have seen what has happened," the governor said. He said the people of Wajir would have the final say on whether he will be governor.
Brothers and friends
"There was no fairness. If the process was fair then we would have been asked to go before the voters of Wajir and have them decide who they want to be on the ballot," the governor said in an interview.
"There was no nomination. It was just people who were selecting their brothers and friends."
In the decision of the party, the governor sees a continuation of his tribulations.
"It is some cartels who have influenced the decision of the party. It was the same people who were behind the impeachment who have done this," he protested.
Some of the people who are instigating his woes are now running for governor, he claims. He maintains that even though he was not the choice of the party, he was still the choice of the people of Wajir and he would present himself before them again.
"If Jubilee has not recognised that they have denied the ticket to the strongest candidate then it is their loss. I am saying farewell to Jubilee. I will go to the people of Wajir as an independent," he said.
According to him, the number of votes he secured in 2017 should be testament to the popularity he enjoyed. He was elected by 50,000 votes, which he considered unprecedented.
"No one had ever been elected with so many votes in Wajir," he said. The Independent Electoral and Boundaries Commission (IEBC) registered 162,902 voters in Wajir County for the August 8, 2017 General Election.
Mr Mahamud defeated five other candidates, receiving 49,079 (41 per cent) of the valid votes cast. His closest challenger was former governor Ahmed Abdullahi Mohamad (ODM) who received 35,572 (31 per cent) of the valid votes cast.
Mr Abdullahi Ibrahim Ali, who was elected senator for Wajir, received 35,236 (30 per cent) of the valid votes cast.
Mr Mohamud maintains that since he assumed office in 2017, there has been a consistent attempt to subvert the will of the people.
After he was declared winner in August 2018, former governor Ahmed Abdullahi filed a petition to nullify the election on grounds that Mr Mohamud was not academically qualified to participate as a candidate for the governor's seat since he did not have a university degree. The case took two years to settle and when it was finally over, the Supreme Court declared he was validly elected. But, while he maintains that his administration has been irreproachable, some officers from the county were charged for the loss of Sh26 million.
Ahmed Sahal Omar, Daud Abdullahi and Jeff Kithinji Mworia were charged with conspiracy to defraud the county of Sh26.1 million of public funds. The three officials were convicted and fined Sh800,000 each or, in default, serve a sentence of four years in prison each.
"These court battles were brought on by politics. It was not because I did any mistake. If there was any mistake I would have done, the courts would have found me guilty."
Mr Mohamud started off in public service as a teacher, and 45 years later, rose to become governor. In between, he has served as education officer, MP, and ambassador.
For him, seeking a new tenure, despite all the challenges, is to seek the cherry on top of his ice cream. The satisfaction that he was given the mandate by the people of Wajir and he performed.
"I will be 70 years. After this, I want to retire in Wajir. Maybe join some of the elders in solving disputes among the youth and advising them," he said.
But before that, he will have to prove to himself and to Jubilee that the party made a mistake by overlooking him.
"It is very unfortunate what happened. I can deliver this seat comfortably like I did in 2017. But if the party cannot see that then it is their loss," he said.
While consistently touting his record bringing peace to the county and starting a ward development fund, Mr Mohamud said he has much to offer.
From the Ward Development Fund, he said, Sh3 billion has gone to develop the localities.
---
Kenya Insights allows guest blogging, if you want to be published on Kenya's most authoritative and accurate blog, have an expose, news TIPS, story angles, human interest stories, drop us an email on

[email protected]

or via Telegram
---