Vocal Teacher Transferred Hours After Calling Out TSC On Insurance Scheme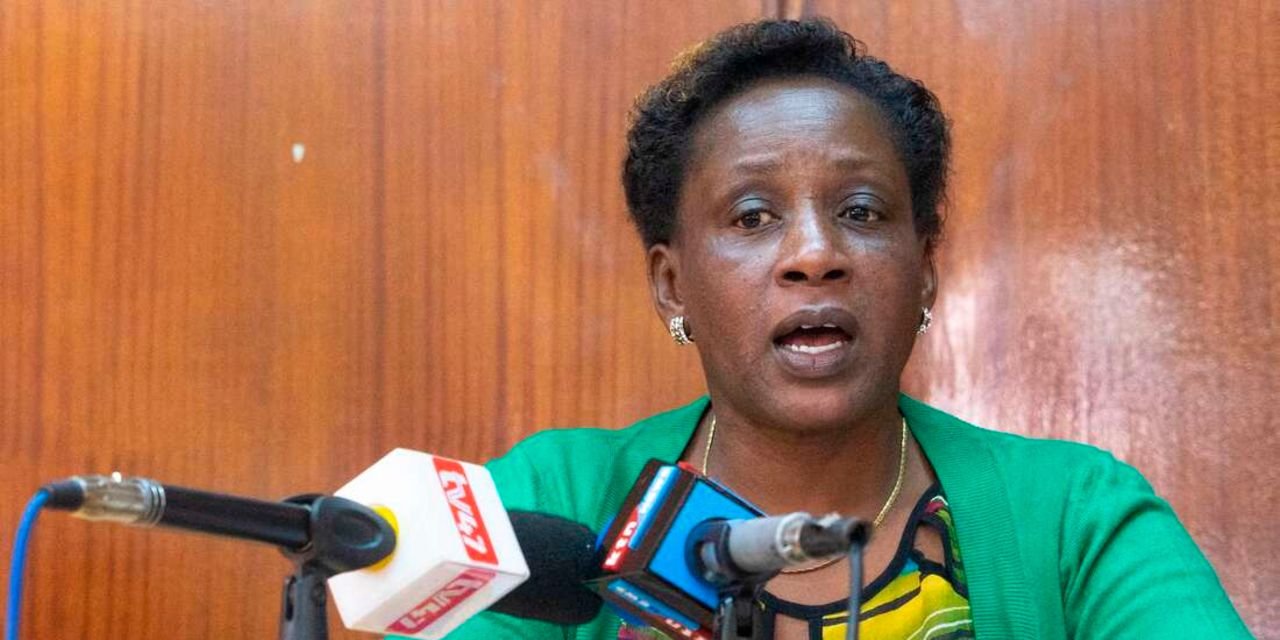 Teachers Pressure Group (TPG) spokesperson, Martha Omollo, has been transferred from Nairobi to Trans Nzoia County. This comes a day after Omollo called for the revocation of tutors' medical insurance under Aon Minet.
According to Omollo, TSC is fighting back TPG since it's the only saviour for teachers, that would fill the vacuum left by the Kenya National Union of Teachers (Knut) in fighting for the welfare of teachers.
Omollo terms the transfer as malicious and meant to intimidate and silence her and the team from exposing the frustrations teachers are facing under the medical insurance and other oppressions introduced by the TSC.
She recounted how Nairobi TSC County director gave her a phone call through her headteachers phone, warning her from speaking to the media.
"On Friday I received a call from TSC Nairobi County director through my headteacher who told me that I should be cautious of what I speak to the media and that any issues I have I should go through the teachers' unions," she said.
A few minutes before 4pm, an official from TSC head office drove to the school and handed her the transfer letter and ordered her to start clearing from the school immediately.
She claims the headteacher was informed about the transfer earlier and had typed and signed her release letter.
"To my surprise, the head teacher seemed to have been informed about my transfer as he had already typed and signed a release letter from the school, which he also handed it to me," revealed Omollo.
The letter signed by Fredrick Mwaniki on behalf of TSC CEO Nancy Macharia directed Omollo to report to the Trans Nzoia TSC county director by Monday.
"The commission has decided that you be transferred from Nairobi to Trans Nzoia County with effect from November 15 to teach all subjects," reads the letter.
Nairobi TSC director was directed to inform the commission's head office on the date she is released from the region and that the time of her release should not take more than 14 days.
Trans-Nzoia TSC director was also directed to inform the commission's head office on the date Omollo reports on duty.
"Please note that it is an offence to leave your present station and join another without formally being released in writing as stipulated in the TSC Code of Regulation for teachers," reads the letter.
On giving reason for Omollo's transfer, the director said that the commission is treating her transfer like any other transfer.
When she asked about her disturbance allowance, which is supposed to equal her salary, the director was non-committal.
"I have decided to report to the commission's Trans Nzoia office on Monday to be sent to the school I am supposed to teach, but after that I will move to court because that decision was made out of malice," said Omollo.
Omollo reveals that TSC summoned her last week and directed her to retract the call for teachers to resist the TPD.
Teachers countrywide have come out to resist AON minet medical scheme claiming that they do not obtain adequate medical care from the scheme.
Teachers are now calling upon the abolition of the AON Minet medical scheme for it has failed to provide quality services to teachers and their dependents.
According to Nation media reports, the insurer has refused to pay medical bills forcing teachers to pay for treatment out of their own pockets.
On the other hand, several teachers have tabled their complaints saying that some of the hospitals listed by the scheme are inaccessible to wheelchair-bound patients due to their location in storey buildings. Additionally, other hospitals are far from teachers' homes.
Teachers further complained that scan approvals take too long. The majority of teachers give up and seek treatment in other hospitals which are not accredited by minet. Some large hospitals can take up to a month to approve for treatment.
The Kenya National Teachers Pressure Group which is made up of teachers from primary, secondary schools as well as teacher training colleges has put pressure on the Teacher Service Commission to suspend the scheme or replace it with a better one.
Martha Omollo, the group spokesperson said that TSC forced teachers to register with the AON minet scheme without allowing teachers to participate in the process of identifying and selecting the scheme administrator and health provider.
According to Ms Omollo Minet, the way the teachers were forced into the AON Minet medical scheme was unconstitutional, and a violation of the TSC Act (2012) and the code of regulations for teachers.
From a reliable source, "TSC has today transfered the Nairobi KNTPG coordinator Madam Martha Omolo from Nairobi to Trans Nzoia county allegedly for speaking up against AoN/Minet. Well ours could be coming too but then what is TSC hiding on behalf of AoN/Minet? Teachers this is just one extreme extent our employer is ready to take us to in their fight to defend this AoN deal that is worth billions. We will continue to fight as we welcome her to the great Rift Valley." The source confirmed.
Another teacher also noted that no serious hospital has been approved except a few which are not accessible to all teachers. Teachers have always complained that some of the approved hospitals lack drugs and qualified doctors while the medical scheme refuses to pay bills for some hospitals in some cases.
Serious challenges Ms Omollo said teachers must allowed to choose a scheme that meets their needs. Teachers have accused Kenya Union of Post Primary Education Teachers (Kuppet) and Kenya National Union of Teachers (Knut), of colluding with TSC to allow the AON Minet medical scheme to continue providing services to teachers."AON Minet is a cash cow for union officials and the TSC. No serious hospital has been approved except a few private hospitals that are not accessible to all teachers," said a teacher. To seek treatment in some big hospitals, approvals take up to a month, said the teachers.
Teachers said some approved hospitals lack drugs, while, in some instances, the medical scheme refuses to clear bills for some hospitals.In most of the approved hospitals, there are no doctors and patients are attended to by nurses."Teachers don't want AON Minet, it is just a scam and a true definition of frustration. They want a medical scheme negotiated by them because it's their money," said Ms Omollo.
They lamented that some of the hospitals listed by the scheme are inaccessible to patients on wheelchairs because they are located in tall buildings, while others are far from teachers' locations.They also complained that approvals for scans take too long, forcing the teachers to give up and seek services in unaccredited hospitals.
"The medical scheme has limited the number of days a teacher can visit a hospital to once every seven days, meaning that a teacher's medical card cannot be used twice in a week. This means that once a teacher has gone to a hospital within a week, their dependants cannot access treatment within that week," explained a teacher.
The Teachers Service Commission (TSC) supports the medical scheme claiming that it is the best of its kind in the region.
---
Kenya Insights allows guest blogging, if you want to be published on Kenya's most authoritative and accurate blog, have an expose, news TIPS, story angles, human interest stories, drop us an email on

[email protected]

or via Telegram
---