Turkish Terror Suspect Hardin Aydin Resided For Months At Radisson Blu Hotel In Nairobi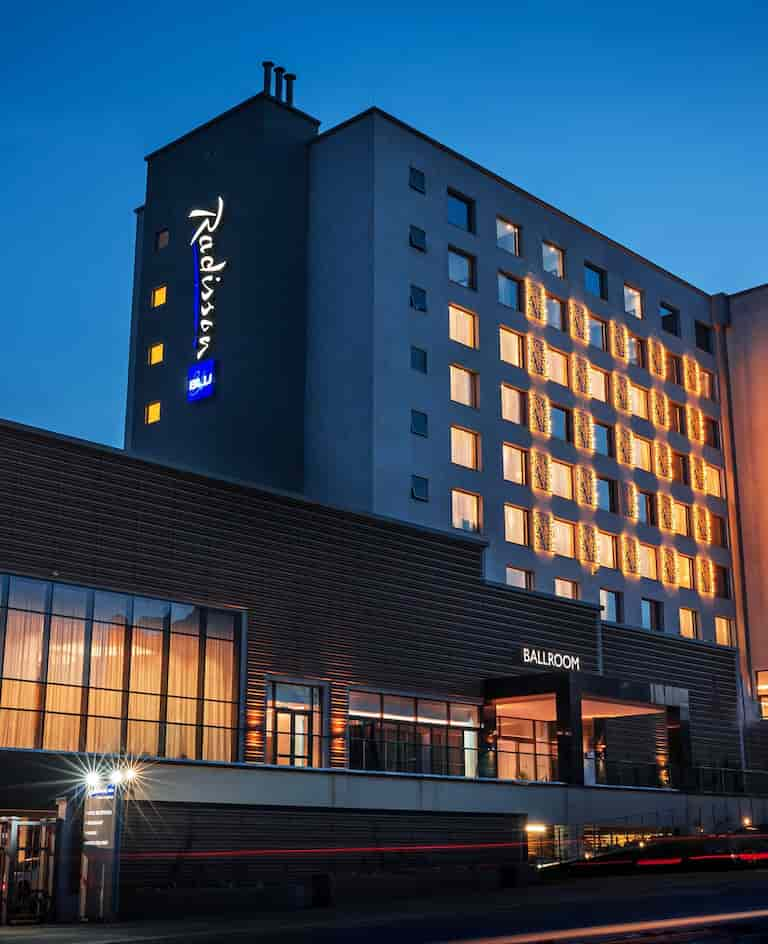 24/06/2021 Turkish national Harun Aydin checked into Nairobi's Radisson Blu Hotel room 047, for face value he was just any other guest and maintained that low profile for weeks until Monday 2nd when he'll broke lose and his cover blown. He was a terror suspect and has been on intelligence radar.
Hell broke lose when it became apparent that he was on the deputy president's entourage that was destined for Uganda on a private trip that was supposedly on intelligence focus and blocked by the President. On briefing, the Deputy President was blocked from flying out of the country to Uganda where he was supposed to meet a warlord and seasoned dictator Yoweri Museveni, the country's president.
Kapseret Member of Parliament Oscar Sudi confirmed that indeed Turkish national Harun Aydin was part of Deputy President William Ruto's entourage to Uganda on Monday.
According to local daily, Harun is wanted terrorist who has faced terror charges before.
However, Sudi said Harun is Turkish investor interested in modern fruit farming and not a terrorist as alleged.
"To the doubting Thomases, Ugandan President Yoweri Museveni is not a kid to deal with someone of questionable repute, you can use your diplomatic connection and inquire from Ssebo himself the kind of interest that the Businessman has in Uganda," Sudi said.
DP Ruto was barred from travelling to Uganda in a dramatic scene at Nairobi's Wilson Airport after he allegedly failed to seek clearance from the Immigration department.
On Monday, it emerged that the DP was to travel to Uganda with Turkish businessman Harun Aydin.
It was later reported that Aydin had been arrested in Frankfurt, Germany, in October 2001 on charges of "having planned serious acts of violence as a member of a terrorist group with an Islamic fundamentalist background".
Now more mystery has been thrown to the debacle.
The whereabouts of Turkish businessman Harun Aydin, who was part of Deputy William Ruto's delegation to Uganda remained a mystery yesterday after it emerged that he was not part of the returning team.

Last evening, it also emerged that the businessman had checked out of a Radisson Blu Hotel where he has been staying since June. It was not immediately clear who checked him out.

It emerged that Immigration officials had stormed the hotel seeking to question the man who has been linked to terrorism.


While MPs Oscar Sudi, Ndindi Nyoro, Benjamin Tayari, businessman David Langat and Dr David Kipkoech jetted back to the country yesterday, Aydin did not fly with them from Entebbe. Others who did not take the flight to Nairobi via Eldoret were Dr Eric Rutto and Elijah Rono.

The plane flew to Eldoret from Entebbe where Sudi, Langat, Kipkoech disembarked before it proceeded to Nairobi with Tayari and Nyoro. It remained unclear under what circumstances the Turkish businessman, who has a tourist visa was swiftly checked out of the hotel.

And yesterday, the Kenya government is said to have written to the Turkish Embassy in Nairobi seeking clarification on the identity of Aydin and reasons for his frequent missions to Nairobi.

Private trips
Sources at the Ministry of Foreign Affairs intimated that the government was concerned with Aydin's alleged dark past and has asked the embassy to provide it with more details. "The government has decided to wait for a clarification from the Turkish Embassy in Nairobi before it can decide what necessary step to take,"a source at the Foreign Affairs Ministry said.

Concerns have also been raised on the DP's private trips most of which are not known by the authorities. Ruto was in Uganda last month where he was hosted by President Yoweri Museveni.

"He went to Uganda and later Zanzibar for a private meeting with local businessmen, which are not known to authorities. Protocol is clear that you get you clearance from your boss. There's only one boss for the DP," said a senior official at the Office of the President.

Aydin, who first arrived in the country in May 2018, has allegedly made several trips outside the country together with Ruto. He has also been a frequent visitor to Kenya through the Jomo Kenyatta International Airport (JKIA). That year, he is alleged to have made at least six return trips between Instanbul and Nairobi.

The Turkish Embassy in Nairobi officials, however, declined to comment on the matter, saying the person concerned was out of office. "The only person authorised to comment on the matter is out of the office," an official said on phone. The following year 2019, Aydin made four more trips to Kenya while last year he made two trips. This year, he has made six trips to Kenya originating from Instanbul, Cairo and Addis Ababa.

According to reports, Aydin who holds passport number U20470175, had previously been arrested in Frankfurt, Germany, in October 2001 on charges of "having planned serious acts of violence as a member of a terrorist group with an Islamic fundamentalist background".

During the arrest, Aydin then aged 29, was a student who had been living in Germany.

According to The New York Times and other media houses, a Frankfurt court described Aydin as a leading member of a militant group based in Cologne and led by Muhammed Metin Kaplan. Kaplan's group of 1,300 people, most of them Turkish, is known as the Federation of Islamic Associations and Communities.


Aydin was charged with having planned serious acts of violence as a member of a terrorist group with an Islamic fundamentalist background. He was found with luggage containing camouflage clothing, a chemical-weapons protection suit, a ski mask and materials to produce an explosive detonator.

Holy warriors
Investigators also found in his luggage were CD-ROM with a training video for Islamic holy warriors, a suicide note to his wife and a last testament, according to a local newspaper based in Cologne, Germany.

He was also accused of giving instructions for serious crimes such as murder and manslaughter in several incidences.

His lawyer, however, said he was flying to Tehran (Iran) for a book fair and had agreed to take a suitcase for another Turkish passenger with excess luggage.

It is one of the religious-based organisations that is likely to be banned as soon as a new German law goes into effect that will remove the constitutional protection for hate speech provided to faith-based organisations.

Before the arrest, Aydin had been sentenced to four years in jail after he was found guilty of advocating the murder of a rival, Halil Ibrahim Sofu, but was later acquitted.

Yesterday, Kapsaret MP Sudi, who was among the MPs briefly detained at the Wilson airport before being allowed to travel to Kampala, described Aydin as a Turkish investor interested in modern fruit farming and not a terrorist as alleged in media reports.

"If anyone is in doubt about the details of Harun then they can visit the Turkish Embassy for more information," Sudi wrote on Facebook. He added: "Museveni is not a kid to deal with someone of questionable repute, you can use your diplomatic connection and inquire from Ssebo (Museveni) himself the kind of interest the businessman has in Uganda."

Politicians allied to DP Ruto yesterday reacted angrily to the move to block Ruto from flying to Uganda. Nominated Senator Milicent Omanga accused the media of being used by the government to spread propaganda instead of providing a conducive environment for investors to operate in the country. "Instead of attracting more investors to our country, we are calling them terrorists," she claimed. Aydin is said to be widely travelled to many cities including Cairo and Khartoum.
Immigration officials told the DP they had not been authorised to clear him and that it was only the President who could grant him permission to travel.

After making a number of calls, the DP was heard saying he would not reach the President nor his people. The Head of Public Service Joseph Kinyua also said he was not aware of the trip and the alleged clearance. "When he got to the airport, he was asked to seek clearance from the Head of Public Service and Secretary to Cabinet. We are surprised. This has never happened in the last nine years," David Mugonyi, the DP's spokesperson, said.


2018 The year when Turkish businessman Harun Aydin first arrived in Kenya. Sources say he has made several trips outside the country together with DP Ruto.
Aydin's stay at Radisson Blu brings to focus how hotels could easily harbor terror suspects and lack of proper mechanisms to vet visitors to prevent possible attacks.
Kenya has been a frequent target of terrorist attacks. The largest, most high-profile attack occurred in 1998 when al-Qaeda operatives bombed the U.S. embassy in Nairobi, killing more than 220 people. In recent years, the Somali-based al-Shabaab has perpetrated two largescale attacks in Kenya: the September 2013 siege of Nairobi's Westgate shopping mall that left 67 people dead, and the April 2015 attack on Garissa University in northeastern Kenya in which militants killed 148 people. The Somali terror group has increased attacks in Kenya in order to dissuade the country from sending its military to help stabilize neighboring Somalia. (Sources: CNN, Reuters, Reuters, Reuters)
Al-Shabaab is the most active extremist group in Kenya, but is not solely responsible for the country's extremist violence. The separatist organization Mombasa Republican Council, for example, has used violence in its quest for the city of Mombasa's secession from Kenya. Police have accused the group of planning attacks including an attack on a casino in March 2013. Separately, ISIS is not believed to have a foothold in Kenya, though Kenyan citizens have traveled abroad to join the international terror group. (Sources: Reuters, Reuters, Reuters, Reuters)
The Kenyan government has taken an aggressive approach to countering extremism at home and abroad. As terrorist forces have grown in strength, the central government in Nairobi has invested more resources to disrupt terrorist financing and thwart their operations. In April 2015, the Kenyan government began construction of a wall along Kenya's Somali border to keep out al-Shabaab militants and illegal immigrants. Northeastern Regional Commissioner Mohamud Saleh said in January 2018 that the construction of the wall had helped lower border attacks to "almost zero."  However, lack of payment for construction workers and political quarrels between the Kenyan and Somali governments have slowed development of the wall. The counter-extremism agenda has also suffered from government corruption.
According to Oscar Sudi, an MP allied to the DP, Aydin has been in the country as an 'investor' in 'modern fruits' but the relationship with the DP has been given a different view by the intelligence.
Kenya and Turkey enjoy a cordial relationship and did not only seal one of the biggest military deals by importing armored vehicles, but extradited nephew of Erdagon foe in Kenya.
---
Kenya Insights allows guest blogging, if you want to be published on Kenya's most authoritative and accurate blog, have an expose, news TIPS, story angles, human interest stories, drop us an email on

[email protected]

or via Telegram
---