The Sh.2.3billion Unfrozen funds Battle in EcoBank Involving Kabogo, Wambui, Lawyers, KiwiPay.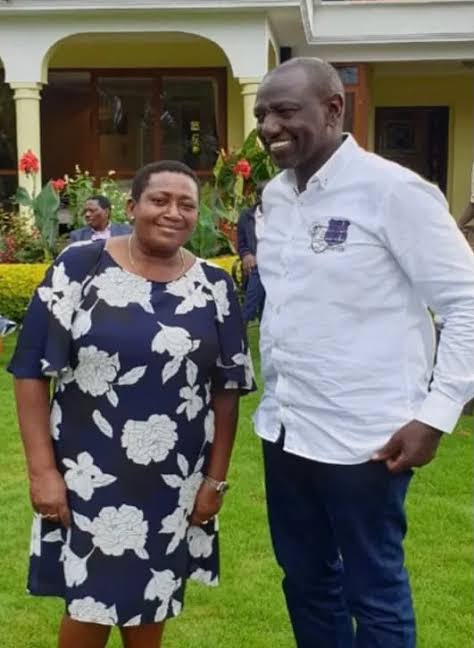 Mary Wambui Mungai's name could easily pass unnoticed but in the corridors of power and business world, it is a name to reckon with due to the influence she wields.
Her company Puma Holdings Limited is involved in multibillion tender supplies with Kenya government and also in East and Central Africa. Her other firm is Kyanda Supreme engaged in furniture imports. She fell out with former president Uhuru Kenyatta which saw her dragged to courts.
Kenya Revenue Authority linked her business firms to tax evasion running into billions of shillings. Her association with a key politician being one of her campaign financiers, has seen her become a key power baron and political wheeler dealer being sought out to broker mega deals.
Currently, Wambui's name and that of former Kiambu governor William Kabogo feature in the battle over unfrozen Sh2.3 billion by state agencies.
Consequently, three Kenyans are locked in a court battle with a woman from Southeast Asian nation of Laos over Sh2.3 billion held in EcoBank accounts after the state withdrew a petition that had frozen the cash on money laundering fears.
The three Kenyans – Stephen Maina Njenga, Felix Rantu Lekishe and Solomon Joseph Maina – have obtained a court order blocking those in EcoBank from releasing the money held in three bank accounts to KiwiPay PTE Ltd, through its local subsidiary Kiwipay Kenya Ltd and Monthida Rashi, a Laotian.
The Kenyans obtained the freeze order after Assets Recovery Agency, which agreed to drop the push to have the billions seized and forfeited to the government.
Stephen Maina Njenga claims to be the son of Maina Njenga, while Solomon Maina is related to Ephraim Maina of Kirinyaga constructions.
ARA had suspected that the company was involved in credit or debit card fraud and may be part of an international syndicate. However, it was established to be doing clean business locally and internationally.
The billions of shillings belong that the firm to Kiwipay PTE Limited through its local subsidiary Kiwipay (Kenya) Limited have been cleared by both ARA and Interpol.
After clearance, court issued an order allowing someone who is not a director to operate the account and removed representatives of Kiwipay PTE, a Frenchman Gregory Schmidt. The matter has caught the attention of the French embassy in Kenya after Schimidit was forced to flee the country fearing for his life.
Kiwipay PTE owns 58pc of shares in Kiwipay Kenya Limited. The person who is not a director and was allowed by court to operate account is Stephen Njenga Maina. He has been to the bank several times trying to transact the money. He is said to be a ghost director and to force payments, and scare both bank officials together with those involved, he has brought on board Wambui.
Maina camp boasts of state house operatives. The camp has been intimidating staff officers at State Law office threatening them with sackings if they do not bring on board directors of Kiwipay Kenya limited who had resigned allowing Monthida Rashi to be the sole director.
Lawyer Dennis Mosota of MM Advocates and close to Wambui is part of the legal team fighting for Njenga Maina. Also caught up in the saga is lawyer Isaac Rene of Ren and Hans Advocates who claim to act for Rashi.
The move has raised suspicion since it is said that Mosota was instrumental in having Singapore, Rene represent Rashi in the case.
It is imperative to note that Rashi is in the country illegally having landed in Kenya using a tourist foreign visa. She has no work permit and she is suspected to be engaging in WeChat illicit trade.
Interpol has profiled  those involved in the saga after the French embassy raised concerns. Wambui and Kabogo have used fortunes to finance the fraud that roped in junior manager EcoBank and a web of lawyers.
It is also imperative to note that the court has issued two conflicting orders. One dated of September 29 2022 to have status quo pending hearing and a second issued on October 24 2022 and dated October 25 2022 allowing Stephen Njenga Maina who resigned to operate the account and removing the investors Kiwipay (Kenya) Limited representative from bank account signatory.
Maina had planned to withdraw the millions of shillings and transfer to Wambui firms Puma Ltd and Kyanda Supreme.
The state agency had alleged that the firm was involved in an intricate money laundering scheme to hide the source of illicit funds.
Immediately after being given a clean bill of health, shareholders of KiwiPay Kenya started fighting over ownership of the firm and a share of the Sh2.3 billion after the state showed willingness to drop the suit. One faction of fighting directors has brought on Wambui while another Kabogo.
The locals claim that they have been dropped as directors and shareholders of the KiwiPay Kenya Ltd and now want to be bought out, if the parent company KiwiPay PTE Ltd no longer wants them as owners of the firm.
Kiwipay PTE entered into a deal where Kenyans signed documents not to be part of shareholders and were later dropped as owners However, the local directors made a retreat threatening Schmidt of Duse French passport Number 18FH37641 been forcing him to flee.
 The case is before Justice David with Majanja and Wambui lawyers are representing one of the parties involved.
Court papers filed by Njenga ctor. partly reads: "The 1st (KiwiPay PTE) MM and 2nd (Ms Rashi) respondents be  and are hereby directed to buy out petitioners from the 4th respondent (KiwiPay Kenya), if the 1st and 2nd respondents are desirous of claim remaining the sole shareholders of the 4th Respondent".
The parent company is based in Singapore, and claims to deal with digital payment services such as QR code solutions for retail shops, hotels and restaurants. It enables  foreign e-wallet solutions such as Alipay, SamsungPay, ApplePay, WeChatPay and more.
When KiwiPay Kenya was registered on June 3 2020, Rashi and the three Kenyans were listed used as shareholders. Rashi and the that Frenchman are owners after buying -Bank out Kenyans.
Maina, Lekishe and Karimoni that each held 2,900 shares equivalent to cting a 7.3pc stake while Rashi had 8,000 or a 20pc stake. KiwiPay PTE owned a 58.3pc stake, making it the largest shareholder. But the Kenyans were  later replaced on September 15 and ownership transferred to Rashi, growing her stake to 41.7pc
The company also enlisted Victor Ngure Githua, who holds zero shares, as a director.
The Anti-Corruption Court lifted the freeze of the Sh2.3 billion held in the three accounts at and EcoBank. The reasons behind the consent were not made public.
The release of the billions has an turned nasty with cases pending scheme after being filed by the three Kenyans at the commercial division Justice Majanja blocked Ecobank from releasing Sh2.3 billion in the bank accounts at Muthangari branch, pending the determination of the petition.
Njenga said Schmidt has been transacting in the three bank accounts yet they are the only signatories and has transferred up to Sh2 billion from the company in Kenya and wired it to a bank account in Singapore.
The transactions were done through Internet banking between October last year and March 9 deal 2022, court documents show.
"In the circumstances, our eholders clients hereby declare a dispute against you, Gregory Schmidt and Monthida Rashi, on account of misuse of the company's Internet banking credentials and irregular and unauthorised withdrawal of money from the company's accounts," the petition states.
The Kenyans say their sudden removal as directors and of sh shareholders is unlawful because T the process for their ouster was Lusal not followed as required under the Educ companies Act.
In the Nairobi Commercial and Tax Division Court, Stephen Njenga ghost Maina, Felix Rantuu Lekishe and many Solomon Joseph Maina petitioned Kiwipay PTE Limited, Minthida T Rashi, Victor Ngure Kithua and that Kiwipay (Kenya) Limited before Justice DS Majanja seeking orders want that pending the interparties hearing and determination of the stude parties application and the petition, the schol shareholding and directorship of m of Kiwipay (Kenya) Limited be estab restored to the status as usual, and they maintained last directors and shareholders.
They also sought orders that Kiwipay PTE Limited, Monthida alloca Rashi and Victor Ngure Githua be restrained from altering the bank operation mandates of Kiwipay (Kenya) Limited in respect to the accounts held at EcoBank Limited report -Muthangari branch 6682003088, 6682003059 and 6682003378.
Justice Majanja gave the allow orders giving the mention date of the case October 21 2022. Last week, Kabogo and Wambui team met at Muthangari Bank all out to withdraw money leading to a stalemate.
However, on October 24 2022 court gave other orders directing EcoBank Limited Muthangari branch to forthwith restrict any transactions on the accounts apart from Swift RTGS.
Kiwipay (Kenya) Limited was registered on June 3 2020 with Rashi from Laos and Kenyans Stephen Njenga Maina, Felix Rantuu Lekishe, Solomon Joseph Maina and Robert Lemerketo as directors.
The latest records from the company registry showed that the majority of shares are owned ion by Kiwipay PTE Ltd, a firm from Singapore. Lemerketo's name does not appear on the current official records held at the registrar of companies.
Justice Esther Maina had prohibited the company and its directors from withdrawing or transferring the funds for 90 days as the ARA probed the source of billions.
The company wanted the bank to release the documents expeditiously as it sought to prove that it was engaged in genuine business.
KiwiPay stated that its business has been hurting after the funds at Ecobank were frozen by the court.
"We having written to ARA in having the matter concluded fast. Our business is hurting as a result of freeze orders.
The company is facing multiple suits arising from the freeze orders and, we urge the court to issue strict timelines for the bank to provide us with all the list of documents we requested," said the firm in its pleadings.
---
Kenya Insights allows guest blogging, if you want to be published on Kenya's most authoritative and accurate blog, have an expose, news TIPS, story angles, human interest stories, drop us an email on

[email protected]

or via Telegram
---