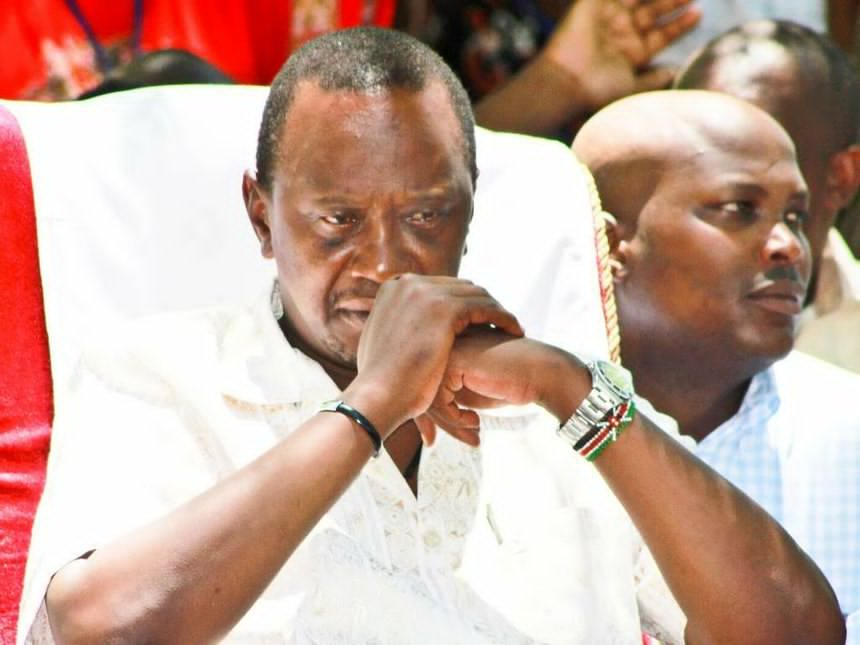 Effervescent, blithesome, gratifying, comical and sidesplitting politics is what attracts people in Kenya political rallies and unfortunately not attraction to promises in manifestos. That applies to all political parties and incumbents. The political campaign drums are drastically changing as August 8th polls draw nearer, it is now hard-hitting tantrums tactics on President's critics through insults and security force to be silenced down to the ground.
"The Head of State should know that even under pressure, the presidency Must not be seen using force to make policy.He cannot look helpless in the face of the looting public coffers but look animated when fighting citizens, Doctors who are pursuing legitimate concern"-Cyprian Nyamwamu. The statement made by the Human Rights Activist is indisputable, it is authentic, but President's Muppets will dispute and twist the statement to protect their master.
The son of Jomo in his Turkana and Coast region tour has seemed to be losing some manners, or maybe he is running amock. He is a well-known to be having drinking problems a matter largely discussed on various platforms. In his recent political rallies, he has become hyper, in a super-abnormal state of angriness that could fry french fries. Mindset together with terms uttered only can come from mouth of a graduate of normally consumed substance to something more lethal. He seemed to have exactly done that. Misplaced priorities! A sober mind won't stand on his two feet to chest-thumb and refer to his fellow incumbent as foolish because he needs clarification on matters related to the public affair so as to be seen a strong and tough soul. A sign of a feeble mind and worrying end one-term Presidency.
It kept me wondering if Mr. President was a top performing student in school during his time but after research, it was clear to me that he was an Academic dwarf, but that didn't stop him from becoming the President being that he was rigged as largely believed. When in Mombasa he accused Governor Joho of prodigalizing Kshs 40billion given to his government from the National government unaccountably. He failed the simple math.According to National Treasury, highest county beneficiary in every financial year which is Nairobi receives Ksh 15.3billion and least receives Ksh 2.5billion that's Lamu. Mombasa receives Ksh 6.5billion, do the math by four years it amounts to Ksh26 billion plus the fifth year it is still less and so where does 40billion come from? Someone is hallucinating, or someone none other than Finance CS Henry Rotich played some monkey business. Someone between the two; CS Henry Rotich and Governor Joho should have been held accountable but with Joho evidently dismissing Uhuru's claim left Henry Rotich in the trap if he played some hullabaloo.
Under the constitution and Devolved Government system, any Governor is eligible to attend any event that may be in his/her territory, and that might have an impact on her/her people's lives and requires no invitation not unless its an opposition political function then Governor's power is limited. What Son of Jomo did to Mombasa Governor 001 Hassan Ali Joho by restraining him using GSU officers and confining him under house arrest when he toured the county to witness relaunch of Mtongwe Ferry Services was inappropriate and dictatorial act and decision of a fearful baboon in the forest but on the other hand a credit to Joho's political mileage and a discredit to Uhuru's governance.
The question many still ask, is he being misadvised that this is the best toughness-strategy or is he under stress being that the nation is in turmoil over multiple crises? Mutahi Ngunyi in his miserably articulated and propaganda clouded analysis with mediocre 'analysts' YouTube series, recently advised the President to tighten the noose and be as ruthless to dissidents as possible. The academic fraud who looted millions from the NYS believes in his theory that a dictatorial and venom spewing Uhuru is what the country needs. Factoring in this being an electioneering year where the country is at a stroke away from eruption, peace and cohesion must be prioritized and leaders as Uhuru need to train their tongue to avoid polarizing and shooting up the country's temperature.
It is indeed ironical that the same President who has been on record advocating for objective and insults free politicking is now the master of savage and a denigrate machine.
Senior public servants in public offices are ever in fear of President's directive and not respect of the President's directive amounting to a high level of injustices since they are all controlled and commanded by the Order from above due to conflict of self-interest and not the law.
Presidential meetings have turned into campaign battlefields instead of being ad hoc meetings as mandated by the law under the new constitution together with the trio Cabinet secretaries-Dr.Fred Matiang'i (Education CS), Mwangi Kiunjuri(Devolution and Planning) and Charles Keter(Energy) illegally engaging in politics to please the master.Head of State reads his twenty minutes written speech but spends two hours clashing with critics instead of showing Kenyans way forward to curb; the long-term drought menace, ongoing Baringo-Laikipia bandits, street drug dealing by barons in Coast.After misusing Coast Regional Coordinator Marwa in claimed fight against drugs has now been abandoned.During Mr.President's Coast tour I expected him and his team to parade or announce Coast region Drug Lords since its the most affected of all parts but unluckily due to self-interest he was parading his three years ago Coastal politicians defectors.How did that bring positive impact to the lives of Coastians?
I felt so much irritated and at the same time sympathized with Senate Speaker Ekwe Ethuro whom with all my might believed he was the real deal, unlike the Sheesha-man National Assembly Speaker Justin Muturi after lying to Kenyans on live television in defense to the president's misconduct.Even a fool would detect his lies; litmus papers would react to water.He rejected President's statement when he stated,' some fool think now I want to steal Turkana oil' meant he was referring to someone else somewhere and not Governor Nanok who raised the alarm and President responded by referring to him as a fool who thinks he wants to lavish Turkana oil. He went ahead to worsen state with his lies by indirectly supporting the involvement of trio Cabinet Secretaries in politics legal when law doesn't allow any Cabinet secretary to involve in politics. Angry Citizens wished they could drag Ekwe Ethuro to their level and deal with him strategically. Why mudslinging your dignity for the sake of protecting a barbaric master? Its now clear both houses of legislators lacks sanity and are incompetent.
I give Credit where it's deserved
The solid 2013 tyranny of numbers is melting down. If he apologizes to Kenyans, cool down his abnormal temperature and abstain from using marijuana, the dissolved solid particles might freeze again.His statement have ignited flames, but concerned authorities will dismiss and protect him together with his affiliates but worst of all if one mole of opposition incumbent dares insult, it will be hate speech and will face hell in the cell. Someone is unfair and a hypocrite about engineering democracy.
Son of Jomo seems again to be possessed by his Godfather Daniel Arap Moi and his father's spirits of angriness and assassinating their critics.In October 25 1969 when his father Jomo Kenyatta, the first President of Kenya, went to Kisumu to launch Russia hospital currently Jaramogi Oginga Odinga Referral Hospital he threatened the crowd which heckled him that "Nitawasiaga siaga kama unga"-I will crush you like flour, 'and at some point history says there was an open fire of shoot to kill, some were killed with several injured.Recently Uhuru Kenyatta threatened Joho,"Nitakunyorosha ukicheza a mini"- 'You continue joking with me, I will deal with you.'I won't be surprised if, anything malicious or unusual happen to the Governor.
Joho is becoming too much of an opportunist.Is he losing track or he is just on the right path?
Concerning public affairs, anger is the first choice in a closed mind but a wise man who believes in democracy will think of negotiating, mediating, deliberating or arbitrating.
This article expresses the author's opinion only. The views and opinions expressed here do not necessarily represent those of Kenya Insights or its Editors. We welcome opinion and views on topical issues. Email: [email protected]
The Author is Johnbosco Juma. Follow him on Twitter @Johnbosco_Juma
---
Kenya Insights allows guest blogging, if you want to be published on Kenya's most authoritative and accurate blog, have an expose, news TIPS, story angles, human interest stories, drop us an email on

[email protected]

or via Telegram
---