RENOWNED SERIAL LAND FRAUDSTER JOHN MUGO NJERU STRIKES AGAIN IN NYALI, MOMBASA.
In October 1998, the Daily Nation carried a story of a man who had milked an elephant and lived to tell the story. The man sued the paper for defamation and was awarded Sh2 million by the court. It is this macabre story that catapulted Mugo Njeru to notoriety. Njeru was then a reporter with the Nation, where he would rise to bureau chief at the turn of the century before quitting for business.
Shortly after leaving the Nation, Njeru opened an office in town to manage his Embakasi rental apartments and foodstuff supply business to restaurants in the city. His troubles with the NLC began after the commission ruled he had forged a title of a prime property in Mombasa belonging to Hezron Ndanyi Lidede. The family said they were allocated the land in 1990.
Currently,
Renowned serial fraudster John Mugo Njeru and Peter Masha Kalama using a forged deed plan No. 750265 amongst a suite of other fraudulent records, worked in cahoots with corrupt lands officials to produce an irregular parallel title to the same piece of land Plot L.R. No. MN/I/6552 which is owned by the Late Hezron Ndanyi Lidede who acquired it in 1990, the Ndanyi family speaking to Kenya insights affirms that they never relinquished claim sold and/or transferred the said property to another person.
The authority to create Mugo's fraudulent title is alleged to have originated from the office of Commissioner of Lands vide letter of 4th April 2011, a whole two decades from when the deed plan was created.
Before he became the IEBC Chairman Mr. Wafula Chebukati, then Managing Partner at COOTOW & ASSOCIATES ADVOCATES represented Edwin Amulele Ndanyi the son of the Late Hezron Ndanyi Lidede in petitioning the Municipal Council of Mombasa and the Registrar of Titles Department of Lands Mombasa to provide records for the property.
On 27th July, 2012 Edwin Ndanyi reported the fraud to the CID which thereafter launched an investigation and the then CID Serious Crimes unit detective Mark Ndiema unearthed that there were no records for the deed plan No.750265 at the Survey of Kenya and that the deed plan No 150265 existed.
On 4th December, 2015 the National Land Commission conducted a hearing for determination for review of grants and disposition on L.R. NO. MN/I/6552 – MOMBASA COUNTY and on 4th August 2016 the National Land Commission revoked Title L.R. No. MN/I/6552, CR No. 51784 Land Survey Plan Number 750265 to John Mugo Njeru and upheld the Title L.R No. MN/I/6552, CR No. 20898 Land Survey Plan Number 150265 to Hezron Ndanyi Lidede, this revocation was subsequently gazetted in the THE KENYA GAZETTE vol. CXIX – No. 97 NAIROBI, 17TH July, 2017 and a corrigendum and Addendum vide Gazette Notice No. 11043 published on 10th November, 2017.
John Mugo Njeru has since surrendered his irregularly acquired title to the Lands Office Mombasa. Ndanyis family's efforts to get the records at Lands rectified are facing headwinds as some of the officials involved in the initial corrupt scheme are still in office.
Through a letter dated 31st May, 2022 the County Government of Mombasa confirmed that the rateable property owner as on 30th June, 2009 was Hezron Ndanyi Lidede, throughout the years prior to the fraudsters interference the Ndanyis had been a dutiful and up-to-date rates payer at the Municipal Council of Mombasa, they have severally pleaded with the County of Mombasa to rectify their records to enable them to continue paying rates up-to-date as they used to, but no response touching on this issue has been received from the Mombasa County Government.
The County Governments continue to lose billions of Kenya Shillings annually in uncollected revenue due to this type of Land fraud Menace.
Recent Information coming to the Ndanyi family is that John Mugo Njeru is attempting to make a comeback and forcefully invade the property to gain possession and sell to an unsuspecting buyer so as to finance his many land fraud cases in the courts.
Supporting legal documents attached below;
1. TITLE DEED FOR HEZRON NDANYI LIDEDE
2. CERTIFICATE OF POSTAL SEARCH FOR HEZRON NDANYI LIDEDE
3. FRAUDLENTLY ACQUIRED TITLE DEED FOR JOHN MUGO NJERU
4. LETTER AUTHORIZING ISSUANCE OF TITLE TO JOHN MUGO
5. LETTERS BY CHEBUKATI
6. CID COMPLAINT FORM & FINDINGS
7. NLC DETERMINATION & GAZETTE NOTICES
8. MOMBASA COUNTY LETTER & RATES RECEIPTS PAID BY HEZRON NDANYI FAMILY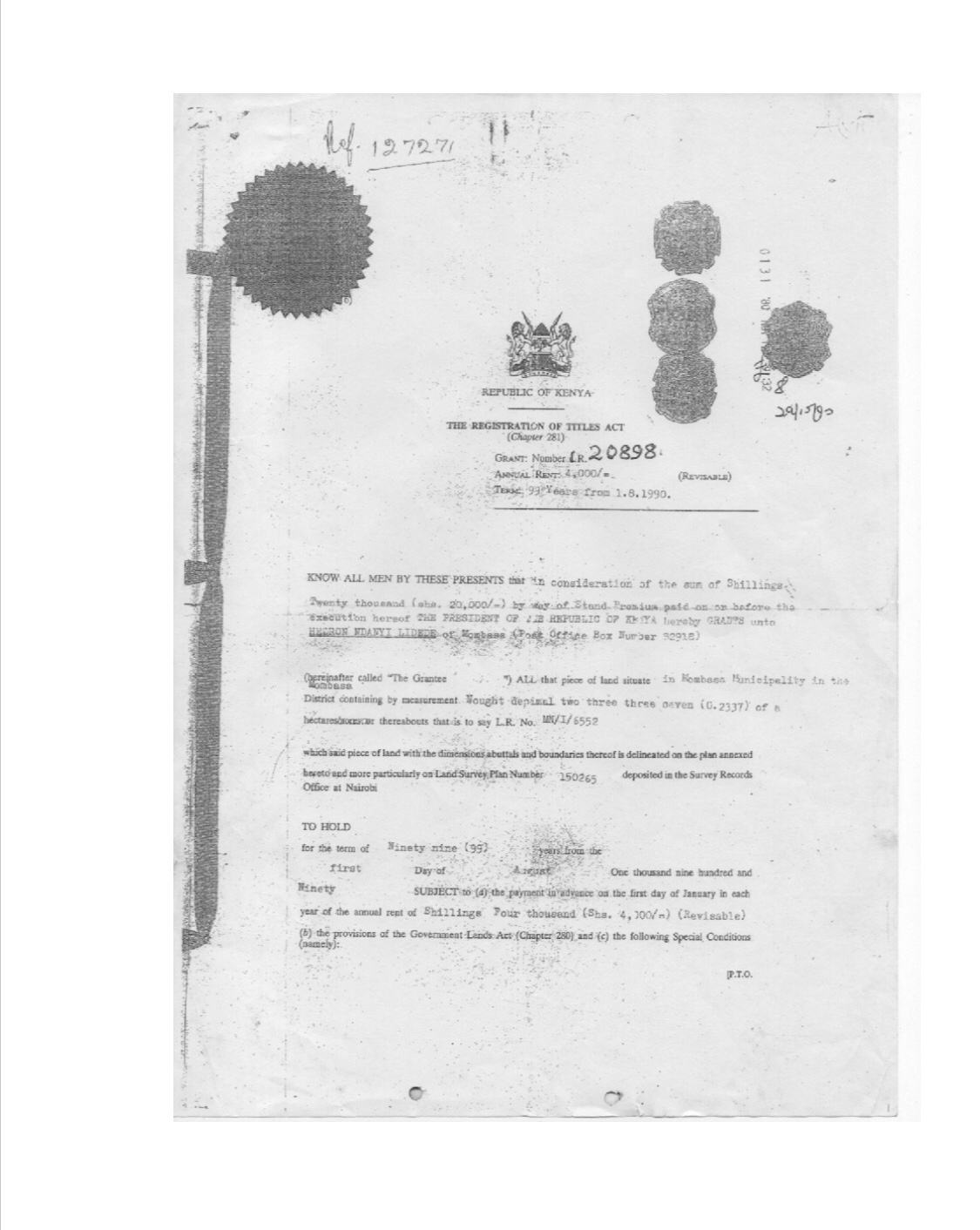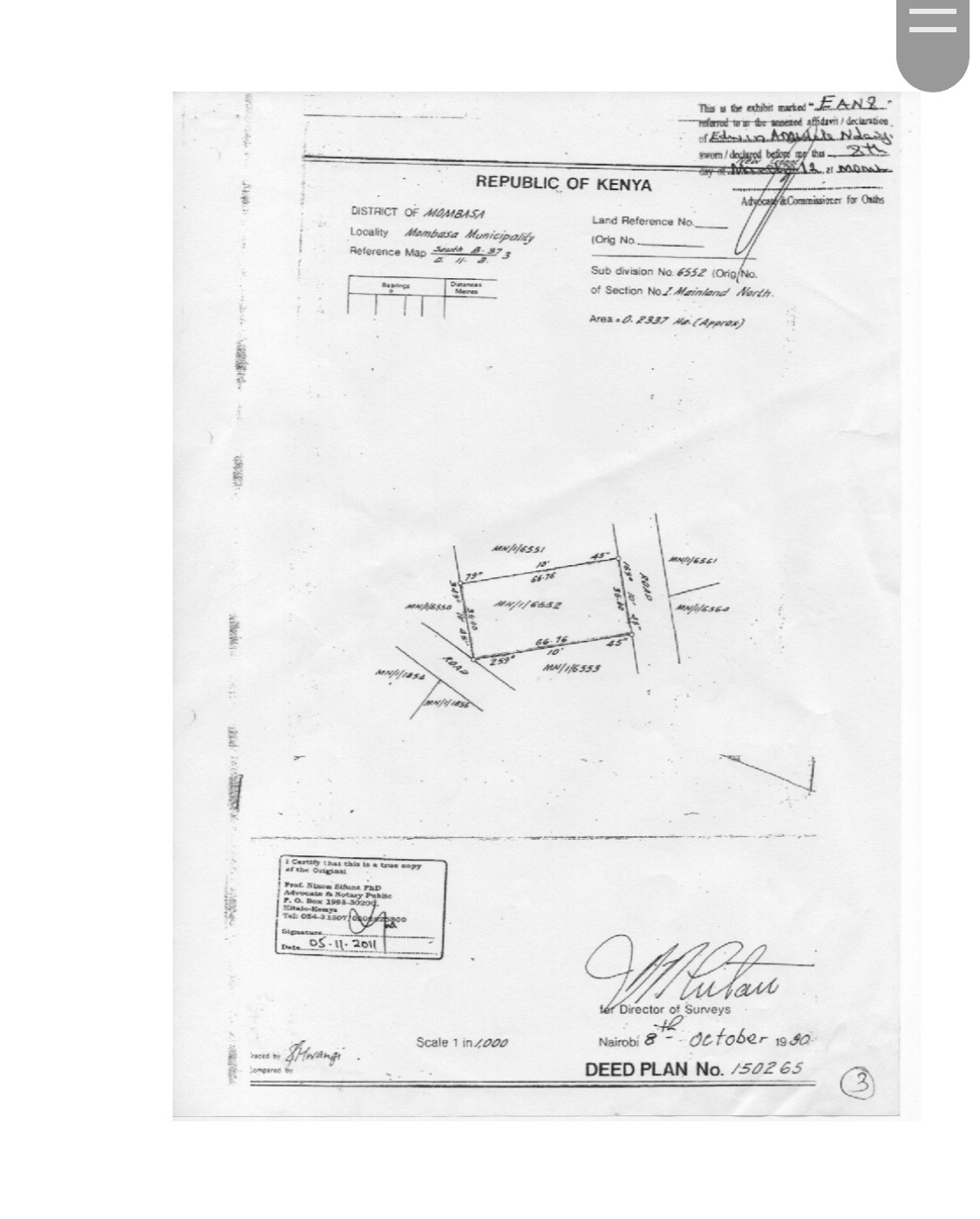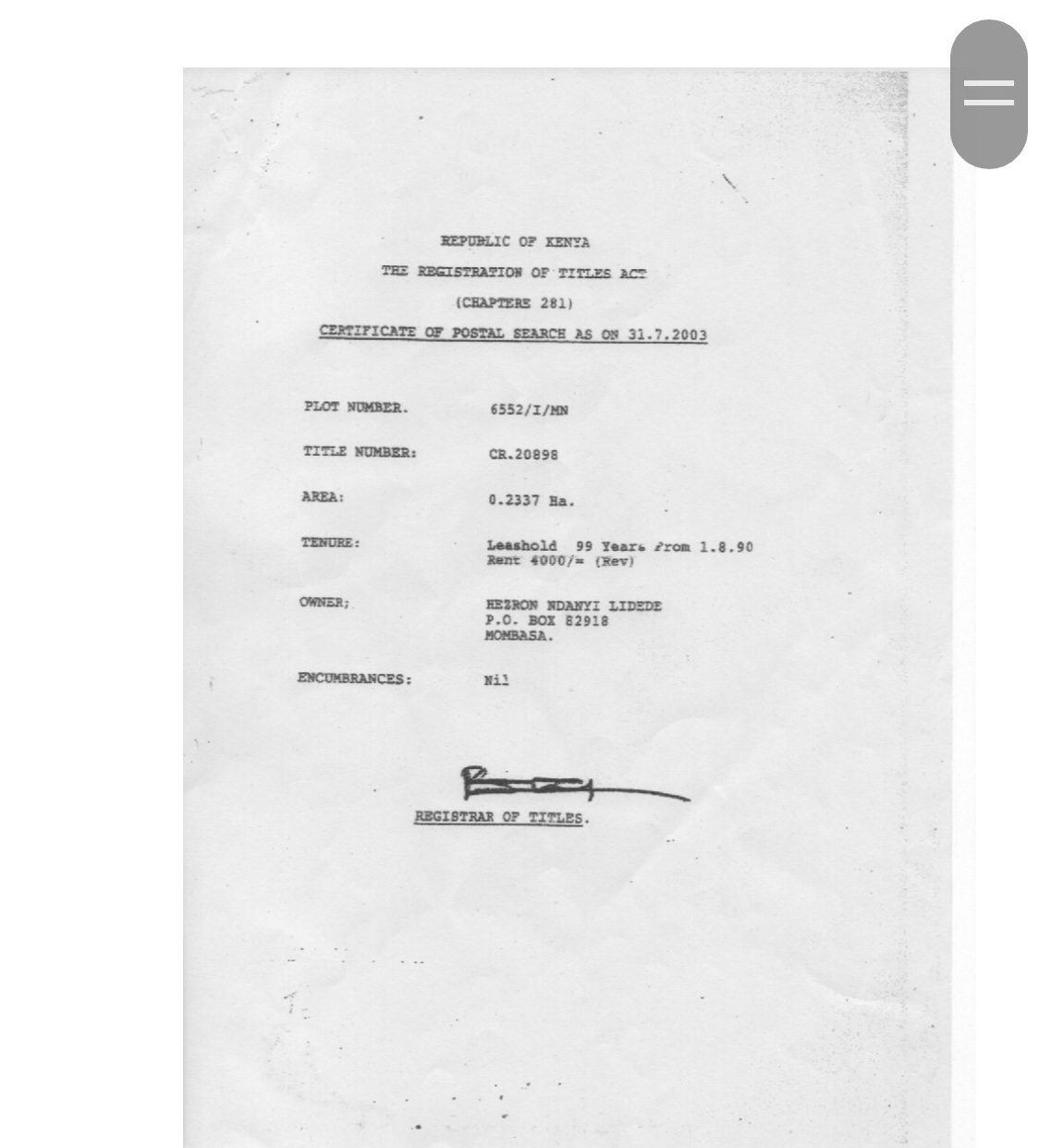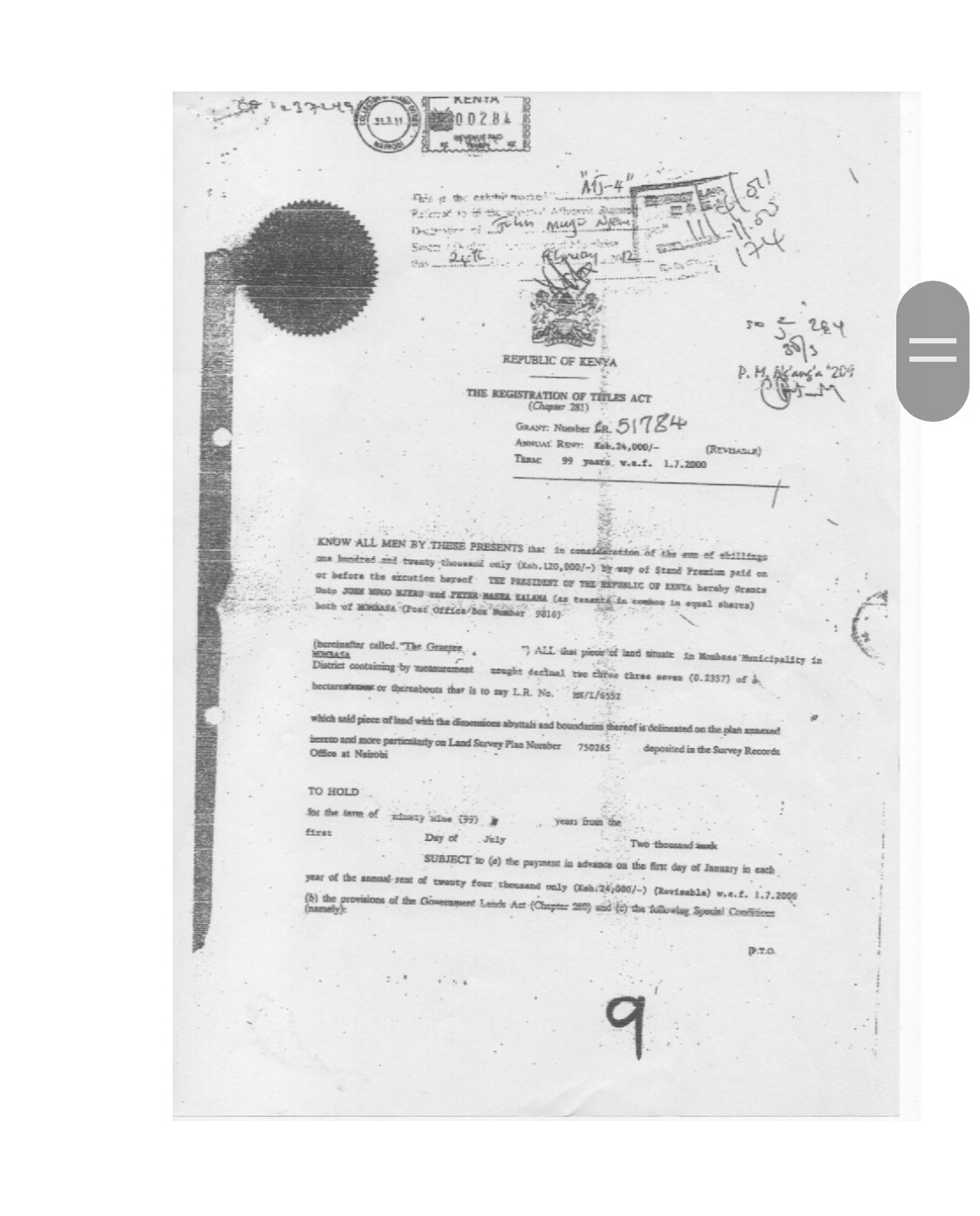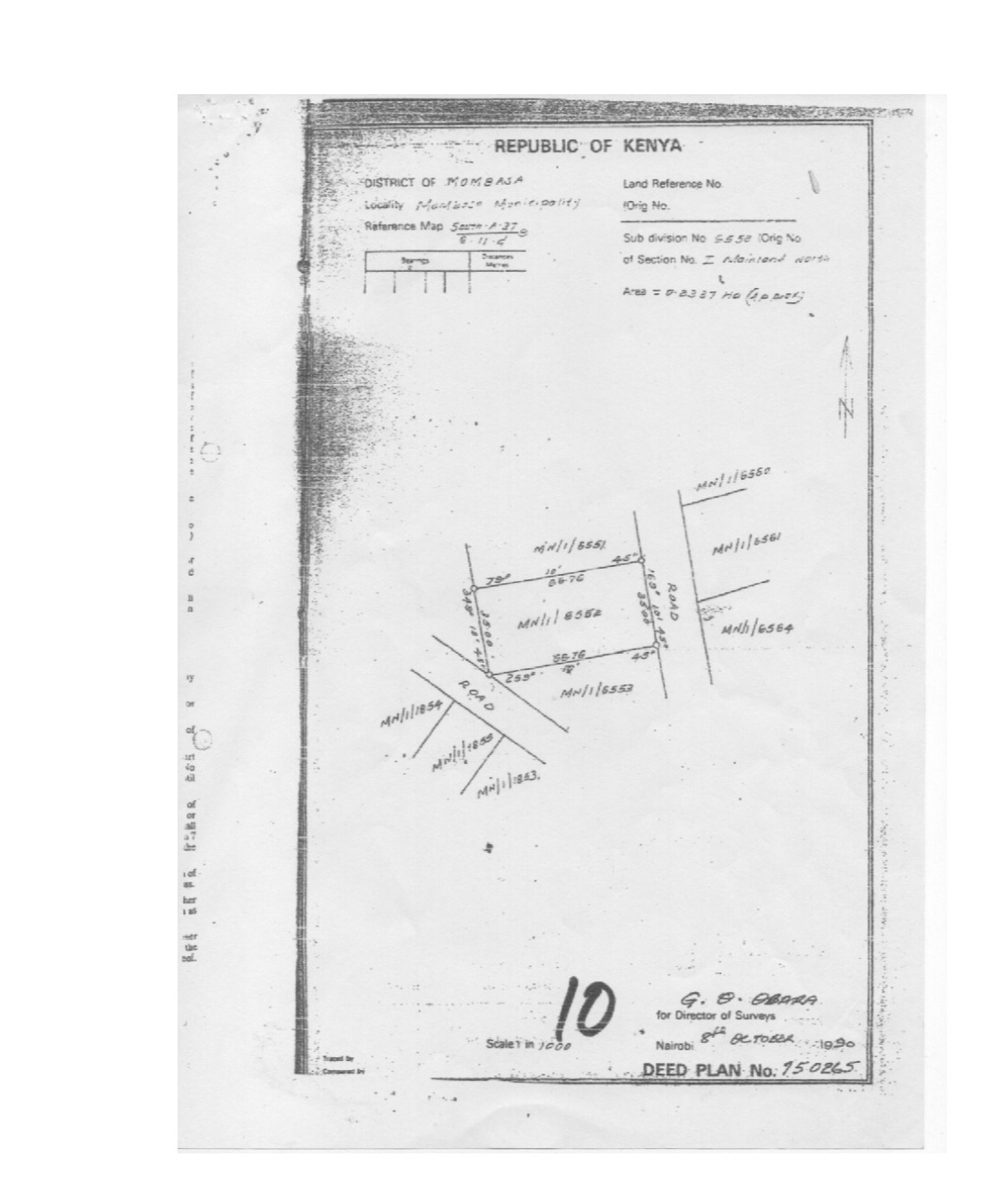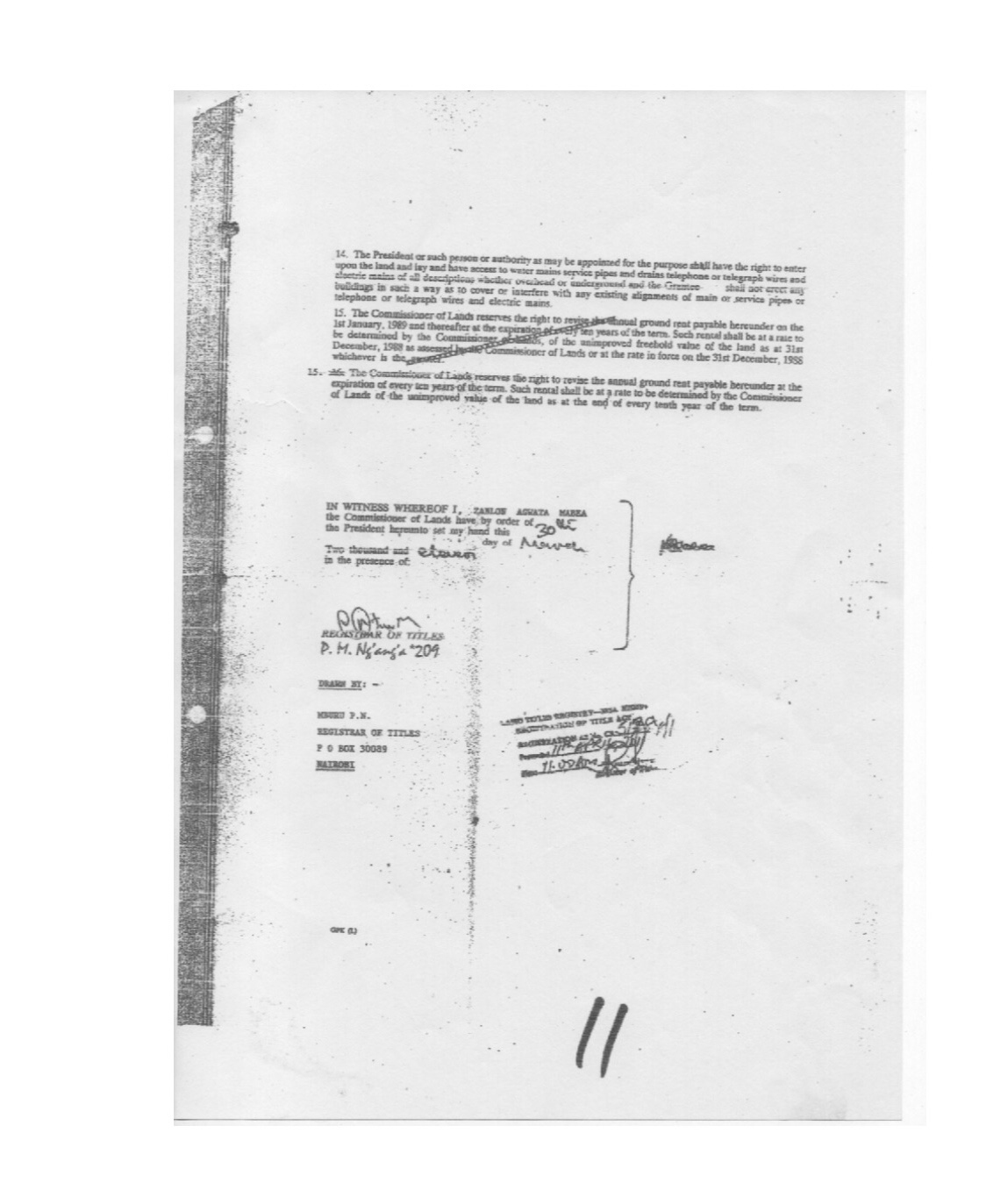 In June last year 2021, a Nairobi court issued a warrant of arrest against a businesswoman Mary Wanjiru who had been linked to a Sh700 million land fraud case for failing to appear for plea taking. Milimani chief magistrate Francis Andayi issued a summons for businessman John Mugo Njeru to appear in court for plea taking in relation to eight counts of forgery and fraud.
The prosecution alleged that Njeru and Wanjiru, jointly with others, with intent to defraud Jambo Holdings Limited a land parcel valued at Sh700 million forged a title in the name of Mary Wanjiru and John Mugo Njeru purporting it to be a genuine title registered at Athi House, Nairobi.
In 2020, he also came to limelight making headlines as among four Nairobi Businessmen who failed to stop then ongoing development of an inland container depot for the Standard Gauge Railway (SGR) in Syokimau Embakasi.

John Mugo Njeru, Byron Kanyu, John Muswanyi and Victor Muiru wanted the court to issue an injuction on grounds that they are the registered owners of the 15-acre land where the dry port is being developed to be used by the new SGR at Syokimau. They said the land was part of a 37-acre land which was allocated to them in July 1998. They processed title for the land and registered it in their names on February 4, 2005.
The court heard that around April 2020, a company known as Syokimau ICD Limited trespassed on the suit property and claimed ownership of part of the same allegedly on the basis it from the Kenya Railways Corporation (KRC). The company was initially known as Mict Nairobi Limited.
In their application, the businessmen contended that the company has started erecting structures on the land and that unless an injunction is issued in their favour, they will suffer loss which may not be compensatable in damages.
But Justice Erick Obaga dismissed their application upon finding that the developing company was already in possession based on a lease from the Kenya Railways Corporation. He said evidence tabled in court revealed that the land had been surveyed in 1969 and in 1971, and was the subject of compulsory acquisition by government.
Among other court cases on Land John Mugo is involved are;
ELC at Milimani – ELC CASE No. 75 of 2020
NAIROBI SPRING VALLEY LANDFRAUD CASE – JOHN MUGO VS JAMBO HOLDING
COURT CASES
Criminal case No. 1203 of 2015 – pending
Court case No 219 of 2015 – Pending
Criminal revision No 194 of 2015
http://kenyalaw.org/caselaw/cases/view/122029
Civil application No 100 of 2016
http://kenyalaw.org/caselaw/cases/view/123863
Civil Appeal No 355 of 2017
http://kenyalaw.org/caselaw/cases/view/189688
13 ACRES KITISURU ESTATE NEAR KIHINGO VILLAGE valued at 2.6 Billion Kenya shillings
MOMBASA MAINLAND NORTH RUORA INVESTMENT VS NATIONAL LAND COMMISSION
COURT CASES
ELC petition No 16 of 2017
http://kenyalaw.org/caselaw/cases/view/166588
IN THE MATTER OF LAND PARCELS NO. MAVURIA/KIRIMA/1969
COURT CASES
High Court at Embu Judicial Review 51 of 2011
http://kenyalaw.org/caselaw/cases/view/86889
---
Kenya Insights allows guest blogging, if you want to be published on Kenya's most authoritative and accurate blog, have an expose, news TIPS, story angles, human interest stories, drop us an email on

[email protected]

or via Telegram
---