Investor Accuses Nandi Governor Sang Of Plot To Grab His Karebe Goldmine For Chinese Investors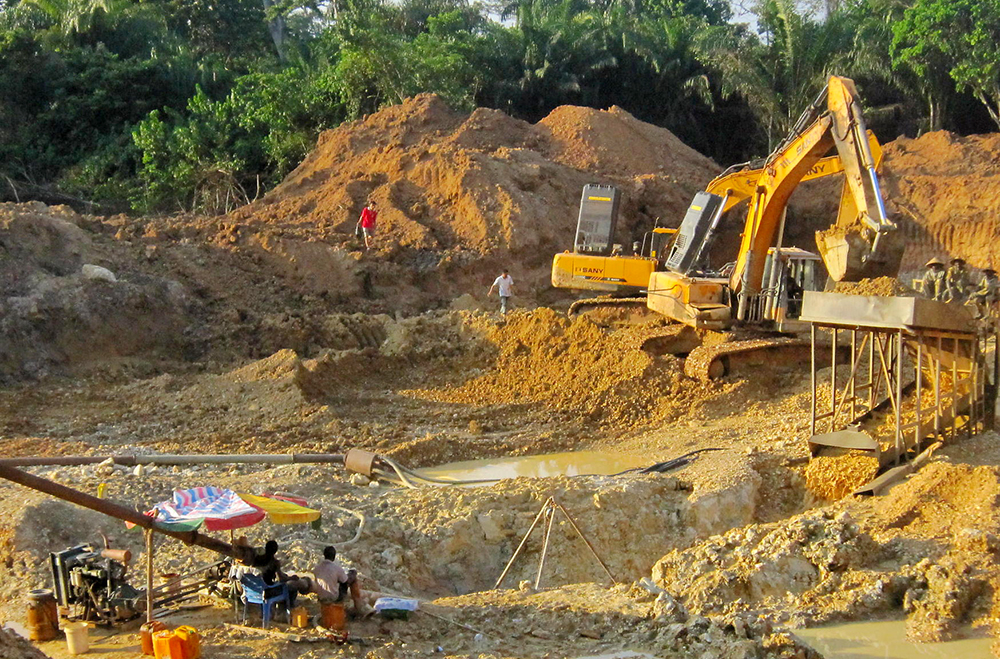 Nandi County government officials want to seize a billion-shilling gold-mining operation from a Zimbabwean investor and hand it to Chinese investors linked to high-ranking politicians, the owner of Karebe Mines has claimed.
Zimbabwean investor David May who has operated the mining operation in the Chemase area of Nandi County since 2009 after reviving long-abandoned colonial gold mines that had stayed dormant since 1961.
After successfully bringing one of the mines into operation, the company grew steadily to become Kenya's largest commercial gold exporter with revenues peaking at Sh1.2billion in 2019. It is during that time that he started attracting interest from local and national politicians who he says wanted to muscle in on the operations.
May accuses Nandi Governor Stephen SangNandi Governor Stephen Sang of repeatedly trying to shake down the company and using county officials and other proxies to cripple the company which has been unable to operate for most of the past two years.
This comes at a time when world gold prices are at historic highs denying the company higher revenues and the country foreign exchange earnings and tax revenues.
"Since October 2018 the new Nandi Governor, Stephen Sang, and some of the Nandi County leadership have waged a campaign of disinformation and harassment against the company," Karebe says.
Contacted by GBR however, Nandi County governor Stephen Sang dismissed the claims saying the company should resolve its issues with the Ministry of Mining which has now failed to renew the Karebe's mining licenses.
"Seizing and awarding of mines if at all such a thing exists can only be a function of National government through Ministry of Mines," Sang told GBR in a text message.
"So it is stupidity to blame me over an issue that is a mandate squarely of Ministry of Mines under National Government."
But Karebe Mines accuses the governor and associates of Deputy-President William Ruto of pressuring the Ministry to deny it licenses.
"Governor Sang and individuals working with the Deputy President have intervened within the Ministry of Mines to prevent Karebe securing its mining license, bring court cases against the company and withheld all and any local approvals required from Nandi County government," the company says in a statement.
Karebe says that court orders and national government directives issued in its favour have on the other hand repeatedly been ignored and it has been unable to access the suit properties since February 2020.
As a result, it has incurred massive financial losses, and over 380 jobs have been lost at the mines.
A highly-poisonous cyanide dam used for processing gold has also been left unattended exposing locals to danger especially with the coming long rains which could see the hazardous chemicals overflow into the surroundings.
The company has asked the Ministry of Mines to take over the property to minimize danger to locals.
"We write this letter to request that your good office takes over the controls over the suit properties in order to avert any danger which may be possessed to the surrounding community," lawyer Mohammed Nyaoga wrote to the Ministry on 17 August 2020.
Nandi County officials however told GBR that Karebe was not in compliance with the Mining Act of 2016 and hence could not be allowed to operate until it resolved its issues with landowners and got its license renewed by the Ministry.
In the latest episode, the Karebe Mines says the landowner from whom it leases the land on which the mines sit, went to court in December seeking to illegally evict him and have him jailed for six months for allegedly flouting court orders to leave the premises.
May conversely insists that it is the family that has disobeyed court orders at the behest of powerful politicians as part of strong arm tactics to wrest away the company's mines and hand them to a group of foreigners allegedly fronted by the leaders.
Karebe Mines is located in the Chemase area of Nandi about 30kilometres north-east of Kisumu and has been operating since 2009 under a 10-year lease from the landowner, Cheseret arap Korir. According to documents produced in court, the lease was renewable for another 10-years but the owner has since declined to extend it prompting the multiple court cases that are still ongoing.
It all started in 2009 when David May, and the Maris Group founded Karebe Mines. They brought in other investors from Netherlands, UK, the US and even locally.
They had the idea to prospect in some long-abandoned colonial gold mines in the area that had been shut down just before independence in 1961.
The Company reopened three such mines, Equatorial, Rocky Corry, and Boma Mines. The owner of the land, Cheseret arap Korir, granted the company a lease of 10-years to 9 acres of his land where the prospecting and mining was to take place.
With license and lease in hand, Karebe was soon mining and processing gold and built a commercially viable venture that saw revenues climb steadily over the years.
To date, it has exported over $50m (Sh5bn) worth of gold and paid over Sh1.6bn in taxes, according to CEO David May.
With over 380 local employees, it was Kenya's largest commercial gold mining company. This success soon attracted local and national politicians to the business.
May says in the run-up to the general election of 2017, several politicans approached the company asking for campaign financing, some to the tune of Sh5m failure to which, they resorted to threats.
The threats soon became real with the company starting to face hurdles in its attempts to renew its licenses as well as its lease with the Korir family.
It was met with hostility and demands that it vacates the land as the family wished to engage another investor.
Karebe contends that it is these politicians who influenced the family with false promises that another company would offer a better deal than Karebe.
Karebe through its land holding company Equatorial Holdings had negotiated an exclusive deal with the Korirs to allow them to automatically renew their lease for another ten years. Any dispute over the lease terms was to be resolved by arbitration.
However, when the differences did arise, and the Korir family issued notice to vacate to Karebe, the matter should have gone to arbitration but the family refused to submit to the arbitration process prompting the company to go to court.
Since then, despite several court suits and counter-suits, there has been no headway and Karebe's operations have stalled.
An attempt to relocate to a neighbouring piece of land has also been frustrated with the County Government declining to issues the necessary permits and licenses.
Nandi County officials GBR spoke to, intimate that Karebe Mines left itself vulnerable to exploitation by politicians by not being in "compliance."
One official who spoke on condition of anonymity as only the Governor, deputy or County Executive for Mining can speak to the press on this matter said complications began in the previous administration when the Cabinet Secretary for Mining paid a visit to the County offices.
In a meeting held in the boardroom, the CS reportedly told officials that they were missing out on big royalty payments from Karebe Mines because they had not set up the requisite structures as per the Mining Act 2016 in order to receive royalties.
These included setting up a community committee at the local level, and a County Mining Committee which would receive five percent and 15 percent of royalties paid by Karebe respectively.
"But until these are in place, you cannot receive any royalties," the CS reportedly told the meeting.
And while it took some time for the committees to be set up, it was also during this time that Karebe started experiencing problems renewing its licenses and leases.
According to the County official, it was the Ministry again that stepped in to cause the present limbo for Karebe.
"The Ministry told us that under the Mining Act, 2016, Karebe was not compliant as agreement with landowners is key to getting a license," he said.
Nandi County now says it cannot act as it is now allowed to issue permits to a company that is not licensed.
Karebe points to the alternative lands it has secured and the problems that have followed it.
One one, which is unrelated to the Korir land, the company acquired land but before it could set up, suiddenly, beneficiaries to the said land showed up claiming it was disposed irregularly without following the Law of Succession. It is now the subject of a number of Succession Cases which have now been consolidated for hearing.
---
Kenya Insights allows guest blogging, if you want to be published on Kenya's most authoritative and accurate blog, have an expose, news TIPS, story angles, human interest stories, drop us an email on

[email protected]

or via Telegram
---