Cheza Games Scam: Safaricom's Biggest Airtime Theft In Billions And Why You Won't See This On Mainstream Media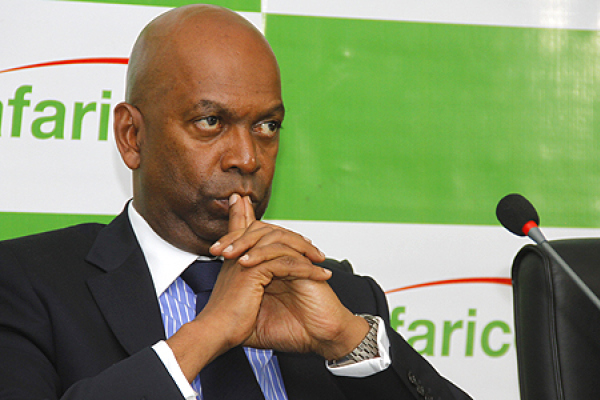 As we close up to 2017, new cases of scamming just opening up. Safaricom has been rocked by several corruption scandals which they've perfectly sailed their ways out given their impeccable PR strategies. While Kenyans are struggling to make ends meet with the ruthless economy, someone has been busy making billions from unsuspecting Kenyans by erroneously subscribing them to a premium service, Cheza Games.
Since we have a sterile mainstream media gagged with billions in ad revenue from Safaricom who happens to be the biggest source of ad revenue to the Media, at Kenya Insights is the only place you'll get the gritty details of a scandal that is more significant beyond imagination and surpasses even the NYS heist but no one is talking about it.
Safaricom is popular for clamping in dissents with courts being their favorite muzzle tool. Cheza Games a premium service linked to Huawei Ltd, a company that has a controversial relationship with Safaricom including their security deal with Safaricom that has been serialized to have been surrounded with monkey dealings.
Cheza Games illegally accessed Safaricom's data face and erroneously subscribed customers to the service. Millions of customers were automatically subscribed to this service without their knowledge and approval. This backdoor end subscription went on for long until it was exposed several weeks back on the internet that Safaricom woke from the feigned sleep to admit fraud and subsequently refund affected customers.
To give just a hint of how big this scam is, Safaricom has an estimate of 25M subscribers; Cheza Games deducts Sh10 every day. In a single day, the fraud quickly makes 250M, and this is not the case, in some instances, customers were deducted up to Sh100 daily which easily translates to 2.5B per day. This scam has been ongoing for months you can do simple math on how much it cost. As if now, it's estimated that Safaricom has refunded customers up to 6B in airtime over the scam.
The scheme is cleverly executed in what has insider footprints. There are credible allegations that senior Safaricom managers including staff members have stakes in these third party services. This could well explain how these fraudsters accessed the database and automatically subscribe customers without their authentication from the back end. This is the most probable explanation. Information on the stakeholders of Cheza Games remains scanty with Safaricom being economical with the truth in what is coming out as a cover up the scheme.
How could such a multi-billion scam to undetected for months, be this deliberate and that management was fully aware? For a company size of Safaricom, it would take a horse to fly to convince me that the management wasn't aware of this scheme which yet again leaves a heap of garbage at the doors of Safaricom.
It can easily be concluded that their system security is loosely held that scammers can easily compromise at will or that the management conspired with the Cheza Games owners in the fleecing scheme. Either of the scenarios is again very likely. The speed at which Safaricom's CEO effected the refunding left more to be desired. Did the conduct investigations or hurried to pay back customers to buy their silence strengthening the belief that Safaricom was aware and part of the airtime fraud.
If determined, Safaricom should be charged for selling consumers data to third parties without their consent a clear breach of privacy. If we're to believe that Safaricom wasn't aware of the scheme, then this exposes their lapse in security of their entire system because if one can make billions undetected, then it can be replicated elsewhere.
Talking of replication, other than Cheza Games scam how many more 3rd party scamming are going on as we speak that's yet to hit the headlines. The devil is in the details. More fleecing could be going on as Safaricom conducts 'investigations'. Cheza Games is one example that Safaricom failed in protecting their customers from scammers. They need to have a rigid system.
There are people who didn't even have an idea they were subscribed to the Cheza Games until they received refunds notification meaning it was all done in the shadows without deduction notification. This then piles the worries on the existence of such ghostly moving subscriptions.
They topped up my account with 1,690/- under some subscription called cheza game. I don't even know what that is! https://t.co/cJQxD3Y2gL

— #FreeBobiWine (@Komboray) November 11, 2016
and no I didn't subscribe, I don't even live here permanently, I come and go. What is Cheza games even? pic.twitter.com/KFBjSgyjNc

— New Orleans Jazz (@maumausdaughter) December 19, 2016
Hey @Safaricom_Care, I appreciate Cheza Game refund. Have you also been charging me for the other 2 services? If yes, I demand a refund pic.twitter.com/JMwdxzV63E

— Ali AwDoll (@AwDoll) November 6, 2016
Things must not end at refunding customers, Safaricom must be seen to be fighting this scam with sincerity, we need to see people in courts, we need to see the employees involved in this conspiracy held accountable and hanged. Until then Safaricom can go ahead with burying the hatchet while the case is still alive. Such scams are costly to the economy. We need an ethical business field with fair play. If Cheza Games scam is let go, then another will come again, and the circle will maintain with customers baring the wrath. There's no serious consumer protection body to handle plights of customers the one we have is busy with pushing nonsensical hashtags on Twitter daily.
Cheza Games Scam must never be buried until the full postmortem is done. This must include a top of the iceberg of how third party services is the cash milking cow. With Safaricom's 100 Customer Care number being ever busy, many consumers have given up making frantic calls to be unsubscribed from the same services and helplessly living with the pain of illegal daily deductions in their airtime daily. I'm talking on behalf of the naive voiceless customer in the village without social media access to scream out their frustrations. The media will downplay the fraud scheme by not talking about it, but Cheza Games and other third party services scam remain one of the biggest scandals to ever hit not only Safaricom but the country and a shame to the corporate space.
Safaricom is literary holding Kenya's economy by the balls and a small lapse in their security as Treasury recently warned would lead to an economy shutdown. Mpesa transacts billions daily and in every single economy sector. It's the dominant money exchange platforms. If Cheza Games managed to compromise Safaricom's system, you could imagine if same happened to Mpesa. This latest scam casts more questions on the security index of Safaricom and a reason for consumers to worry. At Kenya Insights we're not taking a backbench position but front to ensure accountability and watchdog for the consumers. To find out whether you have subscribed to some services unknowingly, for prepaid, dial *100*5*4# and post paid, dial *200*5*4#. Choose option "2" which is "unsubscribe". Check you must just meet a new surprise.
---
Kenya Insights allows guest blogging, if you want to be published on Kenya's most authoritative and accurate blog, have an expose, news TIPS, story angles, human interest stories, drop us an email on

[email protected]

or via Telegram
---