Part 1: How Dubai Bank Helped Fraudster Managers To Steal Sh400M From Kenya Airways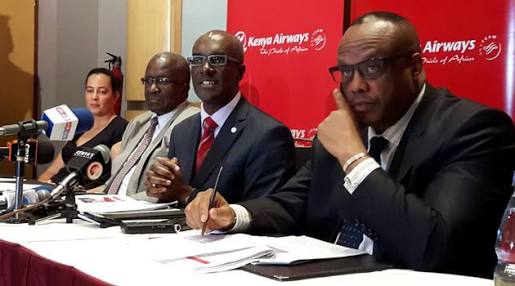 Kenya Airways' half-year loss more than doubled to Sh8.56 billion, sinking shareholders into a deeper negative equity position of Sh16.18 billion.
The airline attributed the 112 percent widening of loss to increased operating costs in the wake of its expansion into new routes and the return of two Boeing 787 planes that had been sub-leased to Oman Air.
The company's revenue jumped by 12.1 percent to Sh58.5 billion in the period, from Sh52.1 billion in the first six months of last year.
Similarly, costs jumped 15.4 percent to Sh61.4 billion in the period from Sh53.2 billion last year, eating into the carrier's margins.
Kenya Insights is in hold of several reports touching on the corruption scandals and high scales in which case, we're going to handle them one at a time. In the first instance, we're going to demonstrate how Dubai Bank has been used to loot the national airline KQ through unscrupulous deals with fraud insiders a scandal that dates years back.
With a steady history of making losses, in 2016, KQ engaged Deloitte to carry an independent audit on financial records to determine the missing links as the company continued to make losses.
The company was mandated in this engagement to carry out a review of 40 specific foreign exchange repatriation transactions identified by the Internal Audit Department. The key objective of the review was to identify any anomalies, non-compliance to internal procedures and/ or policies and recommend any remedial actions that may be available based upon the findings made.
To achieve the objectives, Deloitte carried out interviews with relevant members of staff, reviewed documents and carried out digital forensic analysis of computer Hard Drives for company issued computers of relevant key role players in the repatriation process.
Deloitte investigations found many instances where a Mr Itegi Githinji initiated and negotiated transactions.
This was irregular since he was not authorised to negotiate transactions on behalf of KQ as per the 367th minutes of the board of directors of KQ that specified only the MD, FD, Treasury manager and Supervisor Funds Management can initiate FX transactions with counterparties as approved by the board of directors.
They established that KQ began trading with Dubai Bank before board approval was obtained.
In collaboration with Kenya Deposit Insurance Corporation (KDIC) the receiver manager of Dubai bank we sought to understand if any of the KQ employees and any of their close associates could have benefited from these irregular FX transactions. 
In their letter dated 21 April KDIC confirmed that Itegi Githinji had received several payments and during the meeting held on 25 April confirmed that Itegi Githinji ID No. 21971433 had on various occasions received KES. 13.5 million, whereas his wife Grace Wamuyu Mathenge had received KES. 8.5 On three occasions from Eastleigh Branch of Dubai bank.
It was established in the investigations and in documents seen by Kenya Insights that KQ began engaging with Dubai bank sometimes in the year 2013-14 at a time when it was experiencing financial difficulties. 
On 18 August 2014, the board approved Dubai Bank as one of the banks that KQ would obtain facilities from to a maximum of KES 500 million. On the 23April 2015, KQ obtained a bank guarantee of USD 7 million equivalent to KES 655,900,000. This facility was KES 155,900,000 above the board approved limit. The bank guarantee facility letter was signed by Mr. Mbuvi and Mr. Mbugua in their capacity as the CEO/MD and FD respectively.
The total fees paid by KQ for the bank guarantee was USD 350,000 on the 4 May 2015, comprised of 2% commission fees and 1 % appraisal fees. However on recalculation, this fee was found to have been overstated by USD 140,000 as follows; (1% appraisal fees * USD 7 M = 70,000 + 2% commission fees *7 M = 140,000).total fees payable = 210,000. 
The payment of USD 350,000 was initiated by Mr. Vuyala, first approver was Mr. Njiiri and the second approver was Ms. Kiboi.
It was also found out that Ms. Kiboi was a category A signatory and Mr. Njiiri was a category B signatory. This exposed KQ to a significant control weakness given that the two could initiate and conclude a payment transaction without independent checks.
While Deloitte didn't go deeper in their report that was based on a whistleblower report (that Kenya Insights has seen) the amount of dirt in the Kenya's National airline will shock the nation when it finally unravels and relevant authorities spring into action as KQ goes on its knees.
We welcome the fact that the DCI has already launched a Probe into previous management in what will unearth the murky world that crippled the airline.
Currently, the probe is focused on the procurement of services for the maintenance repair and overhaul of aircraft engines at the national carrier.
KQ hires third party firms to carry out maintenance. It within hour hope that the investigations must not be limited to one scandal but extended and everyone involved in the looting made to pay the price of we're in any way going to resuscitate the airline.
As Kenya Insights embarks in the serialization of the Corruption scandals that have been crippling the company. We're also requesting the public to offer any relevant information (whether past or current scandals) that could eventually lead to prosecutions and save the company from going to the dark where it's heading.
If you have any valuable information you can drop me an anonymous email even if it's not, your identity will be protected 100%. Please drop me an email on (in.kenyawest@protonmail.com). Confidentiality is a top priority.
---
Kenya Insights allows guest blogging, if you want to be published on Kenya's most authoritative and accurate blog, have an expose, news, story angles, human interest stories, drop us an email on tips.kenyainsights@gmail.com or via Telegram
---