Nairobi Governor Mike Sonko Vows To Bring Down All Illegal Structures, Move Out If You're In These Places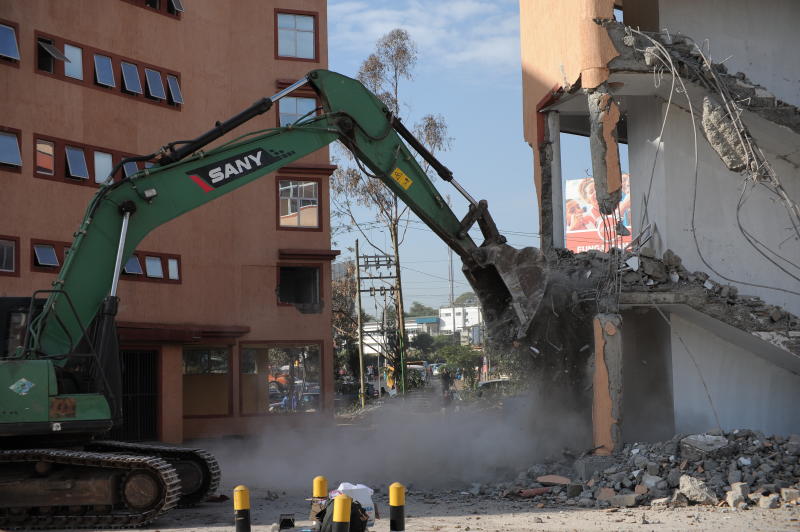 The city is currently in chaos as millionaires goes into panic with ongoing demolitions spearheaded by Nema that has seen illegal structures in Kileleshwa including Java and Shell petrol stations and other apartments brought down. In the same breath, Southend Mall located along Lang'ata Road which was sitting on a river bed was brought down in a demolition style that has left many shaken.
Nairobi Governor Mike Sonko has vowed to go with this to the end even if it will cost him his stay in office and remain a one term governor. "Better be a one term Governor and leave a legacy than entertaining grabbing of public land/utilities." Said Sonko.
The Governor has gone further to give a stern warning to those with properties on marked places saying the demolition won't spare anyone, "Remove all your valuables from the under mentioned public utilities with immediate effect."
The following are the public utilities that the Governor has vowed to recover:
Proposed land for Gigiri & Ruaraka firestations; Highridge hospital in parklands; New muthaiga thigiri ridge county dispensary & Nursery school; Grabbed Pumwani hospital expansion structures; Eastleigh county Market; Mwariro county market; Langata primary school land; St. Catherine primary school land; Buruburu girls school land; Martin Luther primary school land; Kamkunji Secondary school land; Langata sec. school land; grabbed land reserved for South C market; Grabbed land reserved for Nyayo estate police post.
All county public roads/ accesses including Sonko's Buru Buru plot & Maina Kamanda's, all grabbed land in all the estates within Nairobi reserved for playgrounds, all grabbed public social halls; all encroachments on public land including houses constructed on sewer line & Nairobi water pipeline.
The Governor, has threatened that any COUNTY/NEMA official who conspired with the land grabbers to approve building plans on public utilities will also be prosecuted alongside the said suspected grabbers.
Meanwhile, thousands  of buildings, owned by powerful individuals are being targeted in the demolition exercise that kicked off on Monday and is expected to last for about two months.
In a report by the National Environmental Management Authority (NEMA), dated June 26, the Government has earmarked buildings, structures and even facilities sitting on riparian land which will soon be flattened.
The establishments at Village market, The waste water treatment plant of Greenhills Hotel and the Tribe Hotel are also targeted for demolitions. According to NEMA, the owners had been given a three-month notice, which expired on Sunday after the launch of the regeneration plan to restore Nairobi city.
According to the report by NEMA, the Westgate car park has encroached the riparian reserve and needs to be removed.  Earlier, the agency lost appeal for the car park to be removed.
The Ukay Mall in Westlands has not be spared either, NEMA says the car park and the commercial building will also be demolished.
The National Assembly Environment committee has asked the management of Nakumatt Ukay in Westlands, the Tribe Hotel in Village Market, GemSuites in Riverside Drive and Taj apartments in Kileleshwa to appear before it today.
---
Kenya Insights allows guest blogging, if you want to be published on Kenya's most authoritative and accurate blog, have an expose, news, story angles, human interest stories, drop us an email on

[email protected]

or via Telegram
---
Accusations Emerge That South Sudan Warlord Paul Malong Paid Sh600K For Cleansing Interview As Kenyans Slams Jeff Koinange For Granting The Interview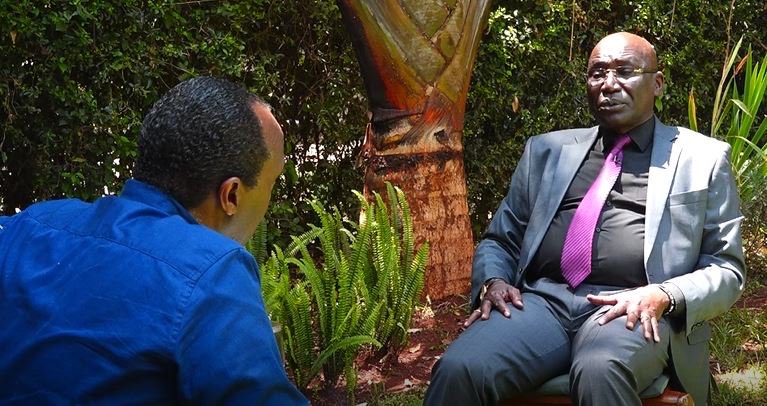 Accusations are now flying that the former  South Sudanese army chief of staff Paul Malong could have bribed his way to the screens for a 'rebuttal' interview following an expose done by Africa Uncensored exposing his role in looting and causing destruction and blood bath in his country.
Malong strongly denied allegations of embezzlement of public funds or committing atrocities against civilians during the five-year civil war in the country.
A recent documentary released by The Sentry and echoed by Africa Uncensored 'The Profiteers' once again reiterated accusations against Malong who is under UN and US sanctions about his wealth and his involvement in the war crimes during the conflict.
In a 25 minute interview with the Kenya Citizen TVreleased on Sunday, Malong further said he didn't take advantage from his position as Governor of Northern Bahr El-Ghazal or profited from his position when he was the chief of staff.
"They did not tell us where I got the money," he said. He further said the documentary and those who accused him have to prove that he has stolen money, give the details of these accounts and the country where these funds are deposited
"I'm not a rich man I'm just taking care of myself and my family. I have nothing," he said.
"Northern Bahr El-Ghazal is not an oil producing state and everybody knows that," so why the accuse me, he wondered.
Regarding the time when he was the army chief of staff, he said the minister of defence is the one who plans the army budget while the chief of staff is the implementer.
I use what is given to me for certain jobs that I'm going to do. if people say I took the tents and sold them that may be, I took ammunition and guns and sold them that may be, (…) but I do not get cash," he said.
The same for the war crimes and atrocities, Malong said he executed the orders he received from his military hierarchy the army commander in chief President Salva Kiir.
"I was not operating independently," he repeated.
Also, he dismissed any responsibility for the killing of civilians in Juba following the clashes at the South Sudanese presidency in July 2016.
"During the J1 fight, I was in control of the army more than any time," he said stressing that the clashes ended at Jebel Kogor.
When asked about the rape of women in Juba, he said it was done by security soldier but not his army.
"I know what happened. It was in one of the hotels and one of the ladies said that the person who had raped her is an agent of security soldier and his name was written," he said.
On the UN sanction, Malong said "they are missing the point. If they speak about the cause of the war, the cause of war is Salva and Machar. Whatever I did in the army was just orders," he said again.
The old friend of the South Sudanese president avoided criticising Salva Kiir for his sack from the position of the army chief of staff.
However, Malong said that he was disappointed when Kiir accused him of asking Kenyan, Ugandan presidents and even Ethiopian prime minister to support him to overthrow Salva Kiir.
The South Sudanese tycoon Lawrence Lual Malong Yor Jr. took part in the interview to explain that General Malong was not his father and he is not his relative.
He and General Malong said they would pursue those who continue to repeat such claims in order to prove the corruption of the former South Sudanese official.
It is ironical that General Malong 'accepted' for an interview with Jeff to clear his name yet he refused to give John Namu audience during the compilation of documentary to comment on the accusations.
Documentary 'The Profiteers' was set to air on KTN but it was cancelled on the last minute in what is speculated to have been as a result of orders given to the station to edit out Malong's name who was adversely mentioned in the three parts documentary.
It only went to show how well connected and powerful Malong is.
New information emerging is the general could've bribed his way to the tv after parting with Sh.600,000 or above. According Steve Juma, a journalist, he was approached by unnamed diplomat who offered sh600K for an interview with the accused general.
Steve says he declined the offer but wasn't surprised to watch the request materialize when Malong was hosted on Citizen TV.
The controversial interview has been labeled a cleansing attempt and has brought Jeff Koinange under harsh criticism.
Jesus. What's Jeff Koinange doing? Is this what Kenyan TV has turned into? What nonsense is this?

— Gabriel Oguda (@gabrieloguda) October 14, 2018
Jeff Koinange Laundry Services – "Got Dirt? We Got Clean!" pic.twitter.com/CnF84FHHVd

— Bruce 🇰🇪 (@ngwata_) October 14, 2018
Is it journalism if there is no right of reply?
Is it investigative if subjects were not directly interviewed?

Jeff Koinange making me question things. And I suppose that is the intent.

But he really is biased in presenting the other side of the coin. Clearly propaganda.

— 🌸Betty Waitherero🌈 Baby Hippo (@DoItBetty) October 14, 2018
---
Kenya Insights allows guest blogging, if you want to be published on Kenya's most authoritative and accurate blog, have an expose, news, story angles, human interest stories, drop us an email on

[email protected]

or via Telegram
---
Itumbi Shows Up In Court To Prove Strong Friendship With Maribe Has An Handshake With 'Rival' Jowie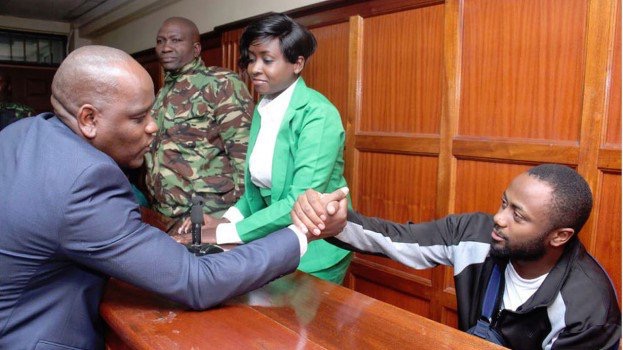 If there's anyone who has stood at least publicly with Jacque Maribe since she got arrested and charged for the murder of Monica, that person is Dennis Itumbi.
The two are rumored to have dated before given several intimate occasions that they shared publicly including a surprise birthday party while she was live on air.
Itumbi has been consistent in standing with Jacque who together with his fiancé Joseph Irungu, have been now jointly charged for murder. The government's digital strategist has not shied away from expressing his feelings and heartwarming messages meant for his friend Maribe.
Jacqueline Maribe, you remain in my prayers. May Justice, like many waters be done. May Monica & her family find the answers they deserve & those responsible be punished as per by law established. But may you find Justice, that you equally deserve. You got my hand of friendship

— Dennis Itumbi, HSC (@OleItumbi) October 9, 2018
While many of her friends have not been seen publicly expressing their support neither showing up at the court, Itumbi and Maribe's father are the ones captured on camera having gotten closer to the accused and in court during the proceedings in solidarity.
It has always been said and I agree that, "The arc of the moral universe is long, but it bends towards justice."

Though it tarries, be sure that Justice will be done my dear friend Jacque Maribe

So shall it be done for Monica and Family.

So, graciously hear me Lord. Good Week

— Dennis Itumbi, HSC (@OleItumbi) October 15, 2018
It was a show when Itumbi had the popular handshake with his 'rival' Jowie In Court. Jowie is the prime suspect in the murder. A teary Maribe was overwhelmed with emotions when his 'ex' showed up to give her moral support.
All factors aside, one thing is clear that we're surrounded with fake friends who'll stick around when things are merry and vanish when things go south. You don't need many friends, keep the small circle with loyal and worthy friends. You need friends like Itumbi who stick around regardless of circumstances.
---
Kenya Insights allows guest blogging, if you want to be published on Kenya's most authoritative and accurate blog, have an expose, news, story angles, human interest stories, drop us an email on

[email protected]

or via Telegram
---
From Whitehouse To Statehouse Kanye West Visits Uganda's President Gifting Him Autographed Yeezys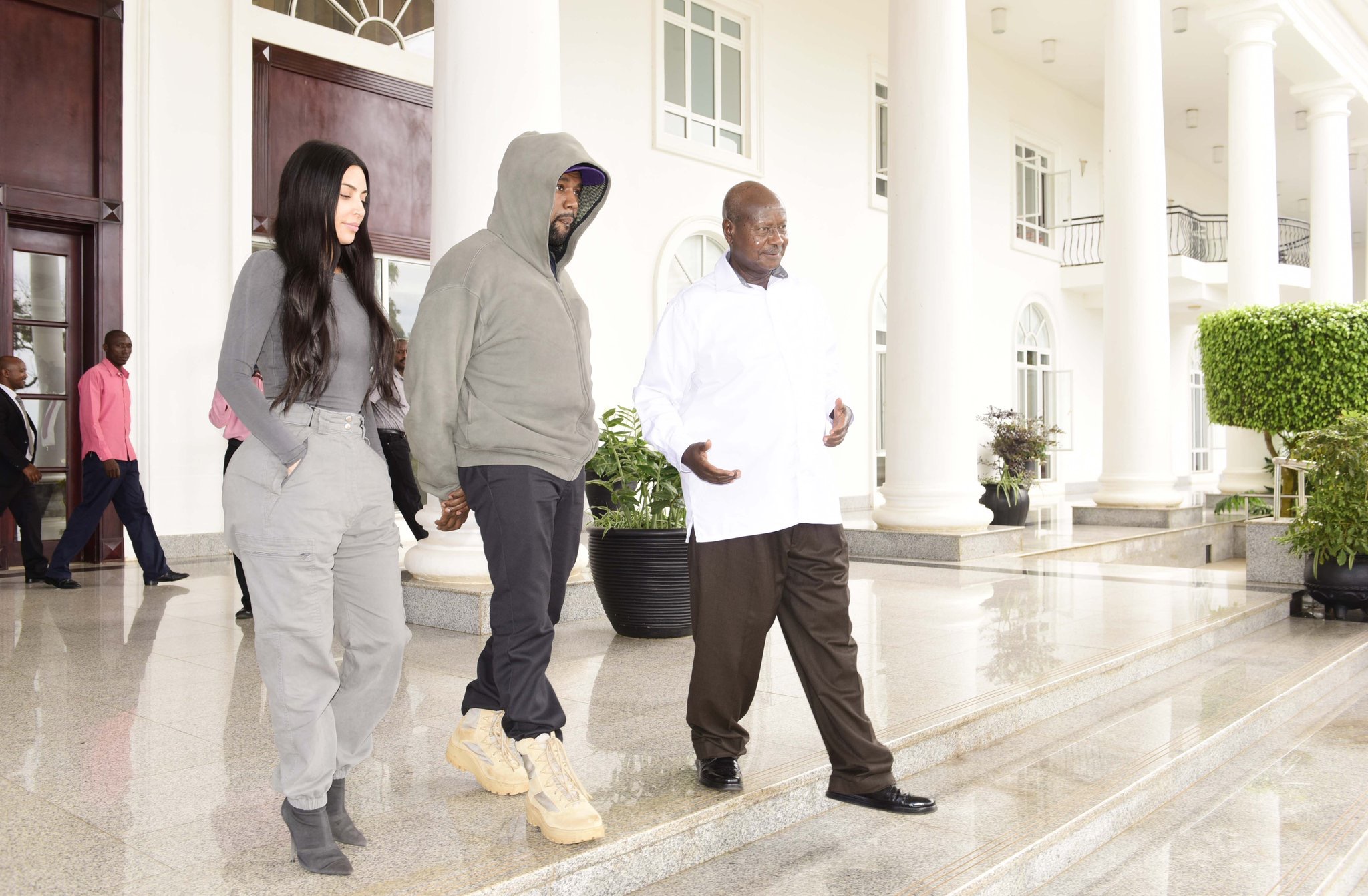 American Rapper Kanye West who considers himself the best artist of recent times and who doesn't shy from courting controversy has visited one of the many dictators in the continent Museveni.
Kanye who's in Uganda with his family, apparently bought out a resort and built an outdoor studio in the bush where he's currently recording a studio album which he says is African inspired hence the decision to record it in Uganda.
The rapper took time off to meet the country's president Museveni who wrote on his Twitter , "I welcome American entertainment stars Kanye West and @KimKardashian to Uganda. I held fruitful discussions with the duo on how to promote Uganda's tourism and the arts. I thank Kanye for the gift of white sneakers. Enjoy your time in Uganda. It is the true Pearl of Africa."
Museveni is on the spot for dictatorship and reigning terror on his opponents, recently, the bully president nearly killed Bobi Wine who also happens to be a musician and now an MP. Fearing for his growing influence and popularity in Uganda especially amongst the youths, Museveni faked an incident that ended in Bobi's driver getting killed in what is assumed to have been a bullet meant for the young legislator.
Bobi Wine was arrested, detained and tortured at military barracks where he was severely injured and had to seek special treatment in the US. He was charged with trumped up treason charges.
Kanye's visit comes only days after the controversial rapper visited the Oval Office, Whitehouse and held meeting with Donald Trump. Kanye in his custom conditions, went on a ranting spree addressing several issues including the red hat. His visit to meet Trump has been criticized mostly by the black community who say Trump's policies are stifling to the community and by Yeezy aligning with him, he's considered a traitor.
During his visit to Museveni accompanied with his wife, Kanye gifted the 74 year old president with his Yeezy line sneakers.
---
Kenya Insights allows guest blogging, if you want to be published on Kenya's most authoritative and accurate blog, have an expose, news, story angles, human interest stories, drop us an email on

[email protected]

or via Telegram
---