Mutahi Kagwe, Tell-Em PR And The Fumbled Coronavirus Crisis Management Marks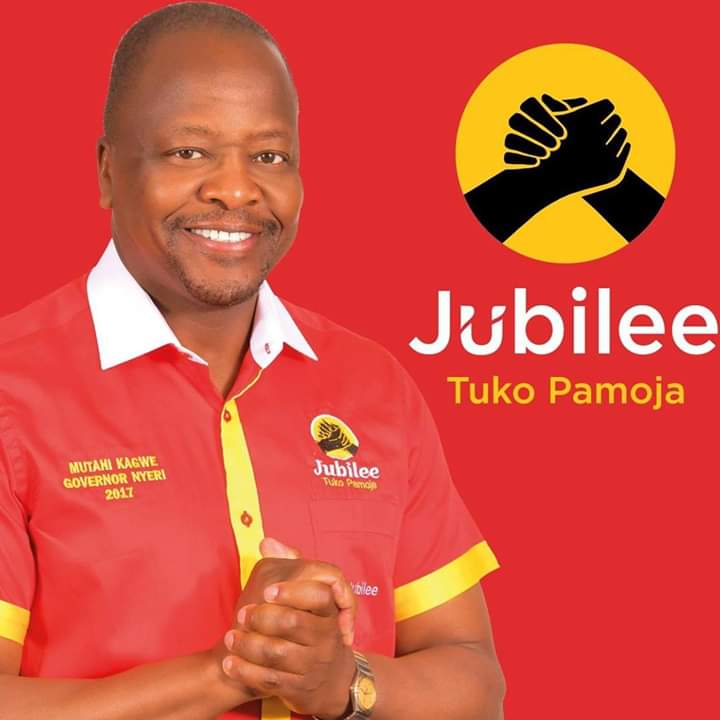 Before debuting on the political scene, Mr Kagwe worked in the media, at the Standard Group's advertising department between 1987 and 1989, while also doing private business. He rose to the position of commercial director at the media house before launching a small independent publishing house and later a public relations company.
In 2002, he took a plunge into politics, becoming Mukurwe-ini Constituency Member of Parliament on a National Alliance Rainbow Coalition (Narc) party ticket. During that term, he served as the Chair of the Parliamentary Committee on Finance, Trade, Tourism and Planning.
His biggest break came in 2005 when former President Mwai Kibaki appointed him to his Cabinet as Minister for Information Communication and Technology (ICT).
It was during his stint as ICT Minister that Kenya ditched satellite technology and embraced Fibre Optic Cables that would see a drastic drop in call tariffs and increase in internet speeds, thus changing forever how Kenyans communicated with each other and the rest of the world.
Mr Kagwe, along with Permanent Secretary Dr Bitange Ndemo, spearheaded construction of the Transformational East African Marine System (TEAMS), the first Fibre Optic Project for Eastern Africa.
It was also during his tenure that Safaricom's M-Pesa was launched, the first-ever mobile money transfer system in the world.
In 2007, he disappeared from active politics after losing his Mukurweini seat to Kabando Wa Kabando. For the next five years, he stayed out of the public limelight but made a comeback in 2013, this time running for Senate on a Narc party ticket.
He won the seat, becoming the first Senator for Nyeri County and chairing the Senate Committee on Information and Technology as well as serving on the Senate Committee of Finance and Budget and the Liaison Committee.
In 2017, he gunned for the Nyeri gubernatorial seat, battling it out with former Governors Samuel Wamathai and Wahome Gakuru (now deceased) for the Jubilee Party ticket.
After being edged out by his opponents, he again put aside active politics.
He stayed away from the public limelight for the next two years until October 2019 when he was appointed to the board of the Energy and Petroleum Regulatory Authority (EPRA).
His appointment came at the expense of Dr Macharia Irungu, whose position was revoked by Cabinet Secretary for Energy Charles Keter.
Before Mr Uhuru Kenyatta nominated him Cabinet Secretary for Health, his involvement as the master of ceremonies during a Mt Kenya leaders' meeting at Sagana State Lodge presided over by the President sent tongues wagging on whether he was being prepared for another stint in national politics.
Mr Kagwe took a leading role in the day's activities while inviting key speakers.
He was among the senior politicians that Mr Kenyatta opted to sit with at the high table during the high-profile meeting, edging out the younger politicians.
In the Kenyatta II succession realignments, Mr Kagwe has emerged as his own man and no one can accuse him of riding on the shoulders of his late powerful and assertive father-in-law.
Mr Kagwe has been one of the most articulate and consistent pro-BBI voices from the region, especially on the question of reintroduction of the Prime Minister's position in the governance system, and which President Kenyatta has also unequivocally supported.
In the last meeting President Kenyatta held with the leadership of the region last November at the Sagana State Lodge, Kagwe was the master of ceremonies (MC) in charge of the speakers' line-up and order at the microphone.
He played the role of eminent elder host of national leadership at the funeral of first Nyeri Governor Nderitu Gachagua in 2017.
He is expected be a top champion of President Kenyatta's legacy and succession plans.
"President Kenyatta is not going anywhere any time soon, and there are no competing kingpins to inherit his mantle as yet.
"Mr Kagwe's elevation should be viewed as part of the President's reorganisation of his team of supporters and helpers he needs in accomplishing his legacy agenda," said political scholar and newspaper columnist Prof Peter Kagwanja.
Kagwe is also a ranking member of senior politicians from the region who Prof Kagwanja described as orphans of the disputed Jubilee Party primaries of April 2017.
"This group includes former Kiambu Governor William Kabogo and former Murang'a Senator Kembi Gitura. The President is cognisant they did not lose in a fair contest and recognises their competence and potential," Prof Kagwanja said.
Kagwe's entrance into the cabinet has caused jitters as well, he's grown to be the most powerful CS taking all the limelight from Interior CS Fred Matiang'i who was previously seen as the kingpin. Rumors have it there's an existing discomfort existing.
Given existing position of the CS in the political sphere, critics have alleged that he's playing too much PR to cushion the government and furnish the president's legacy in the light of the pandemic. Mutahi has naturally dismissed these claims.
At some point during his daily Covid-19 briefing, a noticeably irritated Kagwe strongly condemned those who branded the recovery of two victims (Brenda Cherotich and Brian Orinda) unveiled as a PR exercise; insisting the government would have no business doing such.
He said the "mockery" was "archaic" and "retrogressive", further directing state agencies like the Directorate of Criminal Investigations (DCI) to immediately arrest the individuals and ensure they are put to trial.
Kagwe's remarks were in response to a brewing social media storm sparked by Kenyans who took it up to themselves to critically analyze the stories shared by the two recovered patients and, in the process, exposed numerous irregularities and inconsistencies in their narratives.
"Instead of reenergizing and raising alert efforts, a section of Kenyans have branded this a PR exercise. Why would a government in collaboration with the World Health Organization (WHO) decide to make a PR exercise with two innocent Kenyans? It is archaic and retrogressive. I condemn in the strongest terms in any person who does so. I appeal to security agencies to arrest these social media users," – Health Cabinet Secretary Mutahi Kagwe.
Reacting to Kagwe's conspicuous statement, Law Society of Kenya President Nelson Havi has sent out a warning to the Uhuru's man in charge of the health docket that he should not at any point expect citizens to simply believe anything the government says, further advising him that attempting to suppress their views and speculations on matters Coronavirus is a losing battle that he shouldn't wish to engage himself in.
Health CS Mutahi Kagwe, no one trusts government. Not even President Ronald Reagan. Do not therefore, suppress critical thinking and speech when the people of Kenya want substantiation on any issue Covid-19. This is a battle you will lose with shame. Abandon it in good time.

— Nelson Havi (@NelsonHavi) April 2, 2020
Mutahi has been battling playing Coronavirus PR accusations for time now. Perhaps the latest incidences is the unceremonious firing of top scientist Dr. Lutomiah. According to media reports, he was fired for delaying daily Covid-19 results with an hour. There's less said about this, insider sources talking to Kenya Insights say they're as clueless as of what made Kagwe fire the scientist. We're however informed the two were in direct contact daily and the differences they had remain classified. The excuse for his firing is in our view, nonsensical.
The other accusation of misappropriation of Covid-19 funds saw the CS coming out defensive. In the same breath he read malice in the accusations, will break it down. Here's the statement from Mutahi on the same.
"Good Evening. I have debated posting tonight but am doing so because I read your comments and appreciate your sentiments and fears. As a Kenyan, I too have been disappointed by leaders who fail us for reasons that span inefficiency to corruption. The allegations you are seeing are based on this trend: public skepticism and pessimism. I get it. And so I am here to let you know that among us is a cohort that believes in exploitation and that thinks that by spreading lies, innuendo and propaganda, I will be intimidated and worse, lose the trust of you – – the Kenyan – – who believes in our cause and my integrity. They want us sidetracked. I am no greenhorn; I have seen such mischief before, wasn't intimated then and will not be intimidated now. Watch my actions, they will illustrate this.
The job at hand is simple: save lives in the most cost efficient way and accomplish this in collaboration with the people this position devotes me to: YOU.
So, in pointing out the fakeness of the financial analyses making the circuit, I am sure that you will agree with me this is not the appropriate forum for me to delve into detailed accounting, balance sheets et all. But that is coming. You need transparency and will get it in a manner detailed enough for your critical analyses. Suffice it to say, there will be no theft of COVID-19 resources under my watch and if there is any truth regarding the misuse of COVID-19 funds, beyond being disheartened, I guarantee you that those responsible will be out of the ministry faster than we can blink. Propaganda or not, we, WILL sanitize the healthcare system…so God help us."
While it's not clear who the cohorts the CS is talking about, the rift and conflicting story from his PS paints a grim picture.
A public health communication effort has morphed into a crisis communication endeavor for MoH. The earlier they recognize this the earlier will we get back to the course towards fattening the curve. The tonality of the communication should also change.

— OkoreEsq (@OkoreEsq) May 3, 2020
In a quick rebuttal of the media reports on misappropriation of funds, the Health Ministry dismissed the reports that the Sh1 billion from World Bank has already been spent and exhausted in the first month in war against Covid-19..
Health PS Susan Mochache in a statement on Saturday said so far, only part of the Sh1 billion has been received and that no money has been spent.
"It is, therefore, a gross misinterpretation to state that the ministry has already spent the money," the statement reads in part.
Mochache said the fund is expected to assist the ministry in the national Covid-19 response for six months between April to September.
She further noted that when an initial Sh1 billion was approved by the World Bank, the ministry drew a budget to show how funds would be apportioned to various mitigation activities spread across six months starting April.
The funds by the World Bank are meant to support various activities of the sub-committees of the National Emergency Response Committee's multi-agency technical task force under the Ministry of Health.
"The budgeting exercise was carried out in strict consultation with all relevant government experts, and in line with World Bank procedures."
"Utilisation of the budget support is ongoing and that the money will be dispensed on the need basis, from time to time over the planned period," Mochache said.
According to the PS, all government and World Bank procedures on utilisation of donor funding will be strictly and meticulously complied with.
Mochache added that the ministry is open to scrutiny by all relevant agencies to confirm the expenditure at any time.
The highest allocation, according to the ministry is Sh735 million, which is to be spent on the procurement of personal protective equipment, laboratory testing kits, sample collection kits and laboratory reagents.
The PS added that a rigorous expenditure monitoring procedure had been put in place to inform constant adjustments to the Covid-19 response activities to ensure prudence.
"The national response to Covid-19 is a delicate and laborious programme that calls for the support of all players in executing the tasks of protecting the lives of our frontline staff, contact tracing and managing quarantine facilities in all the 100 centres," she noted.
Health CS Mutahi Kagwe on Tuesday tabled a report of the budget.
The issue has sparked mixed reactions from Kenyans who are now asking for accountability as to how the amount was spend, with the report showing that the amount might have been spent on non-essentials.
Accountability questions are not going to disappear anytime soon. The conflicting and finger pointing is causing so much confusions and arousing suspicions.
Initially, CS Mutahi was regarded as the Covid-19 foreman, gradually, he lost his sheen, according to African Arguments. " It was up to Kagwe to steady the ship, but he too started running into headwinds. Frustrated by a lack of adherence to government directives, he read the riot act to Kenyans for their alleged indiscipline. Critics complained against the state for not doing enough while expecting the earth from its citizens. Another time, Kagwe said responsibility for tackling COVID-19 lay at the feet of Kenya's youth. This too drew anger from many who questioned what the government has done for the youth for it to now call on them."
"A few more missteps later, including complaints of the government's poorly coordinated mandatory quarantine programme, Kagwe started declining to take questions from the press after his updates. It was burdensome to carry the weight of an entire government on one's shoulders."
Kagwe's approach to Covid-19 has attracted mixed reactions globally, while Wallstreet Journal described his as a hero, some like Washington Post refers to his coronavirus strategy as straight out of the colonial playbook.
While being vetted following an invitation and call of duty to join President Uhuru Kenyatta's cabinet, the former Nyeri Senator in a document tabled before parliament said he was worth Sh667.8 million and he attributed this massive wealth to his 'hard work' majorly from his two companies; Public Relations firm Tell-Em and a research agency TNS RMS East Africa.
"I am worth what I am worth as a result of my hard work. I started doing feasibility studies in my room at Hall 2 at the University of Nairobi and for over 40 years I must have made some money," he said in those documents.
Kagwe also owns other assets. During the last Jamhuri day, President Uhuru Kenyatta alluded to the issue of conflict of interests. In his address, he made a remark that was interpreted to be targeting to lawmakers who acted as lawyers for leaders and the creme de la creme facing corruption charges.
"The position is simple; you either serve the public in the role you signed up for or you serve the republic as a private practitioner. It is a profound conflict of interest to do both," he said.
This is coming in the backdrop that the CS is engaging the services of his PR firm to the government in the Coronavirus crisis management.
Mutahi Kagwe's PR firm counts Brookside and the Gates foundation as his clients.

And lobbying is part of the package. How can a lobbyist now be a CS?

So GoK went into the pandemic with PR.

Great. pic.twitter.com/fQFLgvo2Su

— #LandFirst Mwalimu Wandia (@wmnjoya) May 1, 2020
Mutahi Kagwe has a solid PR background, and he is doing a great job communicating.

However, COVID-19 is not a communication problem.

It's a medical, social, and economic problem; and we need some voices of doctors, nurses, researchers, and economists at those press conferences.

— Joshua K. Njenga (@JKNjenga) March 30, 2020
Mutahi Kagwe is operating on business-PR logic on deliverables. But doctors and even viruses are living beings. They don't operate by KPIs and performance contracts.

This business arrogance, is why I say that we should keep business-pr-management people out of health.

— #LandFirst Mwalimu Wandia (@wmnjoya) April 26, 2020
Mutahi Kagwe sacks a top KEMRI researcher for not releasing test results in time for his pressers. To the PR expert, nothing is more important than the cameras. He'd rather have those test results cooked than delayed. One day he will be held outrightly responsible. @SenMutula pic.twitter.com/HQkuXK5WUm

— Hon. William Chepkut (@Chepkut_William) April 26, 2020
GoK has decided to push a PR driven narrative that Mutahi Kagwe is fighting cartels by transferring accountants and procurement officers in MoH…..only the ignorant can buy that BS…they think we have forgotten pic.twitter.com/Oy6Bur13bm

— Ohta Ryota (@Ohta_Ryota) May 2, 2020
This cs is on PR mission thinking he is climbing to become mt Kenya kingpin. Let him assemble health experts and fight the virus https://t.co/7e1qJS5Z73

— Hon.A Mutahi (@AntonyMutahi5) April 26, 2020
In his defense, the CS insists these are people spreading malicious rumours to taint his name, says he has never done business with the government in person or with his company. "I have never done any business with any ministry in government. I've got my eyes on the ball, I know what I'm doing.
It is very easy to put things out of context and make it look like there is theft in the ministry."
In his Tell-Em PR client portfolio, Uhuru's Brookside Company and Bill Melinda Gates are listed amongst biggest clients which lends credence to critics accusations of conflict of interest.
Tell-Em lists government lobbying as one of their services without being specific as to which governments but that remains an easy guess, "Our team have worked in and with government bodies, establishing connections with individuals and agencies that influence decision making at the topmost level. We provide the necessary links you need to move your company forward." It reads.
Bill and Melinda Gates who've been vocal about depopulation and need of controlled births more so in Africa and Tell-Em clients unsurprisingly have become the center of scrutiny by alternative thinkers.
Melinda Gates, wife of world billionaire Bill Gates has predicted that the African countries may be so devastated by the virus that its streets might be filled with dead bodies.
She was speaking with American news channel CNN when she expressed fear that the African continent may be overwhelmed by the virus if the transmission surges as high as witnessed in Europe, America and Asia. Critics have labeled her a doomsday prophet.
Bill Gates is also on record saying that coronavirus in Africa could overwhelm health services and trigger a pandemic which could cause 10 million deaths.
There are more than 40,000 cases of the deadly coronavirus in Africa, according to data released Saturday by the Africa Centers for Disease Control and Prevention.
The continent has reported 41,330 cases and 1,701 deaths, said Africa CDC.
The death toll from the novel coronavirus rose in several nations as the continent continues to grapple with the pandemic.
In the last 24 hours, 385 new cases and seven deaths were reported in South Africa; 150 new cases and 10 deaths in Sudan; 70 new infections and three deaths in Somali and five deaths in Chad, according to officials in those countries.
COVID-19 cases have been reported in 187 countries and regions since the novel coronavirus emerged in Wuhan, China last December, with the US and Europe the hardest-hit areas.
More than 3.4 million cases have been reported worldwide, with the death toll exceeging 242,200 and more than 1 million recoveries, according to data compiled by the US-based Johns Hopkins University.
Mutahi Kagwe has not moved anyone because of Ksh 1 billion fraud.

Those accountants were moved a day before Kenya had first case.

The move was to enable the crooks associated to the Minister to be put in place. pic.twitter.com/oD8qerZ8Wj

— Robert Alai (@RobertAlai) May 2, 2020
As CS Kagwe continues to give assurances that he's not involved in deals with the government and that there's no money that has been stolen, it's prudent to mention that taxpayers lost upto Sh5B in Afya House grand theft, a scandal that remains unresolved so Kenyans suspicions are valid.
---
Kenya Insights allows guest blogging, if you want to be published on Kenya's most authoritative and accurate blog, have an expose, news TIPS, story angles, human interest stories, drop us an email on

[email protected]

or via Telegram
---