FKF: Sam Nyamweya Is A Corrupt Man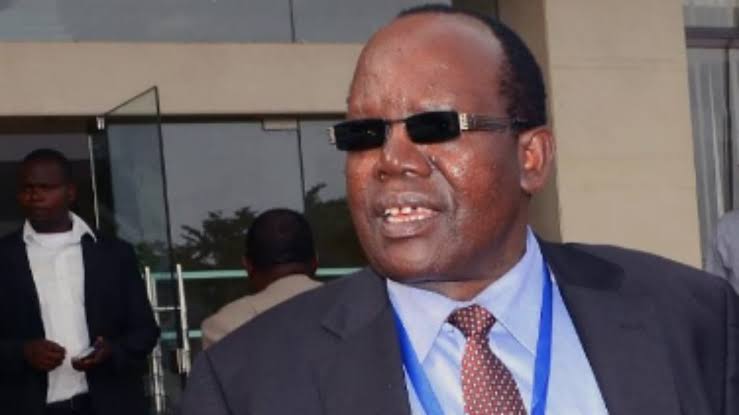 Sam Nyamweya, the former FKF Supremo presided over a corrupt, inept and incompetent body. He started on a wrong footing. Sidelining his then deputy Sam Shollei and Nairobi representative Dan Shikanda who questioned his style, competence and integrity. He wanted to surround himself with yes men and henchmen.
When he became the Chairman, Harambee Stars dropped in FIFA rankings at an alarming rate, being eclipsed by our neighbours Uganda and small countries like Rwanda.
So dire was the football situation in Kenya that, coaches couldn't be paid their salaries in time. The then Professional footballers like Victor Mugubi Wanyama, Ayub Timbe and Arnold Origi were never refunded their ticket money.
For a National team to perform well, players must be motivated. They must be assembled in camp early enough before any major international assignment for them to gel and bond.
But they were hurriedly assembled one or two days to a match day leaving the coach with inadequate time to craft a winning line up. Players were routinely kicked out at Safaricom Kasarani Stadium and detained in hotels for non payment of lodging fees.
While foreign teams touched down on our soil four or five days before kick off, giving them ample time to acclimatize and familiarise themselves with our pitches, our National team left a few hours to kick off time. No wonder we had become the whipping boys of Africa and even regional football. Our team could not leave Wilson Airport for Cape Verde because the owners of the chartered plane insisted on being paid upfront. The boys spent the whole day at the Airport. Where was Nyamweya?
It took the intervention of the president for the team to fly out. This means that if he had not stepped in, the boys would not have travelled, giving our opponents a walkover.
This was an unacceptable abdication of duty. For the president to step in while there are officials tasked with handling football matters as well as a substantive cabinet secretary, is giving him unwarranted political mileage.
Sam Nyamweya was in the list of shame compiled by the Ethics and Anti corruption Commission (EACC). This spoke volumes about his integrity.
Mr Hussein Terry, who was a member of national executive committee (NEC) representing Coast region, presented what he termed "evidence of football corruption" to the then EACC deputy secretary Michael Mubea.
The dossier was copied to the then Cabinet Secretary for Sports Hassan Wario(was fired over corruption scandals) and to relevant parliamentary committees. The report has also been sent to Fifa, CAF and other regional football stakeholders. Terry claims that FKF is riddled with corruption.
"Following my disclosure about two weeks ago that there was financial mismanagement at FKF, I would like today to bring to the attention of the entire country that I have in my possession vital evidence to prove my allegations," Terry told reporters.
According to the document, FKF had not indicated $410,222.20 (Sh34 million) received from Fifa, CAF and other sources in its annual financial statement presented before delegates at annual general meeting held on June 28. However, Nyamweya dismissed all allegations by Terry, adding that he was willing to co-operate with investigators.
The man was embroiled in endless wars with KPL and the branches over football administration. He was interfering with the work of Football Kenya Electoral Board with the intention of rigging the forthcoming elections. He was requesting members to pay their nomination fees to the federation account contrary to the boards directive.
In 2015, Police in Kenya recommended that three top football bosses be charged with conspiracy to defraud, Kenya's state prosecutor said on Monday. Sam Nyamweya, Michael Esakwa and Samson Cherop of the Football Kenya Federation (FKF) were being investigated over alleged fraud involving more than 153,000 euros.
The country misses the days of Matiba, Peter Kenneth and the late Joab Omino, the late 70's and early 80's. That was the pinnacle of Kenyan football. These were people with the game at heart. They ran the federation professionally.
Nyamweya held so much dirt on his shoulders, after what was reported as the biggest TV deal for Kenya's national football team, it took StarTimes days to disclose that the integrity of their sponsorship of Harambee Stars has been compromised and wanted the deal renegotiated.
Many can not forget the revelation that A French company contracted by FKF to champion a bid for the 2017 Africa Cup of Nations (Afcon) instituted legal proceedings to get their payment.
Leonard Dubreuil, who ran the INSYS International, took the unusual step to sue FKF in a bid to recover $30,000 (Sh3 million) which they had charged FKF for preparing the bid documents.
An email sent to 'Uncle Sam' by INSYS read in part: "…it is with deep regret that we have decided to take our case of non-payment of USD 30,000 before court. We were mandated on the 5th of September 2014 to make the bid document on behalf of Kenya for the Afcon 2017."
Incompetence and Corruption
Everything Nyamweya touched ended up in ash. Harambee stars were in a sorry state since he took over, routinely losing to the likes of Lesotho. The CECAFA cup which Kenya hosted in 2013 was shambolic with teams getting locked in their hotels due to non-payment of allowances. French coach Henri Michel who was invited by Nyamweya to coach Harambee stars ended up leaving after a few months once he realized that Nyamweya was never going to pay him. His successor, Adel Amrouche suffered the ignominy of being evicted from his apartment because he could not pay rent. Nyamweya was not paying him.
Nyamweya was primarily driven by a greed for money. Nobody knows what he did with the annual FIFA grant which amounts to US$ 250,000 per year (Almost Ksh 23 million).
One of the first actions he took when he became FKF chairman was to demand that all football sponsors must deposit 15% of their sponsorship money in FKF accounts. Safaricom who used to sponsor the popular Sakata ball tournament balked at the idea. Nyamweya stood his ground and a result the Sakata ball tournament ended, leaving grassroots youngstars with no avenue to showcase their skills. Copa Coca Cola, another grassroots tournament which was once thriving has basically been moribund since Nyamweya took over in 2011.
And because many future stars were discovered in such grassroots tournaments, it is fair to say that Nyamweya quite literally killed Kenya's prospects of unearthing grassroots talent.
The source of sponsorship that Nyamweya didn't  get his paws is the KPL sponsorship which came from broadcast partners Supersport. This was likely the reason for Nyamwey'a pushed to assert authority over the KPL.
But under Nyamweya, football was rife with corruption which meant likely that sponsorship deals.
FIFA Independent consultant report
A report commisioned by a a FIFA auditor found that mong other things:
1.  FIFA funds to FKF for referees was never transferred to the leagues or clubs who actually pay the referees.
2. FKF said it would pay for the higher costs of an 18-team league but could not but show any new sponsors for doing so.
3. That an 18 team leagues will mean reduced grants and players salaries for all KPL clubs
The auditor recommended that the league continue to be run by KPL and not FKF.
Nyamweya then flew to Zurich to meet Blatter. Soon after that meeting Blatter declared wholehearted support for Nyamweya and FKF and even declared that the technical report prepared by the FIFA auditor should be ignored. This was a classic corrupt behaviour by Blatter. Why would FIFA order a technical audit whose results should've been ignored?
It's now official Sam Nyamweya will vie for the Football Kenya Federation (FKF) presidency in the upcoming polls.
Four years after he relinquished FKF's top seat without a fight, Sam Nyamweya has announced his intent at making a comeback.
In a lengthy statement sent to newsrooms on, the veteran football administrator confirmed he will challenge incumbent Nick Mwendwa for the FKF presidency 'in the soon coming FKF elections once the Covid-19 pandemic is contained and upon resumption of normalcy in our activities and daily operations.'
"I will be unveiling my team after consultation with our sub-branch officials who have been the engine of our success hitherto. I will continue consulting and engaging with the regional leaders in the nine distinct regions of FKF who have faithfully supported our shared aspirations and have been a source of strength and inspiration to my leadership," he explained.
Is Nyamweya the savior of Kenya's football that we need? Judge for yourself.
---
Kenya Insights allows guest blogging, if you want to be published on Kenya's most authoritative and accurate blog, have an expose, news TIPS, story angles, human interest stories, drop us an email on

[email protected]

or via Telegram
---