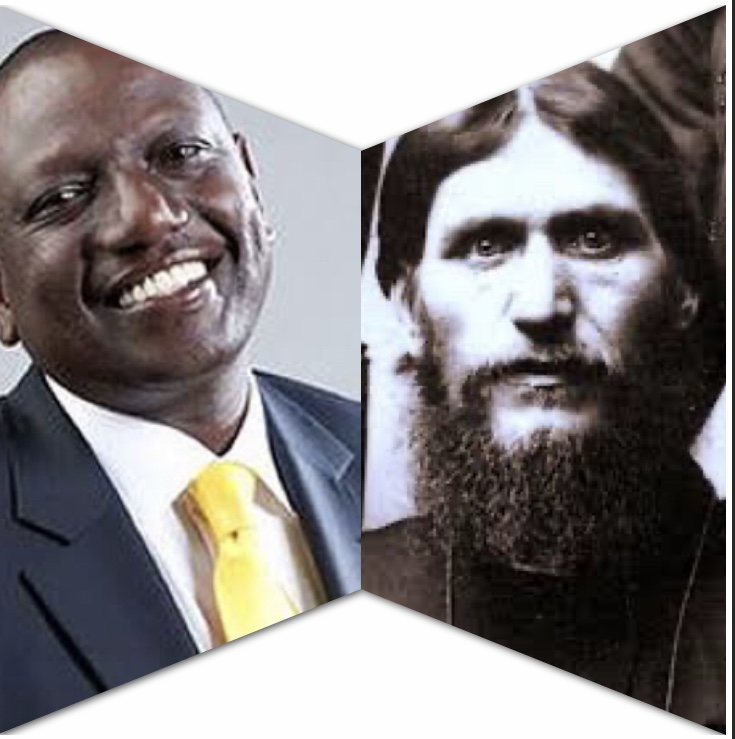 Many words were spoken. Many firsts were witnessed. Many anecdotes were made. Many statements were uttered and many arguments were fronted in the floor of Senate debate during ouster of Senate Deputy speaker Kithuri Kindiki who was successfully impeached. But what stood out to most Kenyans was a statement made by Siaya senator James Orengo comparing Deputy President William Ruto to 'Rasputin'.
Orengo said, "The problem in Kenya is that we have a Rasputin and a Tsar in the ruling party. But you know that in the end, the Rasputin was killed. Jubilee must decide to have one leader"
*******************
Mr Grigori Rasputin is credited with the fall of the Russian monarchy under its last Tsar, Nicholas II. He became such an invaluable, trusted confidante of King Nicholas II and his wife Alexandra Feodorovna; they unreservedly relied on him for advice.
However, his deceit, overbearing deportment, debauchery and lust, induced by his vantage position played a pivotal role in making the King unpopular.
Rasputin was assassinated in 1916, but his morbid spirit lives on. A reincarnation resides in the current administration; something mirrored in the fact the government is completely impotent, lacking the will to unify the country as statements and the deportment of some of its luminaries increasingly polarises regions. The king, in this case President Kenyatta, is surrounded by people mesmerised by power and so consumed by greed, they are unwittingly rendering him unpopular each day. They will destroy anything and anyone perceived to be an encumbrance to their avarice. For this reason I have said before the war on corruption was lost before it began.
Some assassinations have led to revolutions and collapse of ancient dynasties, while others fundamentally altered national political courses. The assassination of Rasputin in Russia led to the end of the 400-year Romanov dynasty.
Perhaps the assassination with the greatest political impact on our nationhood Kenya was that of Pio Gama Pinto a Kenyan of Goan origin. On February 24, 1965, Socialist-leaning Pinto, a specially elected (nominated) member of the Lower House was shot dead outside his House in Nairobi's Parklands area.
Pinto had left his house as usual in the morning to take his wife to work and the children to school. He returned shortly before 9am and had a cup of tea. As he drove out of his house, he was shot twice by three men who then fled in a waiting car. His death shocked the nation as such a thing was only last heard of at the height of the Mau Mau war.
In July, two suspects Kisilu Mutua, 18, and Chege Thuo, 19, were arraigned in court but the first witness, chief inspector David Michael Rowe, said that of the 10 fingerprints that had been recovered from the scene of the murder, none matched those of Mutua and Thuo. Chief Justice Sir John Ainley acquitted Chege on July 15, 1965, while Kisilu was sentenced to hang although it was later commuted to a life sentence. After nearly four decades in jail, he was released still maintaining his innocence.
Pinto, who like Jomo Kenyatta had been detained in the fight for Independence, had fallen out with him over money that was to be paid to Mau Mau war veterans and which was allegedly misappropriated by the latter. Prior to his death, it is alleged that Kenyatta and Pinto had exchanged insults and bitter words over the money.
Pinto's death, however, ended up significantly changing the course of Kenya's history because his close friend, Joseph Murumbi, himself half Goan, resigned as Vice-President after he realised the real reasons why his friend had died. This paved way for Daniel Moi to be appointed and this significantly altered the political landscape for the next half-century.
Kenya can then be said to be what it is today because of the death of Pinto. If you happen buy the rhetoric that we were the same economic level as Malaysia and Singapore at that time, then we remained poor because Kenyatta and Moi were not motivated by the same priorities as Lee Kuan Yew and others
The talk of bumping off DP Ruto got many thinking especially when Sen James Orengo asked the ruling political divide to choose where they want pledge their loyalty to, either to Ceazer(Uhuru) or Rasputin(Ruto). What would the political fallout look like?
Of course, Uhuru Kenyatta and William Ruto are conjoined by the ethnopolitical formation that brought them to the national scenarios. Their political duopoly was premised on the blood that was shed in the 2007-o8 post-poll violence that saw targeted massive killings on both sides of the divide.
Uhuru Kenyatta and Ruto have since gained significant cross-tribal constituencies, necessitating careful thinking before acting against either. But under the principal of Cui Bono (with benefits), the interests of the few who will benefit from bumping off Ruto, will always overshadow that of the majority who care less who is the next president.
Prince Yusupov, who in part planned the assassination of Rasputin, had hoped that his death would save the Romanov dynasty but they all sank with it. Like Yusupov, Uhuru-Raila – Kenyatta-Odinga dynasties does not seem to have the kind of political capital to withstand massive fallout if Ruto is killed.
Machiavelli himself offers a good word of caution: "Many men have imagined republics and principalities that never really existed at all. Yet the way men live is so far removed from the way they ought to live that anyone who abandons what is for what should be pursues his downfall rather than his preservation…" 
---
Kenya Insights allows guest blogging, if you want to be published on Kenya's most authoritative and accurate blog, have an expose, news, story angles, human interest stories, drop us an email on tips.kenyainsights@gmail.com or via Telegram
---