Ministry of Labour, Foreign Affairs and Interior On spot over surge of Kenyan Workers deaths in the Gulf region- Middle East.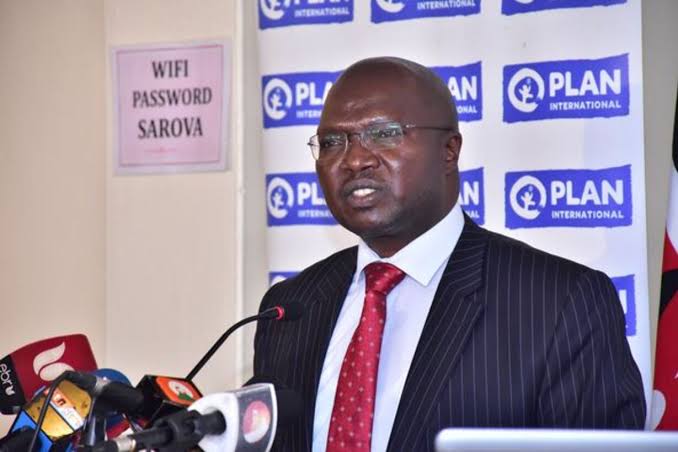 Appearing before Parliamentary Labour committee, Mr Chelugui CS for Labour appeared alongside PS Peter Tum to explain the circumstances that led to the death of Melvin Kang'ereha in Saudi Arabia in 2020.
In his statement to the committee of the legislators, Mr. Chelugui disclosed that country recorded 93 deaths in the past three years from Kenyans working in the Middle East. He however, failed to provide a detailed breakdown of areas where the victims were buried in the country.
He told MPs that the Ministry is unable to provide a detailed breakdown on the deaths of Kenyans which occurred mostly in Saudi Arabia, Qatar and the United Arabs Emirates (UAE). He told the National Assembly's Labour Committee that Foreign Affairs and the Ministry of Interior are best placed to provide the details.
"We had 93 cases of death, particularly from the Gulf region. When these deaths occur, we occasionally have no view at the airport when the bodies arrive.
"We are following up with the Foreign Affairs and the Ministry of Interior to know who the victims are and where they came from in the country," he told MPs.
He said since January 2019, the ministry facilitated the employment of over 87,784 Kenyans in the Gulf Region. A majority of the migrant workers are in Saudi Arabia, Qatar, UAE and Bahrain.
"Within the same period, the ministry has received reports of 93 deaths of Kenyan migrant workers in the Gulf Region."
Majority of the cases are reported to have been caused by natural death such cardiac arrest, Covid-19, cancer, childbirth, respiratory complication, tuberculosis and meningitis. Other causes include accidents and suicide.
"The ministry is in consultation with Foreign Affairs and Interior and Coordination ministries -towards desegregating data for Vihiga County," he said.
Nominated MP Godfrey Otsotsi, who sought to know how Ms Kang'ereha died, rejected Mr Chelugui's response that the young woman died in prison from natural causes after she was jailed for threatening to kill her employer.
Mr Otsotsi promised to table video and audio recordings of the woman pleading with her employer and United Manpower Services Limited to return her to Kenya.
"I have video and audio recordings that would proof that this woman did not die of natural causes. There is a Philippine witness and the case is being pursed in Saudi Arabia by human rights groups. I find the answers unsatisfactory," Mr Otsotsi said.
He said the recruiting agent refused to hear the pleas of the Kenyan worker after the Saudi employer mistreated and tortured her including denying her meals.
"United Manpower Services instead transferred the young woman to another employer who mistreated and tortured her leading to her imprisonment. Apart from relying on third party information from Saudi authorities, what have you done to do proper investigations?" Mr Otsotsi said.
He demanded to know the action the Ministry has taken to compel United Manpower Services to compensate the family of the deceased. Mr Chelugui conceded that the Ministry relied on Saudi authorities which said the cause of death was as a result of natural causes in prison.
"We have only one Labour Attaché in Jeddah whom we rely to handle Saudi Arabia which is as big as East Africa region. We need funds to hire six more attaché's to cover Saudia," Mr Chelugui said.
He said the government has entered into three bilateral Labour agreements with governments of Qatar, UAE and Saudi Arabia in a bid to protect migrant workers.
Mr Chelugui said a draft Labour Migration Management Bill and a Migrant Workers Welfare Fund will be established following a Cabinet directive.
………………….
The greener pasture phenomenon has been so cruel to especially African – workers who migrate in search of better pay for sustainability back home. The lucky ones survive the journey until they come back home while some end up in limbo.
We've seen highly graphic sensitive videos of migrant-workers being assaulted by their employers in the middle east neither once nor twice but on multiple times.
They're traded like goods – Black market currency trade exchange from one employer to another. In an investigative documentary I once came across uncovered the Blackmarket of the human trafficking of migrants in the middle East. An illegal application software — prototype of an E-commerce app created to trade migrant workers within – each valued at different cost like goods. A business like Land and Real estate business where you employ a worker then after two or three months they are traded with different employers at an appreciated price to making profit.
The greener pasture phenomenon of oversees has become a death trap to many African migrants. But unfortunately Some cases of assault on migrants- workers are self-inflicted. With everyone entitled to their opinion; my advise to my fellow countrymen and women in the middle east is they should never also forget they're not on a vacation.
However much these employers act on inhuman and barbaric manners, we ought to also listen to both sides of the story and neither justifying violation of these workers human rights. Let my fellow Africans working in Gulf learn to keep their cool, mind their own business, see no evil, do no evil until their contract terminates and come back home in peace or be arrogant, hot-tempered to your employer, see evil, do more evil and come back in pieces.
It's the sad reality.
---
Kenya Insights allows guest blogging, if you want to be published on Kenya's most authoritative and accurate blog, have an expose, news TIPS, story angles, human interest stories, drop us an email on

[email protected]

or via Telegram
---