Man Receives Sh40,000 Mistakenly Sent To Him Via M-Pesa, What He Did Next Was Unexpected Honesty has become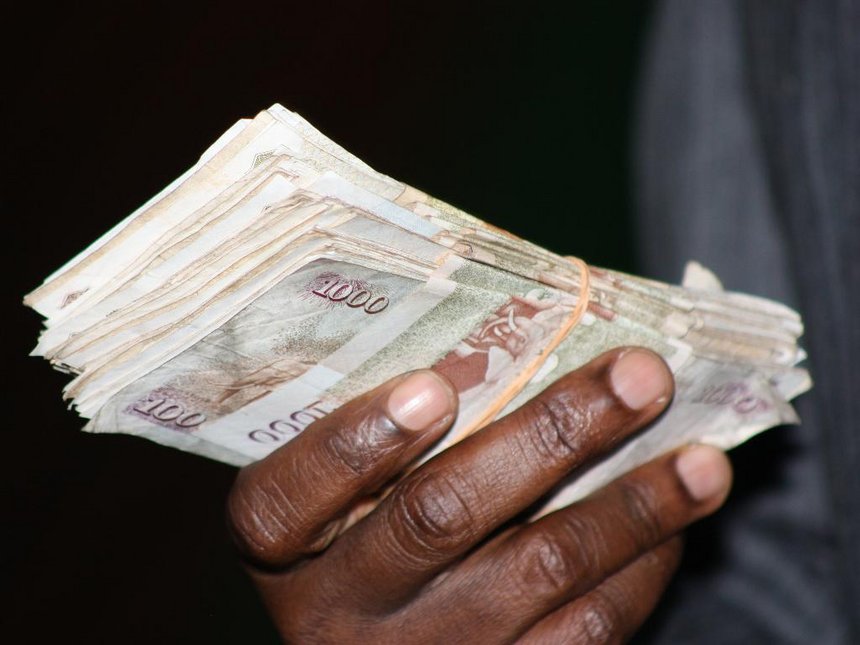 Honesty has become such a rare virtue in the society that it's celebrated and rewarded. While it's the right thing to do, the world around us has become so rogue that a kind gesture will make the news. Just the other day, a matatu tout who picked Sh30,000 and returned it to the owner became an envy of many and a media sensation.
Normally, like virginity, if you lose something in a matatu it is gone forever, in fact, Kenyan matatus are so dangerous that you have theft warnings in most busses, your chances of getting back lost valuables and in this case Sh30,000 is a strong improbable. But this gentleman did the unusual, returned the money. He would later be in every news item, radio and t.v. shows, public contributions to reward his honesty came in, the lady time I checked, he has been sent Sh300,000 and scholarship rewards.
Another story of rare honesty has yet again hit the interwebs and this time it is Mpesa mishap. A Mr. Wachira Waruhu had mistakenly sent Simon Mwangi Sh40,000 money which he was sending via mobile banking in M-Pesa but keyed in a wrong number. What Simon did next was a rare show, he acknowledged having received the cash, thanked Wachira for the mistake.
For Simon, this was a blessing in disguise because evidently, he received that cash when he was going through a difficult phase. He then promised to return the full amount, since he withdrew it immediately, there was no option of a reversion of transaction. For Wachira, he only had two options; report the matter to the police or trust the devil and wait for Monday to see if he'd reimburse, he opted for the latter.
We can all agree this was a super risky get he took, Kenyans are always Kenyans, dishonest to the core, I mean what else can you say about people who pirated a book talking about looting and grabbing. Like president once snitched on us, we're experts in stealing. In normal cases, chances of Wachira getting back his money is zero, you'd cry blood and bleed to death but you won't get your money back.
Mostly, recipients would quickly switch off their phones after receiving money sent to them mistakenly and the sender to count his losses. If you checked with police, there are a number of cases they're investigating. For service providers, there's not so much they can do if you sent the money to a wrong number and recipient already withdrew. You either engage shuttle diplomacy with recipient or police.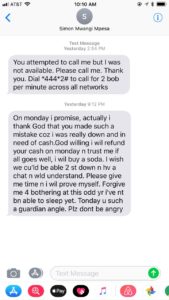 Simon Mwangi did the unusual, on Monday as agreed, he sent Wachira back his money in full and here is where we drop that sigh! I can bet there are many reading this and saying "huyo msee ni fala" because we're a society that's tolerant to fraud, the action of Simon is viewed as foolishness. Many have sent to wrong numbers money even meant for treatment of relatives, school fees, and other emergencies but not even death or suicide threats would make recipients reverse the money. Kenyans generally have an ice box in their hearts.
I think perhaps another big story in this is his last name and how people have been stereotyped in this country yet he did the unexpected. Simon Mwangi is indeed a man worth celebrating.
Sending money to wrong numbers has cost many damages emotionally and financially, Safaricom came up with a verification service, Hakikisha which gives customers 15 seconds to verify numbers and names of receivers before authorizing the transactions, this gives one an opportunity to quickly reverse the transaction should they realize a mistake during keying inbox numbers by the name notified.
Counter check before you make a mistake that Wachira made since it's not every day that you fall lucky to send money wrongly to a Simon, mostly it lands in typical hands and you'll be counting your losses.
---
Kenya Insights allows guest blogging, if you want to be published on Kenya's most authoritative and accurate blog, have an expose, news TIPS, story angles, human interest stories, drop us an email on

[email protected]

or via Telegram
---