Kinoti: Inside Prophet Owuor's Cult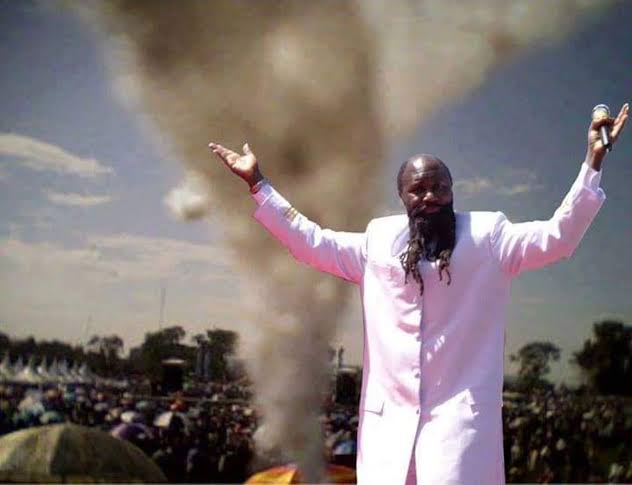 Thread by @KinotiJoseph: THREAD: FACE TO FACE WITH A CULT First, give thanks to God that you are reading and not writing such a story. I grew up in a remote village…
THREAD: FACE TO FACE WITH A CULT
First, give thanks to God that you are reading and not writing such a story. I grew up in a remote village in Meru. From their little farmwork, my parents struggled to ensure we went to school. Of course with lots of hopes.
Everything was good and normal, until I encountered this strange and fearful religion. I got to know about it through a roommate, one Mr. Cheruiyot.
Cheruiyot would always invite me to join them for their Tuesday and Friday fellowships at WST 5. This I avoided for quite some time.
Well, I finally gave in to Cheruiyot's nagging. I decided to silence him for good by attending the fellowship. Only once, I promised myself.
At WST 5, I met these radical believers, 'Prophet' Owuor's followers. Everything with them was about one thing – an imminent Apocalypse. They were busy 'preparing' for it.
The promise of being part of the 'chosen few' to inherit the 'heaven' 'Prophet' Owuor was preparing people to inherit appealed to me. Within a few months, I was already into it. I was appointed one of the leaders in the fellowship.
The 'Prophet' was our Lord. Whatever he says is all that matters. After all, God speaks to him 'face to face'. For this reason, I severally found myself missing lessons to listen to his fearful messages on Radio.
Missing lessons was not an issue to me. And I was not alone in this. We would spend weekdays "Preaching" about Owuor in the nearby market Centers like Kesses, Kambi Nairobi, Sogomo and Kimumu in Eldoret.
It didn't take long. I eventually quit my University Education in 3rd Year. Only later did I find out that 2 of my friend, also members of Owuor's Church did the same. One from Egerton University and another from Moi University, Main Campus.
I quit my education to fully devote myself to serving in the 'Church'. By this time, I was already proud of the title PASTOR. Fast forward, I was later promoted to Overseer, and served as the 'Prophet's Twitter Army Prefect.
I recruited members, trained them on Twitter basics, helped them grow Twitter accounts and organized them for Twitter hashtags.
It was during this time that I got closest to Owuor and his confidants. One, because Owuor would always ask for Twitter reports everyday. Two, Owuor would give instructions on what was to go to Twitter when. I was busy.
It was during this time that I discovered that the whole system was based on fake miracles, fake signs, and a false prophet Owuor. Everything was fake! I felt deceived. Something I had sacrificed everything for. It was now apparent that it was a scam!
I finally wrote an Email citing all these issues in the Prophet's ministry, and left. I lost my place at Moi University, having been out of school for more than 8 years without any official deferral.
I wasted my 10 years running after Owuor. But I thank God I lived to testify about this. He helped me. I am now a Student at Mt. Kenya University doing a Bsc. Information Science.
Be careful with these strange religious movements mushrooming everyday. I found myself right inside a dangerous cult. If you are inside one, seek an exit route soonest.
Once in a cult, you quickly learn how to group think. You lose your mind and in its place adopt group think. You only think what you are told to The effect of overfeeding his adherents with rapture scares reduces them to Rapture zombies who are good for nothing.
Anyone who has closely worked with Owuor's followers knows too well how their productivity is affected. They live in their own world, antisocial and almost always aloof.
Students infected with the Owuor bug will not give a damn about their grades. They will tell you that there are no academic certificates in heaven. In campus, many will post miserable grades as they chase Owuor from meeting to meeting. Owuor is all that matters.
Cults are everywhere. Some are mainstream and widely accepted. Others are isolationist and hide from examination at great expense. They are growing and flourishing. Religious cults cause great suffering, though they pretend to appear helpful.
How would someone endure Owuor's lunacy for a decade? Well, cult leaders exercise control over their members. Owuor does this by instilling fear, threatening with cancers and loss of life if you leave the group. Add this to the daily indoctrination.
Fast forward three years and ten months later after Cynthia's healing. Cynthia just sat national examinations KCSE. Festus Mutai, the freshly minted Bishop based in JKUAT, Main Campus went to pick her from school.
What in God's beloved universe is Cynthia doing in a school for the blind, or visually impaired if she was totally healed? I'd have thought that such schools are put up to cater for the blind.
Cynthia was 'healed' on January 1, 2016 right after her primary education. She should have joined a normal high school. I doubt anyone with full sight would join a school for the blind.
Cynthia is still visually impaired. It was so bad that it necessitated a special school dealing with kids with her condition.
Sadly, Cynthia's is not an isolated case; it is the rule. One Fridah T. postponed surgery for ten years lying to herself and to others that Owuor healed her. She succumbed.
---
Kenya Insights allows guest blogging, if you want to be published on Kenya's most authoritative and accurate blog, have an expose, news, story angles, human interest stories, drop us an email on tips.kenyainsights@gmail.com or via Telegram
---