Kicking Out Carrefour And Keeping Quickmart Is Ill Advised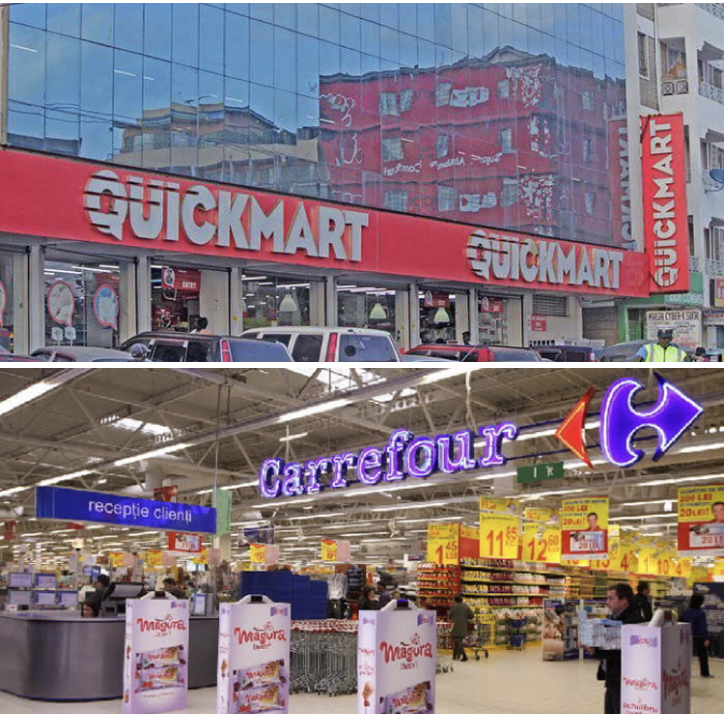 Different monkeys, same forest.
When Competition Authority of Kenya first found French and world's second largest Retailor Carrefour guilty of abuse of power to local suppliers in Kenya and hike of prices last year 2020 and again this year 2021, many Kenyans have had mixed reactions with some suggesting boycotts while some are of the opinion that the retail giant is innocent.
Initially, Competition Authority of Kenya (CAK)  ordered Carrefour, through its franchise holder Majid al Futtaim's (MAF), to expunge six items from its supplier contracts that are said to give the store the power to offer ultra-competitive pricing to boost sales and increase market share. The clauses included forcing suppliers to pay a non-refundable fee to do business with it and forcing merchants offering the retail chain goods to provide extra rebates or discounts.
Carrefour was found to be in breach of the law for forcing suppliers to post their own staff at its outlets at the expense of the suppliers. It was also accused of rejecting goods already delivered. Carrefour was accused of abusing its buyer power and risked a financial penalty equivalent to 10 percent of its gross sales, which stood at Ksh14 billion ($140 million) in 2018, if it failed to review the "offending provisions."
Prior to which the retail was already fined Ksh124,767 ($1,247) for exploiting yoghurt supplier, Orchards Limited, and the fine was equivalent to 10 percent of the sales generated from the dairy products supplied by the firm in 2018.
Buyer Power is the ability of a buyer to obtain terms of supply more favourable than a supplier's ordinary contractual terms. Carrefour has been accused of using the supplier contract to depress their earnings (suppliers) and gain market advantage through competitive pricing. And in recent tribunal verdict, it has been found 'guilty' and been ordered to review contracts of 700 local suppliers within 30 days.
Since launching its Kenya operations in 2016, the franchise has grown far faster than expected and this seems to have awaken goose bumps of some cartels who want to frustrate the giant to bribe them or kill their local success dream in the country through KRA frustrations of which already happened, Competition Authority of Kenya etc.
In case of KRA : The owners of Carrefour in November 2019 received various VAA assessments for January 2018 to May 2018. The total was Sh523,009,184. In 2018, KRA introduced value added tax auto assessment system to detect inconsistencies between purchases and sales invoices declared.
Majid Al Futtaim immediately filed its objection to the tax demand and invited KRA to conduct a physical assessment. Its objection was based on the fact that the implementation of VAA effectively places an obligation on the supermarket to ensure its suppliers declare output VAT and remit the same to KRA, which it said contravenes tax laws.
Secondly, it said the inconsistency between the input tax claimed by KRA and the output tax declared by the supplier does not necessarily imply noncompliance or tax leakage.
And since November 15, 2019, KRA has not rendered a decision on the objection raised by the supermarket owners, while the principal tax assessment amounts continue to reflect and accrue interest.
In January this year 2021, the French retailer Carrefour sued the taxman for rejecting a Sh523 million VAT refund claim over inconsistency with filings from its suppliers under a new digital system.
Locally, suppliers set a recommended retail price for their products and approach retailers. Retailers then calculate how much profit they would want per item and in the end come up with a shelf price that meets the needs of both parties. Carrefour's proposal meant that over and above such gains, suppliers were to be paid their dues less this incremental extra rebate with negotiations happening only if sales targets were not met.
The Paris-based retailer like any other demanded that suppliers pay at least Ksh10,000 ($100) for every new item they launch in the market. This amount was payable for every store where the goods were stocked, a rule that they are accused of being extortionists, but even the government demands non-refundable fee from tender applicants. 
At first before writing this article, I had a different antagonistic opinion against Carrefour and fully supported how the authorities were fighting them- from the time of racial abuse incident at their Karen hub branch that occured in 2017 and of which after indepth thinking I came to a conclusion that the incidence was just insensitive and the enemies tried to insinuate and take advantage that Carrefour isn't locally owned and so spread the hatred of racism like every white-foreigner are always racist.
Mistakes that Carrefour are being accused of are the same and the norm of the competative business. Even world's largest retailer Walmart has such issues not that they aren't aware but that's the game and that's it. I felt I'd be preaching water and taking wine by castigating Carrefour and supporting frustrations and decisions made by CAK who might be on payroll by likes of Quickmart to kick out the giant out the Kenyan Market.
Quickmart is no better than all that Carrefour is being accused of. It's only that they've silenced the system but soon the truth will prevail. Currently there is no expensive supermarket compared to Quickmart. Their prices are super-hiked and they've strategically managed to open a branch in almost every corner in the country taking advantage of lazy customers. Carrefour is far much cheaper than Quickmart, their goods ever discounted for customers, best service providers so far. 
I was of the opinion to to encourage Kenyans to boycott Carrefour as that's the only way they would exit the market even if they went ahead to bribe CAK. In the process, I felt guilt of unfairness without revisiting history – and doing my research – I came to learn of previous similar incident where Africa Richest man Dangote was about to set his cement company in Kenya but later changed his mind not to – after Kenyan authorities demanded Ksh 1.5 billion bribe so as to be given pass and connected the dots to the current situation Carrefour is facing now. Cartels frustrating foreign investors and killing dreams and denying jobless Kenyans opportunities  if they aren't bribed.
Carrefour is an international food store giant and has nothing to lose when kicked out from the Kenyan market. It is Kenyans who will loose jobs and forced to buy expensive goods from Quickmart.
It is the local suppliers who need to up their game and standard to meet the International standards of Carrefour. Let them embrace the change. As the world is embracing Elon Musk's Tesla – Kenyan authorities want to embrace Turkana's tuk tuk.
When these suppliers applied for the tenders, they agreed to the terms and and conditions but when it came to a point of implementing these conditions as suppliers they became overwhelmed and hence many had their contracts terminated.  This is a contract the suppliers knew and they acquainted with full information dealing with international firm who is offering international standards. No more no less.
I am concerned how the authority keep on frustrating foreign investors with trumped up charges and accusations to reap bribes from them at the expense of Kenyans who have been employed by these investors.
Blowing off someones candle to make yours shine brighter this time will be a mission impossible. We must provide favourable condition for foreign investors in this Country.
Stay tuned, in my next segment you'll get to know more about what's unfolding at Quickmart. Calling a spade a spade not a big spoon.
The same sun that's melting the butter of these foreign investors and hardens the eggs of these Quickmart like entities must work the other way round until a fair play ground is leveled up.
---
Kenya Insights allows guest blogging, if you want to be published on Kenya's most authoritative and accurate blog, have an expose, news TIPS, story angles, human interest stories, drop us an email on

[email protected]

or via Telegram
---