Key Questions Around The Assassination Of IEBC ICT Manager Chris Msando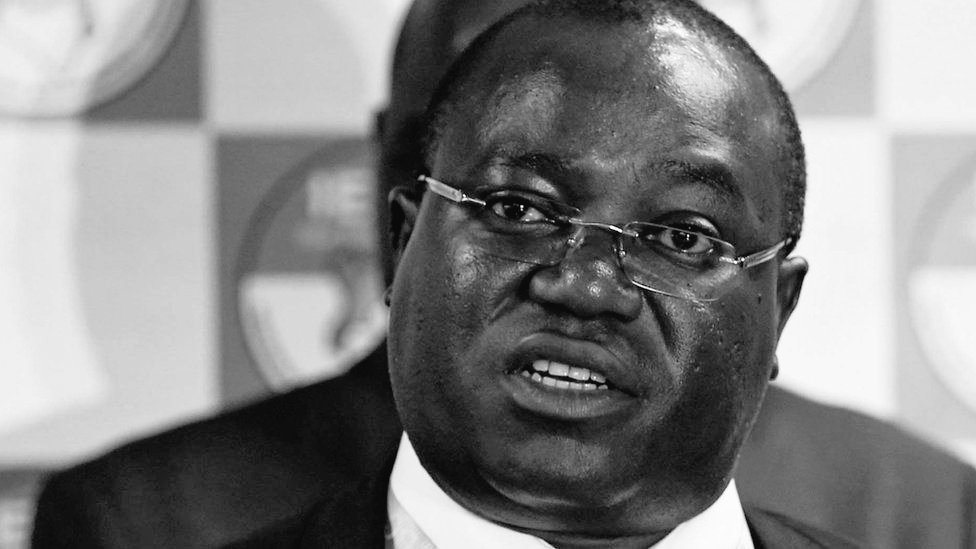 Chris Musando, the ICT director who was killed this weekend. An atmosphere of terror engulfed Kenya Monday afternoon after the police reported that a top electoral commission official earlier reported missing had been killed. Mr. Christopher Musando, the ICT director for IEBC, went missing on Friday night, hours after a television interview on the reliability of the voter identification and results transmission technology that is central to the August 8 election.
The police reported that Musando's body was found dumped near Kikuyu Town on Sunday, alongside that of an unidentified woman, and taken to City Mortuary where relatives identified it this morning, according to Daily Nation online and other sources.
The recovery of the body alongside that of woman sparked heated discussion by Kenyans on social media following an early morning allegation by Jubilee MP Moses Kuria that, while the country was looking for the IEBC official, he was in fact in voluntary hiding, "enjoying sweet time with a woman". Mr. Kuria later deleted the post, a screenshot of which is provided below.
Mr. Musando's disappearance on the eve of the testing of the commission's IT system for the election, earlier planned to for this morning, raised concern about the preparations for the election since the good functioning of the system is at the heart of the credibility of the election. His cold blood killing sent chills down the spine of electoral officials and Kenyans at large as to whether the election will be conducted in a free environment.
Police said they were called and informed of the discovery of the Land Rover Discovery near Thika Road Mall (TRM). The car had been locked and seemed to have been there for a while.
There are many questions around his death. According to the police, he was last seen along Mombasa Road in the company of a woman. For his car to be found in Roysambu one asks as to how with all security cameras couldn't detect his car beyond and how it got to Roysambu?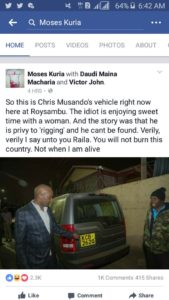 The car was found scratch free meaning Msando didn't struggle with his killers out of the car. He was either lured to his death trap by the woman or by someone he knew closely and were meeting to share crucial information. What is clear is he wasn't killed inside his car, he might have been captured and killed elsewhere before being dumped at the Kikuyu forest. If he met his death by being lured to the scene by a trusted party then it means a woman in the picture is a creation and the body of the lady found at the crime scene was killed elsewhere and planted there.
Who tipped the police of bodies at the forest? Was any report made at any police station that a body had been found & transported? Kikuyu being in Kiambu County, how then was it arrived at to bring the body to City Mortuary in Nairobi County. This is not the standard practice.
Police said they were called and informed of the discovery of the Land Rover Discovery near Thika Road Mall (TRM). The car had been locked and seemed to have been there for a while. That area is filled with CCTV, a quick search would tell who drive the car and abandoned it there. Since his phones were off, police can also tell the curious public how they found the car.
A mysterious Twitter account that would later be amplified by Itumbi's mention, broke the news on Twitter that Msando was actually fine and having a good time with mpango wa kando, she closed with 'uncle ako sawa'. Coincidentally, Moses Kuria on a Facebook post that has since her deleted ranted how Msando was an idiot having a good time when world reported him missing. They had the same tune of the story that looked more coordinated than accidental.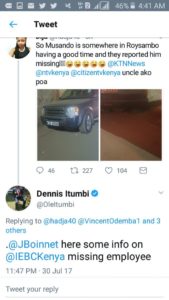 Its also coming out that Msando had reported death threats he received to the central police where he demanded security but was ignored. Why did the police leave exposed a man that holds a central and key managerial position in the crucial Kenyan election?
In most assassinations, there's always an attempt to disguise and fake a scene to make death accidental, Msando killers didn't struggle to stage a scene they sent a direct and chilling message of cold murder. They wanted to spread fear terror amongst IEBC officials and anyone in the electoral system.
From the impact on his body of broken arm signs of strangulation on his neck, blunt objects wound clear signs that he was tortured. That only happens when one is extracting information from a target. It is done with maximum brutality
Now that Msando was a key brain child behind hacker proof KIEMS. He was one of the few people with knowledge of the location of IEBC servers. Those torturing him to extract information, did they succeed to get this information? What was the information? And how beneficial is this information to the killers? How will they use it? The good or bad?
Media from the inception has been pushing a silent narrative that Msando was one of few with crucial information on their servers. What if someone said the KIEMS system can't work because custodian to a crucial system gate pass is dead? Would this translate to system reversion to manual voting or alternatively using an insecure KIEMS system? Msando is on record saying the system he's developed was hacker proof that no one would break in to manipulate data as it was the case in 2013. His competence caused unease to some who would've loved to spike the system. In 2013, he said system didn't fail, it was deliberately failed but he vowed to make it work this August as the surest way of keeping dead voters away and preventing ballot stuffing.
Lastly, who would be benefiting most from Msando's death in the political hierarchy? Whichever way you looking it, the biggest beneficiary is the murderer.
---
Kenya Insights allows guest blogging, if you want to be published on Kenya's most authoritative and accurate blog, have an expose, news TIPS, story angles, human interest stories, drop us an email on

[email protected]

or via Telegram
---