Kenyans Urges IMF To Stop Lending More Money To The Government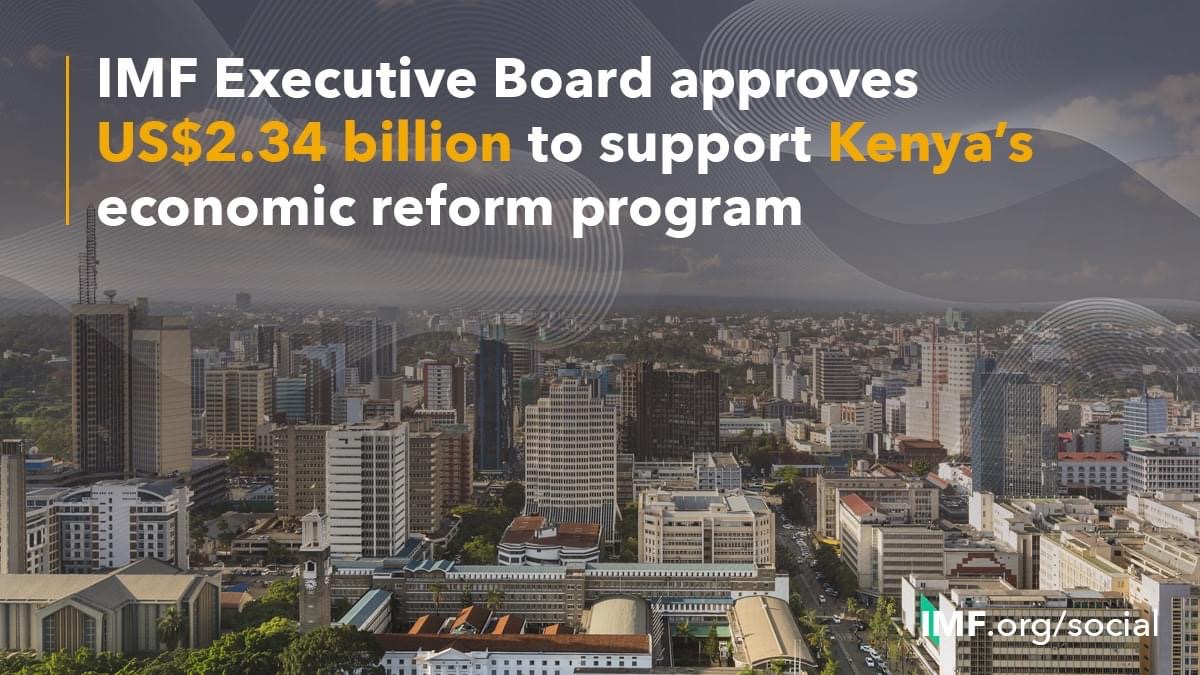 In unprecedented case, Kenyans who're currently being ravaged with poverty and the undoings of the pandemic, have come out with harsh terms cautioning the International Monetary Fund(IMF) from giving the country any further loan.
The development comes only a few days after IMF had approved new three-year financing for Kenya valued at Sh255.9 billion to support the government's COVID-19 response and address the urgent need to reduce debt vulnerabilities.
In a statement, the National Treasury said the facility, which is under the IMF's Extended Credit Facility and Extended Fund Facility, includes an initial disbursement of Sh79 billion, due for release by June 30th 2021.
Treasury further revealed of the amount, a total of Sh33.7 billion will be released immediately and is usable for budget support.
Meanwhile, Sh44.2 billion will be released by June 30th, while the balance will be disbursed following subsequent programme reviews conducted approximately every 6 months.
Commenting on the approval of the facility, IMF's Deputy Managing Director and Acting Chair Antoinette Sayeh said the facility will also be used to safeguard resources to protect vulnerable groups
Sayeh said the COVID-19 shock has exacerbated the country's pre-existing fiscal vulnerabilities, but says its debt remains sustainable.
She however warned that it is at high risk of debt distress.
"To address debt-related risks, the authorities have taken action to hold the fiscal deficit and debt ratios to 8.7 and 70.4 percent of GDP, respectively, this fiscal year. Fiscal and balance-of-payments financing needs remain sizable over the medium term."
According to the IMF, the facility would set a basis for a resurgence of growth and shared prosperity.
Kenyans who're openly adamant about the facility are encouraging the lender to rescind the decision arguing that most of it will be lost to corruption and diverted in unintended projects that will unlikely benefit common people.
Known to be vocal on social media, thousands of Kenyans thronged the pages of IMF to express their displeasure.
"??Those money will end in few Kenyan pockets IMF you are just supporting corruption in Kenya, Kenyans will forever remain poor while few will be overnight billionaires courtesy of IMF" Vitalis Kibet commented on the IMF Facebook post that has gone viral.
"What measures have you in place to ensure that the money is strictly used for the intended recipients and purpose. Remember that we poor Kenyans will bear the blunt when the borrowed funds are misappropriated. Kindly IMF, issue very strict guidelines and conditions before releasing the funds. Lastly make thorough follow up after disbursement.Thank for standing with our country during these difficult economic times." Robert Mwangi commented.
"Stop giving Kenyan government loans.The money is just embezzled by some few corrupt individuals hence the burden or repaying the loan is placed on common citizens. Currently we are overburdened with high taxation to repay this loans which only benefits few individuals." Said Kelvin Lee.
"This is another round of Covid Billionaires to get their pockets fatter. And for your information,IMF,we don't need those billions you are sending our way, I will not be held responsible for any (previous, current or future loans) you give out to our corrupt regime." Njogu wa Nyawira said.
"Kenyans can't suffer at the expense of Kenyatta family ,we distance ourselves from the loans you have recently approved to Kenya, kenyans lost their jobs ,the country is under lockdown,tax relief came to an end frustrations are high please." Chemutai Nancy commented.
"We've been here lamenting on how this funds ends in a few individuals pockets. Seems at IMF, there's someone getting kickbacks from these kenyan corrupt politicians.
We are the ones feeling the pinch and the pain of paying for a loan that benefitted a few politicians.
Does IMF ever take time to consider what the normal mwananchi is going through in this country?" James Martin said.
"We don't want more loans. Kenyan citizens are already overburdened. Our government is corrupt, the money will go to individuals pockets instead of the said beneficiaries. Pls IMF listen to us." Said Regina Matheka.
Another user Odhiambo Kaumah from the sampled comments said, " Sadly, it is a new era in the idea of International (Monetary) Bodies as agents of Economic Independence in Third World Countries. IMF has become an accomplice in the increasing destruction of economic strength of countries like my Kenya. The claims in Objectives 2, 3 & 4 are the exact opposite of what you are doing. We are sinking deep into debts and our assets and or resources are no longer ours. There is no big difference between taking a loan from IMF and a country say China or USA. It is all coming down on us because these monies do not translate to reasonable economic growth and development. In short, there is no translatable socio-economic benefit to an individual taxpayer. Corruption is taking it down! And it is not only internal, some of these monies are to lobby for more loans from countries that are out to seek an era of economic colonization. We are tired. Do not add us more trouble."
Some of the comments from Twitter.
It's like your aim is to keep poor countries in debt forever. Instead of pushing for Kenya to reduce unnecessary spending, you give more loans that can't be accounted for. IMF is becoming an enemy of development in many countries now.

— Philosopher (@Philosopher254) April 3, 2021
Dear @IMFNews ,the fact that we made a grave mistake by electing him, doesn't mean you too be part of our problem, aiding corruption in Kenya by approving huge loans to the looters makes us question your motive..Reverse your money ,stop burdening citizens..

— Elsie (@ChebetSamitui) April 3, 2021
Kindly, we can't breath here in Kenya because of overtaxation to pay these loans. Kindly @IMFNews @IMFLive , stop all the loans to the corrupt Kenya government officials. It is choking us!! All these monies and misappropriated and we are forced to pay through taxes. Please!!

— Teacher Sam (@yaddae) April 3, 2021
Keep these loans to yourselves, will you? These funds benefit politicians and ruling elites only …… with repayment burden falling on all Kenyans. You are enabling them and are effectively part of the problem!

— Mwirigi Denis (@Mwirigi__) April 3, 2021
Please @IMFNews cancel this thing asap. Kenyan debt is choking us. By the way did @JackMa tell you that these people you are loaning sold his donations? That money you are lending them will not reach the Kenyan soil. Please spare us more pain. Spare our kids and the unborn. https://t.co/qIz4STlwi4

— Peter Matunda (@PeterMatunda2) April 3, 2021
Advocate Charles Kanjama also added his voice, echoing the similar tones, "Surely IMF, money is fungible, period. Your money will facilitate BBI and elections, one way or another."
Alarmed with the complaints, IMF expressed concerns that the heightened political activities as the country prepares for a possible referendum and General Election might scuttle Kenya's belt-tightening plans.
Flagging the buildup of political activities as one of the risks to the Sh262 billion programme that its Executive Board approved on Friday, the IMF emphasised that it is only by adhering to the agreed austerity path of increasing revenues and cutting non-essential spending that Kenya would be able to overcome the spending temptations that accompany the electioneering period.
In Kenya, heightened political activities, especially during the pandemic have been known to make investors jittery. A lot of them have taken on a wait-and-see approach, a situation that has denied the economy much-needed liquidity.
But the electioneering period has also seen increased expenditures as government officials seek to woo voters with projects or even handouts.
Kenyans are currently faced with two political processes — a possible referendum where citizens vote for the amendment of the 2010 Constitution.
There is also a General Election next year.
Already, an analysis by the Parliamentary Budget Office (PBO) has shown that implementation of the constitutional changes will see taxpayers shoulder an additional Sh20 billion annually.
An analysis on the estimated cost of the Constitution (Amendment) Bill, 2020 by the PBO indicates that the Sh19.5 billion will be taken up by the additional constituencies and an expansion of the Executive among other changes that will result in a bloated budget.
The establishment of the youth commission might not come at a hefty cost in its first year, with PBO assuming the amendments will be completed before 2022.
However, in three years after it is rolled out to counties, the cost of having the commission will rise steeply.
The last time Kenya had a programme with the IMF, it ended in acrimony after she breached some of the conditions including keeping the debt levels down.
Part of the reasons for the breach was a spike in expenditures in the run up to the 2017 elections.
"Public debt has been increasing at a relatively fast pace since 2013, with slippages in the run-up to the 2017 elections pushing debt up to a projected 60.7 per cent of GDP by June 2018," said IMF in a staff report in 2018.
Besides the impact of the extensive drought, the IMF cited the "election-related expenditures" as some of the factors that contributed to the country "missing the performance criteria on the primary fiscal balance for end-December 2016 and end-June 2017."
In the Financial Year ending June 2017, the budget deficit — the difference between what the government has collected in tax revenues and what it spends — increased to 8.4 per cent of the gross domestic product (GDP).
There were a lot of election-related expenditures including the government putting aside some money for the importation of maize, giving Mumias Sugar Sh1 billion bailout when it needed more than Sh10 billion.
All these and many other expenditures saw the government's fiscal balance balloon.
As a result, the 24-month precautionary facility that Kenya had signed with the IMF on March 14, 2016 was terminated.
It was a Stand-By Arrangement (SBA) and an arrangement under the Standby Credit Facility (SCF), with a combined value of Sh300 billion.
Kenya never got to use the facility as it was just like insurance, but the consequence of not having the arrangement in place would manifest itself later on when the country went to the international capital market to issue a Eurobond.
Additional reporting by The Standard.
---
Kenya Insights allows guest blogging, if you want to be published on Kenya's most authoritative and accurate blog, have an expose, news TIPS, story angles, human interest stories, drop us an email on

[email protected]

or via Telegram
---