Jackline Mwende A Classic Case Why Men Need Protection From Public Lynching And Feminist Terrorism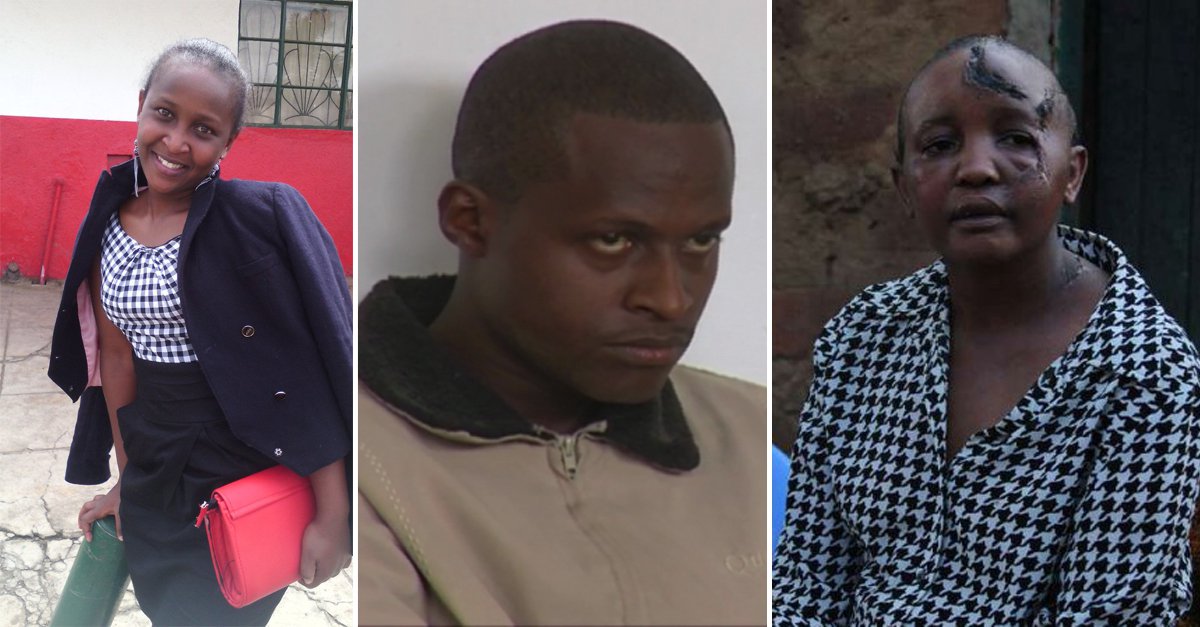 When the news first surfaced the whole world gave her an ear, it was horrific, how could a man be so cruel to cause life-threatening injuries to a fellow human being he once called a wife, act was unforgivable. The world didn't stop for a moment to lend an ear to the accused husband. It's was instant justice and the media, NGOs took her side of the story as the gospel truth and ran with it, raw.
While the villagers and neighbors told a different story, the world bought into Mwende's version, she won the public pity, and things went her way. According to the victimized lady, the husband was solely responsible for the attack that left her with both hands chopped off and severe head wounds. Mwende attributed the attack on her husband whom she said accused her of barrenness. A childless marriage is often filled with similar grievances. This made her version easily consumable. From her storyline, she was attacked for being unable to bear her husband a child.
However, the neighbors and family gave an entirely different story. Mwenda was apparently a serial cheater who had several men lined her way. Neighbors said on several occasions; she brought different men home to their matrimonial bed at a time when the husband had moved out. Again, this version of the story was ignored perhaps for reasons it was gonna spoil the broth. The villagers trusted the husband describing him as a real person who couldn't afford to reign such heinous crime. On the vengeful day , he was not in the area as confessed. While the world without a blink lynched the husband, villagers were talking a different story; they even raised 200K for his bond.
The case opened floodgates of cash flow to the many NGOs that came sprinting and also to Mwende. From reconstructive surgery in South Korea sponsored by LG to lifetime funding by Machakos County Government to being built a four bedrooms house and a hyper shop stocked to the told, the tragedy opened a new phase of life for Mwende filled with blessings after the other.
The neighbors insisted she was exchanging men like clothes and attributed the attack on her lovers fighting over her grapes. No one was asking the hard questions, the NGOs minted money out of her case and couldn't allow any contrary version to switch off the money flow. Media either didn't ask the hard questions. Instant justice had the husband lynched.
Months later when her life has turned for the better, Mwende resurfaces with a story she hadn't revealed and kept secret from the onset. She was engaging in infidelity and gives it again, a soft landing excuse that she was doing it to save the marriage. This affirms the neighbor's version that she was a cheater in the relationship a matter primarily attributed to the husband dumping her at their matrimonial home.
There's no justification for cheating, and Mwende deserves public lynching as well, but the intellect terrorists dressed as feminists would jump to her rescue and excuse her action as justifiable. If having a child was the issue, the most mature thing would be contacting a gynecologist to ascertain the matter and give a feasible solution. Cheating doesn't save relationships, it breaks. This again should be an eye opener to men out there that there are high possibilities you could be raising a child out of illicit arrangements such as Mwende's.
We need to have serious bodies advocating for the rights of men and defending them against sexist terror. Where has Maendeleo ya Wanaume been when you most need it. The latest development should send investigators back to the ground and pursue the angles given by the neighbor. It is not justifiable for whoever reigned terror on Mwende, violence on anyone is inexcusable.
Mwende's case is a reminder that we shouldn't rush to judge before listening to both sides of the story. The society has judgment bias a dangerous trend. People will easily buy into a woman's version of events without a second thought, and in most cases, men are considered guilty until proven innocent. In cases, your innocence could be proven while in the graveyard. Not to exonerate Mwende's husband but the biased judgment in domestic violence cases brings me to a serious question, how many more innocent men are out there languishing in prisons from false accusations.
The trigger happy feminists taking nothing short of a shot need to be put on a leash, hurried judgment is poisonous, let's pause for a minute before lighting up the tire. Time to have a firmly grounded body to protect the defenseless men. As for Mwende you can only hope this was the last of secrets she kept from the public and that more surprises shouldn't be coming this way. Violence at the end of the day is and will never be a solution but a recipe for disaster.
---
Kenya Insights allows guest blogging, if you want to be published on Kenya's most authoritative and accurate blog, have an expose, news TIPS, story angles, human interest stories, drop us an email on

[email protected]

or via Telegram
---