Housing Finance A Ticking Time Bomb With Sh5B Hidden Bad Loans Commissioned By MD Frank Ireri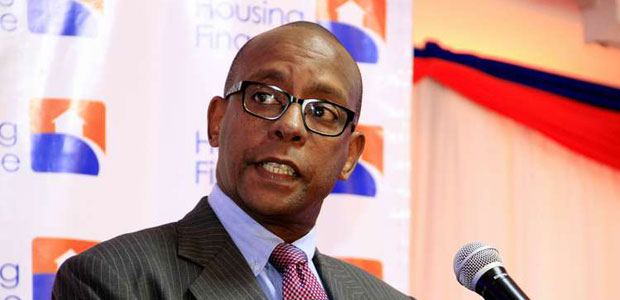 Graft has engulfed one of the most trusted real estate financing institutions the HF Group with the MD Frank Ireri on the limelight over lethal loans that could collapse the institution or destabilize its financial grounds.
The bank's former credit manager Kevin Isika in his law suit against Housing Finance has accused institution of falsifying records giving investors and shareholders untrue picture of the financial base.
Kevin Isika in his lawsuit files that as of 29th March 2014, the company's total assets were 33 billion and 12.5 billion is past due between 0-90 days and only 5 billion is classified as nonperforming. 1.48 billion projects incorrectly classified as normal yet they are nonperforming.
1.8 billion projects classified as (normal) but there are weaknesses which may impact the projects to sub standard if evaluated further. Loophole in interest calculation known by employees with customers benefitting from it.
Geoffrey Mwaura – Head of collections, Report attached detailing extortion from customers. Belinda Nganga – Head of legal and involved in extortion, report is attached in the court files. Geoffrey Kimaita – General manager liabilities, formerly collection, who has since resigned. Various reports detailing extortion and death threat to customers.
Mark Mactouff- Project clerk fired for fraud and forgery but despite being wanted by police. HFC has been unable to furnish information despite him being in the branch recently. He was warned by internal audit before he was arrested at the bank premises. He is actively involved in forwarding project cases to staff like Moses Manyara and Brenda Kagara.
Joseph Ngare – Head of internal audit, paid a massive fraud of Kshs 20 million but only a junior staffers at the branch were fired. Instrumental in covering up the fraud investigations. Even gave Kimaita, Kevin Isika's report from the customer complaint. The report from Joseph Ngare cleared Kimaita.
Moses Ndungu – Assistant manager recoveries- involved in massive fraud. Estimated to be worth more than 1 billion on a salary of Kshs 134,000
Steve Kivuva – Former head of projects actively involved in HF. Record from a customer showed 1 million was given for project as "facilitation fee". He bought an apartment from a customer at only 30% of the cost.
Kennedy Oketch – Former relationship manager projects- most of the NPL projects were under his watch. Still involved with HF. Close confidant of head of corporate Ian Mburu.
Insider Lending not reported to CBK
Ryan properties ltd- A Kshs 133 million project, the developers is HF's group CEO Frank Ireri inlaw. The CFO went ahead to approve the loan without full disclosure and against advise from Credit manager.
Ecomaji – A Kshs 10 million unsecured loan. The borrower is CEO's Frank nephew loan is in default.
Equatorial Nuts – An unsecured excess of Kshs 150m approved by CEO Frank alone.
Karrymart – A loan of Kshs 10m related to Equatorial Nuts which was loss making and clearly unable to pay. Approved by company CEO Sam Waweru alone.
Theta Grove ltd – A loan of Kshs 500m related to Equatorial Nuts which was no supported by credit and attempts made to disguise it as a normal loan. Was withdrawn and replaced by a direct loan to HFDI which was not withdrawn when CBK began investigation on insider loans.
Amazing tours & travel – A NPL loan whose attempts to recover were blocked repeatedly by group CEO Frank. The person is related to Head of Collection, who is rumored to be related to HF group CEO Frank.
Mugumo Court – Kshs 74m loan handed to the brother of a shareholder.
Shade Systems – Kshs 1.7m unsecured loan. Given to HF group Ceo Frank brother inlaw it has since gone bad.
OTHER MASSIVE FRAUD
A borrower ML600-0014099 applied for a loan of Kshs 7m on 11/06/2014 which was approved on 3/07/2014 offer letter given on 4/07/2014 the loan defaulted from 3rd Month after disbursement January 2015. The borrower CRB report indicated customer has 11 nonperforming loans with total value of Kshs 32.898.
All HF branches are involved in a form of fraud known as "Evergreen loans" Evergreen loans are given to the best of corporate customers but have to undergo a cleanup period (paid to zero) every year. The branches version involves giving customers an unsecured loan at about Kshs 2 Million for 90 days and continuously renewing it every 90 days. Little or no payments are made and a number of these businesses given these loans do not exist or are associated with the branch.
Valuations
HF has a list of valuers. Before 2014 Crystal valuers was performing 100% of all valuations. to add to that Dayton valuers, Paul Wambua valuers, Royal Valuers. All who have in one way or another been invloved with fraudulent valuation.
The HF relationship Manager has brought 3 NPL which total nearly Kshs 500m. This account have never made any payments (pampa grill, Tina holding and unlimited directors) The relationship manager has never been investigated.
CM Construction- As per the court filings as indicated by Isika the contractor of HF Komarock project has several unsecured loans and in 2016 had excess of Kshs 300m prepared for approval. the contractor admitted that he had renovated the group CEO's Frank Ireri's house an obvious conflict of interest as stated by Kevin Isika
The corporate manager has Frequesntly processed loans that he verbally indicated he does not support states Isika in the court files, but the corporate manager says he was directed by Sam waweru HF company CEO and Frank Ireri group CEO, those taht have gone bad by 2016 include;
Kiyana ltd, Kshs 54m approved by Frank alone.
Tyre Zetu Kshs 24m CEO Frank personally instructed credit department to remove the name from CBR report despite having arrears of 70 days back in 2016 claims Isika in the Court files.
---
Kenya Insights allows guest blogging, if you want to be published on Kenya's most authoritative and accurate blog, have an expose, news TIPS, story angles, human interest stories, drop us an email on

[email protected]

or via Telegram
---