Gold Mafia: Kamlesh Pattni Is Back, Now In Zimbabwe Dirty Cash Laundering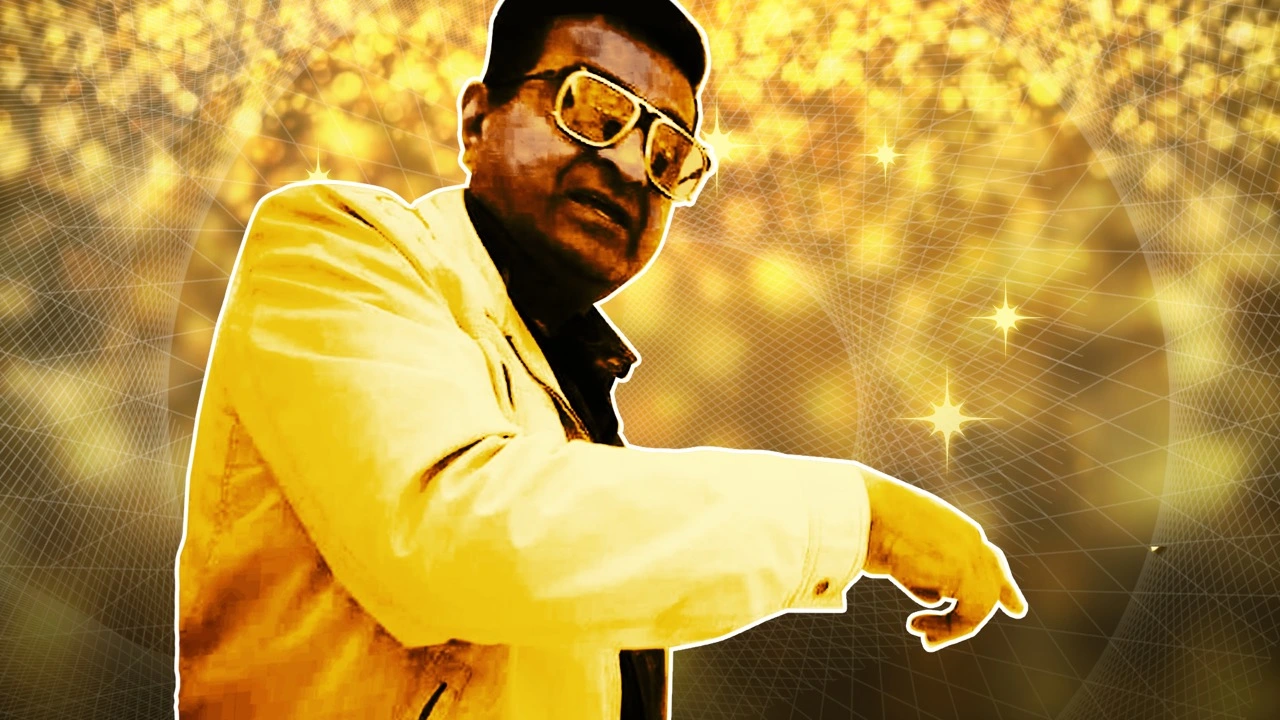 An investigation by Al Jazeera has revealed some of Southern Africa's largest gold-smuggling operations, exposing how these gangs help criminals around the world launder millions of dollars of money while helping governments circumvent international sanctions.
Gold Mafia, a four-part series by Al Jazeera's Investigative Unit (I-Unit) based on dozens of undercover operations spanning three continents, and thousands of documents, also shows
how government officials and businesspeople are profiting from the illegal movement of gold across borders.
The investigation reveals how millions of dollars worth of gold is smuggled every month from Zimbabwe to Dubai, allowing criminals to whitewash dirty money through a web of shell companies, fake invoices and paid-off officials.
The investigation also shows how Zimbabwe President Emmerson Mnangagwa's government is systematically using gold smugglers to get around the chokehold of Western sanctions imposed on the country. The money laundering and gold-smuggling schemes involve one of Zimbabwe's most influential diplomats, and go all the way up to the president and his circle.
The smugglers include millionaires, one of whom was accused of almost bankrupting Kenya through a similar, corrupt scheme also involving gold.
Gold smuggling, money laundering
Posing as criminals from China looking to launder more than $100m, Al Jazeera's undercover reporters managed to gain access to these smugglers and gangs.
Zimbabwe is a key player in these operations. Gold accounts for almost half – at least $2bn – of the country's exports. But the nation faces a strict international sanctions regime, and even though its gold trade is not in itself banned by the West, the broader strictures against Zimbabwe make it harder to export the precious metal through official channels.
However, using a web of companies and patronage from some of Zimbabwe's most powerful individuals, smugglers have turned those constraints on trade into an opportunity to launder millions of dollars and help the government in Harare get around some of the consequences of sanctions.
The process is as simple as it is cunning: Criminals from around the world with large volumes of unaccounted cash can give that money to the Zimbabwe government, directly or through smugglers. The Zimbabwe government desperately needs US dollars since the county's own currency has little international value following years of hyperinflation.
In exchange, launderers get clean, legitimate cash — from the sale of Zimbabwean gold — transferred to their bank accounts.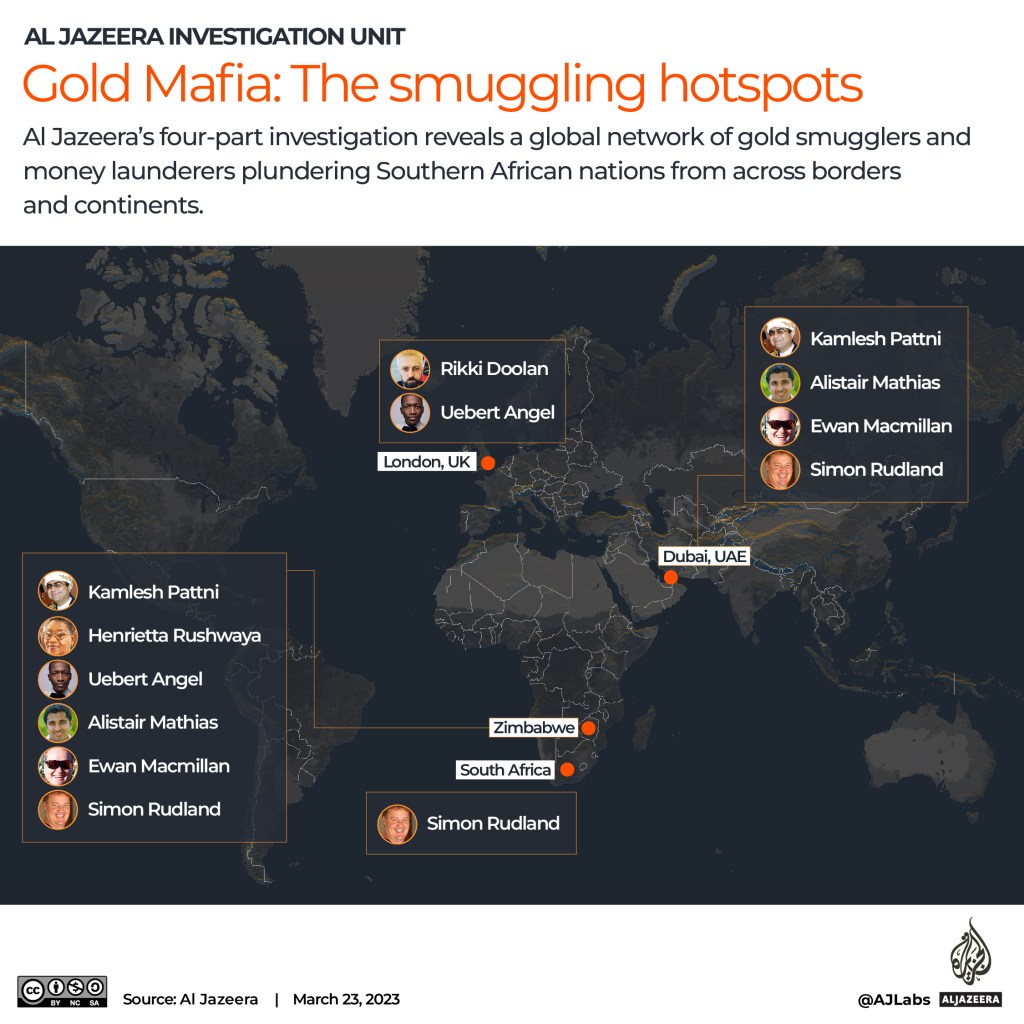 'Good washing machine'
One of the smuggling operations the I-Unit encountered was led by Uebert Angel, Zimbabwe's ambassador-at-large to Europe and the Americas. Angel was appointed personally by President Emmerson Mnangagwa with the responsibility of securing global investments for Zimbabwe, and is one of the country's most influential diplomats.
Angel, who is also a prominent pastor, works with his deputy, Rikki Doolan. The duo made an offer to Al Jazeera's undercover reporters that Angel could use his diplomatic cover to smuggle dirty money into Zimbabwe. That cash would then be used to buy Zimbabwean gold with the help of Henrietta Rushwaya, president of the country's mining association and a niece of Mnangagwa.
"It's a good washing machine, right?" Doolan said, a smile on his face, while speaking with Al Jazeera reporters.
Angel and Doolan, who met the reporters in London, repeatedly claimed that the country's president was on board with their plans. Angel had another laundering idea, too: He proposed using the unaccounted money to build a hotel near Victoria Falls, a popular tourist attraction in Zimbabwe.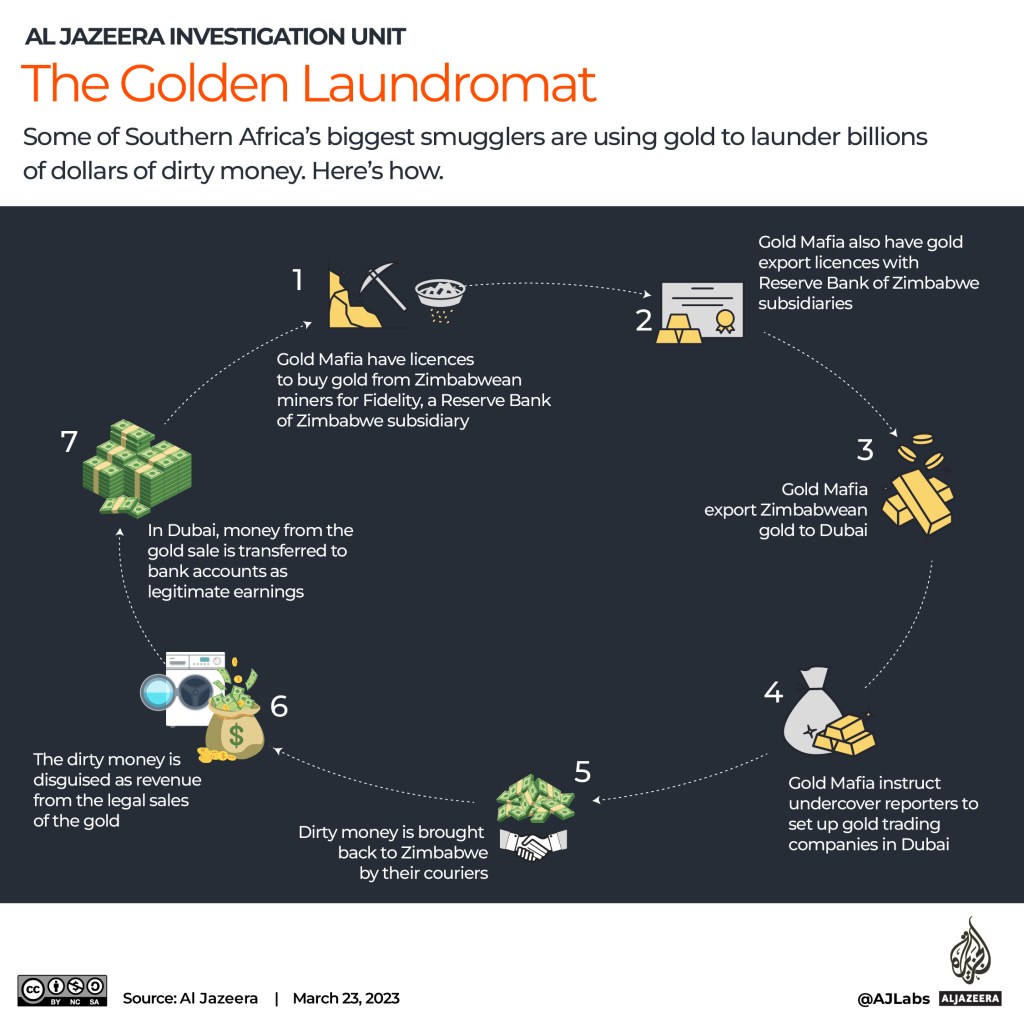 'It's very clean that way'
If access to power is the currency that Angel and Doolan peddled, gold is the calling card of a string of — at times rival — smuggling operations.
One of the gangs is run by Kamlesh Pattni, a businessman who in the 1990s was accused of pocketing hundreds of millions of dollars belonging to the Kenyan exchequer through a gold smuggling scheme. He was charged but never convicted. Al Jazeera's undercover operation shows that Pattni is now involved in a similar scam in Zimbabwe, exporting gold to Dubai and then laundering both the money and the precious metal.
Pattni's biggest competitor, a gold smuggler named Ewan Macmillan, also offered to help launder money for Al Jazeera's reporters. Like Pattni, Macmillan uses a group of couriers to transport hundreds of kilos of gold per week from Zimbabwe to Dubai, where it is then laundered through a web of companies and false invoices. Central to Macmillan's operations is his business partner Alistair Mathias, who advises clients on how to cleanse their dirty cash.
Finally, Al Jazeera obtained details of how Simon Rudland, one of Zimbabwe's richest men, launders money through both Zimbabwean and South African companies. Rudland is the owner of Gold Leaf Tobacco, one of Southern Africa's biggest cigarette brands, especially on South Africa's black market.
These smuggling gangs have official licences from Zimbabwe's central bank that allow them to sell the country's gold in Dubai, documents accessed by Al Jazeera show. They are expected to return the proceeds from those sales to the central bank.
Instead, Pattni, Macmillan and Matthias have a well-oiled money laundering mechanism in place. They told Al Jazeera's undercover reporters to set up shell companies in Dubai that would serve as a front for the gold trade. The legitimate money earned from the sale of Zimbabwean gold in the emirate would be transferred to the bank accounts of these shell firms. And the smugglers would instead carry the dirty cash back with them to Harare, where they would deposit it with the central bank.
"So, it's very clean that way," said Mathias, Macmillan's partner.
Kamlesh Pattni
A gold smuggler involved in a scandal that robbed Kenya of 10 percent of its GDP in the 1990s moved his smuggling operation to Zimbabwe and Dubai.
Kamlesh Pattni was involved in the so-called Goldenberg scandal, a gold smuggling operation that robbed Kenya of 10 percent of its GDP and led to charges of corruption against many members of then President Daniel Arap Moi's government. After years of prosecution, Pattni was acquitted.
Pattni, who later became a self-proclaimed pastor and sometimes goes by the name Brother Paul, is now running a similar scheme in Zimbabwe from his base of operations in Dubai.
Undercover Al Jazeera reporters pretending to be Chinese criminals were offered several options by Pattni to launder more than $100m.
He would do this by effectively turning the dirty money into gold that is exported from Zimbabwe to Dubai, where Pattni owns several gold-trading companies.
Pattni exports gold bars and jewellery from Zimbabwe through his company Suzan General Trading, which gets paid an incentive by the government to sell gold overseas.
The plan Pattni suggested would mean the dirty money, in US dollars, would be flown to Harare, where it would be declared as the proceeds of the gold exported by Suzan General Trading.
That money is then used to buy gold in Zimbabwe, which would then be exported to one of Pattni's Dubai based companies.
Owning both the exporter in Zimbabwe and the importer in Dubai gives Pattni the opportunity to launder the money, which would then be paid into a Dubai bank account and would appear to come from legitimate gold trade.
Pattni himself would take a 10 percent commission.
'Always have the king with you'
During the secretly recorded conversations with Al Jazeera reporters, Pattni claimed that the country's president, Emmerson Mnangagwa, was aware of his gold-smuggling and money laundering operations.
When asked about Mnangagwa's involvement, Pattni said: "He knows of course, yes. But he can't, he will not talk too openly."
"When you work you must always have the King with you, the president."
Pattni showed several WhatsApp conversations he allegedly had with Mnangagwa, adding that "he has to be informed."
The scheme helps Zimbabwe secure large amounts of US dollars, a hard currency the country can then use on its internal and international markets at a time when its own currency has lost much of its global standing because of hyperinflation.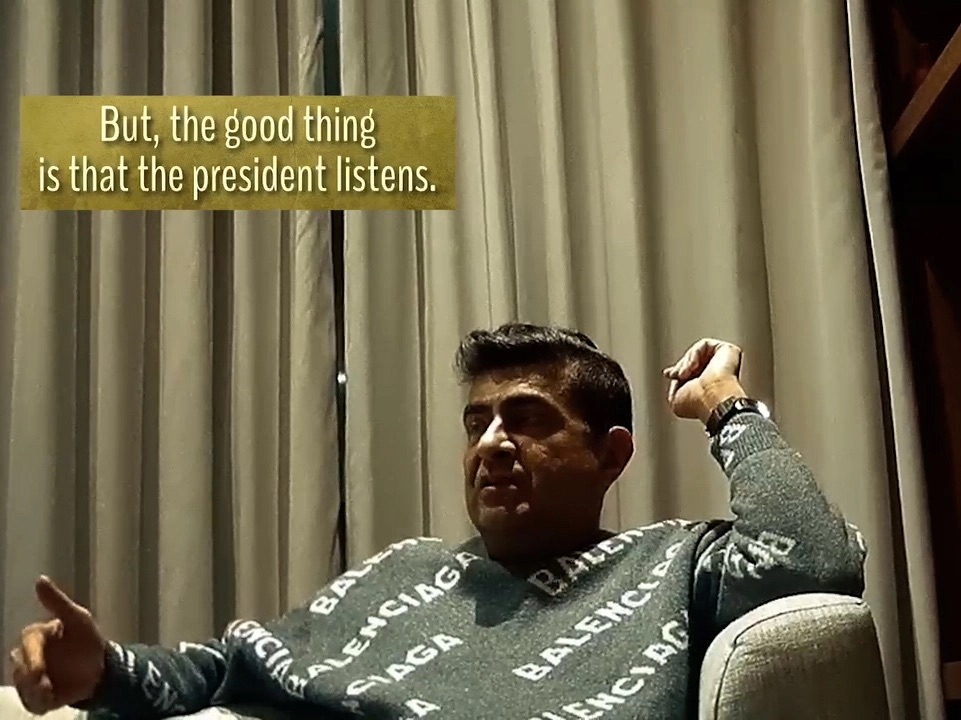 Goldenberg scandal
Since the 1990s, Pattni has cultivated close ties with several leaders all over Africa, and was quick to boast of that proximity while speaking with Al Jazeera's reporters. He showed them photos of himself with former Libyan President Muhammar Gadaffi, former Zimbabwean President Robert Mugabe and ex-Kenyan presidents Daniel Arap Moi and Mwai Kibaki.
His rise to power started in his home country Kenya — at a tailor's shop in Nairobi. At a time when Western sanctions were strangling the country's economy, Pattni told our reporters that he bumped into the East African nation's head of intelligence while looking for a suit. He offered to bring in revenue in exchange for gold. Pattni claimed the intelligence officer took him to meet President Arap Moi.
Pattni's company, Goldenberg International, was granted an exclusive licence to export Kenyan gold, but instead, he smuggled gold from what is now the Democratic Republic of Congo.
That gold was then sold abroad, while Pattni's company charged the government a 35 percent commission. He said he was an "adviser" to Arap Moi, who was under growing domestic and international scrutiny over his refusal to allow multi-party elections.
"In 1992, there was a lot of fights, riots in the street and they wanted [a] multi-party [system]," Pattni said. "We advised just make it multi-party because 'the money is with you, you will still win [the election].'"
"I help[ed] the president to survive."
After Arap Moi eventually left office in 2002, Pattni was charged with several counts of fraud in a court case that would drag on for more than a decade. Arap Moi and many members of his government were also implicated in the scandal, accused of receiving bribes from Pattni and his aides. But Pattni was eventually acquitted — and no one has been convicted in the scandal.
When asked to explain the revelations emerging from Al Jazeera's investigation, Pattni denied any criminal wrongdoing in Kenya and emphasised that he had never been convicted in relation to his activities in that country. He denied involvement in any kind of money laundering or sanctions busting, as well as employing anyone to smuggle cash or offering to deal with funds he knew originated from illegal sources. He said that when he met with Al Jazeera's undercover team, he thought he was meeting with an investor who wanted to buy a stake in hotel businesses and "to divest of a portfolio in China into gold buying and mining in Zimbabwe".
(Al Jazeera IU).
---
Kenya Insights allows guest blogging, if you want to be published on Kenya's most authoritative and accurate blog, have an expose, news TIPS, story angles, human interest stories, drop us an email on

[email protected]

or via Telegram
---