EXPOSED: Quickmart Supermarket On its Death bed – A snake in the grass.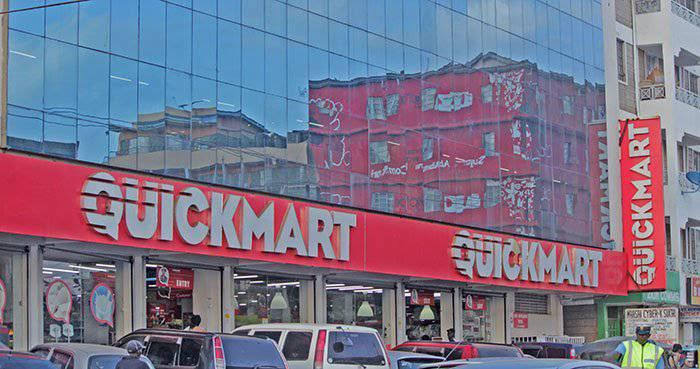 Just like Tuskys, Quickmart has dug its own grave and is now sleeping on its death bed awaiting its burial ceremony.
When I previously warned about Kicking out Carrefour and keeping Quickmart is ill advised some thought I was a toothless dog maybe. Now they've realized I'm bitting and many 'toothless dogs" have joined the army as people have began to speak out on the oppressive management of the supermarket.
And Viva to those who've come out of their oppressive comfort zones – Better die on your feet than live on your knees.
It turns out that this hyped retail outlet in the country is practicing "Ukoloni mamboleo" – Modern day slavery. From paying their employees peanuts, overworking their employees past curfew hours without essential service providers pass, selling expired cat food and repackaging expired food products on shelves, over-pricing their goods.

A snake in the green grass who has been hyping the Competition Authority of Kenya (CAK), Kenya Revenue Authority (KRA) to expunge out Carrefour out of Kenyan market with trumped up accusations. 
Recently one individual took to social media – Twitter expressing his concerns with the slavery Quickmart supermarket is putting its employees in and many number of individuals took the opportunity to air out their previous harsh encounters, what they think of the Supermarket:​
Actually these people manipulate their stuffs they pay them peanuts and they work for 12 hours you have to revisit that or customers will abandon you

— Azeez Mwawasi (@Mwawasi__) April 29, 2021
Some calling for boycott.
We should boycott them until they start treating their employees properly.

— Fred Njihia? (@kidy_didy) April 29, 2021
Being that they are essential service providers, they are expected to have pass but even if they're given pass- the company doesn't provide transport of which they're forced to only rely on public vehicles to ferry them home or dig deep down their pockets to afford private vehicles past curfew hours of which none of the junior enslaved employs are unable to afford hence risking their freedom, security and their health.
Carrefour considers their employees work environment and as Quickmart release their employees home past curfew hours – Carrefour releases their employees at exactly 6:15pm.
I know carrefour is usually closed at 6:15 to allow guys get home i dont see how quickmart is any special let your employees leave early!

— Ms. wenaaa? (@WenaRenee) April 29, 2021
And when I said how expensive this Supermarket is and having tremendously spread to every corner of this country, – they want Carrefour out of the Kenyan market to keep exploiting lazy customers. The rift between Carrefour and the CAK and KRA seems to were all choreographed in favor of fellow market competitors to kick the giant out. With over-hyped prices, Quickmart has no brighter future. They can bribe all the authorities but it is the customers who decides their fate of stay. Boycott.
This is a place with a lot of jua kali human resource capability.
In trade, they are way too expensive.
Insider trading will also bring them down fast, just like Tuskys.
Trouble on stilts.

— kariuki muiri (@KariukiMuiri) April 28, 2021
Another eye-catcher turns out that Quickmart been selling expired cat food by exchanging expiry dates on their packages. And this is an alarm to any food stuff you buy from the shelves, possibility of recycling could be the norm.
https://twitter.com/ngindanganga/status/1387744783054082048?s=21.  
Hio offer ya whiskers naikumbuka sana. Imagine the vet bills only for your cat to die due to cooperate greed. I felt bad about this

— Naomi njoroge (@Naominjoroge9) April 29, 2021
It also turns out the slavery have been there even before curfew was put into place as workers would be expected to work 16hrs a day with dire repercussions on failure to comply.
Quickmart is a super slavery place. When there's no curfew, the employees get to work at 7 am, leave at 10pm or later, if you're late, no day off that week. Supervisors and other senior employees get just 2days off a month when working 16hrs a day.

— VW ⏳ (@VeshNice) April 29, 2021
---
Kenya Insights allows guest blogging, if you want to be published on Kenya's most authoritative and accurate blog, have an expose, news TIPS, story angles, human interest stories, drop us an email on

[email protected]

or via Telegram
---