Ezekiel Mutua Suddenly Loves A Gay Man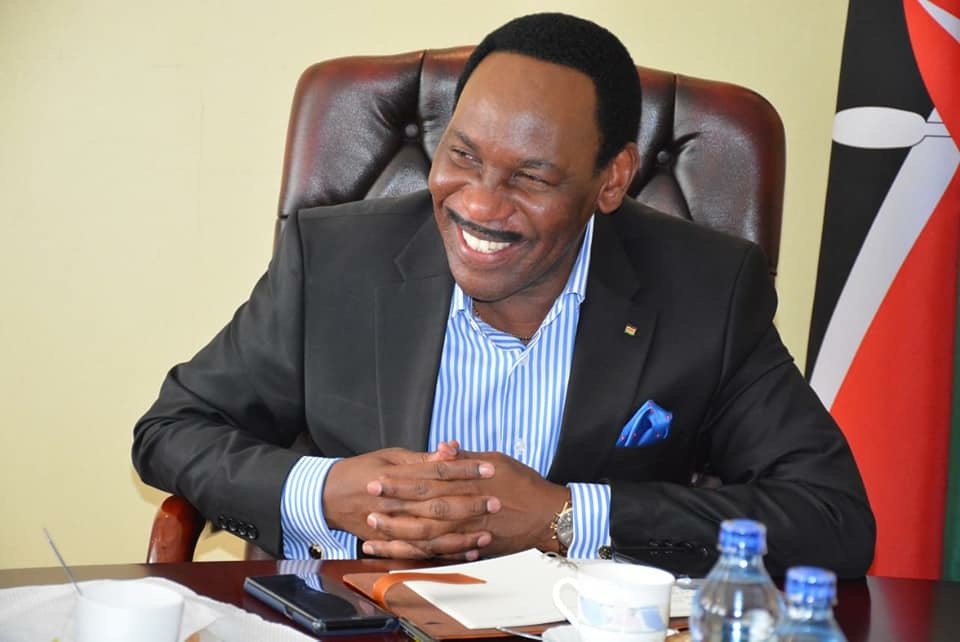 If there's one public officer who has been an excellent bothersome and a nuisance to creativity in Kenya then it's the KFCB's boss Ezekiel Mutua, a known self centered man with ego bigger than our Chinese debts, the film's board CEO has killed morale of production in this country thanks to his fake moral standards.
I've lost count on the number of videos and films Mutua has banned in the name of maintaining moral levels. Just the other day, he banned Rafiki a lesbian love story, the film went ahead and won big international awards and is set for an Oscars nominations after Kenyan court uplifted the ban.
Mutua banned the film saying it was promoting homosexuality something he terms unacceptable in the Kenyan society. Christened moral police, Mutua has been a butt of jokes given most of bizarre statements that he makes, neither recently made international headlines when he accused tourists of teaching lions gay tendencies when a gay lion was discovered in Nairobi Park.
If we're to dedicate this on the fallacious statements Mutua has made, we'd need a whole book. Mutua has been harsh critic of homosexuality and has been shouting on the top of his lungs against the topic that has had him ban a number of good films inline demoralizing and killing creativity in the film industry.
In the backdrop of all the homosexuals bashing, the attention courting executive surprised many when he came into the defense of JCC for hosting and allowing CNN's Richard Quest to use the church's pulpit. Quest is a publicly confessed gay with a partner he stays with both in New York and London where homosexuality is accomodated.
Comments from Kenyans criticized the acceptance of Quest into the church saying it was a show of double standards and hypocrisy on the church since they've never given any local a such a chance despite the fact that there are many open gay men and women on Kenya. It is the white mans complex that's being said to have given the visiting journalist an upper hand and even earned him support from unexpected corner and that's from Mutua.
Below is what Ezekiel Mutua said on Quest's church appearance;
So guys are on Rev. Kathy and Bishop Kiuna for letting CNN top journalist Richard Quest into their church today, after his confessed gay lifestyle? Honestly? In my view Quest's visit to the Jubilee Christian Church today and his interview with Rev. Kathy Kiuna is one of the highlights of his visit, besides his coverage of the KQ inaugural flight to New York tonight and the Mpesa revolution.
If Quest's main mission was to highlight life changing ventures and innovations in Kenya, then today he was in the right place. Rev. Kathy and Bishop Kiuna are the true exemplification of the Kenyan spirit of self-belief, resilience, hard work and faith. They have conquered many odds to be who they are today.
Like or hate them, the Kiunas have influenced millions. No one can deny the fact that the Kiunas have given hope to many youths. Theirs is the true story of audacity of hope. Such are the unique stories that need to be highlighted about Kenya. Quest may be gay, but he is a top notch journalist who can sense newsworthy stories with unique angles.
The Kenya Film Classification Board cleared him and provided gratis licenses for his entire crew because we trusted in his professional ability to highlight the real stories about Kenya and her people. His sexual orientation has nothing to do with his work. Let him be. Let the Kiunas be. Quest was not in church to sell gay ideology. He was there to cover a story of resilience and hope. He chose to highlight variant topics of hope and determination and that is a good thing.
Mutua strikes as a man of double speak and you can be so sure he wouldn't have such a detailed justification we're it that a gay Kenyan did the same. All said, there's nothing wrong at all in having Quest at the church, that's besides the point, all that's needed is everyone to make a stand and accept everyone as they're regardless of race, sexuality and all other dynamics. If you don't conform, you make a solid stand and don't move with the wind like a leaf in this case Mutua.
---
Kenya Insights allows guest blogging, if you want to be published on Kenya's most authoritative and accurate blog, have an expose, news TIPS, story angles, human interest stories, drop us an email on

[email protected]

or via Telegram
---