EXCLUSIVE: Investigations Reveals How MD Joe Sang And Staff Liaised With Supplycor To Steal Sh1B From KPC In Fake Oil Spillage Claim Scam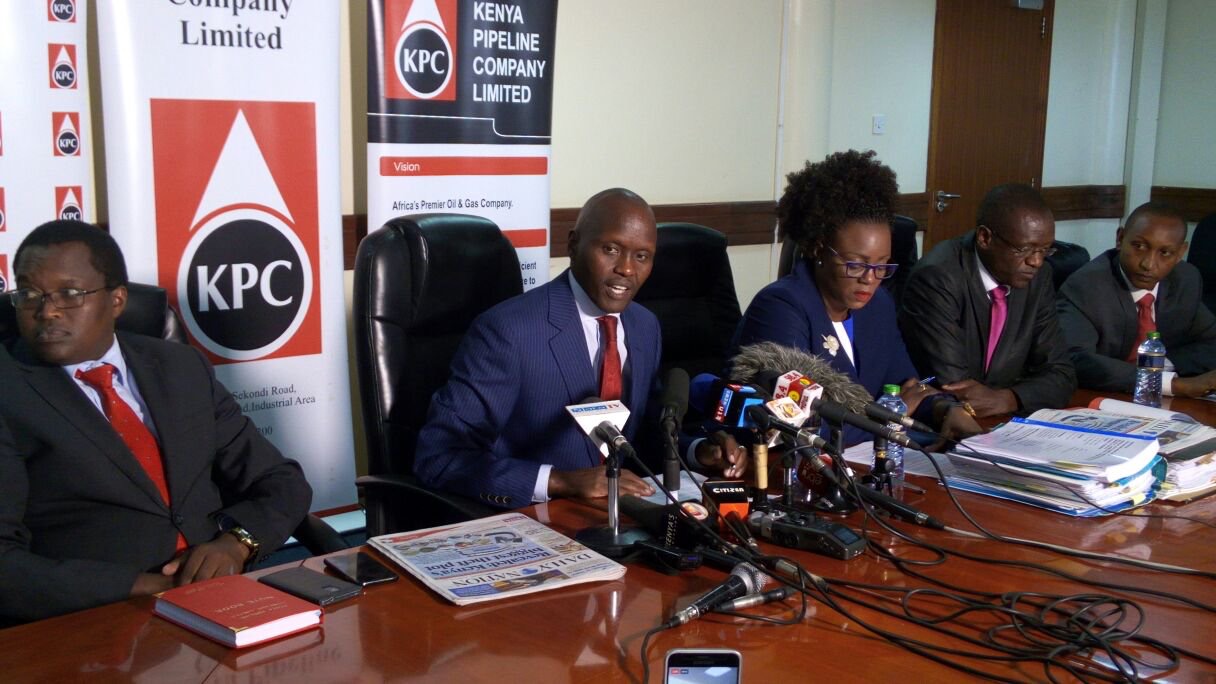 Kenya Pipeline continues to be flooded with funds spillages as new information continues to stream on how public funds in billions are being siphoned from the national's petroleum courier.
Weeks have passed since news hit the headlines that the ODPP was lining up arrests in which the MD and senior management were set for arrests but that has just remained that. Touching on procurement where tenders were bloated amongst other suspicious deals, DCI is reported to have concluded investigations and forwarded files to the DPP for prosecution.
We've also learnt that the MD was rescued from arrest on the first instance after he was summoned to the DCI for questioning on the procurement scams and it took intervention from a Jubilee executive who drove personally to Kiambu where Sang was being detained and secured his release.
Kenyans have been wondering what's holding back the ODPP from prosecuting the rampant corruption cases at KPC, we're informed of high scale lobbying to kill some of the cases from going live to save faces.
Kenya Insights has learnt of a new scandal coming at a time when the DCI has summoned the MD, Chairman and other KPC officials over the Kisumu oil jet construction.
According to leaked investigative report in our hold, KPC is alleged to have collaborated with Supplycor Kenya Limited, an oil marketing company for Kenya Pipeline. The company had placed a Sh.1B losses to oil spillage which was acknowledged by the MD Sang who then wrote to CIC Insurance to claim compensation.
Suspicious with the huge claim, the DCI initiated an investigation into the spillage claims to ascertain  the truth. The report however, couldn't ascertain and declared the claim made by Sang and Supplycor not be backed by facts.
In letters seen by Kenya Insights, Sang acknowledged loss of 11,646M3 totaling to Sh1B. Logistically, that amount of spillage is almost close to impossible and was exaggerated by KPC staff liasing with Supplycor to inflate and defraud the company and public of Sh.1B.
Secret investigations revealed that there was no physical signs of spillage going to show an elaborate plot to make up figures and post false claims. The DCI have been investigating the issue according to a letter dated accord accrording to a date 24th August 2018
It beats logic why the DCI has been slow to complete the investigations into a matter to open theft. Shillings 1B is a lot Money that in its loss would ideally send the DCI to turn tables and stones.
We Are asking the DCI why there's been a punctured pace on such a major scandal ,we're also concerned with the laxity shown by the board over the orchestrated theft. What we would expect is the board firing the MD and the staff members implicated in this scam, However it seems the board is either too scared or compromised and also would be the DCI given the slow pace of investigations .
In our subsequent series of this scam we will reveal in details how the  Supplycor liaised with KPC mangement to steal 1 Billion shillings. Meanwhile ,we expect the DCI to swing into action and arrest the people named in the scam.
---
Kenya Insights allows guest blogging, if you want to be published on Kenya's most authoritative and accurate blog, have an expose, news, story angles, human interest stories, drop us an email on

[email protected]

or via Telegram
---
Uhuru Crony Charles Gacheru Of IMG Kenya "Ate" Kshs. 70 Million In IAAF Scam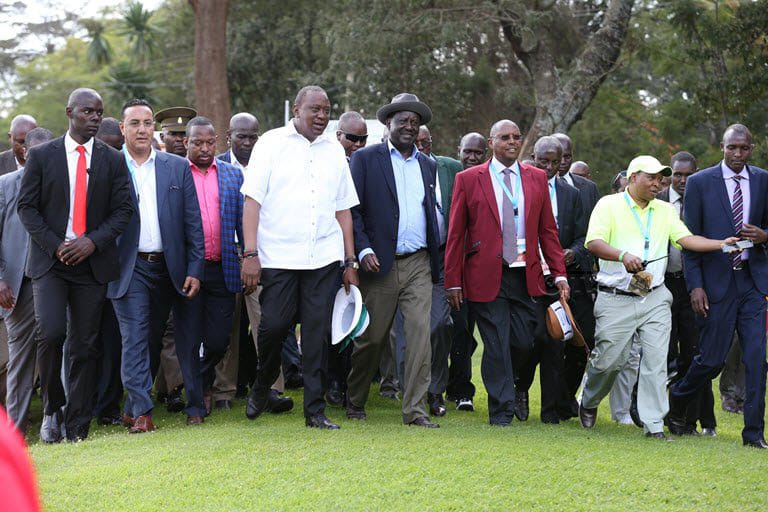 A top Sports Marketing Agency IMG Kenya has been named in the unraveling IAAF Scandal, where the Auditor General Edward Ouko has raised issue over the loss of Kshs. 1.7 Billion at the hands of firms and individuals.
Among the companies involved in the scam is IMG Kenya, ran by Charles Gacheru, his wife and his brother Peter Gacheru. Gacheru handles top Sports events for leading blue-chip companies like EABL, Barclays Bank, Kenya Commercial Bank, NIC Bank and the likes. He has been notorious for inflating the costs of these events, and splitting commissions with CEO's of these top companies.
IMG Kenya was paid a whopping Kshs. 70 Million for doing absolutely nothing, as the functions which the agency is supposed to provide are catered for by paid employees working at Sports Kenya, a Government parastatal.
Gacheru also boasts of close ties with the President Uhuru Kenyatta and was for a long while managing events at Statehouse, and at the Devolution Ministry when Anne Waiguru was the Cabinet Secretary. His photos include Najib Balala and James Macharia as his closest friends.
Also named in the damning dossier is another stathouse contractor WanderJoy Events, who have made a killing since Uhuru became President. The company handles all Presidential events, catering, and the likes. WanderJoy has since acquired a massive property along Kiambu Road, and the Kobil Petrol Station along Ojijo Road Parklands, from these proceeds of crime. WanderJoy were paid Kshs. 14 Million.
Other notable names in the illuminating dossier include Mang'u High School Alumni Justus Kirigua, the CEO of Pewin Cabs Limited. He is the son of Peter Kirigua, a former Chairman of the Kenya Forestry Service (KFS) and a close ally of Meru Governor Kiraitu Murungi. Pewin Motors was paid a whopping Kshs. 66 Million for Taxi services not rendered, and a further Kshs. 30 Million for laundry services, yet his company deals with taxis.
Why would the Government pay Kshs. 30 Million for extra laundry services yet everyone was staying in the athletes village, which already had laundry services?
Protel Studios headed by so-called "young" people like Actor/Director Sarah Migwi was also paid Kshs. 70 Million, yet the TV Production was footed by the IAAF, who had hired and paid for everything in Kenya, including the installation of a new tartan track at Kasarani Stadium. She is also listed as a director of Kwese Free Sports.
The most baffling revelation was that Sarova Hotels Limited was paid Kshs. 132 Million, yet Kenyatta University was acting as the official Games Village. The event which ran for 4-days could surely not have consumed that amount of money, within that short period. Group rates are actually cheaper.
For just having their ambulances on site, Kenya Red Cross skimmed Kshs. 3.5 Million from the event, as another briefcase company Resjos was paid Kshs. 118 Million.
The overlap of roles and functions was evidence as noted in the report. For instance, there are multiple travel agencies, leaving one to wonder why it was the case. An open tendering system would have identified one supplier with capacity to meet the needs of the event. Mighty Tours and Travel, Marvel Africa Agencies, BestWays Tours and Travel, were all paid for fictitious services.
The other companies paid to do virtually the same work include production companies. There was Protel Studios, Lisboa Productions, Film Studios, all paid for the same work.
When it comes to transport, even more eyebrows are raised with the different companies paid, for virtually the same service. While Pewin Cabs was paid for "Taxi services" Toyota Kenya, Crown Motors Group, were all paid to deliver the same services.
A very suspicious payment to law-firms also caught the eye of the Auditor General. Arimi Kimathi and Company, Winnie Wambui and Company, Triple O K Law Advocates, were paid a total of Kshs. 28 Million for doing literally nothing. There was no special need for legal services to run the event.
SafariPark Hotel also raised a fictitious invoice of Kshs. 44 Million, to imply that half the hotel had been occupied for an equivalent of 2 weeks, going by that high figure.
Most of these companies were fronted by Organizing Committee Chairman Mwangi Muthee, who had perfected the art of corporate fraud, during his tenure as the Chairman of the Kenya Rugby Union. Former Sports CS Hassan Wario, his PS and the then CEO of Sports Kenya Gabriel Komora are deep in the scam. Not to be forgotten is Sports Kenya Chairman Fred Muteti who received a Kshs. 5 Million cash "gift" carried by a Mr. Kılonzo.
The individuals named in this scam are prominent members of top clubs like Muthaiga Golf Club, Karen Golf and Country Club, Royal Nairobi Golf Club and the likes. It is here they sit and brag about their delusional business acumen, yet all they do is plan how to rob our youth's future by stealing money meant for our activities. They should face the full force of the law!
Kshs. 3 Billion could probably be enough to build solid academies to develop sports in the country. It can also build playing grounds in every County, avenues in which talent can be developed and nurtured.
Notorious Telco Safaricom was paid Kshs. 3.4 Million for telephones not delivered. MultiMedia University was also paid Kshs. 59.9 Million yet the facility was not the official Village.
Here is the list of firms which were awarded contracts under questionable terms and with nothing being delivered by them;
Sarova Stanley Hotels limited – Sh132 million
Resjos Enterprise – Sh118.3 million
Oceanbays Investment and general supplies – Sh107.7 million
Prowatt Enterprises – Sh97.2 million
Newtral Enterprises Limited – Sh88.6 million
Terra Craft (K) Limited – Sh77.8 million
IMG Kenya Limited – Sh70.5 million
Muga Electrical contractors – Sh68.7 million
Protel Studios Limited – Sh67.5 million
Pewin Cabs Limited – Sh66 million
Funan Construction Limited – Sh64.8 million
Multimedia University of Kenya – 59.9 million
Prottetta Holdings Limited- Sh58.6 million
Safari Park Hotel – Sh44.3 million
Walden East Africa Limited – Sh42.2 million
Lakezal Enterprises limited Sh40.2 million
Inspector General- Sh26 million
Windsor Golf Hotel and Country Club- Sh25.3 million
Lisboa Productions- Sh21 million
Pumpken Engineering limited- Sh20.6 million
Crown Motors Group- Sh19.6 million
Bonfide C&F Company – Sh16.8 million
Kasarani Sportsview Hotel limited – Sh16.8 million
Aspara Enterprises – Sh16.2 million
AIG Kenya Insurance – Sh14.6 million
Wanderjoy Party World – Sh14.3 million
Toyota Kenya – Sh13.9 million
Jimmon Services – Sh13.6 million
Broadlink General Merchants- Sh12.5 million
Romany Construction- Sh12.3
Tripleoklaw Advocates- Sh11.8 million
Kipawa Icon International – Sh11.6 million
Mighty Tours Travel Limited – Sh11.6 million
Ramji Haribhai Devani Limited – Sh11.2 million
Parapet Cleaning Services – Sh10 million
Greenbelt Movement – Sh9.9 million
Kenya Power and Lighting Company – Sh9.03 million
Tana Printers and General Supplies Agencies – Sh8.3 million
Kenya School of Monetary Studies – Sh8.3 million
Winnie Wambui and Company Advocates – Sh7.8 million
Arimi Kimathi and Company- Sh7.6 million
Northern Resources Development Agencies- Sh7.5 million
Igman Enterprises General Supplies – Sh7.4 million
Spiceworks Communications Systems – Sh6.5 million
Reliant Office Technologies – Sh6.1 million
James Kilonzo – Sh5.9 million
Harleys Limited – Sh5.5 million
Cloudera limited – Sh5.4 million
Film Studios – Sh4.9 million
Flight Central Travel – Sh4.2 million
Khenephance Investment limited – Sh3.7 million
Vertical Dimention Engineering- Sh3.5 million
Kenya Red cross Society – Sh3.5 million
Safaricom Limited – Sh3.4 million
Silicon Systems – Sh2.7 million
Bold Connect – Sh2.7 million
Sapphire Scents Limited- Sh2.6 million
Crystal Brands Communications- Sh2.6 million
Office Operations- Sh2.5 million
Ultimate Ridge International- Sh2.4 million
Marvel Africa Agencies- Sh2.3 million
Bestways Tours and Travel- Sh2.3 million
Mowlid Accessibility Consulting- Sh2.2 million
Wilken Telecommunications- Sh2.09 million
Intrepid Data Systems limited- Sh2 million
Quicksmart Supplies- Sh1.7 million
Tanake Enterprises- 1.5 million
Kawira Women Group- Sh1.2 million
MFI Managed Document Solutions- Sh915,311
Waydan Holdings- Sh908,930
Furniture Dynamics- Sh814,950
Francjos Enterprises- Sh738,500
Mwaju Electronics- Sh667,000
Marketserve Enterprises- Sh425,000
Delight Systems- Sh390,000
Kenya Safari Lodges and Hotel- Sh300,930
Nairobi Sports House- Sh294,000
ST John Ambulance- Sh233,000
Photic Global Investments and Logistics- Sh221,000
Go On Enterprises- Sh183,200
All eyes now turn to Director of Public Prosecutions Noordin Haji to see if he will move swiftly and apprehend these crooks, before they start soliciting for help from the Head of State, as if he "chopped" the money with them.
The Parliamentary Accounts Committee should not exploit this report to extort those named adversely. We are very alert to their machinations.
---
Kenya Insights allows guest blogging, if you want to be published on Kenya's most authoritative and accurate blog, have an expose, news, story angles, human interest stories, drop us an email on

[email protected]

or via Telegram
---
Auditor General's Office Can Solely Curb Corruption In Kenya If Empowered
AUDITOR GENERAL'S MANDATE
In 2010 new constitution, Auditor General's office was delegated into two wings: Controller of the Budget(Active during funds allocation) and Auditor General (Audits after Use).
The Office of the Auditor General draws its mandate from the Constitution of Kenya.
Chapter 12, Part 6, Article 229 establishes the Office of the Auditor General. Chapter 15, Article 248, Section 3 and Article 249, Section 2 (a) and (b) provides for the independence of the Office of the Auditor General.
The Auditor-General shall audit and report, in respect of that financial year, on:-
The accounts of the national and county governments;
The accounts of all funds and authorities of the national and county governments;
The accounts of all courts;
The accounts of every commission and independent office established by this Constitution;
The accounts of the National Assembly, the Senate and the county assemblies;
The accounts of political parties funded from public funds;
The public debt; and
The accounts of any other entity that legislation requires the Auditor-General to audit.
°The Auditor-General may audit and report on the accounts of any entity that is funded from public funds.
°An audit report shall confirm whether or not public money has been applied lawfully and in an effective way.
°Audit reports shall be submitted to Parliament or the relevant county assembly.
°Within three months after receiving an audit report, Parliament or the county assembly shall debate and consider the report and take appropriate action.
Article 226, Section 4 provides for the accounts of Office of the Auditor General to be audited and reported on by a professionally qualified accountant appointed by the National Assembly.
Article 249, Section 2 (a) and (b) states:
The commissions and the holders of independent offices–
Are subject only to this Constitution and the law;
Are independent and not subject to direction or control by any person or authority.
EACC MANDATE.
13 (1) The Commission shall have all powers generally necessary for the execution of its functions under the Constitution, this Act, and any other written law.
(2) Without prejudice to the generality of subsection (1), the Commission shall have the power to –
Educate and create awareness on matters entailing its mandate;
Undertake preventive measures against unethical and corrupt practices;
Conduct investigations on its own initiative or on a complaint made by any person and
Conduct mediation,reconcilliation and negotiation
Special Audit Reports that Have threatened Ouko's Stay in office.
1.The Audit report that unmasks 17 ministries and departments spent a total of Sh66.7 billion in the fiscal year 2013/14 without availing any documents to authenticate how the money was used.
The amount was part of a total of Sh450 billion in unsupported expenditures in the public sector, underlining the lack of rigour in accounting for taxpayers' money.
Thereafter President's Chief of Staff Mr.Kinyua came with a coronation directive "The Auditor-General's reports shall be availed to ministries at least seven days before tabling in Parliament,"Contrary to the constitution which requires audit of Public funds to be reported to parliament or the relevant County assemblies, which have the mandate to interrogate the reports and take appropriate actions. It was also suspicious as to why these would be presented to ministries when the same ministries to be presented to are the ones under scrutiny.
2.NYS saga–where the special audit noted fraudulent practices that led to the losses of KSh1,863,512,256 in various circumstances as is in Case 1 (KSh791,385,000), Case 2 (KSh609,252,760), Case 3 (KSh240,751,576) and Case 4 (KSh222,122,919). This scam involved key and intermediate family relatives and friends to high profile public figures in the country including President Uhuru Kenyatta, Senator Kipchumba Murkomen, Governor Anne Waiguru who was the main Victim, Worn out Political Analyst Mutahi Ngunyi and National Assembly house Majority leader Aden Duale.
3.Eurobond Saga–When The Auditor General Ouko declared that Sh215 billion from Kenya's controversial Eurobond funds had not been accounted for, two years after the Government claimed the cash was allocated to ministries.
Thereafter, Investigations by Parliament revealed that the Government did not deposit the Eurobond proceeds in the Consolidated account, as required by law, but instead had first put the money in offshore accounts.
For accountability, Treasury said it transferred Ksh34 billion from the Ksh215 billion that was sitting in the offshore account to the Exchequer Account to fund infrastructure projects.
On the same day, July 3, 2014, another amount of Sh53.2 billion was withdrawn from the offshore account to pay a syndicate loan. Game of tik tak that at the end exposed them guilty.
4.Health Ministry Ksh5B Saga(Afya House Scandal)–The probe was triggered after a leaked audit by the ministry's internal auditor Bernard Muchere revealed billions of shillings were lost through irregular payments. Surprisingly, the investigations by the Auditor General came after a delayed probe by the Ethics and Anti-Corruption Commission. Their delay was on a mission for monkey business since one of the entity that was involved was Philip Kinisu who was former Ethics and Anti-Corruption Commission Chairman. Again these tik taks led to USAID withdrawal from funding Health Ministry as they used to and so was many other shareholders.
5.In this month of December solely, below are mega Audit Reports that precisely insights on unaccounted public funds hence can be considered stolen:
1. Interior Ministry-Ksh8,600,000,000 Unaccounted. Despite the expenditure scrutiny is exempted by the constitution, it's unlawful to scrutinize this office but this has led to officials taking advantage to squander and launder money.
2.Kenya Police shoe scam-Ksh175,000,000 Unaccounted
3.Kenya seed company scam–10,000,000,000 Unaccounted
4.Kenya Police Insurance Cover scam–3,500,000,000 Unaccounted
5.Police VIP Copter bought–2,300,000,000 Government argued that the purchase was classified when Auditor requested for supporting documents for the purchase.
Total:Kshs.24,575,000,000 Money Laundered.
6.Ministry Of Immigration Ksh1.5B theft–this occurred last year 2016 when immigration ministry was only able to account for Ksh1.4B Passports and stickers revenue but couldn't for Ksh1.5B Visa revenue in the Ksh2.9B Total revenue that was collected.
7.Ministry of Tourism Ksh 390M theft– Came to spotlight early March this year 2017. He argued, there was likelihood that revenue collected were being deleted from the system and later withdrawn in cash unauthoritatively. "The system could not also distinguish a late payment with an arrears payment as it applied penalties to both. This meant that levy department has to call back and confirm the payment and manually make corrections," as quoted by Businessdaily
In EACC, Recovered assets sums upto only Kshs9.7B since its Establishment. This year, it has been running battles with traffic police and puppetry political witch-hunt on Governor Hassan Joho over his Academic credentials which bow no fruits.
I have been Comparing and Contrasting between Ethics and Anti-Corruption Commission(EACC) and Auditor General's office obligations and mandates, achievements and failures. I had to take this to a take a new twist by running a poll on twitter and also views from various communication platforms and the message was solid, precise and clear: EACC had the least public trust with witnessed peanut achievements that haven't convinced the majority tax payers of their relevancy and more importantly their hardwork.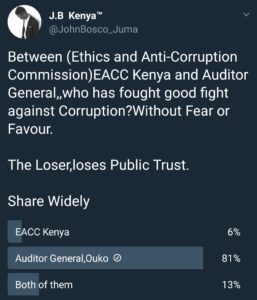 Therefore my take and wish is on empowerment of Auditor General by giving him more mandate to Prosecute Public fund coffers considering the fact that Procurement, Bribery are the most common on a measurement of 70% mode of Corruption in Kenya. Auditor queries Misappropriated funds, forwards to the parliament who intern might direct EACC who has the power to prosecute corruption perpetrators. EACC has been too mean and ineffective in response these matters. I have come to observe, Big-man syndrome between the two entities(Auditor General and EACC) who basically are on duty to curbing Corruption menace in this country. EACC wants to be first runners in unmasking these schemes and so is Auditor General's office. The litmus test is simple, EACC is more compromised with Cartels and has lost its independence as a Commission. Controversial interlect Dr.PLO Lumumba was once the captain of the Commission, he thought he would be the game changer,he thought he was the strongest of all, he thought he would be the new dawn, he was brought down to earth the same people, among them cartels who fixed him inn. Auditor General has given Cartels sleepless nights, including Uhuru Kenyatta who wanted him out of office sometimes back last year.
Lately, during EACC seminar, Chairperson Rev.Eliud Wabukala opted for more empowerment for the Commission to work better. I wondered for what motive when Auditor General lacks this power to prosecute perpetrators but works better than he who has. EACC is just a brand, Cartels public institution in the name of a Commission to launder money in a Godly manner from 'Clean hands'. Those who are left to prosecute after Audit report are tabled in parliament are the same entities in one way or the other involved in these schemes. Don't expect much.
AG eyes to open offices in every county for oversight mission that worries EACC as they're going to be outshined and overshadowed.
Soon Ethics and Anti-Corruption Commission(EACC) will launch an online public portal to display their Achievement like #GoKDelivers on a mission to convince the public.
EACC and AUDITOR GENERAL RIVALRY
So called State graft watchdog, the Ethics and Anti-Corruption Commission, since stated that the Ksh215B Eurobond whose whereabouts were yet to be explained was not stolen while Auditor General report maintained that it was illegal for the Government to deposit any of the funds in the off-shore accounts and above all the government has no documentation Receipt of Expenditure' to account for the funds hence considered theft act.
EACC CEO Halekye Waqo recommended Eurobond file to be closed due to lack of adequate evidence at a time when state was witch-hunting Edward Ouko for Arbitrary Abuse of office allegations for he was not sparing any Dick and Harry.
#EmpowerOuko
---
Kenya Insights allows guest blogging, if you want to be published on Kenya's most authoritative and accurate blog, have an expose, news, story angles, human interest stories, drop us an email on

[email protected]

or via Telegram
---
Diplomatic Standoff As Kenyans Demand For Fair Trial Of Their Own Jailed For Cohesion With South Sudanese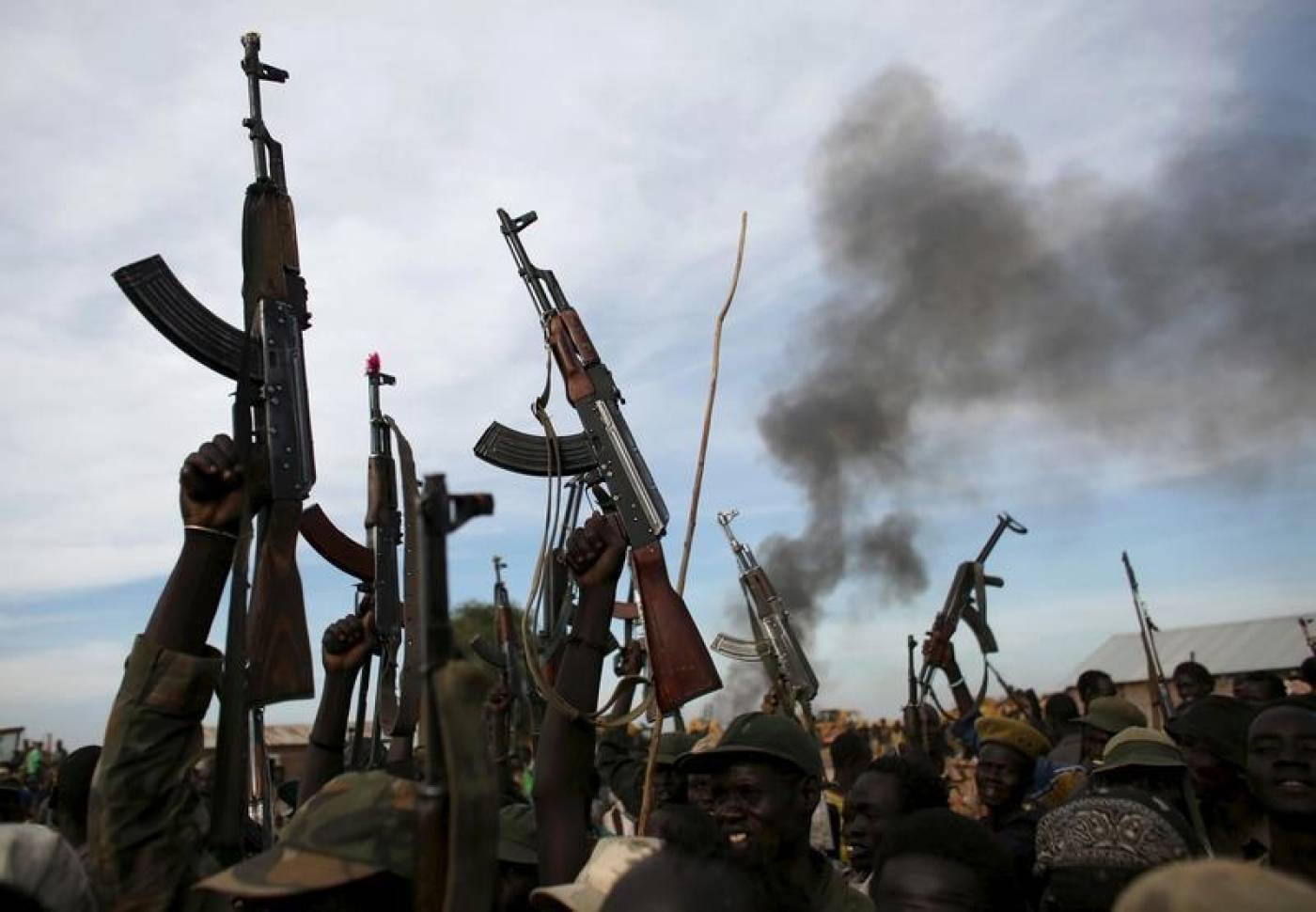 Kenyans in the past few days launched a vicious online campaign dubbed #DeportSouthSudanese that closely bordered to xenophobia throwing the South Sudan citizens living in Kenya into a visible panic. However, according to the initiator of the hashtag, Cyprian Nyakundi, the country's most popular, credible and controversial blogger, the campaign was sparked by the inaction and deliberate ignoring of Kenyan citizens rotting in the Sudanese jails without any pinch of justice.
Nyakundi, a deviant and relentless justice warrior as his profile dictates, talked to Kenya Insights saying the matter if the Kenyans unfairly jailed for life in South Sudan, had grown to become a matter of political scoring and deal cutting for officials between the two countries. It is for this reluctance within the foreign office that he decided to take the matter up.
However, as expected, the harsh angle of the approach taken by Nyakundi who argued out that Sudan a war infested region has Kenya as a safe haven for corrupt officials to launder their cash. Nyakundi is known to be ruthless and fearless when it comes to tackling matters corruption unearthed several dossiers pointing at Sudanese officials including president Kiir for laundering their money to Nairobi.
The larger good living South Sudanese population in Nairobi didn't escape the wrath either as a comparison was made between them and Kenyans living in Juba and beyond. Generally; from the interactions, Kenyans feel a gap in tolerance saying; those living in SS are subjected to harsh conditions as compared to the lavishly living South Sudanese in Nairobi and Kenya where they're treated without discrimination.
On Friday 29th of May 2015, four young Kenyan men are living and working in South Sudan namely; Boniface Chuma, Ravi Ghaghda, Antony Keya and Antony Mwadime were arbitrarily arrested by National Security in South Sudan from a company called Click Technologies. They were arbitrarily detained for nine months on one meal a day with no access to family or lawyers.
They were finally presented to Court on the 20th of February 2016 along with 12 south Sudanese for various charges which they did not commit; such as forgery, insult to the person of the president and misappropriation of funds among others.
The unfairness in court started from the very beginning when the judge set bail per person at $14 million USD. Their lawyer was forbidden to meet with his clients unless during the trial. Continuous intimidation to witnesses by National Security and exactly a month into the trial the lawyer, Kiir Chol was threatened at Gun point by National Security, whose written communication was snatched away from him and his clients' and forced to drop the case.
Five months of Trial and the Kenyans had NO MENTION in court; this was acknowledged by the Ministry of Foreign Affairs. The court proceedings were conducted in Arabic which the Kenyans could not understand.
With the to and fro from government officials that bore no fruits, unfortunately, the 4 Kenyans along with 12 South Sudanese were sentenced to life imprisonment of 72 years on 13th June 2016.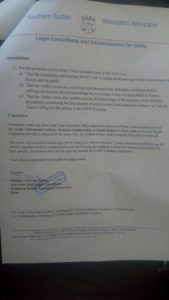 The genesis of this whole case is all Concoctions and trumped-up charges in the form of "Intelligence Report," and more of Conspiracy acts by a group of Powerful individuals in the Office of the President. Their goal was to scratch off Former Chief Administrator Mayen Wol Jong and Executive Director in the Office of the President, Yel Luol Koor from their positions. The Former Chief Administrator and Former Executive Director were barriers to these Powerful government officials and allies crooked multi-million business tenders with government through Office of the President.
The report was accusing the two senior individuals of squandering $500million from the office of the President by forging the signature and seal of the president to withdraw these sum from Ministry of Finance and Central bank of South Sudan.The $500million was alleged to have been deposited in John Agou's bank account in Nairobi.In reaction this, On 29th May 2015 President Salva Kiir ordered the arrest of three above mentioned.John Agou and his employees who among them included 4 Kenyan Citizens were arrested while at the shop, Click Technologies limited owned by Agou.
These four Kenyans had no idea of what was going on.They were detained at the headquarters of the General Intelligence Bureau (GIB) as just 'State Witnesses.'On 25th June 2015, President Salva Kiir suspended his two senior aides Chief Administrator Mayen Wol Jong and Executive Director Yel Luol Koor handing them over to GIB for investigations. On 2nd October 2015 in Nairobi -Kenya, where John Agou's wife and his 2-year old son were residing, became a crime scene as his wife Susan Anyieth Chaat was kidnapped on her way to the prominent wedding of television personalities Betty Kyallo and Denis Okari were holding their event at Marula Manor in Karen.She was abducted by Officers from South Sudan National Security Service with the help of plan less Kenya Anti-Terrorism Police Unit(ATPU), and National Intelligence Service then handed over to South Sudan National Security Service officers in Nimule, a town at Uganda-S.Sudan border.
The abduction/kidnapping of Susan Anyieth from Nairobi, Kenya on 1st October 2015 by rogue elements from the South Sudan National Security Service with the help of the Kenyan Anti-Terrorism Police Unit (ATPU) and the National Intelligence Service (NIS) without due process of the law. This was done with total disregard to the international laws of extradition treaties. She was just a house wife, and she was forced to leave behind her 2-year-old son without anyone to take care of her. Just like her husband and the rest, she would be sentenced to life imprisonment with the fabricated charges and without legal presentation. In the next sequel, we will break down the high table politics and the intrigues of this international law contravention.
Following the viral protest campaign by Kenyans demanding for fair trial or release of their own, Kenya's ambassador to the South Sudanese Republic was recently summoned to give explanations on the unexpected turn of events by the South Sudanese government. Amb. Cleveland Leshore is under siege to explain to the embassy of SS as to why they shouldn't be worried for their citizens in a letter.
Kenya and South Sudan enjoy a cordial relationship with Kenya playing the mother to Africa's last born nation following series of unending wars that saw them separate with Bashir. Kenyan authorities have promptly replied to the concerns, talking to the families affected, the foreign officials who conveniently goes missing in the calm and resurface on the storm, in their chorus, told the family to hold their horses as the government looks into the issue.
The fact that the South Sudanese judicial system is plainly compromised and don't come anywhere close to international standards no wonder Sudanese and Kenyans were jailed without due legal process is in itself nauseating. The standoff seen to have been slowed down by the elections in Kenya but things would regain momentum immediately after the polls as the push for justice breaks the walls; this is according to assurance from Nyakundi and his group of defiant vicious group of bloggers. It is a gory picture for the two countries that have been in harmony to go head on a real or imagined tag of war. The two countries must move in speed to square off their differences and ensure both interests are catered for. The Kenyans jailed; outright need a fair trial. This too includes their Sudanese counterparts jailed for life under the same questionable circumstances.
This shouldn't be called a diplomatic stand off as the countries stand a good chance of striking a deal. It don't make empirical sense when your own citizens are undergoing it exposed to avoidable turmoil. Kenya must pull its socks up and the Sudanese government equally need to subject not only the four Kenyans but entire victims to a clear judicial system not some monkey ordeal as it stands.
---
Kenya Insights allows guest blogging, if you want to be published on Kenya's most authoritative and accurate blog, have an expose, news, story angles, human interest stories, drop us an email on

[email protected]

or via Telegram
---