Donald Trump: America's First African President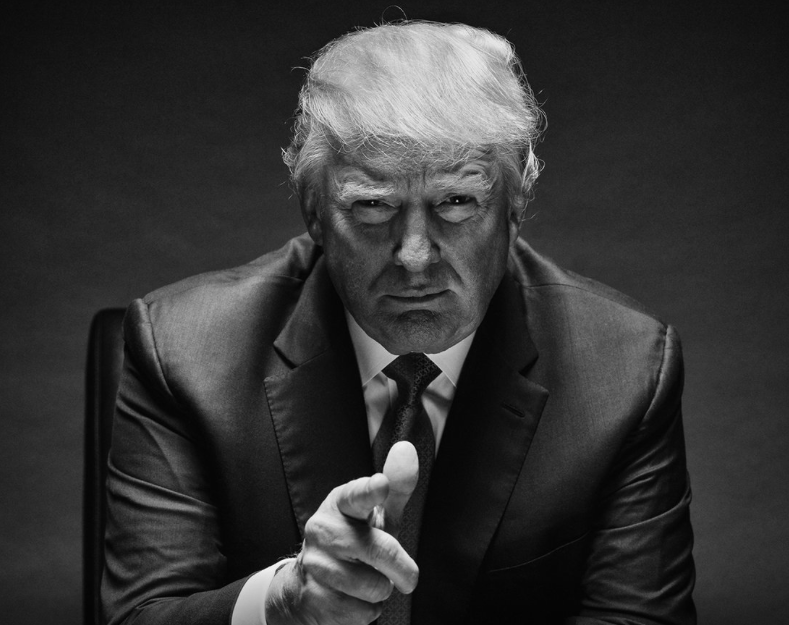 So Donald John Trump is now president of the free world. This will probably go down as the biggest upsets in the history of politics in the US. No one would have imagined this result at the beginning of the campaign 18 months ago. Trump was the proverbial wild card, the most improbable, the most unlikely front-runner.
Donald Trump has been that quintessential entrepreneur, who made his fortune from real estate, golf and hotel ventures in the US and the around the world. New York, Hollywood, Las Vegas, Istanbul, Toronto, Edinburgh, Mumbai, etc. can attest to his financial might.
There have been murmurs that from a very young age as a businessman, Trump had all along harbored the idea of becoming the president of the United States. Some people think it has been an odyssey of almost 40 years.
Donald appears to have drawn a lot of inspiration from Ronald (Reagan) the 40th POTUS. Various commentators have likened his win to the second coming of Ronald Reagan. Donald was one of the most prominent supporters of Ronald in his 1980 campaign. It was Ronald, a former actor, who invented the slogan "Make America great again." It will be remembered that this was the mantra at the core of Donald's campaign. He even trademarked it in 2014 after some of his rivals in the primaries begun using it.
Ronald rode his campaign on the promise of ''Restoration of prosperity at home, with the goal of achieving "peace through strength" abroad.'' Ronald instigated the "Reagan Revolution'', which aimed to reinvigorate the American people and reduce their reliance upon Government. His campaign promised to restore "the great, confident roar of American progress and growth and optimism." This was a largely flighted plan of the Donald Trump campaign.
No one had seen Trump running with the prize. Apart Allan Lichtman, a US presidential historian, no other pundit, forecaster, statistician or bookmaker had correctly predicted the outcome of the poll. Not even Republican Party heads were convinced of the candidacy of Trump. They even did not shy away from despising and disowning him publicly. Mitt Romney, John Mcain, Paul Ryan et al., seemed to have unofficially decamped to the Clintons side. Only a few lobbyists and party insiders believed in Donald. Reince Priebus, Steve Bannon, Michael Flynn, Kellyanne Conway and Rudy Giuliani, the former New York mayor were his few close confidantes and most loyal comrades.
But as fate would have it, some unexpected deckhands came just in time during the crucial periods of his campaign. An alleged shadowy hand of Russia in collaboration with sites like Wikileaks and Guccifer leaked over 33,000 official emails sent from Clinton's private server when she was Secretary of a state. Apparently, she should have been using the official server.
These emails had allegedly been deleted by Clinton, during investigations by the FBI, to escape culpability. Other emails from conversations between John Podesta, the Clinton campaign chair, depicting Hillary as irrational and unpredictable did not help an already worse situation.
More discoveries were made of how Bernie Sanders, Clinton's arch-rival in the Democratic Party primaries, was allegedly rigged out, after questions were leaked to Clinton, before the debates.
And before the dust had settled, in came Jim Comey, the FBI director. On October 28th, 2016, barely a week before elections, he wrote a letter to eight chairmen of select committees of the US Congress about new evidence on the said deleted emails on Clinton's personal server. Comey had discovered the new evidence from an old computer owned by Huma Abedin, a long-standing PA to Hillary Clinton. That announcement cemented the suspicion by the electorate that Clinton was not trustworthy and was dishonest. That was her Waterloo. They say "When it rains, it pours." Hillary Rodham never recovered from that devastating blow.
Commentaries on why Clinton lost the election are abounding. That she ignored the rural whites; took traditional democratic states (e.g. Wisconsin) for granted; that unlike Trump, she was reluctant to dismiss her senior campaign staff who messed, in this case, John Podesta and Huma Abedin, et cetera….
Nonetheless, the tide is over now, and the world has seen who ''has been swimming naked.'' Clinton won the popular vote by almost a 2 million margin (64.4 Million against 62.3 million), but Trump took away the Electoral College vote by 13.85%, amassing 306 against Clinton's 232.
The post-election demonstrations in cities across the US appear to have subsided, and verily Donald J. Trump is all set to be inaugurated as 45th president of the USA on 20th January 2017. The financial markets received Trump's win with a bearish run. Infrastructure, banking, and health counters have been particularly receptive.
During his campaign, Trump pledged massive investment in infrastructure to a level that will be "Second to none", promised to amend the affordable care act, popularly known as Obama care, henceforward more business for private health practitioners, and pledged to abolish banking red tapes to enhance bank-led fiscal stimulus, review trade deals like NAFTA and TPP, initiate tax reforms, review dealings with NATO, etc
That said, the elephant in the room is, will Trump deliver on his promises?
No one delivers a hilarious answer than Comedian Trevor Noah in "The Daily Show." Trevor contends that "Nobody in the world knows what Trump will do…including Trump himself". In one of the shows titled "How South Africa could prepare the US for President Trump," Noah portrays Trump as a president who has many attributes as most African presidents.
First, Noah compares some statements Trump made during his campaigns, with those made by Idd Amin Dada and Robert Mugabe; two noxious African despots
Amin; "I am the one who has got the Money."
Trump; "I made a tremendous amount of Money."
Mugabe; "My people have great praise for me."
Trump; "People love me, everybody loves me."
Amin; ''I have got a very good brain."
Trump; "God helped me by giving me a certain brain."
Mugabe; ''we will win, we will be winning, all the time."
Trump; "We will get so much winning if I get elected, that you may get bored of winning."
Noah then mocks the outrageous suggestion by Trump to place his company in a blind trust to be run by his three oldest children. Apparently, that would be illegal because a blind trust should be run by individuals, not in contact with the owner. Noah comically compares this to "Ray Charles'' and "Jamie Fox playing Ray Charles" (in the film "Ray"). He says "One of them is blind, and one of them is faking it and getting rich in the process" This, according to Noah, was the same tactic that President Zuma used to win lucrative government tenders through his children.
During one of the presidential debates, Trump said that he would appoint a special prosecutor, to reopen investigations into Hilary Clintons email fiasco. This was portrayed as an attempt to intimidate his opponents, the same way President Zuma used the prosecution to witch hunt his former finance minister, for calling him out on illegal business dealings.
In the same way, most African countries seek to muzzle the media; Trump is heard saying during campaigns that he would open up libel laws, so as to vigorously sue media and earn big awards from the courts.
In his first TV interview as president-elect on "60 Minutes" on CBS News, Trump appeared to contradict his three key campaign messages. On the Mexican border wall, he said that he would downgrade it to a fence in some parts. On reopening charges to Hilary Clinton, he said he didn't want to hurt her, because "they are good people." This came as a shocker after having variously referred to her as "a devil" "the queen of corruption" and even referring to the Clinton Foundation as a ''racketeering enterprise."
Lastly, Trump had said he would rid the White House of lobbyists, what he called #draintheswamp. He has however done the complete opposite by appointing Steve Bannon as his strategic advisor. No other word in English can accurately describe Bannon, apart from "Lobbyist."
We can only wait and see if President Trump will measure up, or he'll be another ''African president."
In other news
• Trump says his second favorite book is his book called "The art of the deal"; his best book….the bible!
• M7 has sent his congratulatory message for the 6th time to a different US president; he's still incumbent!
• Celebrated novelist, Wole Soyinka had threatened to pull a "Wolexit" from the US in January 2017, should Trump win. I believe he'll eat his pie with humility
Anthony Mwangi
@Official Mwangi
---
Kenya Insights allows guest blogging, if you want to be published on Kenya's most authoritative and accurate blog, have an expose, news TIPS, story angles, human interest stories, drop us an email on

[email protected]

or via Telegram
---