Catherine Namuye Lived In Fear And Regrets And Who Murdered The Mother Of One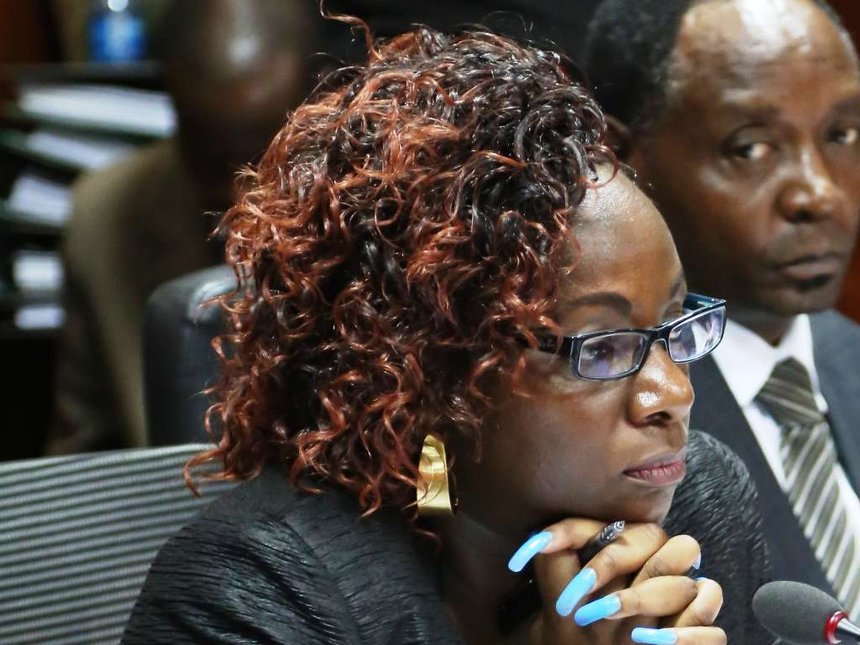 A Bachelor of Arts Economics and Sociology graduate from the Catholic University of Eastern Africa with a Masters in Finance from the United States International University, Ms. Namuye had everything going for her when she rose to the helm of the fund on an acting capacity after serving as the body's general manager.
If you review the history of the Youth Enterprise Development Fund (YEDF) since its creation in 2006, one thing sticks out like a sore thumb; its leadership is jinxed. None of the fund's successive chief executive officers (CEOs) have served their full terms and left without their reputation being tarnished by some scandals at some time during their tenure.
Ms. Namuye was first appointed as acting CEO of the fund in February 2013 upon the suspension of the then boss, Juma Mwatata Mwangala, who had been sent packing over allegations of purchasing 1,050 hatching machines at a cost of Sh208 million without the YEDF board's approval. Mr Mwangala's predecessor and first-ever CEO of the fund, Umuro Wario was suspended in 2009 and later bundled out of office over claims of irregularities in financial, recruitment and procurement procedures in the institution. The Ethics and Anti-Corruption Commission later absolved Mr. Wario of the claims.
When Ms. Namuye appeared before the PIC on March 17 she was keen to save her job and avoid becoming part of the statistics of jinxed CEOs of the YEDF that was formed with the sole purpose of reducing unemployment among the youth who account for over 61 percent of the unemployed in the country.
An emotional Namuye claimed that then YEDF board chairman Bruce Odhiambo forced her to pay Quorandum Ltd Sh180 million for a contract to develop a suspect Information, Communication, and Technology (ICT) strategy. "This project was a board undertaking. I found it rather curious for the board to make me the sole signatory," she told the committee as she sought to clear herself of blemish. Mr Odhiambo was dismissed as YEDF chairman by President Uhuru Kenyatta in the wake of the embarrassing scandal.
Since February 2013, Namuye was in an acting capacity until she was controversially and irregularly confirmed by the Youth Fund board chair Bruce Odhiambo around January 2015. Such an appointment can only be done by the Cabinet Secretary upon the board's recommendation of three names of qualified candidates. Despite her name not being amongst those recommended by the board, Waiguru confirmed her as the CEO in a puzzling step. Knowingly or unknowingly, Namuye would be used to siphon millions from the Youths Funds.
But months into her new position, she would lose the position in a letter by the same Odhiambo who accused her of among other things, nonperformance. Behind the scenes, the EACC had written an adverse report against Namuye in regards to interviews that had been conducted by the board in search of a substantive CEO.
EACC advised that she be left out of any appointment. When the list of names was submitted to the then Cabinet Secretary in charges of youth affairs Anne Waiguru, no appointment was done, instead, Namuye continued to serve.
Ms. Namuye and Mr. Odhiambo were, in August 2016, alongside the directors of Quorandum Ltd, Mukuria Ngamau, and Doreen Waithera, charged with the offenses. The Youth Fund officials were each released on a Sh5 million bond with an alternative cash bail of Sh2 million.
Ms. Namuye and Mr. Odhiambo are alleged to have received Sh 4.5 million and Sh 1.8 million in kickbacks from Quorandum that prosecutors said they had "reasons to believe was corruptly acquired from the Youth Enterprise Development Fund."
The prosecution said between November 17, 2014, and May 4, 2015, in Nairobi, the suspects conspired to defraud the public through "unlawful payment of Sh180,364,789 from the Youth Enterprise Development Fund to Quorandum Limited for services not rendered."
Ms. Namuye denied a charge of abuse of office which stated that while acting as the chief executive, she executed an underhand contract between the Youth Enterprise Development Fund and Quorandum amounting to Sh114,909,000 for the alleged provision of consultancy services dubbed "The Design of Specifications for an Enterprise Resource Planning."
Namuye, had earlier on in Parliament, implicated her seniors for the loss of Sh180 million. As the acting CEO, Namuye authorized the payments for a fictitious tender.
It emerged that most of the Sh180 million was used to purchase luxury homes, pay debts and line the pockets of powerful individuals, law firms, and companies, according to revelations by the PIC that were tabled in the House. Mr. Ngamau, for example, used Quorandum's Chase Bank account to receive money from the Fund and make several transactions with third parties, including the purchase of a duplex apartment in Nairobi's Lavington estate.
The property was bought from Duchess Park Limited at a cost of Sh48.5 million. PIC revealed that Mr. Ngamau transferred Sh59,082,835 –part of the phony YEDF transactions–to Quorandum's account at Chase Bank from where the funds were moved to Quorandum's account at Standard Chartered Bank, Yaya Centre branch.
The funds were then used "to make further transactions and payments on various dates to third parties, including a payment of Sh3.3 million to Bruce Dominic Odhiambo's account at Co-operative Bank, purportedly for payments of supplies and consultancy services," the report says.
PIC says Quorandum separately received Sh115 million and Sh65 million from the Fund as payments for purported consultancy services to develop an ICT Strategic Plan and Enterprise Resource Planning (ERP) System.
As the acting CEO, Namuye authorized the payments for a fictitious tender but now claims she acted under duress from the board and top officials at the Ministry of Devolution and Planning. Ms Anne Waiguru, who served as Devolution Cabinet Secretary at the time, and former Principal Secretary Peter Mangiti were amongst those she named as having exerted so much pressure on her.
"The CEO has revealed that she was under pressure from the board and external forces (ministry) to proceed with the fake project that has cost taxpayers millions meant to empower the youth," said a member of the committee in confidence as Namuye had requested to testify behind closed doors.
It wasn't just external forces that were in her neck, internally, the chairman was playing monkey business as well, Namuye disowned minutes she presented saying they had been forwarded to her by the board chairman Bruce Odhiambo.
She sought the committee's assistance to get the original minutes' book saying that she doubted the authenticity of the minutes submitted to her by Odhiambo.
"These minutes are not initialized. It is standard practice that all minutes are initialized so that as the accounting officer, I own them," she said.
Committee chairman Adan Keynan (Eldas) acknowledged that the information provided by Namuye in camera was useful and confirmed payment of Sh180 million to Quorandum Limited. He said the rot could be much deeper.
"We have called the former CS, PS, entire board of the agency and Head of Public Service Joseph Kinyua, officials of so many companies, Live Gigi, Gigi Tech, Gigi Survey, Duchess Buck Development Company and Ngigi and Mbugua Company Advocates, mentioned in the course of our probe to shed more light on this matter."
In June this year, Former YEDF chairman Bruce Odhiambo and Namuye, who are on trial for the Sh180 million scam, lodged fresh protests over documents that were allegedly not been supplied to the court to support their case.
Their lawyers alleged that certain documents that may boost their defense, had not been supplied to them. But the prosecution led by senior state counsel Nicholas Mutuku told magistrate Lawrence Mugambi that an affidavit attesting to the misplaced documents has been filed in court.
Kate, as she's referred to as by her peers no, have had one of the biggest jobs in Kenya but she probably never lived a happy but rather worried. According to Gor Semelango a friend who was also a colleague while he served as Chair before being dismissed by CS Waiguru his a text for playing hardball in a looting conspiracy, Namuye lived lives fear. She was used in looting millions and players dumped her to cover tracks.
Ms. Namuye's lifeless body had blood oozing out of her mouth a now common scenario in unexplained deaths mostly of prominent persons. The cardiac arrest which is the custom pathology result by Government pathologist is most likely to be confirmed with circumstances leading to the attack remaining unclear.
On Friday 29th, Catherine was officially dismissed from her Youth Funds job and received the letter on Tuesday before the mysterious death on Wednesday. She now adds to the statistics of unexplained deaths in the jinxed docket. In October 2015, a driver attached to one of the Funds directors was found dead at a swimming pool in Mombasa where they had home for a party.
Simon Mwangi is said to have overheard crucial information in a conversation with two senior directors at the Youth Funds. For fear of him leaking the information on the corrupt deals, he was taken out. His murder instilled fresh pack of fear in her, she broke down on the mention of this during her appearance before the parliamentary committee. The reality might have struck her as a potential target of the merciless cartel who killed the driver. This is something she lived on with, it's unclear if she received death threats but if she was standing in someone's way who is likely given her position in the heist, she probably received many.
The big question now is who killed Namuye and for what purpose. The case of the fraud is still ongoing and Namuye who was not only an accomplice but a key witness is out of the way which then could mean one fate for the case that touches a large network of the cartel. She lived in fear and regrets as revealed by Gor for having given herself into the demands of the network. The made her the sole signatory leaving her exposed to the noose.
---
Kenya Insights allows guest blogging, if you want to be published on Kenya's most authoritative and accurate blog, have an expose, news TIPS, story angles, human interest stories, drop us an email on

[email protected]

or via Telegram
---