JohnBosco: President Uhuru Kenyatta's ICC Case Might Be Revisited After Secret Emails Leaks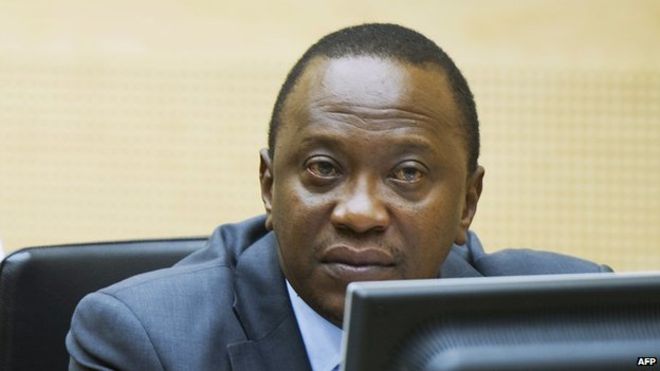 Before i take a step further, let's get back to drawing board where rain began to beat Uhuru's freedom and connect the dots to his predictable fate.
Statement by Prosecutor of the International Criminal Court, Fatou Bensouda on the withdrawal of charges against Mr. Uhuru Muigai Kenyatta
"On the 3rd of December 2014, the Judges of Trial Chamber V (B) of the International Criminal Court (ICC) declined to further adjourn the trial of Mr. Uhuru Muigai Kenyatta. Accordingly, given the state of the evidence in this case, I have no alternative but to withdraw the charges against Mr. Kenyatta. Earlier today, I filed a notice to withdraw charges against Mr. Kenyatta. I am doing so without prejudice to the possibility of bringing a new case should additional evidence become available.
This is a painful moment for the men, women and children who have suffered tremendously from the horrors of the post-election violence, and who have waited, patiently, for almost seven years to see justice done.
I have decided to withdraw the charges against Mr. Kenyatta after carefully considering all the evidence available to me at this time. I have based this decision on the specific facts of this case, not on any other consideration. As Prosecutor, my actions and decisions have always been guided by the law and the evidence.
Not withstanding my personal commitment to pursue justice and accountability for Kenyans who were subjected to the terrible violence that swept through Nakuru and Naivasha after the 2007 elections, I can only proceed to trial when there is a reasonable prospect of conviction at trial based on the evidence at my disposal. If there is no such prospect then it is my professional responsibility as Prosecutor to withdraw the charges against the accused.
You will recall that on 5 September 2014, I requested the Trial Chamber to adjourn the trial of Mr. Kenyatta until the Government of Kenya executes in full the Prosecution's April 2014 Revised Request for records. I informed the Chamber at that time that my evidence remained the same as when I sought an adjournment of the trial date in December 2013, and as such, that I did not consider the available evidence to be sufficient to prove Mr. Kenyatta's alleged criminal responsibility beyond reasonable doubt as is required at trial.
Despite my persistent efforts and those of my committed Team to advance the course of justice in Kenya, in this instance, those who have sought to obstruct the path of justice have, for now, deprived the people of Kenya of the accountability they deserve.
I have explained to the people of Kenya the severe challenges my Office has faced in our investigation of Mr. Kenyatta. These include the fact that:
· Several people who may have provided important evidence regarding Mr. Kenyatta's actions, have died, while others were too terrified to testify for the Prosecution;
· Key witnesses who provided evidence in this case later withdrew or changed their accounts, in particular, witnesses who subsequently alleged that they had lied to my Office about having been personally present at crucial meetings; and
· The Kenyan Government's non-compliance compromised the Prosecution's ability to thoroughly investigate the charges, as recently confirmed by the Trial Chamber.
 I am withdrawing the charges against Mr. Kenyatta because I do not believe that it is possible at this time, for me to fully investigate and prosecute the crimes charged in this case. The withdrawal of the charges does not mean that the case has been permanently terminated.
Mr. Kenyatta has not been acquitted, and the case can be re-opened, or brought in a different form, if new evidence establishing the crimes and his responsibility for them is discovered. My Office will continue to receive and consider information which may shed light on those who are responsible for the 2007-2008 post-election violence, and will assess what further steps it can realistically and meaningfully take at this point in time in relation to the crimes committed in Nakuru and Naivasha, considering the current situation in Kenya.
However, I wish to say a few words about the failure of the Government of Kenya to cooperate fully and effectively with my investigations in this case. From the time that the Prosecution submitted its revised 8 April 2014 Request to the Government of Kenya, the material the Government sent us simply did not respond to a significant portion of our Revised Request for Records. In short, most of the material sought in my Revised Request was not provided. This is despite the fact that ICC Judges clearly confirmed that my Revised Request was valid, and dismissed all of the Government's objections to it.
In this situation, the most relevant documentary evidence regarding the post-election violence could only be found in Kenya. Yet, despite assurances of its willingness to cooperate with the Court, the Government of Kenya failed to follow through on those assurances.
Ultimately, the hurdles we have encountered in attempting to secure the cooperation required for this investigation have in large part, collectively and cumulatively, delayed and frustrated the course of justice for the victims in this case.
To conclude, today is a dark day for international criminal justice. Be that as it may, it is my firm belief that today's decision is not the last word on justice and accountability for the crimes that were inflicted on the people of Kenya in 2007 and 2008; crimes that are still crying out for justice"
Former International Criminal Court legend and First Prosecutor who was Argentina Citizen Moreno Ocampo has been money siphoner after retirement from his Prosecution job at the World Court in 2011.He served his 9-year limit term since the establishment of the International Criminal Court in June 2002.He has been obliged as 'man of great integrity and high moral character'
From European Investigation Collaborations(EIC) who obtained the 40,000 leaked documents of Diplomatic Cables and Correspondents from French media site Media part,he(Ocampo) has been operating 'illegally' categorised businesses in secrecy, multiple bank account transactions from different sources and entities into his and her wife's accounts with unclear mechanism. In EIC leaks, while still in office Ocampo was dwelling in Offshore bank accounts and Companies in tax havens which unmasked, questioned his authenticity and integrity as profiled on public domain. These documents also unearths, after retiring from ICC job he has been working against the Court by directly and indirectly defending potential targets.
These documents links conversation between former United Nations Secretary General Kofi Anan who was also the mediator in Kenya after the 2007/2008 Post Election violence which Internally displaced over 300K and led to death of over 2,000 people And the then Prosecutor Luis Moreno Ocampo to square President Kenyatta's case and give him an 'honourable exit'. This 'Honourable exit' sounds charitable affair in simple terms but from Ocampo the 'tycoon' revelationist, it seems to have come about after ransom bribery. To convince Kofi Anan, he had suggested that to make the long story short, Uhuru Kenyatta should compensate the 2007/2008 victims with funds, settlement schemes. After internalizing these sentiments, it was a proof if this case was to continue, Uhuru Kenyatta would have been found guilty as charged. Why would he compensate these victims at his own expense when he had not been found guilty?
Talking of possibility of bribery,in EIC's shared documents of Ocampo's leaked emails, the former prosecutor had signed a 3year contract with Libyan billionaire Hassan Tatanaki who owns TV media stations, Libyan Oil magnate to help him promote 'Peace First' initiative for a salary of $1million annually and $5,000 daily wage. Even after death of Muamar Gaddafi, Civil war in Libya worsened and this initiative was aimed to 'bring peace' in Libya. Hassan Tatanaki, had links with Libya National Army General Khalifa Haftar who was under Fatou Bensouda's watch for execution and raping acts. General Khalifa being under Bensouda's radar alert was leaked to Ocampo through ICC International Corporation Adviser. Tatanaki had been supporting Khalifa's team to commit these crimes as he was giving this troop live coverage in his TV station when conducting these genocides to threaten those who had failed to join Khalifa's militia. After this breeding turmoil, Ocampo had to isolate his client Tatanaki from ICC target General Khalifa Haftar. When things got worse and Bensouda was set to come for Tatanaki, Ocampo fabricated and twisted everything possible to protect him despite knowing he is a threat to Libya peace and a target of ICC to keep his well paying job.
This is a Conspiracy act which the actors are legible to face hostile prosecutions if proven guilty. We remember after Bensouda's withdrawal of President Uhuru Kenyatta's case, with support from our intermediate neighbour  Uganda President Yoweri Museveni held a fastidious campaign for withdrawal of Kenya and Uganda from ICC 140 membership which up-to-date has been unsuccessful. You can now connect the dots. The possibility of revival of the dubious and unjust freedom was itching the criminals. So far ICC alias the Hague has achieved below average in all cases it has handled, it has lost trust, it has now become a toothless dog, harmless when like of Ocampo continue back stabbing it.
Sooner than later, Fatou Bensouda is set to revisit President Kenyatta's case after this backdoor transaction, conspiracy acts.
EIC is set to share second phase of these leaked emails and documents in while. Stay input.
---
Kenya Insights allows guest blogging, if you want to be published on Kenya's most authoritative and accurate blog, have an expose, news TIPS, story angles, human interest stories, drop us an email on

[email protected]

or via Telegram
---