Call Your Baba To Come and Help You Said Police As They Killed, Report Say Death Toll Higher As Police Took Away Unrecorded Bodies.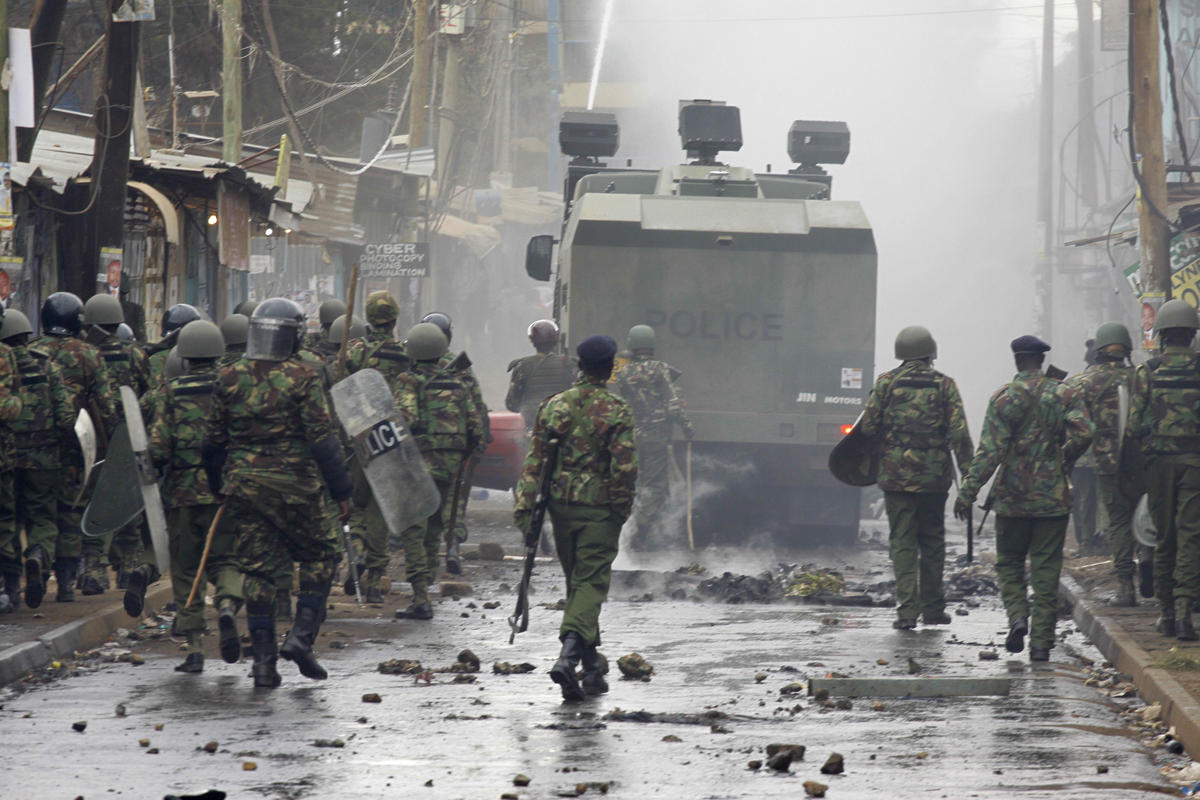 A joint report by Amnesty International and Human Rights Watch released today has implicated the police in 33 deaths post the election that has resulted in months of chaos and uncertainties.
The 37-page report, "'Kill Those Criminals': Security Forces' Violations in Kenya's August 2017 Elections," documents excessive use of force by police, and in some cases other security agents, against protesters and residents in some of Nairobi's opposition strongholds after the elections.
Researchers found that although police behaved appropriately in some instances, in many others they shot or beat protesters to death. Other victims died of asphyxiation from inhaling teargas and pepper spray, from being hit by teargas canisters fired at close range, or from being trampled to death by fleeing crowds.
Police were directly implicated in the deaths of at least 33 people, researchers found. Another 17 were alleged killed, most of them in Kawangware, but researchers could not confirm the cases.
Amnesty International and Human Rights Watch researchers interviewed 151 victims, witnesses, human rights activists, aid workers, and police in Nairobi's low-income areas known to be strongholds of opposition supporters. Ahead of the vote, police had designated many of these areas as "hot spots" for potential violence and had deployed forces heavily, increasing tensions.
Prior Human Rights Watch research documented 12 killings by police during protests in western Kenya. The Kenya National Commission on Human Rights documented 37 deaths, five of which are in addition to the 33 cases documented here. Taken together with the 17 others allegedly killed by police, the nationwide death toll could be as high as 67. The high death toll is attributed to the fact that police loaded bodies to their trucks and took them to unknown destinations perhaps a ploy to hide the exact casualty figures, there are families who up to now don't know where their relatives disappeared to, no trace.
Researchers found that armed police – most of them from the General Service Unit (GSU) and Administration Police (AP) – carried out law enforcement operations in Mathare, Kibera, Babadogo, Dandora, Korogocho, Kariobangi, and Kawangware neighborhoods in Nairobi between August 9 and 13. They shot directly at some protesters and also opened fire, apparently randomly, on crowds. Victims and witnesses told researchers that as protesters ran away, police pursued them, kicking down doors and chasing people down alleyways, shooting and beating many to death.
What is more disturbing is the levels of impunity these targeted killings and brutality was conducted. Remarks made by police during many beatings suggested victims were being punished for the way that they had voted, or because of their ethnicity. One man in Mathare told researchers that GSU police beat him saying: "You people will know the government is not yours… You can call your Baba (Raila) to come and help you."
Bernard Okoth Odoyo, 25, a carpenter, and Victor Okoth Obondo aka Agwambo, 24, close friends who lived near each other, were both shot in the back in Mathare on 13 August while trying to flee from the police, and died instantly.
Raphael Ayieko, 17, his close friend and neighbor, Privel Ochieng Ameso, 18, and Shady Omondi Juma, 18, were shot dead by police in Babadogo on 11 August. Eyewitnesses said they saw a policeman push Raphael onto a wall and shoot him. Raphael, a student at Usenge Boys High School in Siaya county who was visiting his parents in Nairobi for holidays went to carry some groceries to Privel's house. Privel's mother said the two boys then went out to observe youth looting nearby kiosks when they were shot by police. Shady was shot in the chest and Privel in the back as he tried to run away.
In Kawangware where violence erupted simultaneously, in the "stage two" area, GSU police clashed with protesters and fired teargas, which contributed to several deaths. A witness said that a 45-year-old businessman, Sammy Amira Loka, who sold tea, was hit by a tear gas canister in the chest as he tried to escape the fighting. Bystanders said he was not beaten but he began coughing blood and
vomiting and was taken to Kenyatta Hospital where relatives said he died on August 16.
Later that evening, at the "56 stage74" area, police fired teargas canisters into crowds as they advanced towards demonstrators. Lilian Khavere, a 40-year-old house-keeper who was eight months pregnant, fainted and was trampled to death by crowds fleeing the teargas as she was coming home from work in Parklands, according to a witness.
At "56 stage" area, Jeremiah Maranga, a 50-year-old watchman, was beaten to death by police. According to witnesses, police caught and beat him so badly that his body was soaked in blood.84 He died before he was seen by doctors, who told relatives he had suffered significant internal bleeding and organ damage.
Witnesses also described police grabbing youths and dunking them in the open sewer that runs alongside the main road through Kawangware slum and is full of sticky black, toxic, effluent.
Relatives said that during protests on August 10, Geoffrey Onacha, a 34-year-old resident in Kibera, was shot dead. We could not establish who fired the gun. His family went to view the body the next day in City Mortuary. His daughter, Sharon Imenza, age 10, was so traumatized by seeing the body in the hospital that she collapsed immediately and died, according to a relative. Relatives buried both soon after in western Kenya without reporting to police or IPOA.
In Mathare, men believed by witnesses to be plain clothed officers fired at bystanders, including children. At around 9 a.m. on August 12, three men in plain clothes and who residents said they believed to be officers from the Directorate of Criminal Investigations, wounded a 12-year-old primary school boy in Mathare 4A who was out playing with classmates.
The boy was later admitted at Kenyatta National Hospital with gunshot injuries in the left leg. "They were shooting at anyone, in most cases those in groups of more than three. The man who shot at the boy had an AK47 and he is a CID officer well known in this area," said a 22 – year old man and resident of Mathare 4A.
At the backdrop of this report, almost a bigger number have been killed by police who've unsurprisingly dismissed it as false in the wake of NASA anti-IEBC demos that has been going on for four weeks now. Police have been extremely brutal and reckless with many killed in Nyanza with live bullets. In what is now being described as the ethnic targeting of the Luo community where Raila is coming from, Kenya is slowly relegating into a failed state like its neighbors deep in wars and dictatorial rule.
Police brutality is not new in Kenya but this time around it has escalated. Less is expected from the policing oversight body and if international partners are not engaged, more Kenyans are set to be slaughtered and as it has been tradition, they'll get away with the crimes against humanity.
Full report below
kenya1017_web

---
Kenya Insights allows guest blogging, if you want to be published on Kenya's most authoritative and accurate blog, have an expose, news TIPS, story angles, human interest stories, drop us an email on

[email protected]

or via Telegram
---