Bring It On: KMPDU Dares State To Go Ahead With Plan To Jail Them Says CBA Resolve Remains Irreversible And Governors Divided On Sacking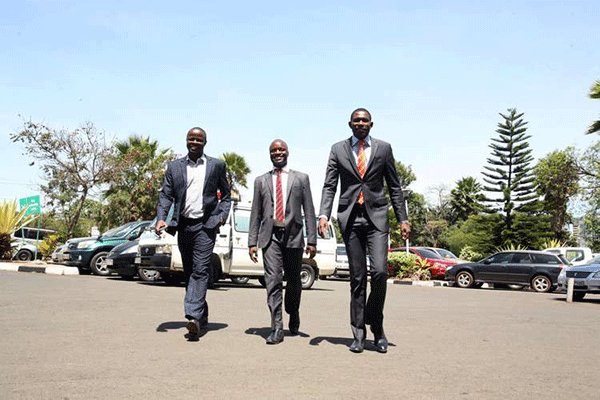 With Government's last resolve to intimidate doctors by jailing KMPDU officials and threatening rest with sacking, all is not a walk in the sand. The meeting between Council of Governors and Ministry of Health made a disastrous and miscalculated move to sack doctors as their brightest way to end the month-long doctors strike. However, from Kenya Insights' feeds, all is not as rosy.
Reliable intelligence reports indicate that major cracks have emerged within the CoG on the way to deal with the doctors' strike. At least 24 Counties agree with the CBA in its current form and do not see why the standoff should persist.
Nairobi, Machakos, and Kiambu are feeling sweet because they imagine they usually attract more doctors interested in working there. Mailu & Muraguri have hit a dead end. Their foreign doctors import agenda having collapsed before commissioning.
One County Governor categorically told the COG & MOH to be ready to honor the CBA or he will go Public and abandon the GoK line, and many Governors will follow him and CoG as we know it will be dead. He is categorical no so-called sack letters will come from his Government.
KMPDU officials are not having any county level negotiations but at national. This, by the way, cuts the work for governors, they should preferably take back seat for the doctors to do the donkey job for them and force Treasury to make the allocations to County's accounts instead of giving them the bulk of begging Treasury to allocate funds in the case that County effects the negotiations. But do these governors think beyond their egos and political atmospheric tunes, you guessed right, never!
While some governors are chocking in ego, some are sensible enough to see beyond their noses. In Kajiado, Governor David Nkedianye said they would not sack the striking doctors, but would instead negotiate a return-to-work formula with them.
"Many people are suffering in their homes, with some their death beds, and it's unfortunate because they cannot afford private healthcare," said Dr. Nkedianye.
In Kisumu, egocentric Governor Jack Ranguma told off the doctors, saying they earn more money than their counterparts in the private hospitals who, he claimed, do a better job.
Mr. Ranguma, who is chairman of the health committee in the CoG, said it was a shame that the doctors had persisted with their strike this long. Ranguma who has been accused of misappropriating county funds would make you fall off the cliff with his concerns over proper resources use. While engaging in the dick measuring with doctors, It's the poor citizens who bare the consequences of poor decisions made by the people they elected to ensure undisturbed service delivery.
As the last resolve, we've obtained credible intelligence that the State through Labour courts, is planning to jail the KMPDU officials at least keeping them in remand through the weekend. The plan choreographed by psychotic Muraguri abusing the office of the presidency privileges, Is planning to frustrate efforts to secure bonds for the doctors with intentions of keeping them behind bars over contempt of court. It will be interesting to see if the court will jail the officials over the same case as that of interior CS Kibicho who has contempt of court and arrest warrant over his head yet going about his business undeterred.
The consequences of jailing KMPDU officials would not solve the crisis but instead, worsen the situation by inciting other doctors leading to complete healthcare freeze. But there seems to be no stop to the evil plans of jailing the officials and luckily enough, there's no end to the CBA implementation course either according to the language from the doctors union.
Read the address made by fiery and defiant KMPDU Sec Gen Dr.Olunga exuding confidence in his drive and general resolve on doctors plight he made on Jan 10th just after the court issued the arrest warrant on the officials:
"Good morning Dear Doctors,
Yesterday night I was sharing with my colleagues that amidst the American Civil War that had ravaged and divided the USA into directional fragments, in 1863, the then POTUS, one, Abraham
Lincoln spoke in what came to be famously known as the Gettysburg Address and outstandingly said: "We're not as divided as we've been meant to believe."
Today I want to tell the Republic of Kenya that WE cannot run out of options as a country since in the final analysis when you wake as a Kenyan – as a doctor, as a MCA, an MP, Senator, Governor
or even the head of state, the only two questions that matter are that what kind of healthcare system do we have in place and is it responsive to your needs as a mwananchi?!!
If you answer the above questions, then all the this and that talk coupled with warrants of arrest is NULL AND VOID. Further, if you as a Kenyan ask yourself self-search on what you want your
healthcare system infrastructure and personnel looks like and should be operating at high levels there's nowhere where warrants of arrest come in!
Truthfully the government has gotten to the end-throes of thinking as they've employed all their tactics available to no success – they've sacked the doctors twice, have advertised their jobs once and will soon readvertise, doctors from Cuba and India
has been the talk till now but nothing so far.
Fellow Kenyans, the question for the whole country is: WHAT NEXT? Be informed that the doctors have not run out of options. I'll answer for us all that what's next is for the government to implement the CBA expressly in toto and pay up the outstanding
arrears in full through a properly sat-out and negotiated implementation matrix for which the Union(KMPDU) has and is still available for discourse.
After all the wastefulness of the taxpayers' money in doing show-cause/sack letters to Doctors and advertising and readvertising, remember the Swahili say: "Mbio za sakafuni huishia ukingoni" Serikali imefika ukingoni nasi kama madaktari
tunawadia mlangoni ambapo ni CBA!
As doctors, WE need to know and appreciate that the common citizenry may not know what quality healthcare means for them, but we do – standards of care. Therefore be reminded, dear doctors today that WE'RE the Champions for Kenyans for a
proper, quality, the responsive healthcare system for all the 40+million citizens of this country.
As champions, we have a responsibility to raise awareness about the CBA which aims for the betterment of quality healthcare which is our quest for the ultimate sound of the Kenyan citizenry.
As I close I'll start the championing process by saying that we have been told by the government that implementing the CBA will cost 12B but WE have done our Mathematics and WE know for sure it'll cost 8.1B per financial year, ONLY. But giving them the benefit of doubt and assuming that it'll cost 12B, it's
informative to let you and Kenyans know that every financial year, Kenya pays India 10B through the NHIF and out of the ultimately pooled 51B we as Kenyan citizens remit to NHIF as social
health insurance, 33B goes to private hospitals! Private hospitals treat a paltry 1% of the population.
Therefore WE as doctors are saying that the GoK needs to take a measly 12B (in their
figures) to treat the 99% of Kenyans. At this point, Kenyans, realize that this is your war and we're only leading the war fronts, the lines of fire!
Coming to the total public health expenditure vote that now stands at 150B, the amount that currently goes to Doctors' remuneration is 3.6B that's less than 2.5% of it all. Using their figures, we painfully realize on behalf of the 99% of Kenyans that they're being denied such quality healthcare which if the
CBA is implemented at their 12B figure translates to only less than 5% of the whole public health expenditure budget!
Lastly, as I close, fellow Kenyans, as a country we cannot joke with the 5 000 brightest minds in Kenya. It's a big shame since we're incidentally contributing to killing the dreams of young boys and girls who've recently passed their KCPE and KCSE and are
aspiring to join this noble profession. Again to Kenyans, I am, and all of us are very proud to be doctors at your service but help us tell your government to get us back to work for you by
implementing the CBA. You best believe me, any day, given another chance the doctors of Kenya would still choose to pursue this career path but so in a healthcare system that responds to our needs in our efforts to offer you our brothers and sisters the best quality healthcare possible as enshrined and
envisioned in the CBA. Thank you all and God Bless You!"
The clueless negotiators can as well be blind to the facts and implement the Hitler's motivated tactics, martial doctors, back to work. MoH is talking about initiating CBA talks months after doctors are back to work yet they've done less or nothing in the negotiations that has lapped the one month mark excluding the strike notice period. The dishonesty and consistent demonizing script on doctors, will that bury the big elephant in the house, CBA.? Time is of the essence.
---
Kenya Insights allows guest blogging, if you want to be published on Kenya's most authoritative and accurate blog, have an expose, news TIPS, story angles, human interest stories, drop us an email on

[email protected]

or via Telegram
---