Kenya's Top Economist David Ndii Predicts Inevitable Economy Collapse Should Jubilee Stay In Power For One More Term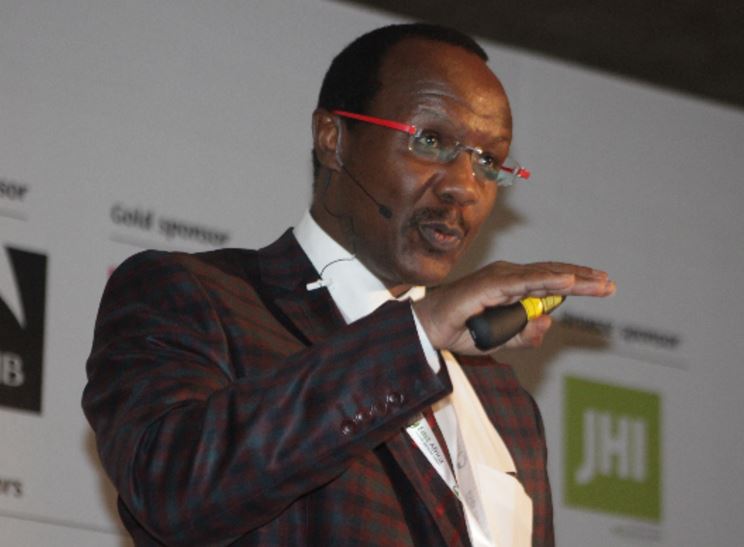 David Neil is not new in the battalion shooting down Government's chest thumping on development. The recently named world's most valued economists have been one of the harshest critics of the Jubilee regime with consistent holes poking in its expenditure. He's widely quoted in Eurobond spendings which he still insists was misappropriated by the government.
Ndii has insisted that the Jubilee government has lied to Kenyans that Eurobond was put in the budget and disbursed to ministries for various development projects in the FY 2014/15. He breaks it down that the government borrowed Sh290 billion by floating sovereign bonds (Eurobond). But lacks evidence to show where Sh228 billion went — with the only figure clear being US$605 million which was used to pay off a loan.
In his Daily Nation column, The robust economist has once again disengaged his claws calling out the government's failures in expenditure and sent a credible warning that Jubilee would plunge the country into a total economy shutdown should they be re-elected in the coming elections.
He attributes eminent collapse in a steady and unsustainable borrowing by the government. "Many people think that these loans are a burden to our children and future generations. Not so. We are paying now. Jubilee has put the country on a debt treadmill.
We have to keep borrowing, or we will collapse." He sounded the warning.
Ndii goes ahead to elaborate, "Before Jubilee, we were spending only Sh20 out of Sh100 of tax revenue to service debt. This figure is now approaching Sh40 out of Sh100 and rising rapidly. Before Jubilee, interest on the foreign debt cost us less than $5 out of every $100 of foreign exchange earnings. Today, it is costing us $15, and rising fast. Spending 40 percent of our revenue servicing debt means less money to provide services. It is also a threat to devolution. The constitution mandates national priorities before the counties revenue share is determined. Debt service is one of these national priorities. This means that the more debt service outlays, the lower the revenue there is to be shared. In addition to the undermining provision of public utilities, this debt treadmill is a grave threat to our economic stability. "
Terming Jubilee administration as the most corrupt and incompetent government in our history, Ndii warns that achieving 2030 visions would remain a dream of the current state of looting is left undisturbed. "Where will we be after five more years of Jubilee? After five more years of Jubilee, we will be back where we were in 2003." Says Ndii. "We will have ground to a halt and talking about recovery, and that is if Jubilee would not have dismantled the Constitution and established the reign of terror that they evidently desire." He continues.
As a remedy, Ndii is pitching the opposition's unity as the only way to save Kenyans from the wild teeth of jubilee. He likens the current state to Moi era where several multi-billion scandals as Goldenberg were made and The country nearly came to its knees before opposition under Rainbow coalition came in and salvaged the country sending Moi home. Ndii believes this is the only way the current opposition can help the situation by coming together and out of a strong team to send Jubilee home. Ndii insists opposition owes Kenya this one favor of sending jubilee home or they'll forever be judged harshly by history. Coming at a time when companies are laying off staff in masses to balance their books and at the same time unemployment index going up the scale, maybe we should pause and listen to Ndii.
---
Kenya Insights allows guest blogging, if you want to be published on Kenya's most authoritative and accurate blog, have an expose, news, story angles, human interest stories, drop us an email on tips.kenyainsights@gmail.com or via Telegram
---
Government Abandons New SGR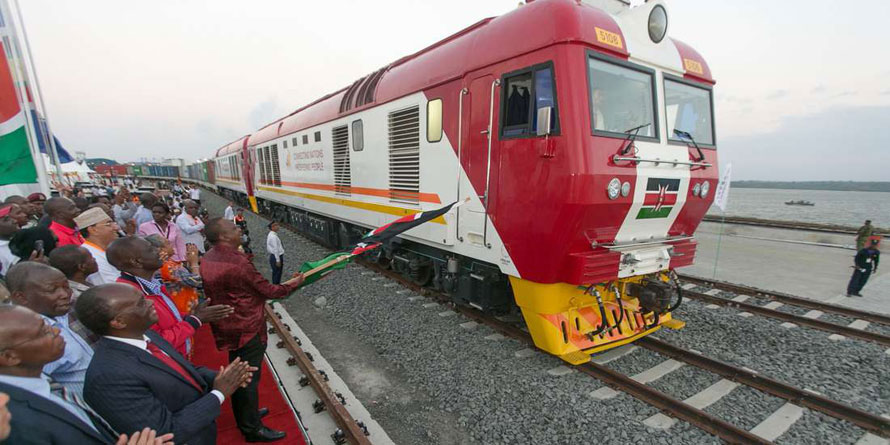 Kenya has been rolling deep down into public debt in the name of development. Government handlers have been on the frying pot for advising the government of projects that are not profit generating at the expense of the tax payers.
Recently a Chinese loan worth Ksh.374 billion for the extension of the SGR from Naivasha to Malaba didn't materialize. With some saying that Chinese now wants the government to prove that they are going to pay for the first loan.
The government of Kenya now has plans to modernize the old railway track to link a newer line to neighbouring Uganda at a cost of Ksh.21.3billion.
Sources in the government indicate that unidentified private financier has offered to fully back up the project. This is almost 15 times cheaper than building another almost modern railway with Chinese loan.
also read:Container Freight Station Owners To Lose Sh35B Investment In SGR's Cargo Debacle.
The SGR was under  China's "One Belt, One Road" initiative, a multi-billion dollar series of infrastructure projects upgrading land and maritime trade routes between China and Europe, Asia and Africa.
The Nairobi-Mombasa SGR that was launched at a cost of Ksh 323.9 billion then later linked with Nairobi-Naivasha line costing Ksh.151.7billion might sound as a serious wastage joke when the government links it to Naivasha-Malaba track that will cost Ksh 21.3 billion.
"We need to make sure that when we commission the SGR in August, we have connectivity to Uganda from the SGR so we have to rehabilitate that line to make sure it is properly functional," said CS James Macharia,
Macharia also said that using Ksh.15 billion to rehabilitate decades-old line from Malaba on the border with Uganda and using the remaining amount construct another short track connecting to the SGR at Naivasha within a year would be a faster option than building another SGR.
---
Kenya Insights allows guest blogging, if you want to be published on Kenya's most authoritative and accurate blog, have an expose, news, story angles, human interest stories, drop us an email on tips.kenyainsights@gmail.com or via Telegram
---
Henley Index: The Kenyan Passport Is Now The Strongest In The Region With 71 Countries You Can Visit Without A Visa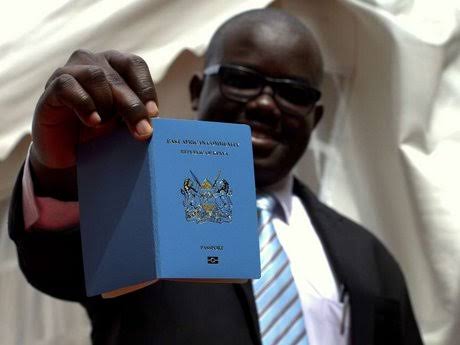 For some people, a passport is a portal to the world. For others, it is a barrier to the travel freedom they seek.
According to the Henley Passport Index, which is the most rigorous and sophisticated measure of global access, Kenyan passport has been ranked the 73rd most powerful powerful in the world with 71 destinations listed that you can visit without a visa or issued with a visa on arrival.
The Henley Passport Index is the only passport index that is based on IATA data, enhanced by extensive in-house research, supported by expert commentary, and updated regularly throughout the year, making it the most robust, credible, and reliable index of its kind.
Kenya which is still the strongest passport in the East African region, has however dropped in rankings compared to 2017 where it was at 68th now down by 4 points to 73 a significant drop.
South Africa holds the 3rd strongest passport in Africa at position 52 globally with 102 visa free destinations. Nigeria is at 94th with only 47 destinations.
Kenya has the 6th most powerful passport in Africa after Seychelles which is 25th with 152 destinations, Mauritius, 31st with 146 destinations, South Africa and Namibia which is at 69 with 79 visa free destinations.
Regionally, Kenya is the strongest with Tanzania coming right after at position 74 with 68 visa free destinations. Uganda, 77th with 64 destinations. Rwanda at 87th with 54 destinations.
Japan has overtaken Singapore to claim the top spot on the 2018 Henley Passport Index, having gained visa-free access to Myanmar earlier this month. Japan now enjoys visa-free/visa-on-arrival access to 190 destinations, compared to Singapore's total of 189. Japan and Singapore have been neck and neck on the index since they both climbed to 1st place in February — following a visa-exemption from Uzbekistan — and pushed Germany down to 2nd place for the first time since 2014.
This quarter, Germany has fallen further to 3rdplace, which it now shares with South Korea and France. France moved up from 4th to 3rdplace last Friday when it gained visa-free access to Uzbekistan, while South Korea moved from 4th to 3rd place on 1 October when it gained visa-free access to Myanmar. Germany, France, and South Korea all have a visa-free/visa-on-arrival score of 188. Iraq and Afghanistan continue to hold the bottom (106th) spot of the Henley Passport Index, with only 30 destinations accessible to their citizens.
The US and the UK, both with 186 destinations, have also slid down one spot — from 4th to 5th place — with neither having gained access to any new jurisdictions since the start of 2018. With stagnant outbound visa activity compared to Asian high-performers such as Japan, Singapore, and South Korea, it seems increasingly unlikely that the US and the UK will regain the number 1 spot they jointly held in 2015.
Countries that you can visit with a Kenyan passport without a visa or be issued with one on arrival can be accessed here:
Asia: Cambodia, Laos, Macao(SAR China), Maldives, Nepal, Timor-Leste.
Africa: Benin, Burkina Faso, Cape Verde Islands, Comores Islands, Congo, Djibouti, Guinea-Bissau, Madagascar, Mauritania, Mozambique, Seychelles, Nigeria, Sierra Leone, Somalia, South Sudan, Sudan and Togo.
Oceania: Palau Islands, Samoa And Tuvalu.
St. Lucia
Americas: Bolivia
Middle-East: Iran and Jordan.
This list mutates so you have to check with your travel agent.
For several years, the South African passport has remained the third strongest on the continent in terms of its levels of access, with Lrst and second place held by the Seychelles and Mauritius, respectively.
Both islands continue to outperform their continental counterparts due to their maintenance of prized visa-waiver agreements with Schengen countries as well as their own relatively open visa policies, which have generally been reciprocated.
The Seychelles, which renders itself a completely visa-free destination, secured further deregulated visa access for its passport-holders through visa waivers from the governments of Thailand and Angola in the Lrst quarter of 2018. Similarly, Mauritius, which is visa-free for all but 16 countries, secured a visa-waiver agreement with New Zealand in April 2018.
Although the rest of Africa continues to lag behind in the accessibility of their passports, there is reason for optimism. While visa-free access outside of the continent is still limited, African states are increasingly deregulating visa regulations for their continental counterparts.
A case in point is Angola, which recently removed visa requirements for nine African countries: namely, Lesotho, Madagascar, Malawi, Cabo Verde, São Tomé and Príncipe, Morocco, Swaziland, Algeria, and Zambia. Similarly, the undertaking of the Central African Economic and Monetary Community to grant visa waivers to passport-holders of its member states (Cameroon, Equatorial Guinea, Central Africa Republic, Congo- Brazzaville, Gabon, and Chad) could also be replicated by other regional political blocs seeking to promote the African Union's vision of increasing inter-African trade and travel, as outlined in its Agenda 2063 mandate.
---
Kenya Insights allows guest blogging, if you want to be published on Kenya's most authoritative and accurate blog, have an expose, news, story angles, human interest stories, drop us an email on tips.kenyainsights@gmail.com or via Telegram
---
Mombasa County Launches Open Roof Double Decker Sightseeing Busses As Joho's Goverment Strives To Boost The Tourism Industry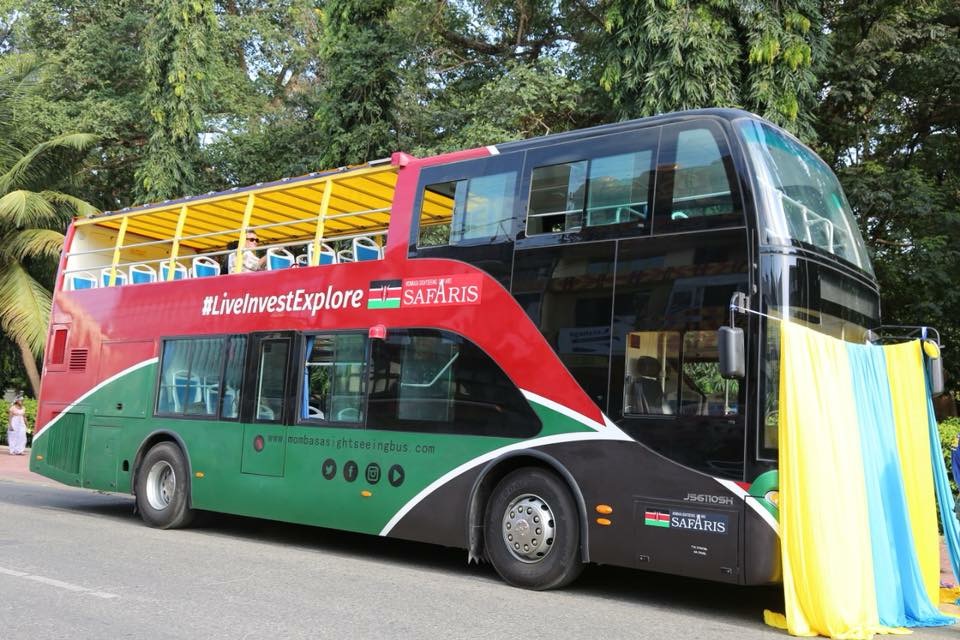 Trade, Tourism and Investment CECM Hon. Fawz Rashid officially launched the Mombasa Sightseeing Bus at the Tusks earlier today. Among those present during the launch were Archbishop Martin Kivuva, Mombasa County Chief Officer Mr. Innocent Mugabe, Tourism Finance Corporation MD Mr. Jonah Orumoi, Proul-Mombasa Sightseeing Bus Limited acting CEO Ms. Evelyn Lelle, Kenya Association for Hotel Keepers and Caterers CEO Mr. Sammy Ikwaye and Kenya Coast Tourist Association CEO Mr. Julius Owino.
The introduction of the double-decker sightseeing buses to Mombasa's tourism scene is a major milestone towards elevating our tourism industry and building the infrastructure for sustainable tourism success.
This service addresses a gap in the sector that exists today, whilst also making Mombasa more appealing as a leisure destination to tourists. These tours will be one of the best ways for visitors in Mombasa to get acquainted with all that this unique city has to offer.
The county government of Mombasa will work hand in hand with the management of the sightseeing buses to put a facelift at the various stopping points to give tourists the opportunity to have quality interactions with our rich history and culture through sampling of our local cuisines, shopping for our traditional souvenirs and taking part in our local dances and music.
This will also loop in our youth and women into the tourism value chain as they provide these lasting memories to our visitors. This sightseeing bus should not only offer a fantastic service for tourists coming to Mombasa but for people living or working in or around Mombasa who might have a couple of hours to spare, or friends and relatives visiting from out of town.
The open roof double decker bus will allow tourists to hop-on and hop-off as much as they like at any of the bus stops on the route and see all the best sights and attractions that Mombasa city has to offer.
---
Kenya Insights allows guest blogging, if you want to be published on Kenya's most authoritative and accurate blog, have an expose, news, story angles, human interest stories, drop us an email on tips.kenyainsights@gmail.com or via Telegram
---